There are four major drivers of gold-the dollar, rates, the USD/JPY ratio, and inflation. Three of these are pointing to lower gold prices, while one might be supporting gold (for now).
Rates
Treasury rates, 2-year, 10-year, and 30-year all show a strong negative correlation with the price of gold . The bias in rates continues to the upside which puts downward pressure on gold.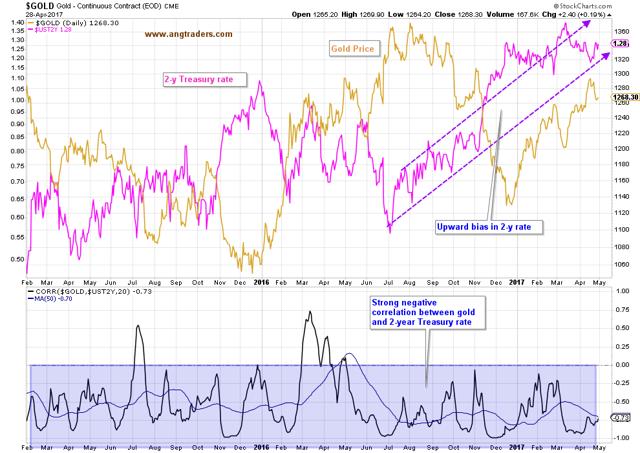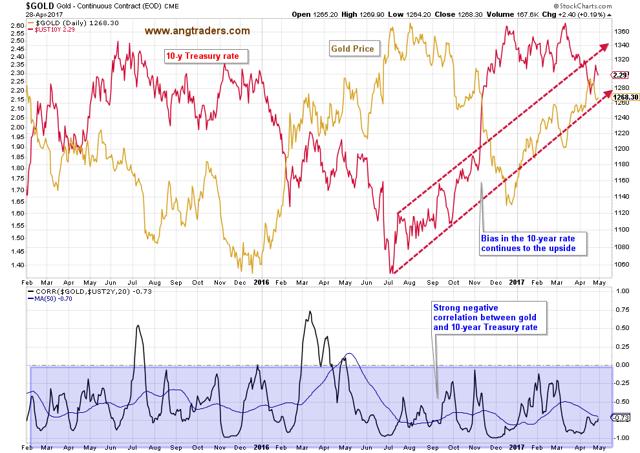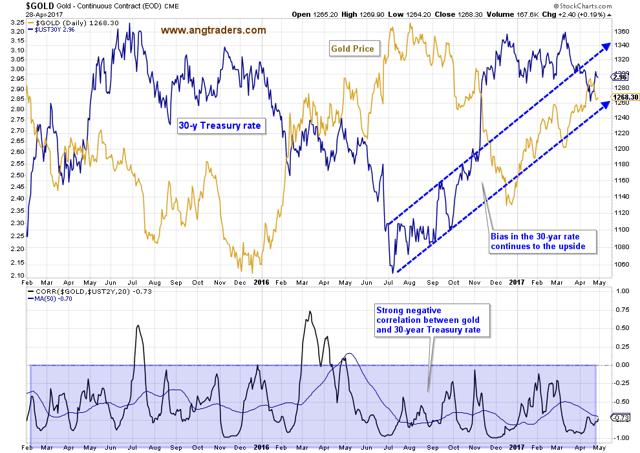 Notice that all three rates have fallen back in line with the upward-sloping channels which mark their biases. As well, it is worth noting just how strongly negative the correlation is between rates and the gold price; only one month in the summer of 2015, and two months in the spring of 2016 saw positive correlations. If rates continue to trend up, gold will feel the pressure.
USD/JPY Ratio
Here again, we see an undeniably negative correlation. The USD/JPY ratio has bounced off the 50% retrace and is now sitting on the 38% retrace line. The ratio looks primed to continue its recovery, which would put downward pressure on gold.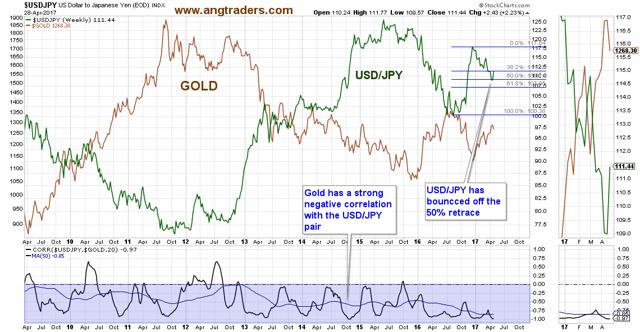 Inflation
The Pring inflation index is an independent (non-government) measure of inflation which shows a solid positive correlation with the price of gold.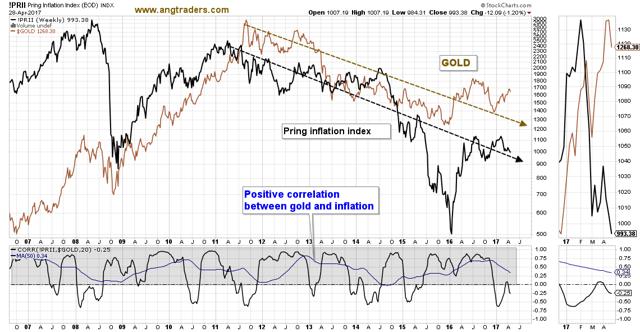 Considering the backlog of rate hikes that the FED has stored up, we expect that inflation will not be allowed to grow much past 2% and, therefore, gold will not have the inflation excuse to increase in price.
That makes it three factors that are working against the appreciation of the gold price.
The Dollar Index
Gold and the dollar have an obvious negative correlation, but the last six weeks we have seen the rare event where gold and the dollar move in tandem (pink rectangle on chart below). We expect the dollar to strengthen over the next few weeks, so if the positive correlation continues, then gold could move up along with the dollar.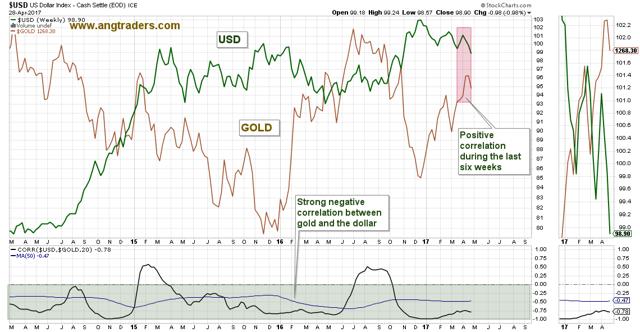 In conclusion, rates, the USD/JPY ratio, and inflation are all exerting downward pressure on the gold price, while the dollar is the one factor that might have an upward influence on gold. That puts the odds on gold at 3-to-1 against.
Disclosure: I/we have no positions in any stocks mentioned, and no plans to initiate any positions within the next 72 hours.
I wrote this article myself, and it expresses my own opinions. I am not receiving compensation for it (other than from Seeking Alpha). I have no business relationship with any company whose stock is mentioned in this article.