Welcome to the April 2017 edition of Electric Vehicle (EV) company news. In April we had several huge pieces of great news for the EV industry - What a month!
Global electric car sales - as of end March 2017
Global electric car sales finished March 2017 with over 90,000 sales for the month, up 50% on March 2016. It was the second biggest sales month ever, which is quite amazing for March (usually December is the big month).
China March 2017 electric car sales were 32,000, up 89% on March 2016. EV market share in China is currently at 1.4%.
Current subsidies in China are now being phased out, They were reduced by 20% in 2017, and will be reduced by 40% in 2019 and 100% by 2021. A ZEV credit type system in China is expected to be introduced around May or June this year.
Europe performed well with over 29,000 electric car sales sold in March 2017, 30% higher than March 2016. Norway is still by far the global leader by market share, maintaining a 35% market share of new vehicles sold. Europe EV market share is currently at 1.5%.
US March electric car sales were over 18,000, the 2nd best month ever, with year on year ((YoY)) sales up 30%. US electric cars now have just over 1% market share of new sales.
Global EV sales by manufacturer - to end March 2017 and YTD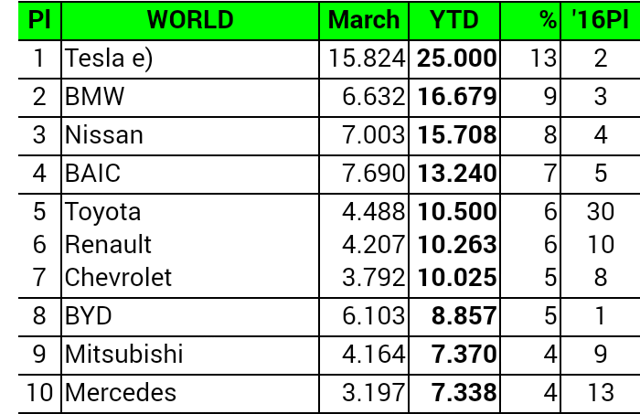 Global EV sales by car model - to end March 2017 and YTD
Source: EVSales
EV market news for April 2017
Bloomberg New Energy Finance are forecasting just over 20m EV sales by 2030. My model currently is closer to 30m electric car sales and at least 30% share by 2030. A nice goal really - 30/30/2030.
EV sales forecast by Bloomberg New Energy Finance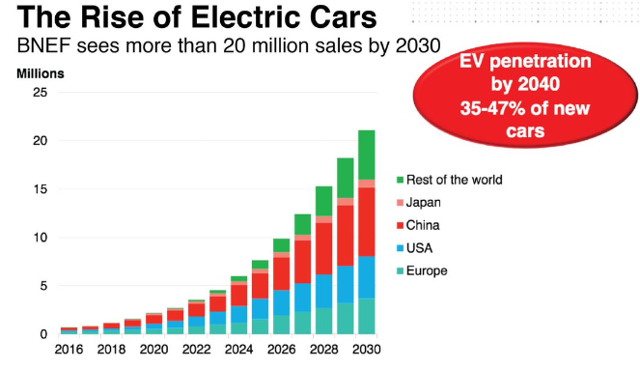 Source: Bloomberg New Energy Finance
On April 13, Clean Technica reported, "DHL (Deutsche Post) to double electric delivery van production." Germany is now ramping up their EV sales, currently at 1.2% market share. March 2017 electric car sales in Germany were up 87% YoY.
In April Designboom reported, "the liium electric aircraft takes its maiden flight", running on lithium ion batteries. The company behind the electric plane is Lilium Aviation. It was only last year in September that I wrote, "The Era Of The Flying Car Is Closer Than You Think", discussing some of the main players. We are certainly living in very interesting times with great innovation and technological advancement.
Lilium Aviation concept electric plane successful test flight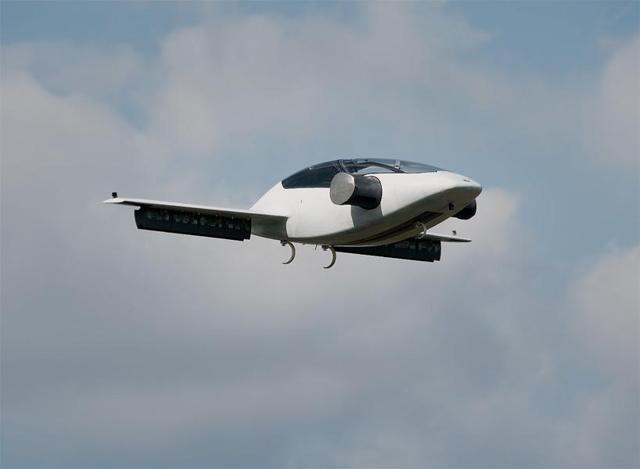 On April 24, InsideEVs reported, "The German government wants to expand its support for electric buses. Starting at the earliest in January 2018, the Federal Ministry for the Environment wants to supplement up to 80% of the additional cost of electric buses."
On April 26, Bloomberg reported, "The electric-car boom is so real even oil companies say it's coming." In the article they quote:
"Oil major Total SA says EVs will drive 30% of car sales. Total Chief Energy Economist Joel Couse told Bloomberg the company expects electric vehicles will make up 15 to 30 percent of all new-vehicle sales by the year 2030. Outlook is more bullish on EVs than most forecasters." The picture below was also from the article.
Electric car boom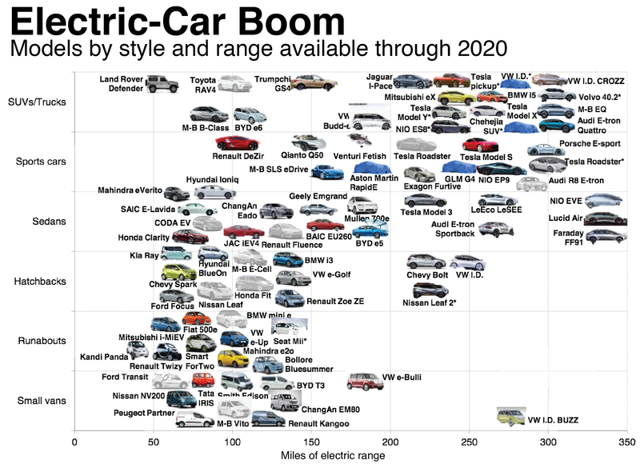 A final few quotes from the Bloomberg article:
Electric cars currently make up about 1 percent of global vehicle sales, but traditional carmakers are preparing for transformation. In 2018, Volkswagen plows into electrification with an Audi SUV and the first high-speed U.S. charging network to rival Tesla's Superchargers. Tata Motors Ltd.'s Jaguar and Volvo Cars both have promising cars on the way too, and by 2020, the avalanche really begins, with Mercedes-Benz, VW, General Motors Co. and others releasing dozens of new models.

By 2020 there will be over 120 different models of EV across the spectrum. These are great cars. They will make the internal combustion equivalent look old fashioned."
Bloomberg forecasts electric cars to become cheaper than ICE cars by about 2025
The graph below highlights Bloomberg's forecast of falling electric car costs due to falling battery costs. My model suggests electric cars will be cheaper than ICE cars by around 2022. Both assume no subsidies. The article concludes by saying: "The period of greatest peril is ending for EVs, and the time of greatest promise is beginning."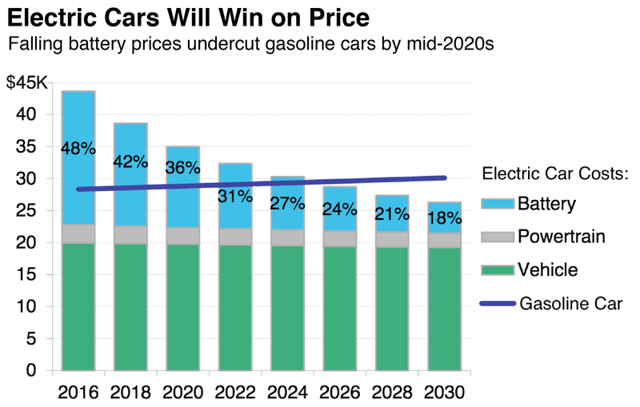 EV Company news for April 2017
BYD Co. (OTCPK:BYDDY, OTCPK:BYDDF, HK:1211)
As of end March 2017, BYD are the number two selling electric car manufacturer in China with 16% market share. Currently they are ranked 8th globally with 5% global market share. After a terrible January BYD are now making a come back. EVSales summarizes the situation well saying, "BYD's shareholders for sure will not be happy with the first quarter results of the company. BYD even sent out a proactive note to investors saying that EV incentives earlier in the year will hurt profits in Q1. Given the recent trends, we expect to see both BYD, and overall plug-in sales in China, to start setting new records again for April."
The chart below gives a good summary.
BYD sales summary past 4 years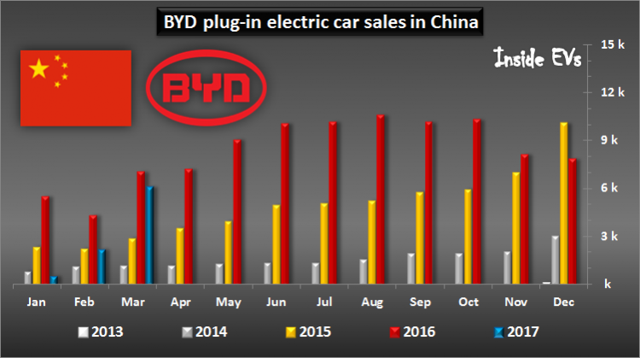 Source:InsideEVs
On April 18, Bloomberg announced "BYD plans to add a bus factory in Europe as demand seen rising." And "aims to gain about a third of the European bus and coach market in five years, or about 11,000 units of vehicles."
Tesla Inc. (NASDAQ:TSLA)
Tesla is currently the number 1 electric car seller in the US with 10,400 US sales (to end March), with 26% market share. Globally Tesla is also ranked the number 1 manufacturer for sales, with about 25,000 sales to end March 2017, and 13% market share.
On April 13, Elon Musk tweeted, "Tesla Semi truck unveil set for September. Team has done an amazing job. Seriously next level." You can read more here - "Tesla's Semi Isn't Only Electric, It's Self-Driving."
On April 25, Bloomberg reported, "Tesla doubles its superchargers with massive solar stations." "This year, the number of Superchargers available for public use will double-from 5,000 to 10,000." And, "the company will also increase the number of so-called Destination Chargers located at hotels and restaurants from 9,000 to 15,000." Great move from Tesla in preparation for a massive number of Model 3 sales.
Tesla US supercharger network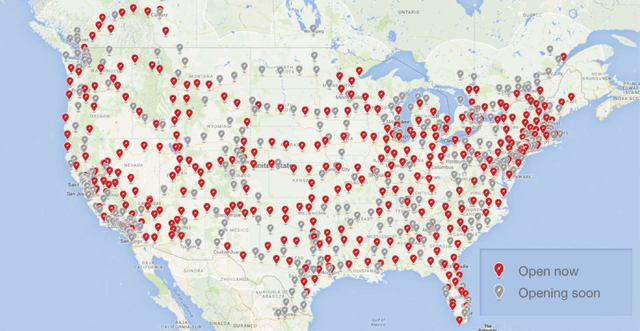 Source
The article also reported: "Some of the new stations for these Superchargers will be powered by solar panels, have customer centers, and enough chargers to accommodate "several dozen Teslas" at the same time."And, "Tesla will be expanding charging locations into city centers."
Tesla solar charging station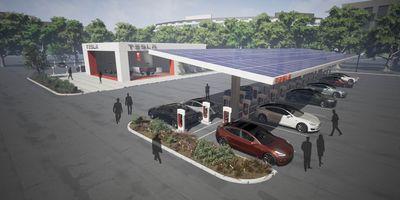 BMW (OTCPK:BMWYY)
BMW are currently the number 2 global electric car manufacturer with 9% global share and 16,679 sales year to date.
2017 BMW i3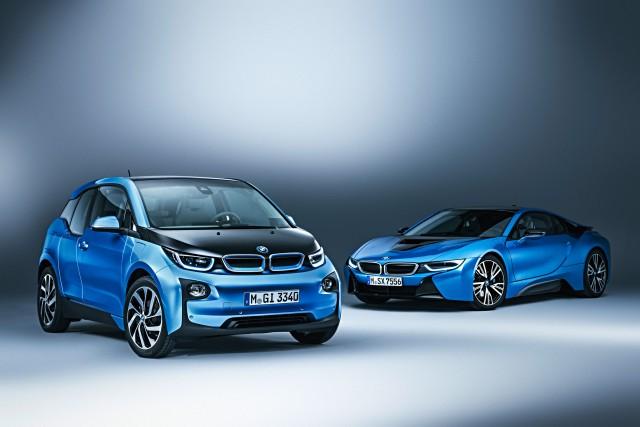 Renault-Nissan (OTC:RNSDF) (OTCPK:NSANY)/Mitsubishi (OTCPK:MSBHY, OTCPK:MMTOF)
Nissan are currently ranked number 3 for global EV sales, with 8% market share. The Nissan Leaf is the world's best selling EV model so far in 2017, just ahead of Tesla Model S and Tesla Model X.
In March GreenCarReports reported: "Renault and Nissan are also reportedly moving ahead with plans for a low-cost electric car aimed at the Chinese market." The story mentions it plans the low cost car also for India and other emerging markets.
On April 28, GreenCarReports reported: "For 2018, the Renault-Nissan group plans on increasing the Leaf's electric range to keep up with its competitors (200 miles)." And in "2020, the company would even be able to reach the 300 mile-range."
BAIC (OTC:BCCMY, HK:1958), SAIC (CH:600104)
As of end March 2017, BAIC are the number one selling electric car manufacturer in China with 23% market share. SAIC are ranked number 3 in China with 12% market share.
Volkswagen Group (OTCPK:VLKAY), Audi (OTCPK:AUDVF), Porsche (OTCPK:POAHF)
VW Microbus concept EV at the 2017 Detroit Auto Show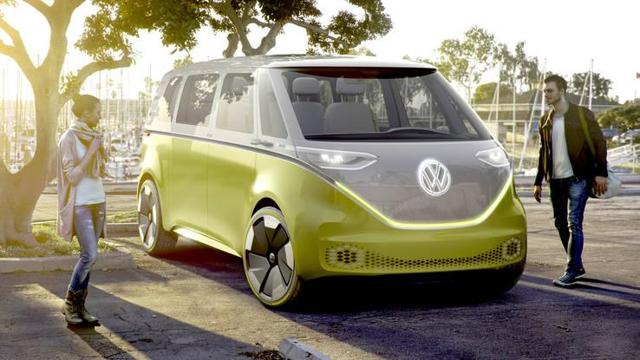 General Motors/Chevrolet (NYSE:GM)
On April 24 Gonefishing.com reported, "GM plans to launch 10 electric cars in China by 2020." Wow, that's impressive.
Daimler-Mercedes (OTCPK:DDAIF, OTCPK:DDAIY)
On April 24, Treehugger reported, "Mercedes starts delivering home energy storage units."
Geely Automobile Holdings Ltd (OTCPK:GELYY, HK:0175), Volvo (OTCPK:VOLVY), Kandi Technologies Group (NASDAQ:KNDI)
No significant news for the month.
Hyundai (OTC:HYMTF) Kia (OTC:KIMTF)
On April 8 Clean Technica reported, "Hyundai-Kia group plans blitz attack into electrified vehicles." "Hyundai and sister company Kia masterplan to plow straight on towards the future with plans to introduce 26 hybrids, plug-in hybrids, and fully electric vehicles by 2020." Wow! Great move from Hyundai and Kia.
Ford (NYSE:F)
On April 7, The Wall Street Journal reported, "Ford to make electric cars in China amid green drive." And "that it would start building electric cars in China to tap into a state-sponsored boom in green-energy vehicles."
Fisker (private)
On April 28, GreenCar Reports reported, "All-electric Fisker EMotion luxury sedan to debut on August 17." And "the EMotion will reportedly house a 400-mile range thanks to an innovative new lithium-ion cell technology using graphene electrodes." Impressive.
Fisker EMotion EV
Apple (NASDAQ:AAPL)
On April 16, GreenCarReports reported, "Apple self-driving car plans emerge: how will it play with automakers?" At least for now it appears Apple will be involved with autonomous vehicles rather than making it's own electric car. Off course Apple already has "Apple Play" car entertainment and navigation system. Alphabet Inc (GOOG, GOOGL) is also a leader, along with Tesla, in autonomous vehicles.
Apple iMove design study car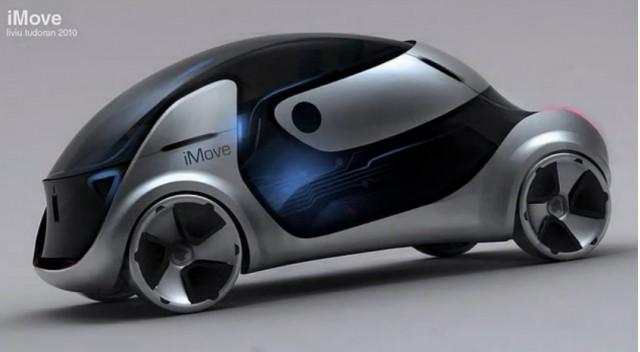 Other EV companies I am following include Chery Automobile Co Ltd (private), Faraday Future (TW:3035), Honda (HMC) (OTCPK:HNDAF), Lucid Motors (formerly Atieva) (private), Mahindra (OTC:MAHDY), Mazda (OTCPK:MZDAY), NextEV (recently changed to Nio), and Toyota (NYSE:TM).
Conclusion
March 2017 electric car sales were very strong, recording the third best month ever. EV sales market share now exceeds 1% in all major regions (US, 1%), China (1.4%), and Europe (1.5%).
My two highlights for our amazing April were the Tesla "doubling of superchargers" and the Bloomberg article quote:
Electric cars are coming fast -- and that's not just the opinion of carmakers anymore. Total SA, one of the world's biggest oil producers, is now saying EVs may constitute almost a third of new-car sales by the end of the next decade."
As usual, all comments are welcome.
Trend Investing
"Trend Investing" is my new subscription based service operating here on Seeking Alpha's Marketplace. For as little as $40 per month (on a 1 year membership) serious investors can access my very best ideas, and join an elite chat group of trend investors. To find out more you can go here.
Disclosure: I am/we are long GOOG. I wrote this article myself, and it expresses my own opinions. I am not receiving compensation for it (other than from Seeking Alpha). I have no business relationship with any company whose stock is mentioned in this article.
Additional disclosure: The information in this article is general in nature and should not be relied upon as personal financial advice.
Editor's Note: This article discusses one or more securities that do not trade on a major U.S. exchange. Please be aware of the risks associated with these stocks.