GrubHub (GRUB) investors can breathe a sigh of relief as the company reported its "best quarter ever". The online food delivery service beat on both the top and bottom lines. The beat caused a surge in shares by 22%. GrubHub's beat comes from driving new diners through strategic marketing and extending services to smaller tier markets.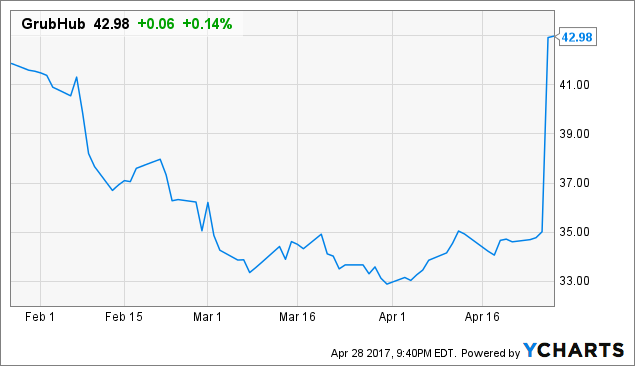 Fundamental Analysis
GrubHub beat earnings expectations by $0.05 as net income rose to $17.7 million, or $0.20 per diluted share. The beat came on revenue of $156.1 million. Revenue and earnings saw double-digit growth at 78% and 39% from a year earlier.
The number of active diners, or customers, rose to 8.75 million for a 21% growth rate from a year earlier. All of this occurred despite lower spending on marketing as a percentage of revenue. GrubHub's marketing costs were $28.8 million on $112 million, translating to 25% of revenue. Q1 2017 marketing spend was $35 million on $156 million, only 22% of revenue. GrubHub outlined new marketing campaigns and was able to deliver overall growth without sacrificing financials.
This sort of double-digit growth across the spectrum is what an investor likes to see from a growth company. GrubHub now trades at 77x trailing twelve-month earnings. The company boosted the lower bound of fiscal year 2017 revenue guidance by $12 million to $632 million.
GrubHub Spreads its Territory
Another key takeaway was the company's success in Tier 2 and Tier 3 markets. The tiers include smaller cities, regions, and towns across the U.S. Growth in these unsaturated markets grew at twice the rate of the more saturated Tier 1. This is promising as GrubHub has cited these smaller regions as the core driver of future growth.
Gross food sales tallied $898 million for the first quarter. A valuable selling point to new clients is evident as restaurants that have stayed loyal to GrubHub have realized 10% growth in gross food sales. This last metric is a great indication for what is to come in push, increasing more restaurants delivery capabilities. This point will spur more growth in the signing of larger restaurant chains. Existing restaurants partners continue to expand. GrubHub ran pilot services on Subway and Buffalo Wild Wings (NASDAQ:BWLD), which have signed on 750 and 100 restaurants in the most recent quarter, respectively.
CEO Matthew Malloney made a great statement during the conference call that does a great job of summarizing GrubHub's performance in the first quarter:
This accelerating pace of diner growth was driven by our best quarter ever in Active Diner additions and highlights the success of our increased advertising in the first few months of the year, as well as the opportunity ahead of us.
The story only gets better when looking at the cost of operations and support. Operations and support is an expense which includes the cost of independent contractors. This will be a key number to watch going forward as the cost of providing drivers that work for GrubHub, not the restaurants, will become the norm. This expense grew to $59.5 million, which is a 70% increase from the $35 million a year earlier, rising to 22% of Q1 2017 revenue. This is compared to $35 million, or 31% of revenue, from a year earlier. This may become an issue as GrubHub claims to offer the lowest cost option among a plethora of competitors.
The fact that this number decreased as a percentage of overall revenue is a positive.
Reason for the Spike and Possible Headwinds
GrubHub reported a monster quarter while its stock was being shorted at a very high rate. Short interest as a percentage of float was 21% going into earnings. Combine this statistic with a strong fundamentals beat and high institutional ownership, then the resulting 22% share appreciation makes a lot of sense.
One of the biggest headwinds is competition. Strong competitors do exist in this space already, examples include Amazon (NASDAQ:AMZN) and Uber (Private:UBER). Amazon Restaurants, the name for Amazon's delivery service, currently offers one hour delivery from 150 popular food chains and restaurants. The one hour limit shows Amazon wants to meet customer satisfaction with quality control. GrubHub deliveries can sometimes take in excess of one hour. This is okay for now, but as expectations rise with competition, the drive to be the more efficient service will be the real winner and could squeeze margins to compensate for longer wait times. The lesser of the two evils is still unclear.
UberEATs, subsidiary of Uber, just recently partnered with McDonald's (NYSE:MCD). Other examples of threats to GrubHub's leading market share are found in recent partnerships from The Cheesecake Factory (NASDAQ:CAKE) teaming up with Doordash and Panera Bread (NASDAQ:PNRA). Panera Bread announced the hiring of 10,000 drivers. All of this points to an extremely competitive landscape going forward while pointing to the demand for food delivery.
Conclusion
GrubHub did deliver a strong quarter. Some of the appreciation is objectively due to this, but at 21% short interest prior to the beat, it may not be the best time to initiate or add shares. Investors could hedge some market volatility by adding shares through put options at a strike price with a more favorable P/E.
Disclosure: I am/we are short GRUB.
I wrote this article myself, and it expresses my own opinions. I am not receiving compensation for it (other than from Seeking Alpha). I have no business relationship with any company whose stock is mentioned in this article.