I have been following the major Greek Banks (National Bank of Greece S.A. (OTCPK:NBGIF), Piraeus Bank SA ADR (OTCPK:BPIRY), Alpha Bank S.A. ADR (OTCPK:ALBKY), Eurobank Ergasias SA ADR (EGFED)) for over a year now, and felt like writing another comparison article based on the FY2016 results (last year: here). Let's assess the banks on the following criteria:
- Capitalization and reserves
- Liquidity position
- Profitability
- Greek Exposure
- Valuation
Capitalization and reserves

Source: Annual reports 2016
All banks have reported comfortable CET1 Ratios (FLB3), which moreover have been improving as of last year. The non-performing loans are still the major headache for the Greek banks and the ratio hasn't moved significantly down. The progress has been painfully slow due to the fact the legislative framework is not totally in place yet. What stands out is that Piraeus bank has been able to reduce NPLs the most, while Alpha Bank's NPLs have been growing. It seems like all banks have ample reservations is place to cover their potential NPL losses. Most of these reserves are in the form of cash, which is very comforting as collateral is subject to volatile market prices.

Source: Quarterly reports 2016
Liquidity position

Source: Annual reports 2016
From a liquidity point of view, National Bank of Greece is still the most solid among its Greek peers. It is the only bank that has a Loan/Deposit ratio below 100% and has the least Euro-system funding exposure (ELA/ECB). The liquidity figures are improving every quarter for all banks, because deposits are returning to bank accounts. For me it feels like a replay of what happened in Cyprus last year (here).
As a Greek Bank CEO, a solid strategy for solving your liquidity risk would be to attract as much deposits as possible even at the expense of short-term profitability. In the graph below, you can see Alpha Bank and Eurobank seem to follow this strategy: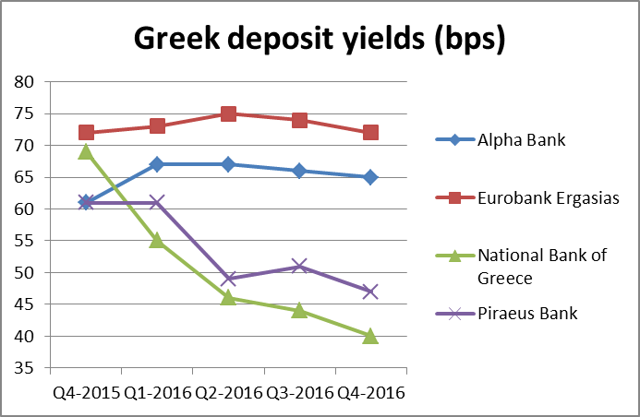 Source: Quarterly reports 2016
Profitability
Real profitability figures are very volatile under current conditions, so I have selected the more stable C/I ratio and NIM (Net Interest Margin) as rough proxies for profitability. Alpha bank has reported the best figures, while National Bank of Greece seems to be the least efficient bank. The NIM of Eurobank is very low compared to its peers and I touched upon this in a former article (here).

Source: Annual reports 2016
Greek Exposure
One of the main risks of investing in Greece is the exposure to Greek politics. A mitigation for this risk is to check whether the banks are somewhat diversified outside of their home country. Eurobank has the least Greek exposure, followed by Alpha Bank. Compared to last year, the big change has been National Bank of Greece. It sold its Turkish interests and is now a Greek-only bank.

Source: Annual reports 2016
Valuation
All banks are still trading at a fraction of their tangible book value. Piraeus Bank is trading at the biggest discount although Eurobank is a close second.

Source: Annual reports 2016
My pick
My pick is still Eurobank. Although I have built my position way too soon (I am the worst market timer), I still feel comfortable with the long-term prospects of the bank. It has the most competitive cost structure, the most international exposure, and, in my opinion, a great strategy of solving its liquidity issues.
I might take a position in another Greek bank when I see significant improvement in the non-performing loans. My experience with Bank of Cyprus (here) is that even though fundamentals are improving, the stock price will not immediately follow.
Disclosure: I am/we are long EGFEF.
I wrote this article myself, and it expresses my own opinions. I am not receiving compensation for it (other than from Seeking Alpha). I have no business relationship with any company whose stock is mentioned in this article.
Editor's Note: This article covers one or more microcap stocks. Please be aware of the risks associated with these stocks.