In about a month and a half, my younger brother is going to have his first child. Unfortunately, he'll be on the other side of the world, so I won't really get to enjoy much time with my new nephew. Nevertheless, since I won't be having children, he gets to carry the mantle forward.
To help him carry that mantle, I've decided that I'll start building a portfolio for him now so that, by the time he is ready to enter college (I hope he doesn't, but that's his call), he'll have sufficient resources to minimize the amount of debt he has to take on. Or, maybe he'll use the portfolio as a foundation to continue building an even stronger portfolio and learning about picking stocks.
Nevertheless, I am looking for opportunities that are currently beaten down, but could experience significant growth over the coming years.
One company that I have been considering for my nephew is Gilead Sciences (NASDAQ:GILD), which over the past 12 months, has seen its stock drop a little over 22%. And if we look at the stock back from June 2015, the drop is even more significant, losing nearly 43% of its market value.
What first made this appealing to me is the 6.9 P/E ratio. When compared to other pharmaceutical companies, Gilead looks like an absolute bargain. We're talking competitive P/Es of 29, 23, 46, 20 and 21. But why is the P/E so low when compared to its contemporaries?
That, unfortunately, is because the business is not diverse at all. And that lack of diversify first resulted in a plateau and then a drop in year over year sales. But that lack of diversity is also what pushed the company so high to begin with. It had blockbuster products that seriously helped patients with hepatitis C and HIV.

Source: Gilead
As the above information demonstrates, over $30 billion came from antiviral sources, with just about two thirds of that coming from its hepatitis C product. Only $2 billion came from non-antiviral products, so as competition begins to increase in the HVC/HIV markets, which they are, the company will continue to experience problems.
You'll also notice that year-over-year, there was a 7% drop in net product sales between FY 2015 and FY 2016. And if we look at just Q4 2016 compared to Q4 2015, product sales decreased by 14% to $7.2 billion from $8.4 billion in the previous year.
And as is to be expected, non-GAAP net income for the fourth quarter was $3.6 billion (excluding acquisition and stock-based compensation) compared to $4.9 billion a year earlier.
Unfortunately, things are going to continue getting worse before they get better if Gilead's guidance is to be believed.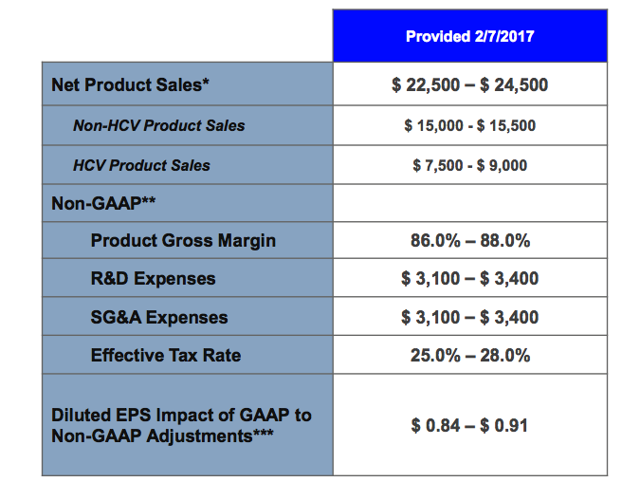 Source: Gilead
The company is expecting to generate product sales of anywhere from $22.5-24.5 billion in sales during 2017. But what's particularly concerning is that HCV sales could drop by nearly 50% from 2016 to 2017. If you recall, in 2016, its HCV product had net sales of $14.8 billion. Therefore, if that drops to $7.5 billion, it could be a serious hit for the company. Fortunately, its non-HCV sales are holding relatively flat.
Nevertheless, it is going to be another down year for Gilead.
Why Am I Considering Gilead For My Nephew?
All of this would lead you to believe that Gilead Sciences is of little interest to me. It's main products are currently seeing a reduction in sales and it is currently sitting on very few opportunities to break through that lack of diversification.
Why, then, would I be interested in this company for my nephew?
There are a multitude of reasons.
First is its cash & cash equivalents. The company is sitting on $32.3 billion in cash, cash equivalents, & marketable securities. And during all of 2016, the company had free cash flow of $16 billion. Sitting on that much available cash should help the company to make an acquisition of some size to help diversify the company.
Now, acquisitions are something that the company has talked about quite a bit, but has done very little to actually accomplish. Much of my long thesis suggests that the company will finally accomplish a major acquisition and start generating revenue from other (hopefully growing) sources.
The second reason I am interested is because of how cheap shares are. That's important to me for two reasons. The first is simple: the cheaper you pay for your shares, the better.
But the second reason the valuation is important is because it invites an activist to come in and make changes. That activist can either kick out current management and replace it with one that has a more acquisitive approach to conducting business. Couple that with the cash in the bank and that management team could work wonders. Or that activist can come in, help clean up the business, and then make it perfect for takeover. I imagine there are many major pharmaceutical companies that are not building out HIV/HCV products that would want those profit lines.
The third reason I find Gilead appealing is because of non-alcoholic steatohepatsis (NYSEARCA:NASH), which affects approximately 12 million patients in the United States. It has a few products that it is working on to target this area.
The first is Selonsertib (GS-4997), which is in phase 3 trials. During the next two years, it will work on separate studies for both F3 and F4 patients. In phase 2 is GS-0976 and GS-9674, with 0976 just a little ahead of the latter. But then in the middle of 2017, it will conduct phase 2 trials by combining the two.
I like the focus on NASH because Gilead is a liver business. Hepatitis C is a liver disease and Gilead has the top product. This is the perfect mix of diversification while still working on what it knows; said another way, it specializes in the liver, but it creates a product to target a different liver disease.
According to Alethia Young, an analyst at Deutsche Bank, 6.5 million adults in the UNited States and the five major European countries have advanced NASH. By 2025, the peak market for medicine is $35 to $40 billion.
One concern here is that it might not be the first to market. According to research, Intercept Pharmaceuticals (NASDAQ:ICPT) "is expected to launch INT 747 in the US and EU5 countries in 2017/2018." Gilead Sciences' product will then subsequently launch. I don't always believe that being the first on the market is important, but it sure is nice.
Fortunately, Intercept Pharmaceuticals currently has a market cap of only $2.78 billion. If NASH really is considered the next Hepatitis C, then even paying double that cost for Intercept might turn out to be an amazing acquisition for Gilead to make.
And the final reason that I find Gilead to be appealing ties back to the dividend. The dividend was increased by 10% to $0.52 per share, which is good for a yearly yield of 3%. And with strong cash flow, at least for the next couple of years, I imagine that the dividend will remain strong. I want my nephew's portfolio to have dividend stocks that are going to continue paying so that it can compound.
But Will I Buy?
It's a top contender for what I am looking to achieve. I don't know if Gilead will be able to turn things around. And, unfortunately, the business sees sales shrinking, at least in the short-term. Nevertheless, it is an appealing opportunity.
However, I do have expectations that Gilead will be an acquirer in 2017. With NASH such a powerful opportunity, Gilead will either need to dominate with its product, or buy up its competition. And with it sitting on $32 billion, I feel optimistic that the company will be in the acquisition business.
But ultimately, I am a buyer because it is so cheap. It is sitting on cash flow producing products that other pharmaceutical companies will want. Therefore, if Gilead doesn't turn around, I expect another larger company to make a play for Gilead. And that could also be a good outcome for investors.
Gilead may not fit in your profile and it could be a painful time in the short-term. However, my nephew is still a month out from birth. He's got time to weather any headwinds that Gilead may experience.
Disclosure: I/we have no positions in any stocks mentioned, but may initiate a long position in GILD over the next 72 hours.
I wrote this article myself, and it expresses my own opinions. I am not receiving compensation for it (other than from Seeking Alpha). I have no business relationship with any company whose stock is mentioned in this article.