Personal enjoyment in activities always comes at some cost to the individual. Say we like to go to the movies, I can expect my wife and I will spend about $14 for two tickets and then another $20 for the enjoyable popcorn and soda. A $34 dollar value for 2 hours of entertainment. We might even take in a few basketball games, mainly to enjoy our son playing trumpet in the pep band. This 3 hour event might cost us $12 for the two of us. Another pleasure activity is renting a Red Box movie for $1.50 and a couple hours of relaxing. During jazz band competitions we would travel to various locations to the wonderful sound of jazz musicians listening to our son's jazz band perform. These events could cost us $12 to enjoy an hour or so of jazz music. Beyond these activities and the occasional eating out at single $ to $$ type venues, we do not indulge ourselves.
The only other real indulgences in our lives are the internet and basic cable television. These two items are bundled together at an expense of $95 a month. If we look at these indulgences on a monthly basis we spend approximately $189 a month for internet, cable TV, a movie theater trip and a couple of eating outs. A yearly total of $2,268. Note I have not included travel costs nor our time costs.
What is the opportunity cost of these indulgences?
If we stopped all of these indulgences and looked to invest those spent dollars, what could we expect? I like to keep life simple for the most part and my wife is very much the same way. If we would employ the strategy of saving the $189 each month for six months, we could make twice a year deposits of $1,134 into our brokerage account. Since we are DYIers ((Do It Yourself Investors)) and DGI ((Dividend Growth Investors)), we could make a single stock purchase with a $7 commission into a 3.0% yielding dividend stock twice a year. Ignoring market price at the end of the year for the one or two stocks we purchase, we can expect a yearly income of $68 or two additional movie theater trips or two eating out events. We can expect this yearly income to increase each year by 3.0% meaning that in 5 years this yearly income would be $78.83. Combine this with the annual savings and we should easily have $11,779.84 saved in 5 years, our opportunity cost for these indulgences is on average $196.33 on a monthly basis.
Given I am a DGI and DYI I would find the activity a little more difficult without the internet, but stock purchases could be done over the phone.
The purpose of this scenario is an attempt to value our indulgences or pleasures and understand that what we potentially lose in the process over some time frame. However, there is a psychological and health advantage to performing activities that bring us pleasure.
Why the concern?
For years now we have said that after our last child graduates high school, we would look to purchase a Can-Am Spyder RT three-wheeled motorcycle.
How do I assign an overall valuation to this pleasure item? I will say straight up the purchase of this vehicle is nothing more than being financially irresponsible and simply stupid. And my wife agrees, although she has been as much of a supporter of this endeavor as I. We both are willing to work longer while enjoying Spyder RT rides now.
What exactly are we giving up? Do we have the funds to make such a purchase? Have we been saving along the way for this financially irresponsible purchase since we knew it was something we wanted? Let's answer these questions.
We'll start with the question regarding saving along the way. The short answer to this question is yes. The long answer is we've been buying stock for a number of years. This particular stock pays a quarterly dividend that has ranged from 2.6 to 3.0% over the years and up until recently the dividends have been reinvested. So, obviously this also answers the question of having the funds available.
The question of giving up is the more difficult one to answer. The first response is the outlay of dollars to make the purchase. If we finance the purchase we also have additional interest expense. Additionally, loss of the interest those dollars could have earned over a fixed period of time. And then there is time itself. I have a certain dollar value tied to my time and my wife's time.
Taking the plunge
On April 14, 2017, my wife and I picked up our 2015 Can-Am Spyder RT S SE6 three-wheeled motorcycle. This was an unexpected purchase at this time. For several weeks the two of us had been discussing getting a Spyder and we both came to the conclusion that we wanted to at least try it. Many years ago when we were seniors in high school we rode a Honda 350 motorcycle. We had tremendous fun touring around smalltown USA and we wanted to experience it again with a higher degree of safety.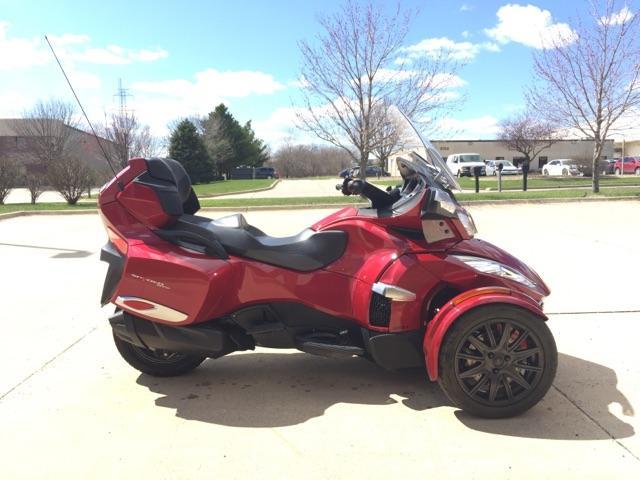 Source: Author
Now I had set out a budget of no more than $15,000 for this purchase. This was to include the additional costs of helmets, taxes, license and insurance. I had been searching out craigs list and cycletrader. Exchanged some text messages and emails with a couple of Spyder sellers, but not gotten too serious since my son does not actually graduate until May 21.
We were fortunate to have our oldest son and his wife home for a few days in early April and happen to stop in at our third son's former place of employment, a motorsports business. Our oldest son just wanted to look around as they have motorcycles, UTVs, mopeds, 4-wheelers, snowmobiles, and jet skis. My third son's close friend, who is the lead salesman, informed my wife and I that they just traded for a 2015 Spyder RT S SE6 with only 470 miles on it. Naturally, I had to take a look at. That was my first mistake as it was a red burgundy, the one color my wife thought we would always have. We went back later to test drive it and to finalize the deal.
In short we shot our budget by a lot. Once everything is all said and done, we are out $20,300 (taxes, title, license, warranty, insurance, and helmets).
We have the money in stock, but now I have to sell shares to fund the purchase. It could take me awhile to sell enough shares, which concerns me. My original goal with these shares was to accumulate enough shares to collect approximately $3,000 a year in dividend income. So, by selling enough shares, I am shorting myself approximately $600 a year in dividend income ignoring any future growth in dividends. I decided that this is not the best option as it will take weeks to sell enough shares and I do not want to reduce the amount of income I am planning on receiving during retirement, about 7 to 10 years away.
I do have an emergency fund that is comprised of cash and three stock holdings, Kinder Morgan (NYSE:KMI), Intel (NASDAQ:INTC), and EMC Insurance (NASDAQ:EMCI). The majority of the holdings are in EMCI stock. This fund has a balance that fluctuates between $26,000 and $28,000. Selling any of these stocks would take about a week to complete and I still would have $5,700 to $7,700 in the emergency fund. I would need to work hard to replace the fund for that potential emergency that could arise. This does not seem to be the best option either.
There is always financing the purchase, but I was not willing to pay interest to some financial institution for a pleasure item. So, this was definitely out of the question.
When I was in my late 20's and having my first home with a family, I made the decision to purchase permanent life insurance. I have maintained this life insurance paying the annual premiums monthly. I realize many would say that term life insurance is the better option. I believe that permanent versus term life insurance is about the individual's situation. In my case I needed life insurance to protect my family and permanent was guaranteeing me at least a 4% dividend, a cash value that grows over time, and the option to borrow against the cash value at 8% loan interest rate. Also was giving me funds to pass onto my children, something my wife and I placed tremendous value on.
I initiated a policy loan for $19,000 using other savings to fund the remainder. The real advantage to this approach is that I am making monthly payments of $385.25 over the next five years with the interest dollars being contributed to my cash value. My yearly dividend payment is earned on the original cash value balance. Very sweet to be able to use my dollars multiple ways. My permanent life insurance is acting like a personal bank.
The real cost of this purchase
The total loan interest that will be paid over the next five years is $4,115.09. Adding the loan interest to the total cost of the motorcycle brings our $24,415.09 for the total cost of the Spyder. Our costs do not stop there. We need to factor in costs associated with servicing, tire replacement, and other maintenance items, like brakes. Service maintenance is performed every 3,000 miles and cost $290. A set of three tires is approximately $500 balanced and installed, likely needed every 6,000 miles or once a year. The required fuel is premium non-ethanol based and on average is costing $2.85 per gallon. The Spyder can get 30+ miles per gallon.
Figuring the yearly cost will require some assumptions, like driving the Spyder 6,000 miles each year (only able to ride about 6 months during the year) and a 3% inflation rate per year. I anticipate that after 5 years we will likely have our fun with the motorcycle and will part with it. I estimate the value of the Spyder will decline in the 5 years by $10,000 from original pricing placing the value between $11,000 and $13,000. Another assumption is the value of our time while touring around on the Spyder as opposed to being productive. I will use $20 an hour for each of us. In a year, this would be $8,000 based on 6,000 miles and an average speed of 30 miles per hour.
We want to figure a 5-year total cost of ownership and time sacrifice. The total 5-year operational and maintenance costs are illustrated in Table 1.
Table 1. - 5-Year Costs
Year

1

2

3

4

5

Miles/year

6,000

6,000

6,000

6,000

6,000

Miles/gallon

30

30

30

30

30

Gallons/year

200

200

200

200

200

Price/gallon

$2.85

$2.94

$3.02

$3.11

$3.21

Fuel Cost

$570

$587

$605

$623

$642

Tires/year

$500

$515

$530

$546

$563

Maintenance_ Service/year

$580

$597

$615

$634

$653

Insurance

$350

$361

$371

$382

$394

Time sacrifice

$8,000

$8,240

$8,487

$8,742

$9,004

Subtotal

$10,000

$10,300

$10,609

$10,927

$11,255

5-Year Costs

$53,091
The additional 5-year cost factor would be the total loan repayment with interest, $24,415.09. Adding these two together gives us a 5-year total cost of $77,506. We estimated 200 hours of riding time per year and this translates to an hourly cost of $77.51 or $78.
The Value of One Hour of Pleasure
Working our way through this exercise provides us a way to value the pleasure we get from every hour of riding. I must admit I am taken back by this $78 per hour valuation. Research has shown that whenever an individual encounters pleasure it does contribute positively to their health. Given this health benefit, we can conclude that our $78 per hour value would be reduced, to what extent remains an unknown.
Target Added To Rollover401k Portfolio
Target was added to the portfolio on March 28 at $53.25 per share. There is no doubt that this purchase was made primarily for the 4.3% dividend yield. A slightly larger initial purchase was also made in order to take advantage of the yield to help increase the portfolio yield.
Earnings have grown by a compounded annual growth rate (OTCPK:CAGR) by 5.1% over the last 9 years. Cash flow has proved a little better with a CAGR of 5.7%. The dividend has grown over this same time period by an annual 19.3%. This is concerning, but the dividend payout ratio is only 41% of earnings per share (($5.25 in 2016)) and 25% of cash flow per share (($8.74 in 2016)).
When I got to reviewing these numbers I was comfortable with initiating a position in Target. I also read Chris Messner's article he wrote. He believed (NYSE:TGT) to be a definite look and suggested some naked puts. I also read Accelerating Dividends' article where he covered the dividend growth and what management had to say. Management's goal is to have a 40% dividend payout which translates to slow dividend growth.
Please note I am not advocating the purchase of and encourage each of you to complete your own due diligence.
Combined Portfolio Update
The addition of accounts for 2.86% of the portfolio and contributes 0.12% to the total portfolio yield of a measly 2.35%. Table 2 below is the current holdings in the combined portfolio. I discuss combining the two portfolios in my article here.
Table 2. Combined Portfolio
| | | | | | | | |
| --- | --- | --- | --- | --- | --- | --- | --- |
| Rollover401k | | | | | | | |
| As of | 4/30/17 | | | | | | |
| Company | Symbol | Dividend | Current Dividend Yield | Weight | Portfolio Yield | Dividend at Purchase | Yield on Cost |
| Apple | AAPL | 0.57 | 1.59% | 10.66% | 0.17% | 0.37857 | 4.23% |
| Berkshire Hahtaway | BRK.B | 0 | 0.00% | 16.92% | 0.00% | 0 | 0.00% |
| Chevron | CVX | 1.08 | 4.05% | 3.82% | 0.15% | 1.07 | 4.76% |
| Intel | INTC | 0.2725 | 3.02% | 3.87% | 0.12% | 0.225 | 4.21% |
| Johnson & Johnson | JNJ | 0.8 | 2.59% | 6.72% | 0.17% | 0.57 | 3.63% |
| Coca Cola Co | KO | 0.37 | 3.43% | 4.68% | 0.16% | 0.255 | 2.73% |
| McDonald's | MCD | 0.94 | 2.69% | 11.46% | 0.31% | 0.61 | 3.06% |
| Procter & Gamble | PG | 0.6695 | 3.07% | 4.76% | 0.15% | 0.525 | 3.45% |
| Qualcom | QCOM | 0.53 | 3.94% | 2.81% | 0.11% | 0.25 | 1.59% |
| AT&T | T | 0.49 | 4.95% | 4.49% | 0.22% | 0.43 | 5.83% |
| Target | TGT | 0.6 | 4.30% | 2.86% | 0.12% | 0.6 | 4.51% |
| Ventas | VTR | 0.775 | 4.84% | 3.08% | 0.15% | 0.73 | 4.59% |
| Wells Fargo Co | WFC | 0.38 | 2.82% | 1.21% | 0.03% | 0.375 | 2.94% |
| Walmart | WMT | 0.5 | 2.66% | 1.54% | 0.04% | 0.48 | 2.56% |
| Exxon Mobil | XOM | 0.75 | 3.67% | 4.35% | 0.16% | 0.57 | 2.58% |
| | Cash | $3,391.48 | | | | | |
| SpouseRothIRA | | | | | | | |
| Duke Energy | DUK | 0.855 | 4.15% | 1.10% | 0.05% | 0.8254 | 4.19% |
| International Business Machines | IBM | 1.4 | 3.49% | 1.64% | 0.06% | 1.3 | 3.82% |
| Southern Company | SO | 0.58 | 4.66% | 1.43% | 0.07% | 0.5425 | 4.60% |
| AT&T | T | 0.49 | 4.95% | 1.54% | 0.08% | 0.48 | 5.69% |
| Wells Fargo Co | WFC | 0.38 | 2.82% | 1.16% | 0.03% | 0.38 | 3.15% |
| | Cash | $6,293.99 | | Dividend Yield | 2.35% | | 3.61% |
My ultimate goal is to get the dividend yield above 4%. Obviously this is a huge challenge when 17% of your portfolio consist of a non-dividend paying stock and there are 52% of dividend payers that are below the 4% in dividend yield.
The bright spot for the combined portfolio is an average yield on cost of 3.61%.
I currently have $9,685.47 available to invest, a higher amount than I would like. One stock that I have a limit order in place is on (NYSE:GIS) at $54.52. Some other stocks that are on my watch list are (NYSE:MMM), (NASDAQ:AMGN), (NASDAQ:MSFT), and some REITs. What stocks are on your current list of possible buys and why?
Feel free to comment and I will do my best to respond, but responses will likely be in the late evenings. Your comments contribute highly to my learning and enjoying hearing from you.
My next article is likely to be on the REITs that I would like to add to my portfolio and how I determined my watch list.
I also want to thank everyone who have decided to follow me. I am honored and humbled with your belief I have something to contribute to your investing world. I hit over 100 followers and never dreamed that I would ever write an article let alone have followers. Thank you!
Disclosure: I am/we are long AAPL, BRK.B, CVX, INTC, JNJ, KO, MCD, PG, QCOM, SU, T, TGT, VTR, WFC, WMT, XOM, DUK, IBM, SO.
I wrote this article myself, and it expresses my own opinions. I am not receiving compensation for it (other than from Seeking Alpha). I have no business relationship with any company whose stock is mentioned in this article.
Additional disclosure: This article is a little unusual with the valuing of pleasure, but I think it adds value to understanding that we give up opportunity cost when we make purchases.