Matching expectations is good, beating expectations is better, and surpassing the prior year's Q1 2016 financial results is hitting the trifecta. Chevron (NYSE:CVX) for Q1 in 2017 did exactly that: They beat earnings expectations on the top line, the bottom line and year-over-year (YoY) results in the prior quarter in 2016. Chevron exceeded earnings expectations by $0.94 per share, and surpassed revenue expectations by $660M.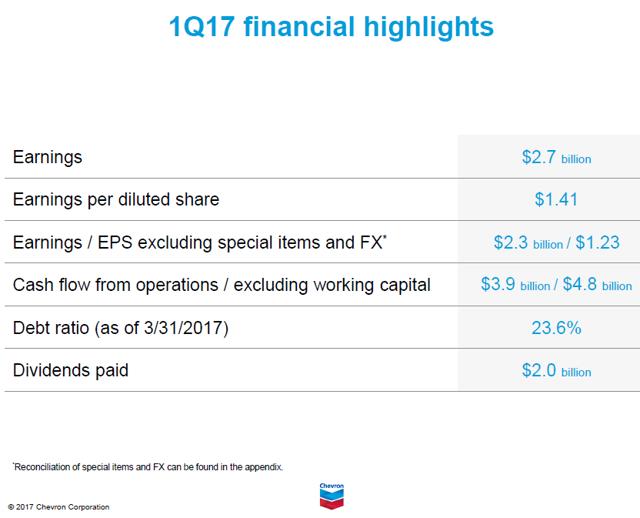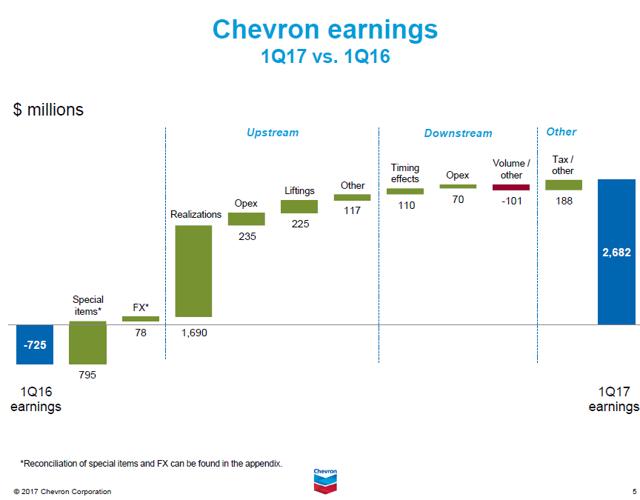 Compared with last year, CVX had two tailwinds behind its Q1 2017 financial results: higher oil prices and lower operating costs. Even excluding one-time items from asset sales in Indonesia and elsewhere, CVX posted positive earnings at $1.23/share in Q1 2017, compared with a year-ago loss in Q1 2016. A backdrop benefit was slowly improving oil prices from a year ago, as prices have clawed ahead by roughly 50% since Q1 2016. Production increases came from the U.S. Permian shale play and Asian liquefied natural gas (LNG). As the second-largest leaseholder in the Permian, CVX is positioned to draw significant future production upside from the Permian. Asian LNG growth was driven by Australia's Gorgon, where CVX brought online a third processing facility. Upstream earnings in both the U.S. and internationally swung from a prior-year loss to profits.
Where Did Chevron Improve From Last Year's Q1
Let's drill down into Chevron's quarterly results to see exactly where they did or did not improve from a year ago. All comparisons are Q1 2017 to Q1 2016.
World-wide (WW) oil production was lower YoY at 4%, lowering CVX's WW oil production portfolio weighting. However, CVX's U.S. oil production weighting increased, propelled by its greater U.S. oil production from the Permian and lower natural gas production. U.S. oil production increased nearly 3%. WW natural gas production jumped over 9% driven by Asian LNG growth.
In the Permian, production increased roughly 33% YoY, and is on target with full year (FY) company expectations.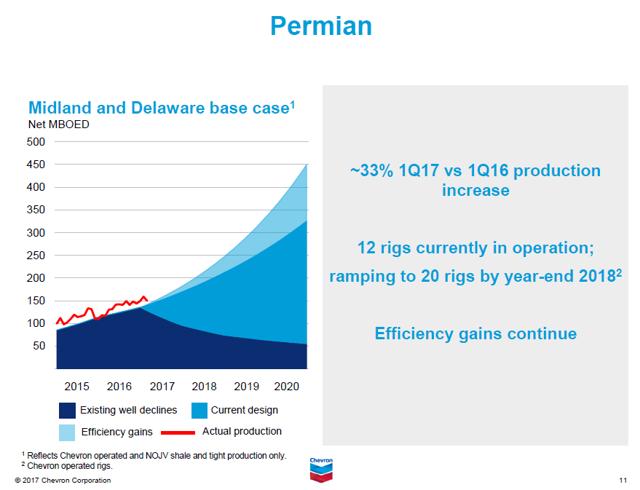 Currently, CVX is on target to meet full-year WW production growth of 4% to 9% excluding asset sales.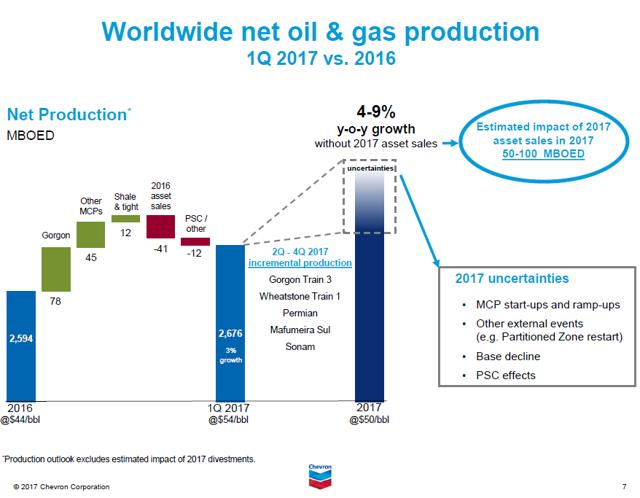 CVX has been hammered by investment analysts for high capital spending budgets and low operating cash flows the last few years. On both the spending and cash flow metrics Chevron showed positive improvements in early 2017. Operating cash flow (OCF) -- including working capital results -- tripled, soaring 240%, excluding working capital results. OCF quadrupled from the prior year's quarter. WW capital spending (capex) dropped by nearly a third. WW and U.S. upstream capex also dropped by a third and 18%, respectively. The net effect for WW company-wide operating cash flow after capital spending (NOCF) improved from a deficit of $5.3 billion to a deficit of $513 M. However, if we exclude working capital in Q1 2017, NOCF improved to a surplus of $408M. The significant improvements in NOCF was received positively by investors, and rightly so.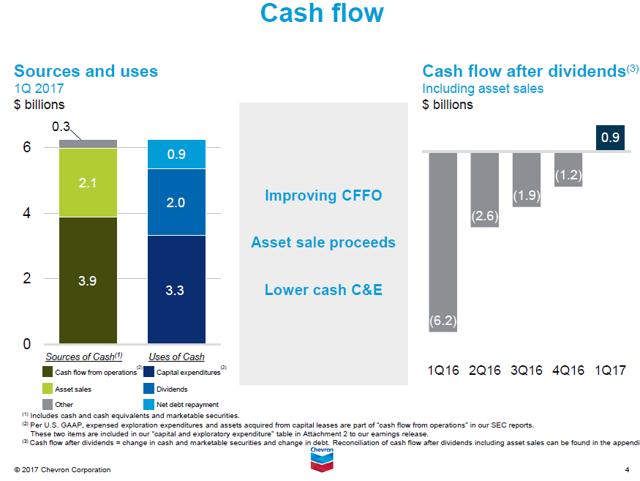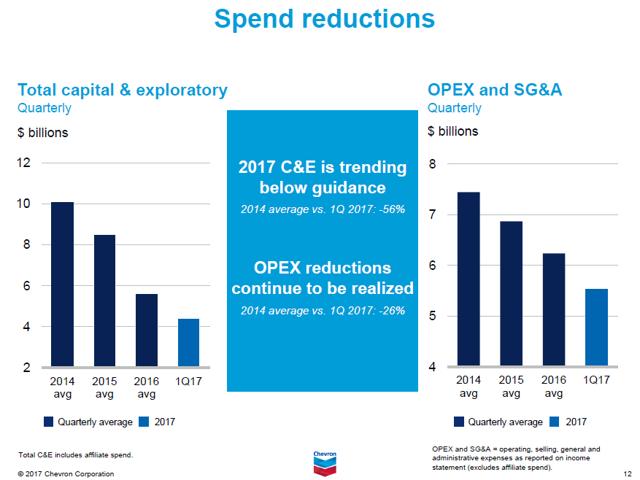 Higher production in the Permian, higher oil prices and lower operating costs pushed return on sales or revenues into positive territory to 8.0% in Q1 2017, from negative 3.1% in the prior quarter in 2016.
Downstream or refining and retail earnings also provided a boost to earnings. Although WW and U.S. refined product sales volumes were lower YoY, improved refining margins in the U.S. were able to offset lower international margins. Overall WW and U.S. downstream earnings increased YoY.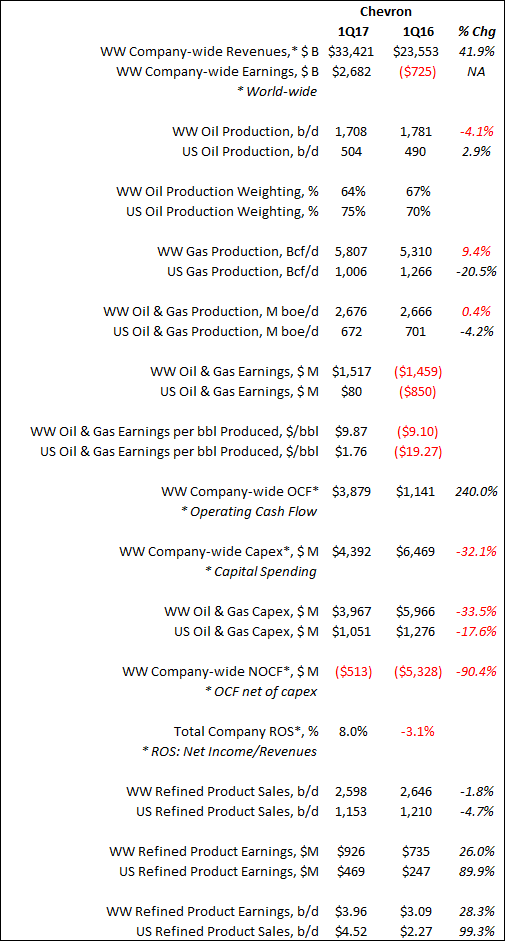 Source: Chevron Q1 2017 Press Release.
Conclusion
It is important to exceed revenue and earnings expectations; it is equally important to exceed cash flow and other financial metric expectations. OCF is the lifeblood of a company's operations that feeds much of the investor-demanded dividends and production growth. In Q1 2017, CVX hit all the investor demanded expectation targets with growth in revenue, earnings, cash flow, dividends and lower operating costs and capital spending. It was a very good quarter for CVX. The challenge for CVX is to continue the path established in Q1 2017 into the next three quarters of 2017. The near-term outlook looks promising, as CVX appears able to execute growth in the Permian and Asian LNG supported by oil prices staying above $50/bbl. A positive tailwind for CVX is its high oil weighting leverage to higher oil prices.
On Friday, investors bid up CVX's stock, apparently reacting to CVX exceeding expectations in Q1 2017. There also appears to be investor belief that there is room to run on the upside for CVX's equity shares. Currently, CVX's stock is trading at its weighted moving average with relative strength and price to volume indicators trending slightly lower. Given oil's high price volatility, caution is the better part of valor that may warrant looking to CVX's subsequent quarterly results prior to making equity investments.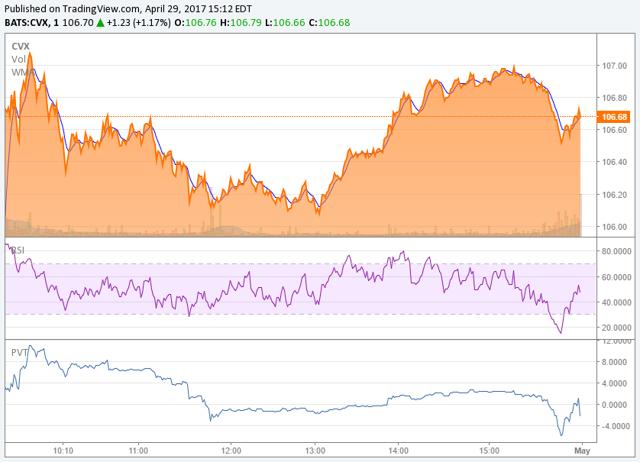 On a longer view, year-to-date CVX is slightly outperforming the broader energy sector (NYSEARCA:XLE) and Exxon Mobil (NYSE:XOM). Chart below, CVX is in orange, XLE is in blue and XOM is in green.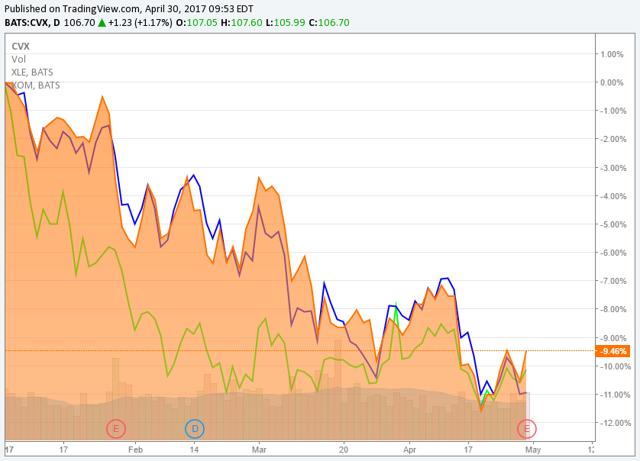 Note from author: Thank you for reading. If you like this article, then please follow me by clicking the "Follow" button at the top of this page.
Disclaimer: Please do your own research on the company's SEC filings, press releases and any relevant information to determine whether this company is suitable for your investment risk profile. The reader should contact a qualified investment advisor. I am not a registered investment advisor, and this article is not an advice to buy or sell stock in any company. I am not responsible for investment decisions you make.
Disclosure: I am/we are long CVX.
I wrote this article myself, and it expresses my own opinions. I am not receiving compensation for it (other than from Seeking Alpha). I have no business relationship with any company whose stock is mentioned in this article.