There's a battle brewing between the industrial giants for the control of the Industrial Internet of Things (IIOT). Companies such as GE (NYSE:GE), Siemens (OTCPK:OTCPK:SIEGY) and ABB (NYSE:ABB) are making dramatic changes to their mission and business models to gain an upper hand in this fight. The winners in this fight would control their industrial equipment, such as wind turbines, aviation engines, industrial robots, etc., from the time of its birth to the end of its life. They would gain complete control of their products and the associated revenue stream for life. This could ultimately lead to higher profit margins (due to higher margins of software), increased customer loyalty, smarter products that are more efficient and products that are continuously improved.
GE, Siemens and ABB are at the forefront of this fight, but there are others in this fight too. Companies such as Rockwell Automation (NYSE:ROK), Fanuc (OTCPK:OTCPK:FANUY), Honeywell International (NYSE:HON), Emerson Electric Co. (NYSE:EMR), Schneider Electric (OTCPK:OTCPK:SBGSF), etc., are positioning themselves in their own niche markets. Countries are vying for an advantage too. The battle for the industrial Internet is shaping to be a battle between U.S and Europe (mainly Germany). China wishes to play a bigger role in this market as well. Japan and South Korea have been heavily investing in robots for a long time.
Is The Industrial Internet "Old Wine in New Bottle"?
Supervisory Control and Data Acquisition (SCADA) control systems have been around for a very long time to help manage industrial processes and systems. SCADA systems were localized and did not scale well with data growth or were inflexible as businesses changed. Now, the dramatic decrease in cost of sensors and semiconductors have made it easy for even relatively inexpensive parts in an industrial environment to be sensor and network enabled. It is easy and cheap to store vast amounts of data gathered from networked industrial equipment. Finally, the evolution of cloud computing platforms and big data tools have made it easy to gain insights from vast amounts of data, automatically control equipment in real-time and continuously improve the performance and life of the equipment.
GE sees great competitive advantage from being a leader in industrial Internet. It is transforming all it products into software-defined machines.
Exhibit: GE's Mission - Software-Defined Machines & Solutions

(Source: Company Filings)
GE's Industrial Internet-of-Things strategy is based on its Predix. GE describes it as the operating system for the industrial Internet. Predix allows for industrial equipment to be connected to the platform. Predix would collect data from the equipment, analyze it and provide recommendations for improvements. It could also help predict potential failure of industrial equipment and can help companies plan maintenance activities before the failure of the equipment.
GE is on track to generate nearly $5 billion (estimated for 2017) in revenue from software and related services. In 2016, GE had $4 billion in Predix and software orders. Any large company with a $5 billion in revenue stream from a new product or service would be ecstatic. An industrial company would be even more elated when they look at the higher margins of software services compared to margins from industrial products. The $5 billion in revenue would almost put that division in the Fortune 500 as an independent company.
Exhibit: GE Competing on Digital and Additive Manufacturing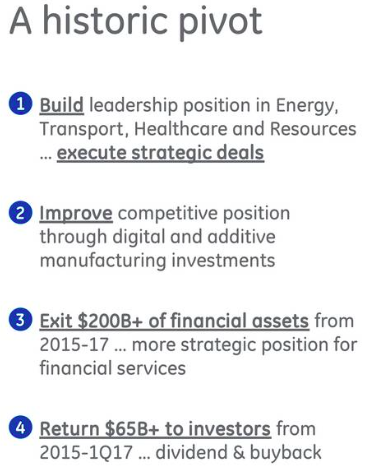 (Source: Company Filings)
Exhibit: GE Betting on Knowledge Sharing (Via GE Store) and Digital Strategy to Improve Productivity and Lower Costs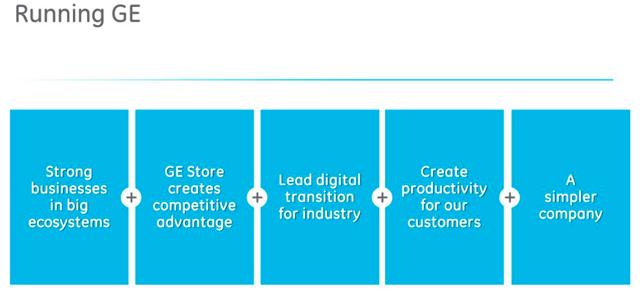 (Source: Company Filings)
Exhibit: GE is Hoping to Connect All its Products to the Industrial Internet Powered By Predix Platform

(Source: Company Website)
Outcomes Based Service Agreement Enabled By Industrial Internet
GE signed an enterprise-wide software agreement to use Predix at Exelon. As part of the agreement Exelon will deploy the full suite of Predix software applications across its entire generation fleet, which delivers 32,700 megawatts of nuclear, wind, solar, hydroelectric and natural gas power to increase performance and reliability.
GE also signed a contractual service agreement with Transocean that was valued at approximately $180 million. As part of this agreement, GE will provide condition-based monitoring and maintenance services for pressure control equipment on seven of Transocean's rigs over the next 10 to 12 years. GE is sharing the cost and risk of maximizing productivity and lowering operating costs. This performance-based service agreement is a bet on predictive and analytics capabilities of GE's IoT platform - Predix.
In the healthcare space, GE has signed a similar outcomes based agreement with Mission Health of Asheville, NC. GE and Mission Health are collaborating on better care transitions, deploying predictive modeling and other analytics tools to ensure care is delivered efficiently. GE is ensuring that all equipment is interconnected and that data is readily available to clinicians. They have set a goal of saving $40 million over the course of their agreement.
To improve the efficiency of their wind turbines, GE has introduced new software application suite that is compatible with the company's latest 2 MW and 3 MW wind turbines that can reduce maintenance costs by up to 10% and deliver 1% to 3% additional revenue per site.
For the Aviation business, services revenue accounted for 56% of the revenue. As more data is collected on their engines, the more it can be analyzed to reduce maintenance costs and improve efficiencies. There is improvement in customer loyalty and it create a competitive moat and prevents third-party service vendors from taking away business from GE.
One of the benefits of GE's acquisition of Alstom's Power and Grid business is the access to the Alstom's large install base that can add to the services revenue.
GE is using its traditional strength in aviation, power, renewable energy, transportation and healthcare to build its business in the industrial Internet. GE is also hoping that the combination of its oil and gas ((O&G)) division with Baker Hughes would lead to a bigger opportunity for industrial Internet across the entire O&G value chain. Given the low oil prices, the further automation and efficiency gains from the industrial Internet could help improve profitability. But, GE does not have a position in the discrete manufacturing automation space. Besides that, robotics and industrial automation are converging to provide a unified control of the industrial environment. GE does not have a robotics business, but has invested in robotics company called Rethink Robotics, which makes collaborative robots for discrete manufacturing. This may be a precursor to entering the manufacturing industry. In the long-term, GE will have to enter the manufacturing automation and robotics segments to be able to dominate the industrial Internet.
ABB on the other hand, has substantial revenues from both discrete and process automation. It had about 45% of its revenue from those two divisions. It even has a substantial business in selling robots and has recently released a robot in the collaborative robot category (COBOT). It has invested in acquisitions to complete its product portfolio in industrial automation.
ABB formed the Power Grid division by combining its Power Products and Power Systems divisions. This allows it to have a unified vision and strategy to offering more software services. ABB only generated 18% of its revenue from services and software in 2016. But, GE may have a huge lead in offering services for asset performance management and operations management using its Predix platform. GE's business model innovation in offering performance based service contracts requires very high level of confidence in predicting the efficiency of their machines. That level of confidence can only be gained by gathering vast amounts of data, analyzing and learning from it. There is no short-cut to gaining real, historical data from years of operations in the field.
Exhibit: ABB has a Long Way to Go to Gain Substantial Revenues from Software and Services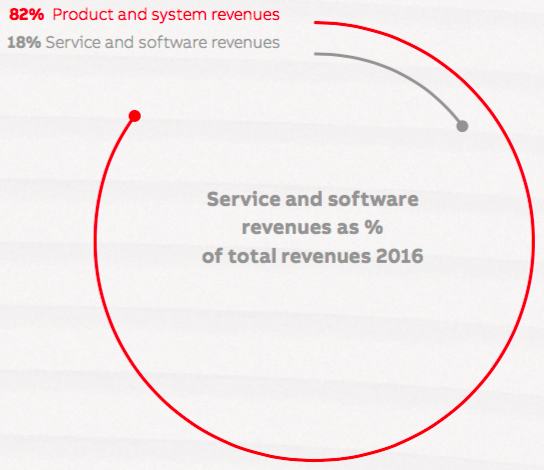 (Source: Company Filings)
Siemens has pursued an Industrial Internet strategy that is vastly different from that of GE and ABB. Siemens had a huge investment in Product Life Cycle management software. They have leveraged that business and have expanded on that product line to offer more end-to-end capabilities in designing, manufacturing and maintaining products via its software. Siemens has nearly Euro 5 billion in revenue from software and services and it is now building more capabilities into its MindSphere IoT platform besides its existing leadership in the PLM space. In essence, Siemens has built a software business that is unmatched in the industrial space.
The competition to dominate the industrial Internet is well underway and each company is pursuing somewhat different strategies and those strategies are driven by their history and strengths. It is turning out to be an exciting period for all industrial companies as each one of them identify gaps in their products and try to fill it with acquisitions. This could lead to niche players being acquired by larger ones. ABB acquired B & R Automation and GE's acquisition of ServiceMax are examples of this strategy. Expect more acquisitions and excitement in the industrial space.
Disclosure: I am/we are long GE.
I wrote this article myself, and it expresses my own opinions. I am not receiving compensation for it (other than from Seeking Alpha). I have no business relationship with any company whose stock is mentioned in this article.
Editor's Note: This article discusses one or more securities that do not trade on a major U.S. exchange. Please be aware of the risks associated with these stocks.