Amazon Doesn't Have It All In Japan (Yet)
Before I start discussing Amazon's (NASDAQ:AMZN) hiccups in its Japan operations, I would like to note that Amazon's Japan revenue accounts for approximately 8% of total 2016 revenues. If a series of earthquakes wiped out every Amazon Japan facility, some investors may not even notice. That said, the Japanese e-commerce market is roughly a quarter of the size of the US e-commerce market ($80B vs $350B sales per year in 2015) - and that is hard to ignore.
Due to differences in business models, the Japanese way to gauge online retail market share is to measure the total value of products distributed. As of 2016, Rakuten (OTCPK:RKUNF, OTCPK:RKUNY) still leads the pack, with Amazon Japan and Yahoo Japan (OTCPK:YAHOF, OTCPK:YAHOY) closing in.

Sources (All in Japanese): Rakuten: Here, Amazon Japan: Here, Yahoo Japan: Here
Yahoo Japan, which sounds like a company that belongs in the "history of once-great American tech companies" textbook, is on fire, keeping up with Amazon Japan.
Very much alive and kicking, Yahoo Japan boasted a 60%-plus growth in total value of distributed products over a three-year period. The company wasn't shy about the progress either. Here is a snippet from the company's most recent investor presentation: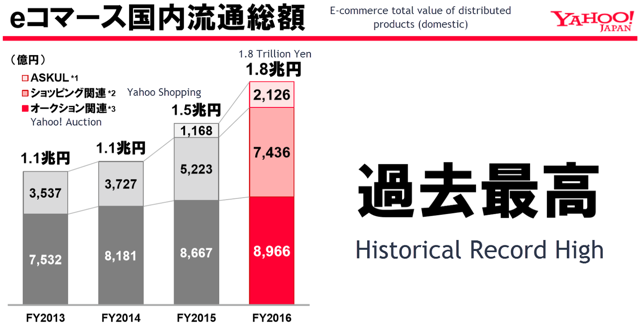 Source: Yahoo Japan IR (English translations added by me)
I think the size of the 4-Kanji characters above "Historical Record High" says it all. In this context, it's not such a surprise that the Yahoo Japan app was the most downloaded app in 2016 (between Google Play and iOS App Store - also from IR presentation).
Now, if there are any takeaways from this article so far, it's that online retail competition in Japan is fierce. Unlike the US, Amazon is not in a dominant position (at least not yet).
One Japanese Company That's Probably Getting As Much Coverage As The Toshiba Nuclear Fiasco
I doubt there are many regular Nikkei newspaper subscribers here on Seeking Alpha (it's in Japanese). But if you have a Japanese friend that reads the Nikkei every morning, s/he could tell you that Yamato Holdings (OTC:YATRF, OTCPK:YATRY), Amazon Japan's largest parcel delivery partner, has been getting a whole lot of coverage over the past few months - and not the good kind.
Over the last five years, the number of parcels handled by Yamato Holdings increased from 1.42M parcels to 1.73M parcels, a 22% increase. While this sort of increase usually comes across as good news, revenue per parcel has declined from 600 yen per parcel (2012) to 578 yen per parcel (2016) over the same period. Yamato expects this trend to continue (and it has over the first three quarters of the 2017 reporting period).
Yamato's core issue revolves around "re-deliveries" (when the customer is not home, packages are not left on the doorstep, but re-delivered at another time). Amazon Japan's same-day deliveries have been a problem as well. According to Livedoor News (Japanese source), a Yamato delivery driver commented that about 30% of his parcels are Amazon parcels, and most of them are for same-day delivery.
Now, here's how Amazon Japan's same-day delivery works: If a user places an order before noon, they have the option to choose same-day delivery on certain products. According to the same Livedoor News article, the Amazon package arrives at a Yamato master-facility by 3 pm, which is then redistributed to a Yamato child facility, and is supposed to reach the customer's doorstep by 9 pm. This often results in Yamato drivers literally working around the clock. Somewhere between declining revenue per parcel and a looming labor shortage, Yamato has been unable to increase wages or find more drivers. As a consequence, Yamato recently announced their first price increase in 22 years. While Yamato hasn't specifically announced this, news sources have reported Yamato's discontinuation of Amazon Japan's same-day delivery, which Amazon Japan has not commented about.
Amazon's Push For The Last-Mile
What becomes apparent after observing Amazon Japan is that it tends to tread Amazon's US operations by a year or two. The last-mile story is probably pretty familiar: Amazon partners with logistics providers (like UPS (NYSE:UPS)) at first, then slowly starts working on its own last-mile delivery system.
The way the headlines read in Japan is interesting. The general impression is that Yamato's discontinuation of same-day delivery spells the end of all of Amazon Japan's same-day delivery. However, Amazon Japan has Japan Post, another major logistics partner.
Now, if we look at Amazon's US operations, it has shifted from a pure third-party, last-mile delivery system to a somewhat vertically integrated last-mile delivery system. The most recent trend is Amazon's "Amazon Flex" service, which is an Uber-like approach to parcel delivery - that is, Amazon uses contract drivers to deliver Prime Now packages.
In all likelihood, if Yamato discontinues same-day deliveries for Amazon Japan, some of the parcels will go to Japan Post and the remainder will be vertically integrated into Amazon Japan's own delivery fleet, which currently takes care of Prime Now parcels.
What Are The Other Guys Doing?
The Yamato price hike has pivoted the online retailer's same-day delivery discussion into an interesting direction: Is it worth it?
A 2013 survey (Japanese source) showed that less than 5% of Japanese online retail customers value same-day delivery. The most valued answers were the ability to choose a delivery timeframe (68%) followed by the ability to choose a delivery date (62%). Given the overworked "salary man" stereotype, these options make sense.
While the Japanese work environment is shifting toward fewer desk hours, it's still far from the US, where many folks can come home before 6pm. What is a two-hour delivery service really worth if you're never home anyway?
The other side of the argument is that we're talking about a 2013 survey. Admittedly, nobody really experienced same-day delivery without paying a substantial additional delivery fee.
So, what are the other guys doing?
Yodobashi, Aeon (OTC:AONNF, OTCPK:AONNY), and Yahoo Japan all offer nationwide same-day delivery - most of them offer it at no additional cost (although some have minimum order values), some even offer a Prime Now-like service. Put differently, the competition maintains similar service levels as Amazon Japan. That said, when we throw scale into the mix, Rakuten, Amazon Japan, and Yahoo Japan are the relevant players.
Rakuten's Lagging Supply Chain, Amazon Japan and Yahoo Japan's Climb To The Top
I may be taking a leap into speculative territory here, but I believe the Japanese online retail market will mostly be a fierce battle between Amazon Japan and Yahoo Japan over the next three years (unless Rakuten comes up with something wild).
Why am I ruling out Rakuten? Well, the business model is in question and service levels are sub par.
Let me explain.
Rakuten is similar to Amazon's Marketplace: Full of third-party vendors. The difference is "Fulfillment by Amazon" (FBA). The benefit of FBA is that Amazon manages third-party inventory, so customers get the same level of speedy deliveries from third party vendors as they would when ordering direct from Amazon. Rakuten, which is purely comprised of third-party retailers, does not have as sophisticated of a system. You are literally dealing with individual retailers on an online platform. The result of this is inefficiencies as well as a lag in the supply chain.
According to Zuu Online (Japanese), Amazon Japan's Prime Now (two-hour delivery) offers 65,000 products in various areas in and around Tokyo and Osaka (Japan's two largest metros). In comparison, Rakuten offers about 450 products in four out of 23 wards in Tokyo. Yahoo Japan is harder to track as the company has three different online platforms: Auction, Shopping, and Askul (Joint Venture) - but they offer nationwide same-day delivery.
Eventually, Amazon Japan and Yahoo Japan will likely be the No. 1 and No. 2 players in Japan. As I mentioned in the beginning of this article, Japan only accounts for 8% of Amazon's 2016 revenues. Needless to say, this isn't a huge part of Amazon's business. However, there's more to this development than just Japan.
A success in Japan means a success in a densely populated Asian market. If we look at Amazon's filings, the revenues are distributed among US, Germany, UK, Japan, and the rest of the world. Frankly, a lot of the currently growing ASEAN countries share similar characteristics to that of Japan, more than anywhere else with a sizeable Amazon operation. Much like 7-Eleven (OTCPK:SVNDF, OTCPK:SVNDY) has seen success with a carbon copy Japanese dominant strategy in SE Asia, Amazon's lessons in Japan are highly likely to successfully transfer into these growing markets over the long run.
If you enjoyed this article and would like to read more on Japanese ADRs, please click the orange "Follow" button at the top of this article. If you would like to read about Japanese securities in general, please visit my website at KenkyoInvesting.com.
Disclosure: I/we have no positions in any stocks mentioned, and no plans to initiate any positions within the next 72 hours.
I wrote this article myself, and it expresses my own opinions. I am not receiving compensation for it (other than from Seeking Alpha). I have no business relationship with any company whose stock is mentioned in this article.
Editor's Note: This article discusses one or more securities that do not trade on a major U.S. exchange. Please be aware of the risks associated with these stocks.