Gold (NYSEARCA:GLD) saw its first tough week in quite some time as the precious metal quickly reversed its progress as volatility collapsed and the level of global macro risk dissociated. In the week ahead, traders will have to balance a Federal Reserve meeting, where tone will be of critical importance, and nonfarm payrolls. With gold reversing some of its progress over the last two weeks, this week will be a telling sign of whether or not the current dip is just that - a pause in a historic uptrend - or if it is the start of a larger reversal.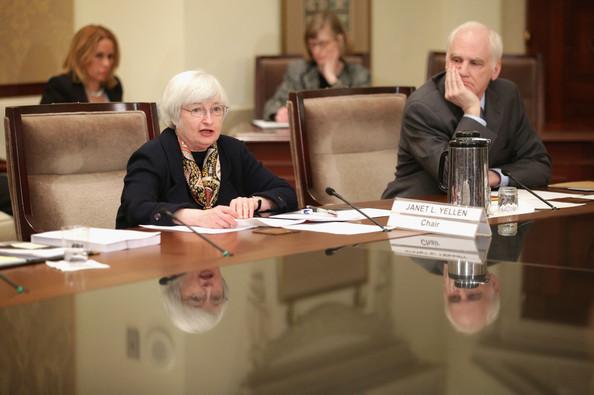 Source: Zimbio
Fed Funds Rate and Nonfarm Payrolls On Deck
This week, the markets are going to deal with two core events: a Federal Reserve meeting and nonfarm payrolls. Beginning with the Fed, the meeting will take place on Wednesday and right now, the expectation is that the Federal Reserve will not hike. This comes after a hike in March that was ahead of the market's expectations and while the Federal Reserve could do something similar, the probability of such an action looks highly unlikely. Rather, the Fed Funds rate, currently at 0.91%, will remain below 1% until further notice.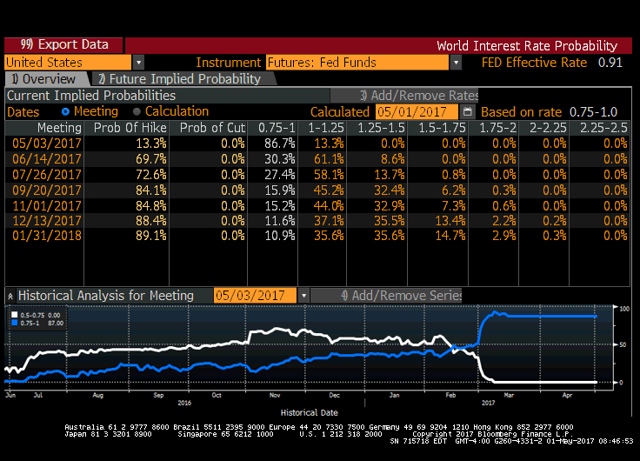 Source: Bloomberg
Thus, it becomes a discussion of when the next hike will be and do current economics support it. Based upon the probability chart above, it looks likely that a second hike this year could come as early as next month, but more likely at the September meeting, given the large shift in probabilities in the above data table. The tone will be very important this week as the market isn't expecting a rate hike and Chairwoman Janet Yellen was more neutral than hawkish the last time she spoke. If by some anomaly, the Federal Reserve decided to hike this week, we'd have to expect gold would considerably weaken.
Whether or not the economics support it will obviously be up to the Federal Reserve, but it does look like everything is in decent shape. We can gauge this a few different ways. First, with the nonfarm payrolls report out this Friday, the Federal Reserve won't be focusing on the expectations that this report will come in at 194k jobs, but rather they'll be looking at the April report's 98k jobs, one of the lowest additions we've seen in quite some time. Second, unemployment is still very low at 4.5%, too, and with many economists saying that we're nearing full employment, this becomes continued support for catching up inflation with current economic conditions.
Companies are generally performing better on a YOY basis and that may be preliminary fuel for the Federal Reserve to hike at the June meeting. Estimates for corporate earnings growth continue to increase this year, recently revised up from 10.9% to 11.3%. So far earnings look to be up about 9%, and we could even finish in double-digit territory, which makes it the best quarter since 2011. The interesting thing is that we should be seeing a positive effect on the dollar, but this hasn't been the case. There's been strength out of Europe, in terms of the French election and surprise move by Britain to hold an election, that has fueled some weakness, but the trend of the dollar doesn't match the positivity of the current earnings season.
The dollar index broke through 100 just over a week ago and is now hanging around its 200 DMA. This is the lowest level post-election and it could fall to 98 in the coming weeks. It will likely take a more hawkish tone from Janet Yellen this week for the dollar to move back above 100, but again, it's interesting that the strong performance of S&P 500 companies isn't helping the dollar out right now. Perhaps a delayed effect will occur after earnings season is over and the results are tabulated.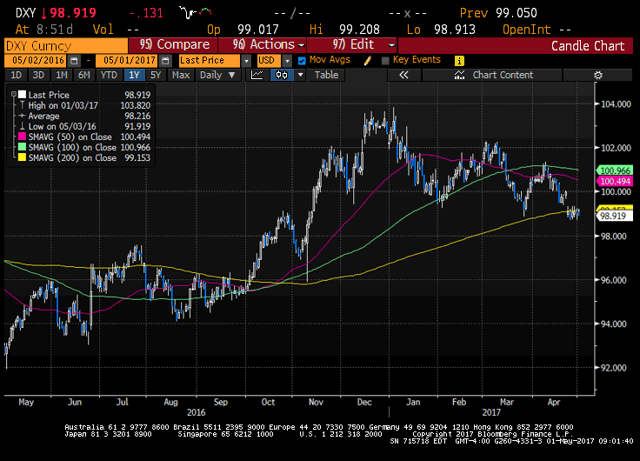 Source: Bloomberg
What's The Effect On Gold?
The weakening dollar has been strong support for gold rallying over the last five months and recovering almost all of its post-election losses. Right now, we can see the SPDR Gold ETF GLD remain just above the 200 DMA at the $120 level, with the 50 EMA trending up. The way I see it, if the 50 EMA breaks through the 200 DMA this week, gold has the bullish support to go higher; however, that's purely technical and we'd have to see a more cautious tone from the Federal Reserve and the probability of a June rate hike to be reduced greatly.
I think that if you're long GLD right now, it'd be appropriate to trim the allocation and take on more risk elsewhere in the market. Take a look at the companies reporting earnings this week, like Apple (NASDAQ:AAPL), Facebook (NASDAQ:FB), Pfizer (NYSE:PFE), and Tesla (NASDAQ:TSLA), and watch how the market reacts to these reports, as they're often barometers of how the market views the current earnings season. There is clear support at $120, but GLD has only just edged above it and a fall back down to $117 or $115 may happen in as little as a few weeks.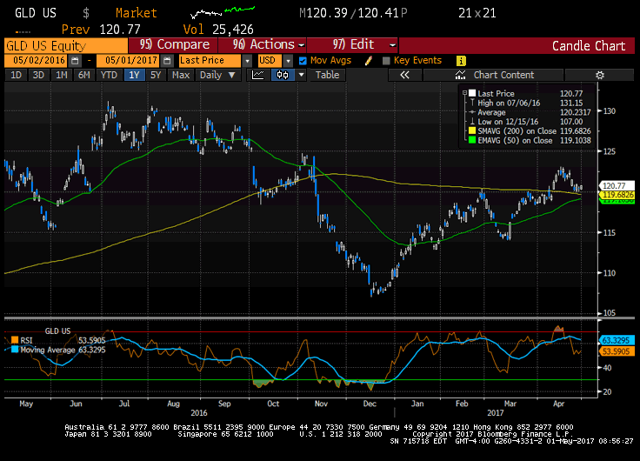 Source: Bloomberg
Gold itself got hammered back down last week after breaching its 200 DMA in a bullish manner just two weeks ago. Some investors may be looking at this as a temporary dip, but I'd have to argue the contrary. Global macro events have resolved themselves and with that resolve comes lower volatility, less support for gold to keep rallying. The key levels to watch are $1,275/oz and $1,250/oz, this week. If gold trades down below $1,250/oz, we could be seeing much more than a dip here and the positivity of Q1 2017 corporate earnings season could lead this precious metal towards $1,200/oz by the end of Q2. I don't see much fuel this week for gold to take out $1,275/oz, unless the Federal Reserve's tone becomes more cautious.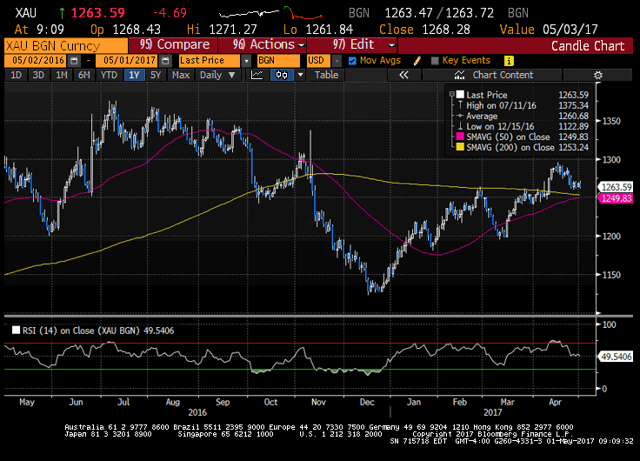 Source: Bloomberg
Conclusion
Gold is in a tough spot right now. After going on a considerable rally beginning back in mid-December, it has hit an inflection point where global macro headwinds to equities have begun to calm down and investors can take on more risk with more conviction, reducing the need for safe-haven assets like gold. The Federal Reserve meeting this week, as well as the nonfarm payrolls report on Friday, could serve as two catalysts for equities and two headwinds for gold, but it's tough to see continued bullish support for gold this week.
Disclosure: I/we have no positions in any stocks mentioned, and no plans to initiate any positions within the next 72 hours.
I wrote this article myself, and it expresses my own opinions. I am not receiving compensation for it (other than from Seeking Alpha). I have no business relationship with any company whose stock is mentioned in this article.