Better Health Through Better Sleep
Investments in sleep aids are growing so large and fast they are best understood as a distinguishable sector of the $300B digital healthcare market. I've christened the sleep industry with the motto, better health through better sleep (BHBS).
There are the passels of publicly traded sleep clinics, therapy and counseling organizations, pharmaceutical houses, manufacturers of natural medicinal substances, bedding companies and tech companies battling for better sleep dollars.
For instance, in previous articles and my last article, I featured ResMed (NYSE: RMD) (OTCPK: RSMDF), as my stand out buy recommendation back in the days when shares sold for $61. RMD's wearable devices and new digital tech services forefend sleep apnea and other disorders. RMD spokesperson Michael J. Farrell deservedly boasts, "We now have over 3 million patients monitored with 100% cloud-connected medical devices in their homes. We also have more than 5 million patients in AirView and over 45 million patient accounts in Brightree. We are liberating data and unlocking value for physicians, providers, patients on a daily basis." Great earnings recently reported news has the price topping $73 driving a market cap to top $10B.
Quality Sleep More Reliant on Technology
Another company in the booming sleep space markets Quell; it is a no prescription needed, FDA cleared pain management wearable, marketed as a sleep aid along with Quell's other benefits.
NeuroMetrix, Inc. (NASDAQ: NURO) is a ten years old small cap (Market Cap -$5.7M) selling for 55 cents per share down from a 52-weeks high of $2.36. The company reports Q1 revenues of $4.3M, an increase of 87%, but operating and net losses exceeding $3M each plague the company. On the brighter side, NURO reports no debt and a small pot of cash on hand near $7M. There are only about 10M shares outstanding of which, 5.43% are held by institutions. Quell, is sold on the Internet and is now available through North American locations of Bed, Bath and Beyond.
Quell, is a neurostimulation device that is worn around the upper calf to provide pain relief due to diabetes, fibromyalgia, arthritis and in the lower back and leg. It offers advanced health tracking including sleep data collection. Quell won the Southwest Innovation Award for Best Wearable Technology. NURO stock has great potential, if Quell is marketed effectively. NURO appears to have a strong management team comprised of very bright and well-educated scientists associated with Harvard and M.I.T. It also has officers with experience in building successful high-growth consumer brands, business management and marketing. NURO is a very risky but potentially rewarding investment.
Can We Get Back to Basics?
So, where do the basics, i.e., sheets, pillows, mattresses and blankets, fit in the BHBS sector? Who doesn't have an electric blanket? It is the perfect nighttime companion, cost efficient, and recommended for comforting in times of aches and pains. Sleepers toss and turn 60-80 times in eight hours on a regular mattress, but only 5-6 times when using an electric blanket.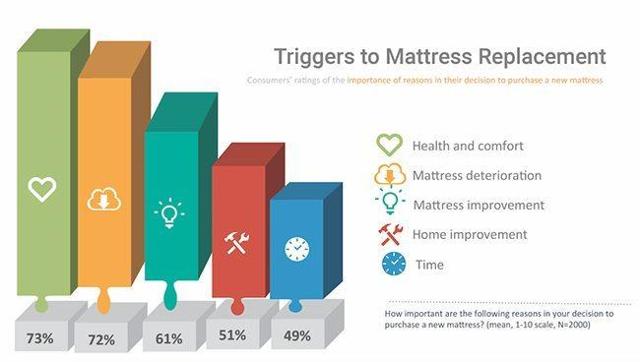 Still having trouble sleeping? There are smart blankets made by acoustic and audio engineers offering white noise, so the brain cannot localize on a particular sound (snoring). Smart blankets interconnect with other sleep and home devices.
There are super comfy smart pillows for home and travel that
· Stream music
· Track sleep
· React to snoring
· Wakes-up the sleeper
· Is yielding on one side and firm on the other
· Helps one find the unique ideal sleeping position
· Transmits radio waves through the brain inducing better sleep
· Wirelessly connects to a smartphone emitting low frequency noises to relax the brain and lull one into deeper sleep, and
· Most come with instruction guides
Hide Your Money in the Mattress
For investors, bedding companies offer proven moneymaking opportunities. Two mattress companies worth considering are Select Comfort Corporation (NASDAQ: SCSS) and Tempur Sealy International (NYSE: TPX).
The former is a $1.33B company with a 63.8% return from one year ago, a respectable free cash flow, EPS growth popping more than 111% that outpaces other mattress companies, and has a zero debt-to-equity ratio. SCSS profit margin is tops six percent. SCSS trades close to its 52-weeks high of $33.29 at near $32.
SCSS is a tech and engineering company in the smart mattress business. It was founded in 1987 on the cusp of the digital revolution. It offers four versions of its Sleep Number name widely recognizable in the consumer market. Sleepers adjust comfort on both sides: firmer and softer, offers sleep number settings, tracks how well the user is sleeping, and connects to apps to report back data. SCSS has a reputation for quality, which is why it is comfortable offering a 25 years warranty. SCSS has a high customer buy again rate. SCSS is on the Forbes list of Best Small (American) Companies, and it received J. D. Power's recognition for highest customer satisfaction with mattresses 2 years in a row.
Despite all these positives, I recommend selling the stock if you already own it, and waiting to buy until deeper into the next quarter near to report time after following it closely. I am concerned the principals of the SCSS own less than 2% of shares and across management have been selling shares.
Tempur Sealy International brands include TEMPUR, Tempur-Pedic, Sealy, Sealy Posturepedic, and Stearns & Foster. It offers mattresses, foundations and adjustable foundations, pillows, mattress covers, sheets, cushions and various other quality BHBS products. TPX market cap is $2.55B. The PE (TTM) is 13.8. Its share price is about $47 up from a 52-weeks low of $39.57, and well below its high of $82.32. In February '17, the company announced Q4 EPS of $1.18 beat estimates by $0.05. Revenue of $769.5M (+0.3% Y/Y) beat by $5.62M.
Be aware, a half-dozen law firms or more are fishing for a class of investors who purchased shares in the last half of 2016. They intend filing class action suits against TPX for allegedly having made misleading statements, and failing to disclose information about Mattress Firm Holding Corp., TPX's largest customer. The Firm accounted for approximately 25% of TPX 2015 net sales, and approximately 21% of TPX 2016 sales. Nevertheless, Raymond James Financial, in late April, raised its target price for TPX to $53, and ten other brokerages issued ratings updates as high as $71.
I recommend TPX, because TPX has really good things going for it not the least of which is
· Smart management leadership
· Top-shelf brand names and marketing
· It occupies the leadership space in an expanding market in which
· Consumers are willingly pay high prices (which yield higher margins) for sleep quality they associate with BHBS
· Consumers replace mattresses every eight to ten years and America is entering the tail end of the great economic meltdown and recession of 2008
· Replacement distribution is not hard to find with nearly 10,000 specialty mattress brick and mortar outlets in the U S generating more than $11B in revenues; Costco, furniture stores, high-end department stores, big box retailers, on-line retailers, and a plethora of other outlets are waiting for the chance to represent TPX brand names
I think TPX is a buy and hold for the next few years. Right now, fundamental analyses are more meaningful than technical analyses. One more thing to consider, there are many privately held mattress firms doing well, and increasing numbers of start-ups. That suggests the market is expanding. One can buy assets and grow faster than building them some of which are building a strong performance track record that might prove tastier to a large firm.
Different Angle But Don't Sell Them Short
An investor looking for a steady reliable company can buy Leggett & Platt
(NYSE: LEG). It is a company given short shrift by mattress/bedding analysts. This is my recommendation for a best buy and long term hold. LEG is not a pure mattress company, but they are in the bedding business and diversified.
Briefly, LEG pioneered sleep technology they claim 125 years ago, and holds more patents in the bedding sector than anyone else. "Leggett & Platt conceives, designs, and produces a diverse array of products that can be found in most homes, offices, and vehicles. Founded in 1883, the company is made up of 17 business units, 20,000 employee-partners, and 130 facilities in 19 countries."
The company produces quilting, sewing, and machinery for the bedding industry, products and components for the home including mattress springs and carpet cushion, as well as bedding machinery and erosion-control products. Nothing goes to waste. I used to buy rags-in-a-box from LEG for clean up in construction industry, and the rags come from material scraps rather than disposing them. With LEG's products serving Residential, Furniture, Industrial and Specialized customers
According to a Seeking Alpha Q1 earnings report
· 1Q sales were $960 million, a 2% increase versus 1Q 2016; same location sales grew 4%
· 1Q EPS was $.62, a decrease of $.01 versus 1Q 2016
· 2017 guidance unchanged: EPS of $2.55-2.75 on sales of $3.95-4.05 billion
· Generated $57.7 M in cash flow from operations during the Q1 of 2017
· No debt to net capital ratio of 40%
· Expects to grow 5-8% y/y and EPS to reach $2.55-$2.75
Shares are trading near their 52-weeks high of $54.97. Share price recently slipped back to $53. It has a $7B market cap, and a dividend yield over 2.5%. 18% of shares are owned by the top mutual funds, and institutions own 71.78% of shares on the whole.
I believe as the furniture market, home sales, auto, hotels and hospitality markets LEG serves will continue to recover from the economic meltdown. LEG will benefit. I appreciate that LEG is so diversified, for instance, it designs and fabricates wire and steel rods used in their own bedding products and to other markets.
You can sleep tight, be healthier, and enjoy a healthier portfolio choosing to invest in people who help others get a good night's sleep.
Disclosure: I/we have no positions in any stocks mentioned, and no plans to initiate any positions within the next 72 hours.
I wrote this article myself, and it expresses my own opinions. I am not receiving compensation for it (other than from Seeking Alpha). I have no business relationship with any company whose stock is mentioned in this article.
Editor's Note: This article covers one or more microcap stocks. Please be aware of the risks associated with these stocks.