Apple (NASDAQ:AAPL) should announce an update to its dividend and share buyback program tomorrow. Over the past five years it has announced an average increase of $50 billion to its capital return program and this year will probably be no exception. While the company will have to take on more debt to do this since it doesn't generate enough US based profits it does have the financial flexibility to do this. (Note that I own Apple shares).
I believe that Apple has planned for a long time that it will increase its dividend every year so that dividend-oriented investors will be more likely to buy and hold the shares. The percentage increases over the past four years have been 15.1%, 7.9%, 10.6% and 9.6%. At the current payment of $2.28 per year the shares are yielding 1.55%.
If Apple wants to increase its payment by 10% it will need to raise the quarterly amount to $0.63 or $2.52 per year for a yield of 1.7%. It may decide to go with $0.62 per quarter or $2.48 per year increasing it 8.8%, which would also be a yield of 1.7%. While it is a small difference the lower dividend would save over $200 million in cash per year on over $12 billion in dividend payments and be a lower base for future dividend raises.
The company has bought back over $143 billion of its shares the past four years shrinking the share count from 6.6 billion to 5.3 billion, down 20%. It has paid $113 per share compared to the $146 it is trading or 29% lower than the current price. With the company generating a ton of cash and spending over $10 billion per year each on Research and Development and Capital Expenditures it has plenty of excess cash since it has generated $50 billion or more in free cash flow (operating cash flow minus capital expenditures) the past three years.
At a minimum I expect Apple to increase its share buyback program by $30 billion but it could easily be $40 to $50 billion since it had $158 billion in net cash at the end of last year ($246 billion in cash and investments minus $88 billion in debt).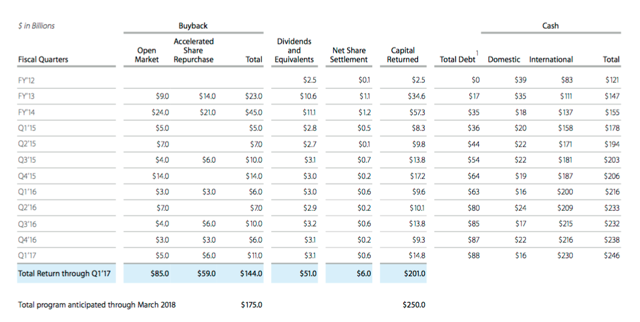 But Apple will have to take on more debt
Apple generated $21, $18 and $15 billion in US profits the past three fiscal years, respectively. However, it spent $56, $47 and $42 billion on dividends and stock buybacks, which have to be done from US cash or debt. While the company generates enough US cash to cover its dividend there isn't much left over for stock buybacks. Therefore pretty much all the buybacks have to come from debt.
Unless…
Trump can get a change to the tax law. In his 100-day plan he wrote "and the trillions of dollars of American corporate money overseas can now be brought back at a 10% rate." In the plan announced last week it had "one-time tax on trillions of dollars held overseas" but no rate was provided.
This proposal has had some bi-partisan support but it is a small item in Trump's total tax plan. I believe if he and Congress are able to formulate a plan that can make it through both houses (probably much different than the one he laid out) this has a decent chance of being included. However I'm not sure Tim Cook (or pretty much any other CEO with a lot of cash overseas) is going to make any actual decisions based on it until it is passed.
The bottom line
I believe investors will be disappointed if Apple doesn't raise its dividend to at least $0.62 per quarter and increase its buyback program by $30 billion per year - $40 to $50 billion is probably more likely. The company may announce an end date farther out than a year but I suspect it will be through March 2019 as to leave it flexible in case a new tax plan allowing for repatriation of overseas profits is enacted.
Disclosure: I am/we are long AAPL.
I wrote this article myself, and it expresses my own opinions. I am not receiving compensation for it (other than from Seeking Alpha). I have no business relationship with any company whose stock is mentioned in this article.
Additional disclosure: Sand Hill Insights and Chuck Jones are not registered investment advisors (RIAs) or broker/dealers. Readers are advised that the material contained herein should be used solely for informational purposes. Sand Hill Insights/Chuck Jones does not purport to tell or suggest which investment securities readers should buy or sell. Readers should conduct their own research and due diligence and obtain professional advice before making investment decision. Sand Hill Insights/Chuck Jones will not be liable for any loss or damage caused by information obtained in our materials. Readers are solely responsible for their own investment decisions.