I have been digging through countless companies and their financial reports lately, and I believe that there are still value to be found here and there in the market even though it is getting increasingly more difficult to find worthy investments.
One could argue that the current market is valued considerably above the general companies' intrinsic values, which at some point will result in a substantial conversion towards more realistic values. This, however, is another matter. I prefer to focus on companies and not the market.
What I am really into is businesses with great value-adding products, strong profitability, reliable cash flows, capital light business models and competent managements. A strong brand as well would be the icing on the cake. Such companies almost never catches a value investors eye because the market probably already has acknowledged such a company's earning power. However, in the smaller capitalization area of the market I believe that value can still be found.
Value is often found in places that is not covered by and not interesting for Wall Street and other institutions. I believe I have found a company that meets most of the criterias mentioned above. Before you start reading about the company, I want to point out that I own shares in this company and therefore I have a positive bias, but I still hope my article can provide some valuable inputs to your own research.
The investment case
This article will be about dineEquity (DIN) - owner of the two franchises within casual dining called IHOP (International House Of Pancakes) and Applebee's Neighborhood Grill & Bar. In short, dineEquity has a 99% franchised business model with strong cash flows, minimal CapEx outflows, high returns on capital and a management who is not only incentivized to maximize shareholder value but they are also using all the company's free cash flow to pay dividends and buy back shares.
However, due to a couple of headwinds which I will detail later in this article, the market has severely punished the stock going from a high of $114/share to only $56/share today, thus already reflecting the severe pessimism in the company's current market value.
Additionally, due to dineEquity's small market capitalization of just $1 billion, the company more or less flows under the Wall Street radar. The recent announcement of the company CEO retiring along with the resignation of the CFO does not help the case either. The current situation with an interim CEO and CFO must be solved and renewed stability in the executive team is needed.
The quick story
DineEquity was originally named IHOP until 2007 when the CEO, Julia Stewart, who had a past in Applebee's, thought it would be a good idea to buy Applebee's and exploit capacity cost synergies by driving two brands through one management team. Moreover, she had recently changed IHOP's business model from being partly franchised to being almost 100 % franchised, and she wanted to do the same with Applebee's.
However, she financed the $2.1 billion purchase with junk bonds at 9.5 % interest which nearly bankrupted the company in the subsequent financial crisis. This forced the company to cut costs and pay down debt aggressively. In 2014 dineEquity refinanced the remaining $1.3 billion debt at a 4.3 % interest rate. Let's hope that Julia Stewart's successor will be more rational with the use of dineEquity's capital.
The company's revenue derives from the following four sources:
Franchising, i.e collection of royalties and fees from their two brands. They receive 4% of the revenue from Applebee's franchisees and 4.5% of the IHOP franchisees revenues. Additionally, fees include start-up, development and renewal fees spanning from $10 to $50 thousand. However, royalty fees made up 83% of this revenue source in 2016. Royalty income and fees account for 80 % of total company revenues and generates gross margins of ~67%.
Rental income from leasing or subleasing of 691 IHOP restaurants. This leasing is a product of dineEquity's old business model (accounts for 19% of revenues with gross margins of ~26%).
10 Company owned IHOP's (accounts for under 1% of revenues).
Financial leasing of various equipment to franchisees such as kitchen equipment etc. This also stems from the company's old business model (accounts for less than 1% of revenues).
Quick about the two concepts

Applebee's (founded in 1980, 2,016 restaurants as of 2016) is a casual dining concept where the customer can buy a well-sized meal in cozy surroundings for a modest price. The chain spans 50 states and 15 countries outside of the US and constitutes around 55% of the revenues.
Their menu usually offers steaks, burgers, tacos, desserts etc. Applebee's is known for their "2 for $20" campaigns. Nevertheless, Applebee's is dineEquity's main headache due to the declining restaurant traffic - both due to the contraction in the US domestic restaurant traffic but also because Applebee's is losing market share. It is a tough environment for everybody and the stagnating SSS (same store sales) numbers are not only happening for Applebee's, and Applebee's continues to be the biggest casual dining chain in the US.
DineEquity expects to close 40-60 Applebee's restaurants and to open 20-30, resulting in a net closing position in 2017. The management states that this is due to a general re-branding initiative, but at the end of the day it is because Applebee's is in trouble.

IHOP, that'd be International House Of Pancakes (founded in 1958, 1,733 restaurants as of 2016), runs a similar casual dining concept and are specialized in pancakes, waffles, breakfast menus, egg dishes, bacon dishes and the like, where they also compete on price.
The chain spans 50 states and 10 countries outside the US. In 2017 IHOP is expected to open 75-90 new restaurants and to close 18. Thus IHOP remains by far the most valuable asset to dineEquity and constitutes around 45% of revenues.
The industry
The stagnating restaurant traffic is one of dineEquity's bigger problems. Luckily many of their peers feel the same pain seeing as a general slowdown in the sector is happening right now, or maybe it never really recovered in the aftermath of the financial crisis. Declining food costs and increasing minimum wages are some of the causes for this. Not only is food in general becoming cheaper, thus improving the incentive for Americans to cook at home, but increasing minimum wages also means higher menu prices. However, one could also argue that higher minimum wages could generate more traffic due to the increased disposable income. From 2008 to 2016 the US domestic restaurant traffic has decreased 14%.
This is also an industry with countless competitors due to low barriers to entry and no switching costs for the customers, which makes it a brutal business - especially for the company-operators. Even though competitors like Bloomin' Brands (BLMN) - owner of Outback Steakhouse, Carrabba's Italian Grill, Bonefish Grill and Fleming's - also experiences stagnation, other competitors are having more success. Texas Roadhouse (TXRH) increased its SSS by 3.5% in 2016 indicating that they are doing something right and thus stealing market share in the Grill & Bar segment of casual dining. In comparison, the SSS for IHOP and Applebee's declined 0.1 and 5% in 2016, respectively. Additionally, Chipotle Mexican Grill (CMG) shows teeth again after losing market share in 2015 and 2016 due to the E. coli scandal, resulting in an SSS decline of 20.4% in 2016. The first quarter of 2017 showed an SSS growth of 17.8% compared to a 29.7% decline Q1 2016, thus indicating that Chipotle is regaining its territory. This may be another cause of Applebee's market share losses.
The casual dining segment also competes with quick-service fast food restaurant concepts such as McDonald's Corporation (MCD) and Restaurant Brands (QSR) - owner of Burger King among others - seeing as these food service concepts experiences higher growth currently, indicating a possible change in consumer trends towards fast food or quick service on the go.
Also Starbucks (SBUX) has experienced many years of high SSS growth. I think that some of the reason behind this is a general change in consumer behavior in favor of quick service providers. However, I think there are plenty of room for several restaurant concepts, seeing as buying food at a fast food or quick-service restaurant is a different experience than dining out at an Applebee's, and the target groups are not identical.

Source: List Challenges
Above is a statistic made from ~15.000 observations where people where asked which restaurants they had tried to eat at. Therefore one respondent could pick several chains. The list was long and I only show the top 10. Olive Garden is owned by Darden Restaurants (DRI), Denny's is owned by Denny's Corporation (DENN), Chili's is owned by Brinker International (EAT), Outback Steakhouse is owned by Bloomin' Brands. T.G.I Friday's, Red Lobster and Hard Rock are to my knowledge not listed.
Applebee's is the chain where most of the respondents had visited while IHOP was the 6th. To compare the sales sizes of different restaurant chains, take a look below.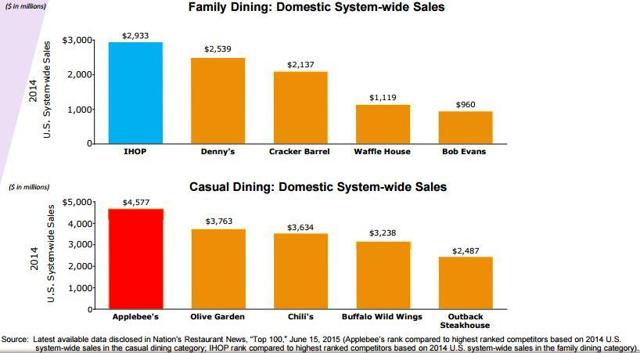 Source: DineEquity slideshow (Baird Conference, June 2016, page 4)
This chart is from 2014 but I doubt that much has changed since then.
Restaurant development
Below you can see the development in the total number of restaurants

Source: Author using data from SEC
Next you can see the development in the international net openings (only constituting around 3 % of revenues)

Source: Author using data from SEC
You quickly notice the horizontal movement in Applebee's domestic net openings as opposed to the nice growth in IHOP's. Internationally, Applebee's has a net opening position, but also here IHOP shows great growth. One could ask if Julia Steward's expensive acquisition of Applebee's back in 2007 was that wise after all. It probably wasn't the best use of shareholders money to finance the $2.1 billion purchase with 9.5 % interest junk bonds (now 4.3%). Nevertheless, today Applebee's is a 99% franchised cash flow machine.
Both dining concepts are of course in fierce competition with numerous other companies, but one of dineEquity's big advantages is that they are, as stated before, 99% franchised as opposed to most of their competitors who are only partly franchised with much higher operating costs and CapEx requirements. The IHOP restaurants was also only partly franchised before 2003, but Julia Steward chose wisely when she re-franchised the whole IHOP concept, and they did the same after the acquisition of Applebee's in 2007.
The franchise concept
Except from 10 IHOP restaurants, dineEquity does not run its restaurants. Instead, they are franchisers allowing others to use their brand, organizational knowledge sharing, shared advertising platform etc.
The franchisees are the ones operating the restaurants, and dineEquity simply takes a small cut of 4-4.5% of the restaurants revenues. In return the franchisee gets to use his or her entrepreneurial skills with the help from a strong brand and various support functions arising from being a part of dineEquity. This provides dineEquity with several economic advantages:
Minimal CapEx requirements as stated earlier. Franchisees must cover CapEx for their restaurants themselves, so dineEquity's CapEx outflow is minimal and usually less than 1% of revenue.
The franchisees are entrepreneurs and have a strong incentive to generate growth and to achieve success, seeing as their profits arise fully from the bottom line of his or her restaurant.
Minimal costs to staff and other OpEx because this is also covered by the franchisee. dineEquity's 960 employees are therefore not part of any specific restaurant but only part of the dineEquity company.
Stable revenues and earnings. dineEquity mostly earn revenue through its share of the restaurant revenues but also on various franchise fee's (contract renewals, franchise openings etc) as mentioned earlier. If a franchisee experiences increased costs they must cover it themselves. However, if the franchisee is forced to increase menu prices it could have an adverse effect on revenue which could result in decreased royalty fee's for dineEquity, and the demand for the restaurants offerings may decrease.
A franchise concept is easy and quick to expand and requires modest incremental capital.
The return on capital is very high and so is the margins and free cash flow generation.
The financials
Below is a 5-year economic overview.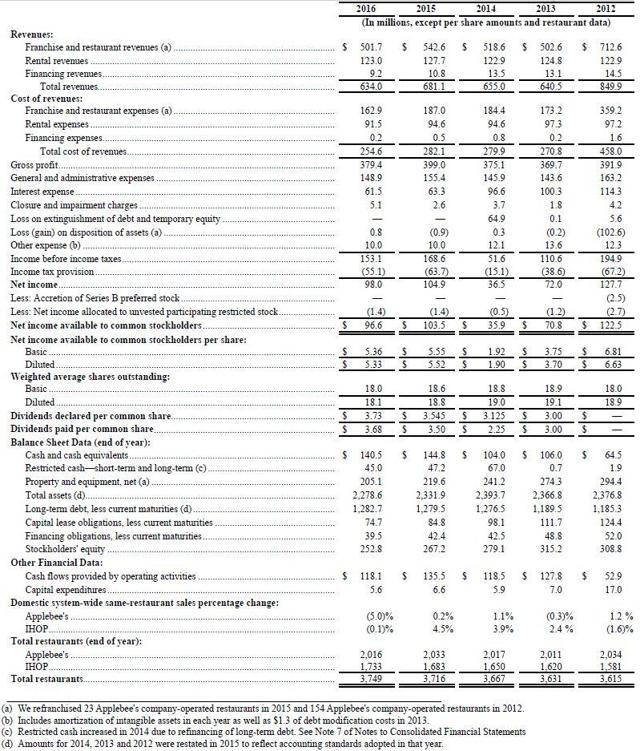 Source: dineEquity's annual report 2016, page 27
You quickly notice the declining revenue since 2012, but this is mainly due to the re-franchising. Some years ago much more of the restaurants revenues accrued to dineEquity and as did the costs and CapEx because they were company-operated. Today, however, much less revenue, costs and CapEx accrue to dineEquity due to the franchise model.
Interest expenses has also almost been cut in half due to repayment and refinance of debt. One thing worth noticing is the capital structure which is quite leveraged. Because dineEquity pays out large dividends and buys back a lot of stock, the equity is kept low, creating a quite low solvency ratio of 11% and a return on equity of ~40% annually. dineEquity has made a choice of not paying down more debt though. One could ask why, because they could easily continue to use some of their FCF to reduce debt, but this is probably just a regular capital structure issue. This I will discuss later in the article.
Due to the Applebee's acquisition in 2007, dineEquity also has large sums of intangible assets. Goodwill comprises $697 million and the Applebee's trademark is valued at $652 million in the books. Compare that with an equity value of $252 million and you got yourself a problem in case of a write down. Below I have calculated dineEquity's ROIC.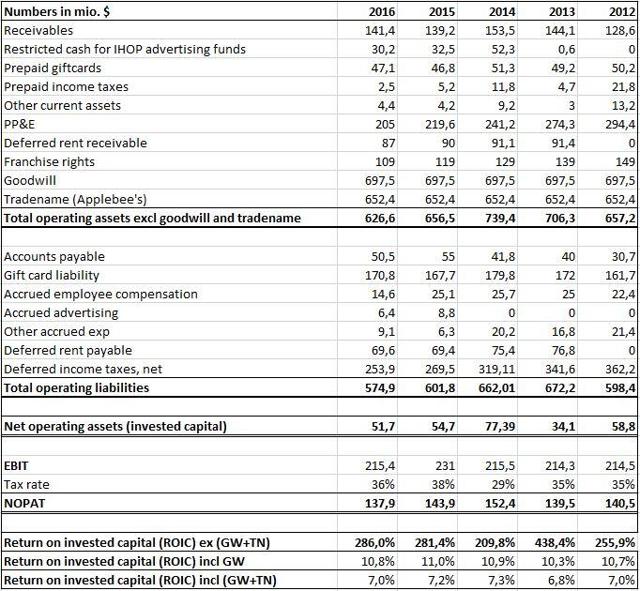 Source: Author using data from SEC
I have calculated various ROIC's depending on whether or not e.g goodwill and tradenames are included. In my opinion the capitalized goodwill and tradenames are not part of the operating business and should thus be excluded when assessing the core ROIC because it stems from the Applebee's acquisition in 2007. The tradename value is thus only connected to the Applebee's brand.
Nevertheless it is difficult to ignore the fact that much of dineEquity's assets are tied up in intangible assets. In general, dineEquity has a lot of assets and liabilities which are not part of the operating business, i.e the core ROIC is pretty solid due to the capital light business model, but past M&A decisions have had its side effects on the balance sheet.

Source: dineEquity's annual report 2016, page 49
Another thing worth mentioning here is the fact that dineEquity also has an off-balance sheet item in the form of operational leases worth $547.8 million. These could also be considered debt. However, accounting for these would increase EBIT, seeing as the lease payments should be divided into depreciation and interest, thus moving the interest expense part of the lease payment to finance costs instead of OpEx, hence increasing EBIT.
Overall it does not affect the valuation from a theoretical standpoint, but off-balance sheet items such as operating leases are considered as proxy debt by many and including this would increase the leverage ratio of the balance sheet even further. Including operating leases in the ROIC calculation would not have had a substantial effect, seeing as the higher invested capital would be offset by a higher EBIT from the exclusion of the lease interest. From 2019 companies are obligated to report operating leases in their balance sheets.
Capital allocation
Due to the minimal CapEx requirements, dineEquity can more or less pay all its free cash flow back to shareholders in dividends and stock repurchases. At the moment the stock yields ~7% with a payout ratio of around 70%. 2017 will be a year of lower earnings due to several non-recurring charges which I will discuss later, and this makes the payout ratio for 2017 difficult to estimate. In my estimates later in this article I expect a payout ratio for 2017 of around 80% assuming a dividend of $3.7/share for the accounting year 2017.
In 2016 dineEquity generated $123 million in free cash flow including receipts from notes and equipment of $10 million (~19% FCF margin) and paid $122 million back to shareholders in dividends ($67 million) and buybacks ($55 million). That corresponds to a total shareholder yield of 12.2% using today's market value of the company! A high yield can also be assessed as a red flag, but a dividend cut will not change my view on the company. The dividend is not the main argument for this case.
In fact, I would prefer them to stop paying dividends, buying back more stock and pay down some more debt to reduce financial risk. However, management may have their reasons. Why pay down debt at 4.3% interest when you can buy back your own stock which yields 7% together with the fact that the company is, in my view, considerably undervalued?
Paying down debt would in this case increase the company's WACC. I have already stated my view on the seemingly unwise choice of buying Applebee's for $2.1 billion which was financed through junk bonds at 9.5 % interest rate resulting in a net debt/EBITDA of 7x, so let's go to the next headline.
Executive compensation
Reading through the company's compensation principles shows they are very aware of the fact that managements should only be rewarded for good results, i.e a keen focus on pay-for-performance. The CEO has not gotten a raise in 5 years, and 2016 was the second year with no payouts from the company's long term incentive plan. Executive pay comprises of:
A base salary accounting for ~33% of total compensation
An annual cash incentive is paid out if financial targets are reached and constitutes around 20% of total compensation
Long-term incentives are composed of stock options, restricted stock awards and cash. The split is one third to each. The vesting period is 3 years and long-term incentives accounts for ~46% of the total compensation.
Benefits and other compensation is mainly provided to protect executive health, safety etc and makes up a very small part of total compensation (~1%)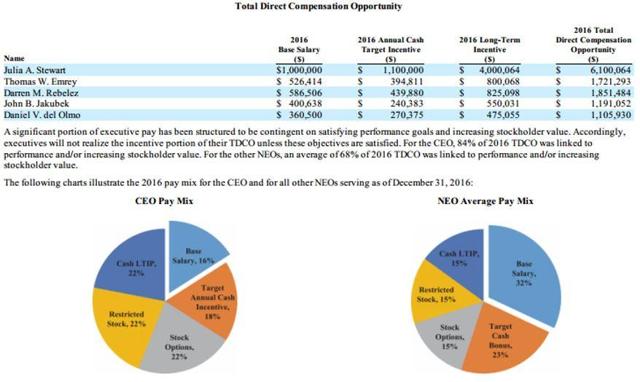 Source: SEC Filing, DEF 14A, April 3rd 2017 page 24
As you can see, only a modest part of the pay is a regular secure base salary. Julie Stewart seems almost too well paid, but this is merely her maximum compensation if all dineEquity's goals are reached, and the next CEO's total compensation will probably not be as high.
Nonetheless, I dislike the huge difference between Stewart's pay versus her close executive peers, but at the end of the day the executive team seems to be well-aligned with shareholders.
Management changes
In February the CEO, Julia Stewart, announced her resignation. Only a couple of weeks later the CFO, Thomas Emrey, announced that he had accepted a job offer at another company starting from March 15th. Officially Julia Stewart resigned, but it may also have been a "forced resignation" after dineEquity's stagnating results in recent years.
Interim CEO and CFO will be Richard Dahl and Greggory Kalvin, respectively. I don't have much to comment on this, but I don't see a new management team as a bad thing necessarily.
Expectations for 2017
Management's expectations for 2017 are stated below and will be used in the coming valuation section.
Applebee's domestic SSS is expected to decline between 4 and 8% due to several closings in the re-branding effort. Net closings will approximate 25 (20-30 openings and 40-60 closures)
IHOP's domestic SSS is expected in the range of positive 0 to 3%. Net openings will approximate 60 (75-90 openings and 18 closures).
Franchise and rental segment profits are expected to reach $323-338 million and $38 million, respectively.
G&A between $170 and $177 million which includes $19 million in non-recurring costs.
Interest expenses of $62 million.
An effective tax rate of 38%.
CapEx of $12 million due to various re-branding initiatives.
Adjusted FCF between 96 and $106 million, adj. FCF being operating cash flow plus receipts from notes and equipment contract receivables less CapEx.
Valuation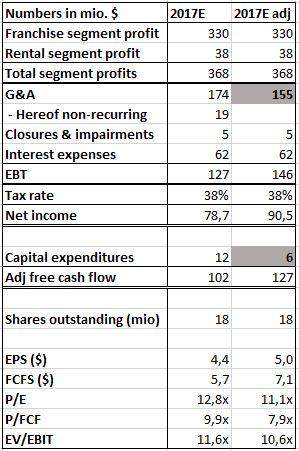 Source: Author using data from SEC
Here are some estimated numbers for 2017. I see "2017E adj" as a better picture of the normalized earning power, even though several uncertainties exists - especially due to the weakness in the SSS for Applebee's. In the adjusted estimates I exclude $19 million of G&A expenses, and looking back I think it is quite possible that the normalized G&A is even lower than $155 million. However, in my table I assume that all the extra G&A costs in 2017 are actually non-recurring whereas some of it may actually be more or less recurring going forward.
The guidance CapEx for 2017 will also be way over the norm of a little less than 1% of revenues, hence the $6 million CapEx in the adjusted scenario. According to the table, dineEquity trades at a 2017 forecast adjusted P/E of ~11.1x, a P/FCF of 7.9x and an EV/EBIT of 10.6x.
I think this looks cheap for a franchise of dineEquity's quality, but this is also just my own biased estimates. The low P/E is also caused by the levered capital structure, i.e higher leverage should theoretically decrease P/E due to the increasing financial risk.
Below I have used a simple DCF model to estimate a theoretical value per share for dineEquity.

Source: Author using data from SEC
A DCF - or any valuation method for that matter - always carry with it a lot of caveats.
WACC is a difficult metric to work with. Some could argue that a 7% WACC is too low and that I should have used e.g 10%, but actually I think that dineEquity's WACC is closer to 5% due to its capital structure. Approximately 75% is comprised of debt at 4.3% pretax interest and the last 25% is equity which increases the WACC due to the cost of equity of ~10%. Doing this exercise results in a WACC of ~5%, so I think 7% is fair. The WACC also has a significant influence on this DCF due to the terminal value.
I have included a "normalized" FCF figure which simply exclude the non-recurring costs from 2017 ($19 million). However, this affects the whole FCF series due to the growth I expect from 2019 and I would like to reiterate my comment from before that some of these extra G&A costs may in fact be recurring.
I exclude operating leases since these have no effect on a DCF. The increased net debt from the present value of the operating leases would be offset by the higher operating income after lease interest payments would be excluded.
Because I value the whole company I use FCFF (free cash flow to the firm) which excludes outflow to interest expenses of approximately $60 million annually. However, the post tax outflow constitutes $39 million annually assuming a 35% tax rate.
Risk
Applebee's declining SSS may not just be temporary. Maybe the concept is becoming outdated, hence the lose of market share.
Applebee's problems may force dineEquity to write off a whole lot of intangibles such as goodwill and tradenames equaling approximately $1.3 billion.
A continuation of the current macroeconomic turmoil in the restaurant industry could reduce the attractiveness of becoming a franchisee even further.
The restaurant business is brutal due to the inherent industry dynamics with non-existent switching costs for consumers, low barriers to entry and countless competitors.
The leverage ratio is high, even though this is partly due to the shareholder friendly management. However, the debt burden is caused by the expensive Applebee's acquisition in 2007 and currently interest payments make up close to one third of EBIT. However, if the management wanted it could quickly pay down debt. Here it is worth mentioning one of dineEquity's covenants. The principal amortization payments on the company's debt is $3.25 million quarterly. however, if dineEquity maintains a net debt/EBITDA ratio equal to or less than 5.25x they can either choose to pay the principal or not. If it exceeds 5.25x they will be forced to pay $3.25 million quarterly, thus increasing financial expenses.
Catalysts
This is a classic case of a deeply undervalued company. The market may simply just acknowledge this at some point, thus converging dineEquity's market value towards its intrinsic value.
A potential spin-off of Applebee's would probably create substantial shareholder wealth as much of IHOP's value and potential seems to be forgotten by the market which mostly focuses on the problems at Applebee's. IHOP is a nicely growing franchise with 30+ net openings annually. Despite low SSS growth recently the popularity of the IHOP brand seems forgotten even though it is a big contributor to dineEquity's cash flows and counters much of Applebee's headwinds.
An upswing in US domestic restaurant traffic is well needed and will probably happen sooner or later. There are good times and there are bad times in all industries, and the current bad times will probably not continue forever.
The current headwinds, low price and managements unsatisfactory results may make way for activists to buy big stakes in dineEquity to unlock value.
At the current price level, dineEquity could also be a takeover target notwithstanding the net debt position. This would probably be at a price substantially higher than 8x normalized free cash flow for 2017.
dineEquity's current tax rate is close to 40%. Trump's attempt to lower the corporate tax rate to 15% would substantially increase dineEquity's earnings and cash flows to equity owners. I estimate a 15% tax rate would add ~30 mUSD annually (EPS of ~1.8 USD) annually. However, I mostly see this as a "joker", i.e I prefer not to speculate in politics.
Conclusion
Despite a strong franchise model generating high free cash flows, the market is pessimistic about dineEquity, therefore much negativity is already priced into the stock. Applebee's headwinds, the weak restaurant traffic within the US and unsatisfactory M&A decisions by management are mostly to blame for this. However, it is almost 10 years since the acquisition of Applebee's. IHOP is a valuable asset with more growth and 30+ net openings a year, and this counters much of Applebee's headwinds despite the fact that IHOP also faces challenges in growing its SSS.
Even though dineEquity is not a growth case currently, I still think this is a high quality business with a shareholder friendly management at a discount. My DCF model indicated a theoretical value per share of 95 USD/share based on normalized FCF, suggesting an upside of 105% compared to today's value of ~56 USD/share. However, numerous uncertainties exists, and this article reflects my views as an optimistic shareholder. Thus I strongly advice readers to do their own due diligence and to share it in the comment section. dineEquity will already report Q1 results on May 2nd 2017.
Disclosure: I am/we are long DIN.
I wrote this article myself, and it expresses my own opinions. I am not receiving compensation for it (other than from Seeking Alpha). I have no business relationship with any company whose stock is mentioned in this article.