Exxon Mobil (NYSE:XOM) had a good quarter aided by two tailwinds behind its Q1 2017 financial results: higher oil prices and lower operating costs. XOM exceeded expectations on the earnings bottom line at $0.08/share, surpassed year-over-year (YoY) results in the prior quarter in 2016, and grew revenues by 30% YoY. However, it's all about expectations, and revenue expectations fell short by roughly $1.5 billion.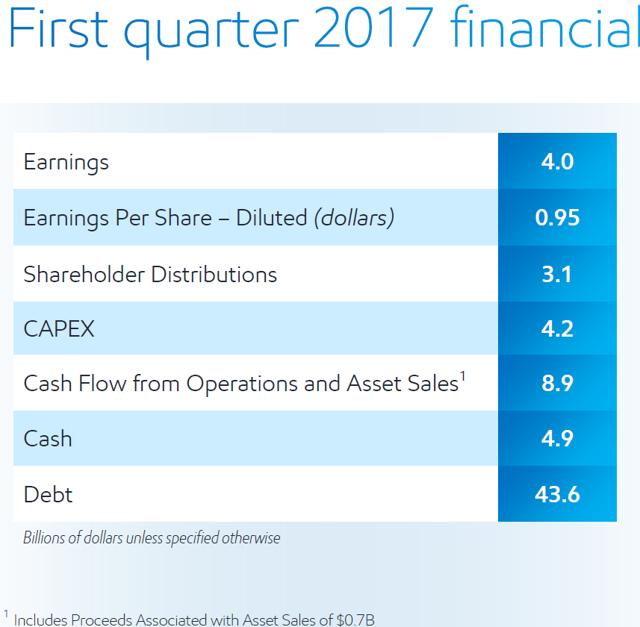 Source: Exxon Mobil Q1 2017 Earnings Presentation
XOM posted positive earnings at $0.95/share in Q1 2017, doubling its year-ago earnings of $0.43/share in Q1 2016. A backdrop benefit was slowly improving oil prices from a year ago, as prices have moved ahead by roughly 50% since the Q1 of 2016.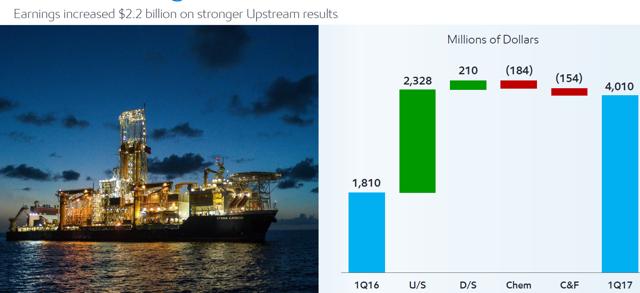 Source: Exxon Mobil Q1 2017 Earnings Presentation
On the production side, Exxon doubled its acreage holdings in the Permian Basin earlier this year. In Asia, XOM expanded its liquefied natural gas operations (LNG) and bought InterOil in a $2.5 billion bid to expand in Papua New Guinea. XOM also purchased a 25% interest in a Mozambique gas field last month.
Where did Exxon Mobil Improve From Last Year's Q1?
Let's drill down into Exxon Mobil's quarterly results to see exactly where they did or did not improve from a year ago. All comparisons are Q1 2017 to Q1 2016.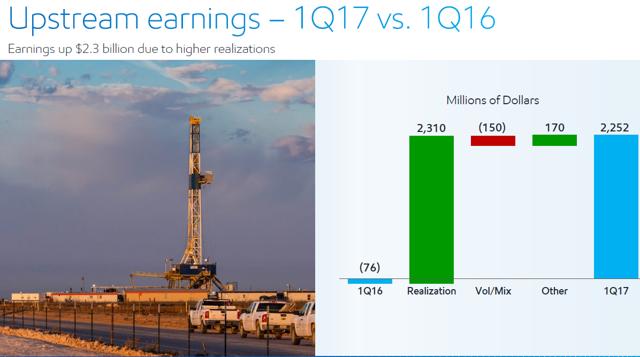 Source: Exxon Mobil Q1 2017 Earnings Presentation
World-wide (WW) oil production dropped lower YoY at 8%, lowering XOM's WW oil production portfolio weighting to near parity with natural gas. However, XOM's U.S. oil production increased by 3%, increasing its oil weighting driven by its greater U.S. oil production from the Permian. But at a 51% U.S. oil weighting it's near parity with natural gas. WW natural gas production inched higher at 1.7%, but dropped nearly 5% in the U.S. Combined oil and gas production showed no growth WW and in the U.S. This was a disappointment among investment analysts and a prime catalyst that caused XOM's shares to pull back on Friday, after an initial pop higher earlier in the day when it released its earnings.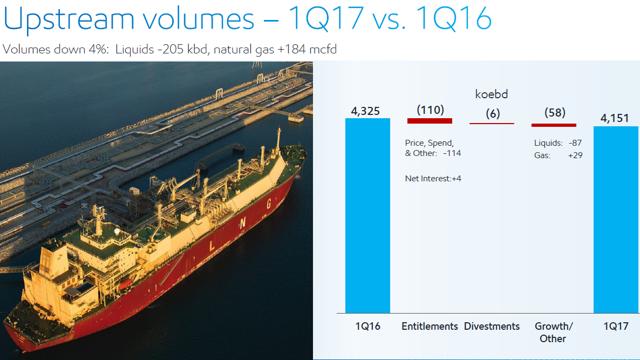 Source: Exxon Mobil Q1 2017 Earnings Presentation
A prime question for all the international oil Majors has been whether they can pull back on their capital spending (capex) and improve operating cash flow (OCF). Particularly, can the majors begin to cover their dividend payments from OCF, not debt borrowings? On both the spending and cash flow metrics, XOM showed significant positive improvements. OCF including working capital results nearly doubled to $8B. WW capex dropped nearly 20% to $4 B. WW and U.S. upstream capex dropped 22% and 35%, respectively. The net effect for WW company-wide operating cash flow after capital spending (NOCF) improved from a deficit of $327M to a surplus of $4B.
YoY on the quarter, world-wide company-wide earnings from Downstream, refining and retail recorded growth of $210M driven primarily by volume gains. International and U.S. downstream earnings each increased $105M, respectively.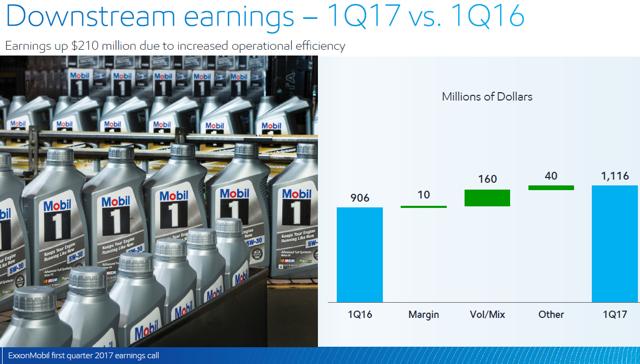 Source: Exxon Mobil Q1 2017 Earnings Presentation
However, YoY WW Chemical earnings on the quarter dropped $184M, driven by lower margins and higher turnaround expenses.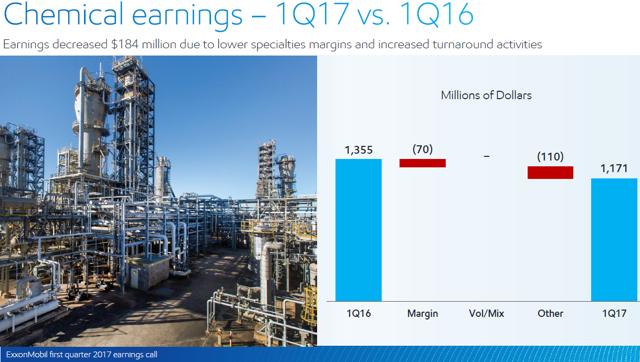 Source: Exxon Mobil Q1 2017 Earnings Presentation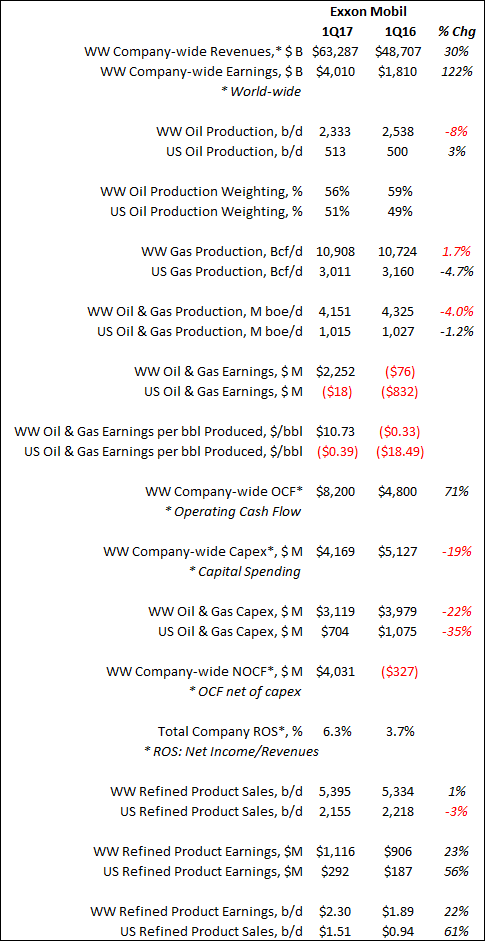 Source: Exxon Mobil Q1 2017 Earnings Presentation
Conclusion
Exxon Mobil had a very good quarter. However, their inability to exceed top-line revenue and oil production expectations cut short their early higher-equity moves on Friday after the quarterly release. But the significant increase in OCF to $8B and turnaround in NOCF from a deficit to a positive $4B is a testament to their operating efficiency, world-wide economies of scale, and diversification.
Moving forward, XOM must continue to extract further operating efficiency gains and rely on downstream and chemical earnings to support company-wide earnings growth. Oil production growth might improve, particularly in the U.S. as XOM begins to ramp up production from their recently acquired Permian acreage. But their near-parity oil weighting with natural gas in their global portfolio will limit their leverage to higher oil prices and upstream earnings growth. The challenges are there for XOM, but it has survived over a hundred years and I would not bet against it.
Currently, XOM is barley trading above its weighted moving average (the light blue line below). Its relative strength and price to volume indicators are moving sideways, as investors appear to be in wait-and-see mode with XOM. Given oil's high price volatility, investors appear to be cautious.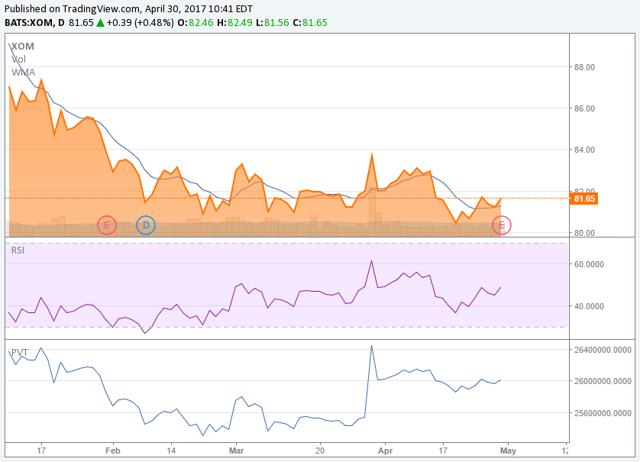 From a longer-term view, year to date XOM is slightly outperforming the broader energy sector (NYSEARCA:XLE) (see chart below; XOM is in orange and XLE is in blue).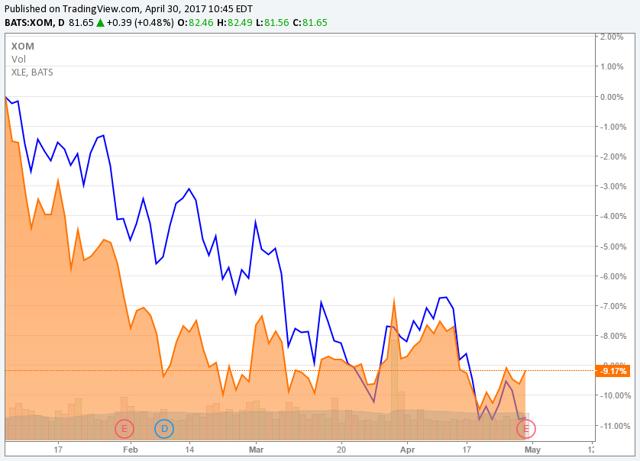 Note from author: Thank you for reading. If you like this article, then please follow me by clicking the "Follow" button at the top of this page.
Disclaimer: Please do your own research on the company's SEC filings, press releases and any relevant information to determine whether this company is suitable for your investment risk profile. The reader should contact a qualified investment advisor. I am not a registered investment advisor, and this article is not an advice to buy or sell stock in any company. I am not responsible for investment decisions you make.
Disclosure: I/we have no positions in any stocks mentioned, and no plans to initiate any positions within the next 72 hours.
I wrote this article myself, and it expresses my own opinions. I am not receiving compensation for it (other than from Seeking Alpha). I have no business relationship with any company whose stock is mentioned in this article.