Amazon (NASDAQ:AMZN) is working on a computerized model of custom tailored apparel.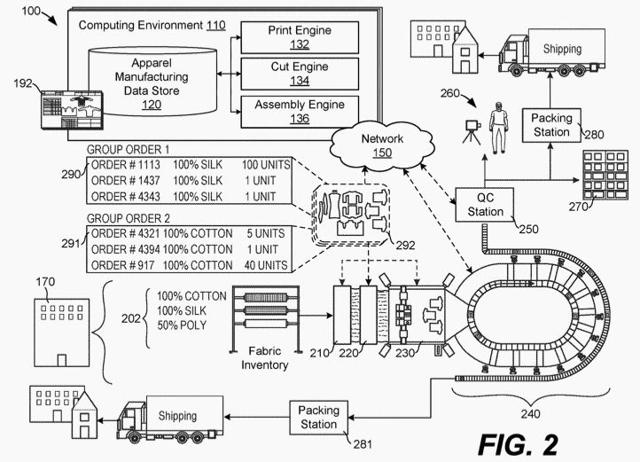 Source: ReCode
On-demand apparel production removes the major headache for apparel suppliers - inventory management and the costs of dated, obsolete or unsold inventory.
Amazon's new Echo LOOK voice-activated camera project is an effort to allow consumers to post photos of themselves and get instant feedback of what looks good and what does not, with a plan to integrate the technology with on-line apparel manufacturing.
Intel (NASDAQ:INTC) a while ago developed a digital fitting room which allows apparel shoppers to see themselves in a particular suit or dress without actually trying it on.
The marriage of these two powerful technologies is harbinger of change for the fashion industry. Gucci, Diane Von Furstenburg, Chanel and Hugo Boss (among others) should pay attention. The ability of a shopper to go to a retail outlet and shop for the latest fashion designs becomes a compelling trip if the customer can see a piece they want, try it on digitally, alter the colors or make minor changes to the hemline, lapel, etc. and have the garment pattern sent electronically to an apparel manufacturer to be sewn to fit their unique body shape and taste and delivered shortly thereafter through the vast Amazon delivery network.
Intel's virtual footwear fitting offers a similar experience for shoe shoppers.
Intel's investment in True Fit shows the chip giant has interests that go beyond advancing Moore's Law.
A Swedish company is already working on making sure footwear fits perfectly using Microsoft's (NASDAQ:MSFT) Kinect or Intel's RealSense technology and a 3D scanner.
One thing seems certain - there is a massive technology opportunity in apparel and footwear that the existing giants will have to deal with or be at risk. I have no doubt that worldwide brand leaders like Nike (NYSE:NKE), Adidas (OTCQX:ADDYY) or Under Armour (NYSE:UA) have teams working to stay abreast of technology developments they can harness in their respective arenas. But Amazon and Intel will be among the winners regardless of which consumer brands survive.
The worldwide apparel market is approximately $3 trillion, with no clear leaders. Even Nike has revenues of only $30 billion and a market value of about $105 billion. The fragmentation and size make it an ideal market for Amazon.com to target if Amazon can find the right formula to make customers confident they can buy good looking clothes that fit well through an online experience. That might explain the Echo Look initiative.
Despite Amazon having a $440 billion market capitalization and Intel having a $170 billion market capitalization, these two companies seem poised to benefit from emerging trends in areas where few even think they participate. By 2021, Cowen expects Amazon.com apparel sales to reach $62 billion, exceeding that of Macy's (NYSE:M) and putting Amazon.com in the same league as Nike is today.
I think Amazon is the best vehicle to participate combining a unique service model serving retail customers with an extraordinary insight into harnessing technology to delight customers. The Echo LOOK is expected to be offered at $200 but hardware sales are not the target - online sales of apparel is the prize. And whether the Echo LOOK takes off or flops, investors can bet that Amazon will remain on the forefront of finding innovative ways to attract consumers. Despite its lofty $900 plus per share stock price and stratospheric price to earnings multiple, Amazon is a good bet for further gains.
Disclosure: I/we have no positions in any stocks mentioned, and no plans to initiate any positions within the next 72 hours.
I wrote this article myself, and it expresses my own opinions. I am not receiving compensation for it (other than from Seeking Alpha). I have no business relationship with any company whose stock is mentioned in this article.