As implied by the company's FY 2016 Annual Report title, "Leading a Digital Industrial Era," General Electric (NYSE:NYSE:GE) is moving full speed ahead developing a portfolio of information technology products and services via its GE Digital business segment, which operates horizontally across the company. Particularly, GE is seeking to grow and develop its Predix technology brand which (broadly) supports the capture, storage, analysis, and exploitation of machine-generated data.
This marriage of manufacturing expertise and digital technologies is a logical and exciting endeavor for GE. The company noted in its FY 2015 Annual Report that "…GE can become a top 10 software company by 2020" and GE Digital is expected to "…expand [the company's] growth rate…[and] improve [the company's] margins…"
In fact, GE reported in its FY 2016 Annual Report that "Predix-powered and software orders" in FY 2016 were $4.0 billion. That would put the company within striking distance of cracking the top 10 pure-play software vendors by revenue according to Wikipedia: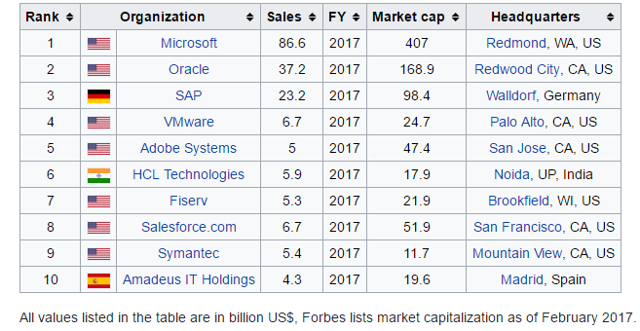 Assuming GE's FY 2016 numbers for GE Digital are accurate, what is the potential for the business and what value should investors place on this potential in terms of the company's share price?
IIoT Market Forecasts Are…Yuuuuge.
Understanding the potential for GE Digital requires an examination of the business segment's core market. The market encompassing software, hardware, and service solutions for the capture, transmission, storage, and analysis of machine-related data is referred to as the "Internet of Things" ("IoT"). GE, as well as other large industrial conglomerates, operates in a subset of the IoT market often referred to as the "Industrial Internet of Things" ("IIoT"). There are a lot of bold predictions about the potential size and growth for the IIoT market. In fact, the various analysts out there almost seem like they are trying to "out-do" each other with increasingly-bolder predictions.
An interesting article from Forbes contributor Louis Columbus, published late last year, captured a number of these predictions, including some from GE itself. Here are two IIoT predictions summarized in the article and attributed to GE:
The Industrial Internet has the potential to deliver up to $11.1T on an annual basis by 2025. Source: GE Digital, The Emerging Industrial App Economy.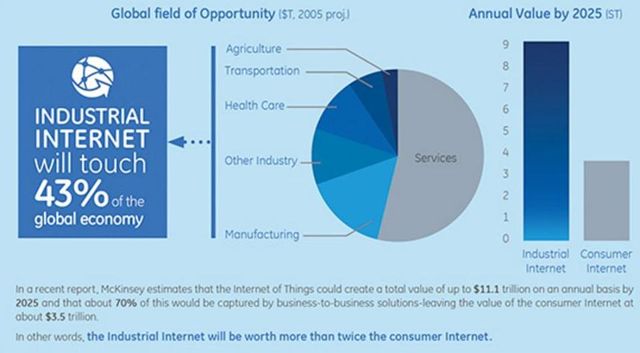 Investment in infrastructure is expected to top $60 trillion during the next 15 years, dramatically increasing the overall number of Internet-connected devices. Source: GE Announces Predix Cloud - The World's First Cloud Service Built for Industrial Data and Analytics.
Bolstered by estimates like these, GE went so far as to proclaim a $15 billion sales target for GE Digital by 2020 in the FY 2015 Annual Report:

All of this is certainly encouraging. But don't start buying GE shares just yet...
IIoT Market Forecasts Are... Varied
There are a couple other IIoT predictions from two different sources in the Forbes article mentioned above that are worth examination. (NOTE: the source data in the first bullet below is slightly different from the data presented in the original Forbes article; this data was likely updated after the Forbes article was originally published):
· The Industrial Internet of Things (IIoT) market was valued at $113.7B in 2014, projected to reach $195.5B by 2022 and is expected to grow at a CAGR of 7.89% between 2016 and 2022. Source: Industrial IoT Market by Technology, Software, & Geography - Global Forecast to 2022.
· The global industrial internet of things market is projected to reach $123.8B by 2021; the market is forecast to grow at a CAGR of 21% through 2016 to 2021. Source: Industrial Internet of Things (IIoT) Market Analysis - By Components - Forecast (2016-2021).
These are obviously two very different forecasts; and the intelligent investor should therefore be cautious about putting too much faith in them.
Clearly, a lot of very smart people think IIoT is going to be an absolutely massive market opportunity. But I can't help but feel that the "buzz and hype" component around IIoT may have reached feverish levels such that the projections for the market may not be realistic. I recall an e-commerce seminar that I attended in 1998. The speaker proclaimed that any (retail) business that did not become an e-commerce business immediately would be "out of business within 5 years." His general point on e-commerce as a threat to retail stores was correct; but his projection (in terms of time) on the broad demise of traditional brick-and-mortar stores was incorrect and excessively bullish on the growth rate for e-commerce. It seems, to me at least, that the same kind of excessive bullishness may have infected the various analyst projections for IIoT.
GE Digital Numbers Are… Varied
Not only are IIoT analyst forecasts all over the map, but so are the numbers for GE Digital. In the company's FY 2015 Annual Report, GE reports $5 billion in revenue for GE Digital for FY 2015:

But in the FY 2016 Annual Report, GE reports $3.6 billion in revenue for the unit:

What gives? Did the top line of the business actually decline by $1.4 billion? The decline is explained by GE's modified definition of "what" counts as GE Digital revenue.
Here is the definition from the FY 2015 Annual Report:
Digital revenues - revenues related to software-enabled product upgrades, internally developed software (including Predix) and associated hardware, and software-enabled productivity solutions. These revenues are largely generated from our operating businesses and are included in their segment results."
And here is the definition from the FY 2016 Annual Report, with the definition modification italicized:
Digital revenues - revenues related to internally developed software (including Predix) and associated hardware, and software solutions that improve our customers' asset performance. In 2016, we reassessed the span of our digital product offerings, which now excludes software-enabled product upgrades. These revenues are largely generated from our operating businesses and are included in their segment results."
Personally, I find this change in definition concerning. Is GE Digital just a "bucket" that GE will dump various revenue streams into for the appearance of growth, as opposed to a real, strategic business unit? In fairness, I do think GE Digital is much more than just a "bucket," but the company's inconsistent reporting on the performance of the business unit is frustrating and makes the unit more difficult to value.
Don't Be So Quick To Assume Massive Growth
As I have argued in a couple of my other articles, the software business as a whole is going through significant and in many cases painful changes. Generally speaking, software is becoming cheaper by the day and that simple fact is creating a drag on revenue growth and driving margin contraction. The underlying causes are numerous; but certainly the sheer amount of competition in any given software market is a significant contributor to the effect seen. GE Digital does not have a monopoly on the IIoT market. Far from it. Virtually every large technology vendor is attacking this space, including IBM (NYSE:IBM), Microsoft (NASDAQ:MSFT), and Amazon Web Services (NASDAQ:AMZN); and there are many smaller players all gunning for a "piece of the pie." (Notably, GE has partnered with Microsoft to offer its Predix platform in the cloud on Microsoft Azure). And this fact doesn't even consider GE's industrial competitors, such as Siemens (OTCPK:SIEGY) and Honeywell (NYSE:HON), who are also ramping up their digital endeavors.
Bulls might point out that even though GE is not the only player, they are a leading player with built-in competitive advantages, not the least of which is the fact that they actually manufacture many of the machines that will be supported by the GE Digital technology ecosystem. This is a valid argument. GE's "Digital Twins" software is unique and proprietary to GE, and will help optimize maintenance and support of hundreds of thousands of machines manufactured by the company by creating computer-generated models of the machines that can be analyzed using data generated by the actual machines themselves. This modeling offers GE tremendous opportunities, including cost savings from improved efficiency and improved product designs. However, it doesn't necessarily equate to a significant driver of top-line growth.
Another challenge for GE is a narrow moat around its Predix platform. Wisely, GE has partnered with various companies to "fill-in-the-gaps" of its Predix platform, such as Microsoft for infrastructure (as mentioned above) and Splunk (NASDAQ:SPLK) for storage of machine-generated data. While this approach makes a lot of sense from a go-to-market standpoint, it also means that there are major components of the Predix system that are not proprietary, and that, in turn, will suppress deal margins.
Further, there are not necessarily significant and material differences in the analytical capabilities of the various technology companies attacking the IIoT market. The implementation of vendor analytics is often differentiated in terms of speed or ease of use, but the desired "output" can likely be attained with most platforms. So, it's not clear that GE has a tangible, competitive advantage in terms of data analysis.
Finally, Louis Columbus in another Forbes article cites that "40% of today's IoT customers prefer to use traditional and well-established software companies for their IoT solutions." He goes on to point out that "this represents a challenge for major industrial companies whose future depends on their ability to transition into IoT providers."
Conclusion
Investors should not expect unusually high growth from GE Digital. There are, simply, many headwinds pushing against the business. Perhaps, this is why GE did not mention its GE Digital forecast of $15 billion by 2020 in the company's FY 2016 Annual Report.
I have no doubt that IIoT represents a significant market opportunity, and GE is rightfully investing to be a leader in the space. But the IIoT market growth rate may be slower than current forecasts predict. Moreover, GE's inconsistent financial reporting on GE Digital and lack of clear, sustainable competitive advantages in the IIoT market should make investors extremely cautious when factoring the potential for GE Digital into their valuation of the overall company.
Editor's Note: This article discusses one or more securities that do not trade on a major U.S. exchange. Please be aware of the risks associated with these stocks.