One of the first stocks I purchased using my new found value investing philosophies was Corning (NYSE:GLW). It was the perfect vehicle for value investing with a low P/E, extremely low debt, and a great balance sheet. When I discovered the company in my weekly screening process, it jumped out +99 at me as a possible candidate, and as I did more investigation, it quickly became clear that this "boring glass company" could be the right fit.
As I dug into it more, I thought this would make Benjamin Graham proud, and it was the perfect vehicle for my further exploration of the principles that make value investing so great. My valuations of the company at the time of my first purchase in 2012 still hold up today and is such a great buy for long-term investors.
There are a lot of great things going on with this company that we will dig into further, and the continuing dividend and share buybacks have added even more value to the shareholders.
Business Overview
Corning can trace its beginnings to a glass factory that was established in 1851. Talk about longevity; it has been a leader in specialty glass for more than 165 years.
It is based out of Corning, New York and currently has approximately 40,000 people employed with it worldwide. Speaking of worldwide, it has plants in 17 countries.
Corning offers investors five reportable segments that the business is broken up into.
They are:
Display Technologies - Manufactures glass substrates for liquid crystal displays or LCDs that are used primarily in TVs, computers, and notebooks. This segment comprised 34% of Corning's sales for 2016.
Optical Communications - This segment produces optical fiber, cable, and connectivity solutions, and is broken up into two main product groupings - carrier networks and enterprise networks. Also, this segment contributes to consumer electronic devices or cell phones. This segment contributed 32% of Corning's sales in 2016.
Environmental Technologies - The focus of this segment is ceramic substrates and filter products for emissions controls in cars. This segment contributed 11% of Corning's sales in 2016.
Specialty Materials Segment - This segment produces, among other things, glass ceramics that are used in display optics and semiconductor optics. The main claim to fame is the cover glass known as Corning Gorilla Glass. This segment contributed approximately 12% of sales for 2016.
Life Sciences Segment - The main focus of this segment is scientific laboratory products such as plastic vessels, specialty surfaces, and media. Most of us are probably familiar with the PYREX beakers from our high school chemistry class; Corning made them. This segment contributed approximately 9% of Corning's sales for 2016.
Two of the main products that Corning produces are LCD glass and Corning Gorilla Glass. Let's take a little deeper dive into both of them.
LCD - This stands for liquid crystal displays that are used primarily in televisions and computer screens. Corning is a leader in glass making, and has created several technologies that allow it to create flat glass. That might sound like a duh, but substrate flatness is critical in the production of panels for LCD TVs. Any deviations from flatness can create distortions, and nobody wants to watch the Super Bowl through distortions.
Corning has created a proprietary fusion process where the glass is formed in air and then drawn down to form an incredibly flat piece of glass with very precise thickness controls. See a video of this creation - it is amazing to see.
It continues to push the envelope on creating thinner, stronger and more durable glass, which has more and more applications. Corning has created four LCD types of glass that are utilized in many different applications. They are:
Eagle XG, the industry's first LCD glass substrate that is free of heavy metals;
Eagle XG Slim Glass, a line of thin glass substrates that enables lighter-weight portable devices and thinner televisions and monitors;
Corning Willow Glass, the ultra-thin flexible glass for the next-generation consumer electronic technologies;
The family of Corning Lotus Glass, the high-performance glass used in LCD as well as OLED, which allows for brighter, more energy-efficient displays with high resolutions.
Corning glass is made all over the world. Corning is a little different in how it handles its manufacturing, in that it builds plants to supply its customers where they are as opposed to manufacturing in one location and shipping all around the world. Because of this, the company has plants in South Korea, Japan, Taiwan and China, which allows it to service its customers directly.
The net sales for the Display Technologies segment were up 5% or $152 million compared to the same period in 2015. The increase in sales was driven by the strengthening of the Japanese yen and a mid-single-digit percentage volume increase driven by our need for larger TV screens. This increase was partially offset by the LCD glass price declines, which were slightly higher than 10%. We will discuss this a little more in the risk section.
Projections for 2017 in regards to LCD are that it expects retail TV units to be flat, but with a growth of screens by 1.5 inches, which will contribute 4% to 5% to the end market growth. It also thinks that in IT, the units sold will be flat, but larger screen sizes, which it thinks will not lead to any growth in the market. Also, GLW feels that it has strong inventory levels and expects its demand to be up in the mid-single digits. As the demand for LCD continues to decline, Corning has begun to convert some of its manufacturing to the adoption of smartphone applications.
It also expects that the price declines of 2017 will be less than what was seen in 2016, which it thinks will be the smallest declines in the last five years. It expects that Q1 of 2017 will be more moderate and very similar to the decline in 2016, which was the best result in five years. Remember that Q1 is typically the quarter with the largest decline because that is when annual supply agreements are finalized.
Gorilla Glass - Arguably the most famous product that Corning produces. It is a high-technology, incredibly tough glass that is used for just about everything now. From windshields on cars to your cell phone, computers, markerboards, and interior architecture. Gorilla Glass is extremely durable and offers distinct advantages over other materials.
The glass is chemically strengthened through an ion exchange that helps create an "armor," making it very resistance to damage, i.e., dropping your phone. It is also incredibly thin and retains its performance advantage over other cover materials. Because of Corning's proprietary fusion process, it is incredibly clean, smooth, flat and has amazing optical clarity. All these features make this glass the perfect cover material for touch screens.
Net sales for the Specialty Materials segment improved 2% for 2016, or $17 million. Specialty Materials was driven by an increase in sales of Corning Gorilla Glass 5. Although the first three quarters of 2016 saw lower sales, there was a surge in the fourth quarter due to the rapid adoption of Corning Gorilla Glass 5.
In addition to all the current applications that this glass is used, GLW is also seeing more glass used per device, with handset antenna requirements to support increasing data rates and the desire for wireless charging; glass is becoming the preferred material in more places on the phone. The increased use of Corning Gorilla Glass, of course, is great news for Corning and all its products.
Business Analysis
2016 was a great year for Corning, and it rewarded its shareholders. In 2016, Corning distributed approximately $6 billion in share repurchases and dividends. There was an approval for a $4 billion share repurchase in December and annual dividend increases of 12.5%, with an additional increase of 14.8% in February 2017.
In 2016, it realigned its interest with Dow Corning, which created $4.8 billion in cash for the company. Additionally, it also strengthened its Optical Communications with two acquisitions.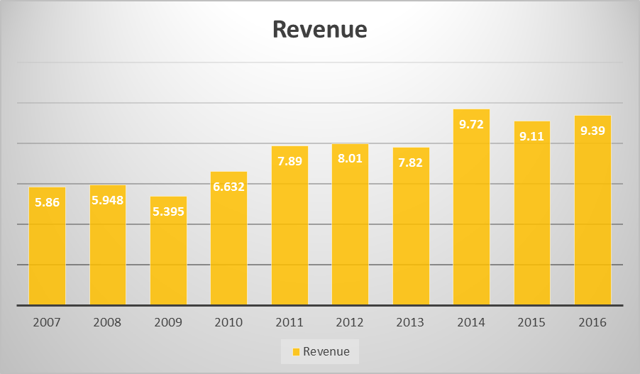 Courtesy of Intrinsic Value Formula
Since 2006, there has been a steady upward motion to the company's revenue. It has increased by 37.59% over the last ten years. This can be attributed to the continuing increased performance of its different segments and all the specialty glass that it can offer its customers. With the continued development of Corning Gorilla Glass and its implementation into more applications, this will continue to drive the revenue higher.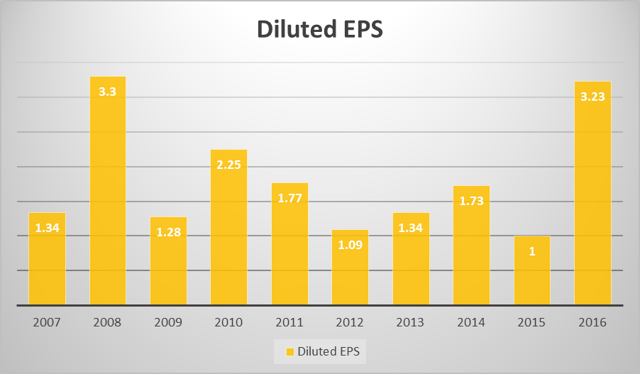 Courtesy of Intrinsic Value Formula
As you can see, the company has had a substantial increase in its earnings in the last five years. The large increase of 2016 Corning attributes to the $2.7 billion non-taxable gain from the alignment of ownership interest in Dow Corning and a $105 million positive tax adjustment - wish I could get one of those. Additionally, there were increases in its returns in the pension assets.
As I was creating this article, the latest earnings report for first quarter 2017 was released, and there was more good news in regards to net sales and earnings. According to Wendell Weeks, CEO:
First quarter sales were up 14% over last year, with growth in all businesses. EPS was $0.39, up 39% year-over-year. For the second quarter, we expect to sustain our momentum with year-over-year sales and EPS growth once again."
So, the momentum that it created continues into the first quarter of 2017 and is likely to continue with the expansion of the use of its many products in a diverse lineup of placements.
Not all was rosy last year, as it continued to see a decline in the Display Technologies segment, which was down 15% for 2016, which was driven by the continuing softening in the prices for LCD glass.
To confront this decline, Corning has implemented several strategies to start to pivot away from the LCD portion of its business. Among them is the use of its glass in the optical segment.
Recently, there was an announcement of a deal with Verizon (NYSE:VZ) of a 3-year minimum purchase of $1.05 billion, with Corning to provide fiber optic cable and associated hardware to Verizon.
With its new plans to build a global headquarters for optical communications in North Carolina, as well as an expansion of the manufacturing capacity there as well, it has embraced this avenue of growth and is pushing ahead.
If you would like to read more about this deal and its ramifications, please read more here, as Willow Street Investments does a great job reporting on events with Corning.
Finally, with Corning being an international company, it has many challenges when it comes to dealing with currency exchange rates, and one of the ways that it combats this challenge is the use of currency hedges. Since its inception, Corning has received $1.4 billion in cash under its hedge contracts. These funds offset much of the yen-related fluctuations in Display's earnings.
Much of the difference between its GAAP and core results are a result of the non-cash mark-to-market adjustments. GAAP account required earnings translation hedges settling in future periods to be marked-to-market and recorded at its current value in the current quarter, even though the contracts won't be settled in the current quarter.
As an example, during the first quarter of 2017, the yen strengthened, which reduced the value of the hedge contracts, causing a GAAP loss of $326 million when the contracts were marked to market as required. Though this occurred, it has no bearing on Corning's cash flow.
GLW is very pleased with the results of the hedging program. It helps to reduce the yen-related fluctuations in Display's earnings and helps mitigate the risks of the weakening yen.
Key Risks
Corning does have a few risks that should be addressed so you are aware of them.
First, would be its use of raw materials. For all the glitz and glam of the company, it is after all a "boring" glass company. I kid about the glam part, but it is lumped into the technology sector with its reliance on those customers as purchasers of its products.
Certain key materials are currently sole-sourced, and this requires the company to be extremely diligent about monitoring this. Several of the materials are from one supplier only, and any interruption in these materials could have a substantial impact on its sales.
Next risk would be the concentrated customer base. Consider this chart from the 10-k 2016.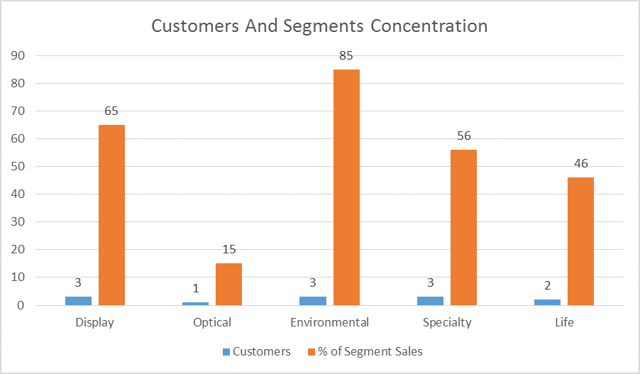 Chart courtesy of Intrinsic Value Formula
As you can see from the chart, GLW is extremely concentrated in several areas, which could be potentially hazardous to the company's financial health.
Another potential risk is the effect of currency fluctuations to Corning. Being that it is an international company, it is extremely sensitive to these fluctuations. To hedge against this potential problem, Corning utilizes over-the-counter derivatives to protect its currency exposure. If these derivatives don't perform as expected, it could expose Corning to large potential losses, based on the fluctuations of the foreign currency.
And of course, there is the continuing softness in the price of LCD glass. This continuing downside of the largest segment of the company could be a drag if this cycle doesn't change. Corning has done a wonderful job diversifying its product mix and will continue to do so for many years to come.
Dividend
Dividends are one of the fantastic ways that Corning demonstrates that it is a shareholder-friendly company.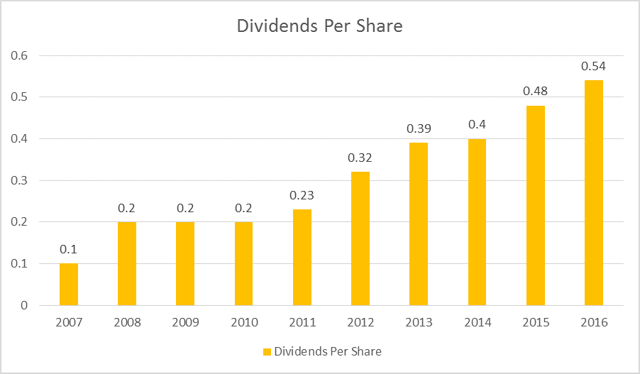 Chart courtesy of Intrinsic Value Formula
As you can see from the chart, it has been paying a rising dividend for the last ten years, and according to its strategic plans, it will continue to grow the dividend to reward its shareholders for its patience.
Another factor to look at is its payout ratio to see if this continued growth in dividends is sustainable. And the average for the last five years is 33.45%, which makes it quite sustainable. The dividend yield is currently sitting at 1.96%, but with the share buybacks it has done and is committing to in the future, there is plenty of value being provided.
I would say that Corning's dividend is extremely sustainable with a payout ratio that low. That means it has the means to allocate its capital in a fashion to continue to grow the company and pay a rising dividend like it has for the last ten years.
Valuation
Corning, despite its great financial performance the last few years has an extremely low P/E ratio of 7.80 for TTM and a five-year average of 15.13.
If you do a quick intrinsic valuation of the company using some formulas, these are the values I come up with:
Graham Formula = $32.01
Discounted Cash Flow = $34.14
Both of these calculations show that the company is currently undervalued by approximately 17%. While this is not a huge margin of safety, there is room here to buy if the stock dips for any reason.
The recent good news from the latest earnings report gave the company a boost of over 3% on that day, so the intrinsic value has crept up recently.
The company ended the first quarter with $4.9 billion on the balance sheet and created $341 million in free cash flow from operations, which is up from last year.
The expected returns of the company for the coming year:
Expected growth = 9.5%
Dividend Yield = 1.9%
Which would give us an expected return of 11.4% - not too shabby?
Finally, a note about the debt of the company. The debt to equity ratio for the TTM is 0.22 and the average for the last five years is 0.15, which is outstanding.
Final Thoughts
As I mentioned earlier, this was one of the first companies that I put through the Ben Graham valuation method, and I think the analysis still stands up.
It has some exciting growth prospects with the development of the optical segment and the growing adoption of the Corning Gorilla Glass.
One of the things I like about the company is that it has been around for 165 years and it has learned how to adapt and react to the trends so that it remains relevant. Corning has also realized that technology can help improve its business and has adopted that reality and has created such amazing products.
Its R&D budget rivals some technology companies and has helped it stay at the forefront of its field.
Although it typically gets lumped with the technology sector, it falls into the manufacturing sector. After all, Corning is a "boring" glass company, but it utilized the latest in technology to improve and create better glass and uses for its glass. The evolution of smart glass is to me revolutionary, with all the uses that were never considered when I was younger.
My earlier analysis has stood up, and I think that Corning is still a great buy, and I will continue to add to my position. This company is far from brittle and has the growth potential to rise even higher. With the rising dividend, low debt, and tons of cash on the balance sheet, this is a company poised to continue to do great things.
That will do it for this week.
As always thank you for taking the time to read this article, and I hope you found it of value to you.
What are your thoughts on Corning? Would you buy? Let me know your thoughts in the comments.
Disclosure: I am/we are long GLW.
I wrote this article myself, and it expresses my own opinions. I am not receiving compensation for it. I have no business relationship with any company whose stock is mentioned in this article.