To say it's been a stock pickers market in the mining sector would be a massive understatement. Of the 250 companies I follow, only 60 of them are up double digits for the year despite the price of gold (NYSEARCA:GLD) being up 10% for the year. More than half of those 250 companies are showing a negative return for the year, and 60 of them are down more than 10%. When trying to sift through the rubble what I'm looking for are companies that are bucking the trend, and doing so with strong fundamentals. One of the companies I've skimmed over many times but didn't do enough digging was LeaGold Mining (OTC:HTXFF), and I'm glad I took the time recently.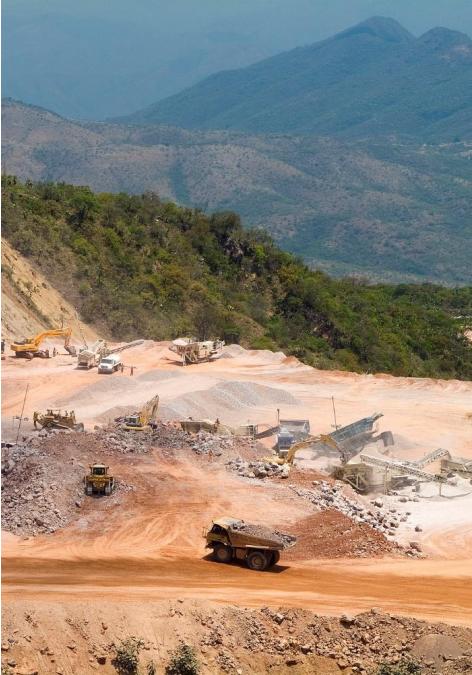 LeaGold Mining started trading on the Canadian markets last year and gained recognition after it took the Los Filos Mine off Goldcorp's (NYSE:GG) hands for $438 million. There was absolutely nothing wrong with the Los Filos Mine, but Goldcorp, like other producers is working to decrease debt and bolster their NAV per share by selling off what they deem to be non-core assets.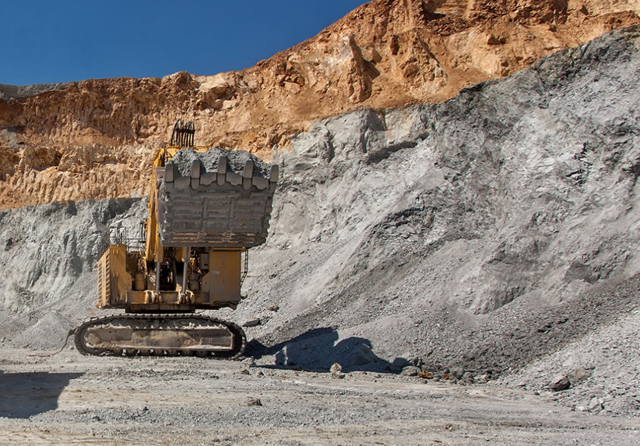 (Source: Company Website)
Fortunately for LeaGold Mining, the company has picked up an impressive asset at what I believe to be a very reasonable price. Los Filos produced 230,000 ounces at all-in sustaining cash costs of $878/oz, resulting in over $45 million in after-tax earnings. The project has a mine life of over 8 years so the company will realize close to $400 million in after-tax earnings based on Los Filos alone.
What I believe many are overlooking about this transaction is the huge value added by the other deposits on this property. The bonus to this deal is the Bermejal Underground deposit which currently holds over 1.6 million ounces at an average grade of over 6 grams per tonne gold. The PEA done for this deposit is extremely impressive with industry leading cash costs and very modest capex to put it into production. Below is a look at the PEA: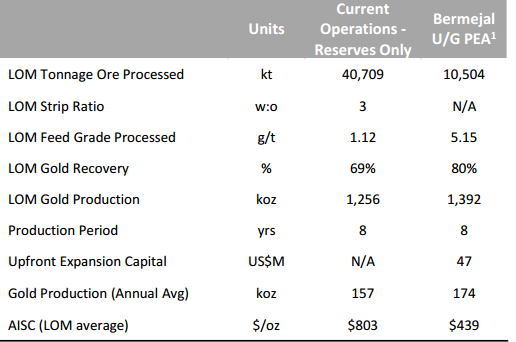 (Source: Company Presentation)
As we can see from the above table, the Bermejal Underground PEA has much more impressive economics as compared to the current operations, and has the ability to significantly reduce LeaGold's consolidated AISC. The grade is 500% higher at Bermejal Underground, the annual gold production is marginally higher, but the all-in sustaining cash costs are more than $350/oz lower. This would translate to a significant increase in margins, and would allow LeaGold to operate at consolidated AISC of below $700/oz. The company has provided a look at what LeaGold would look like with Bermejal Underground and Los Filos in operation.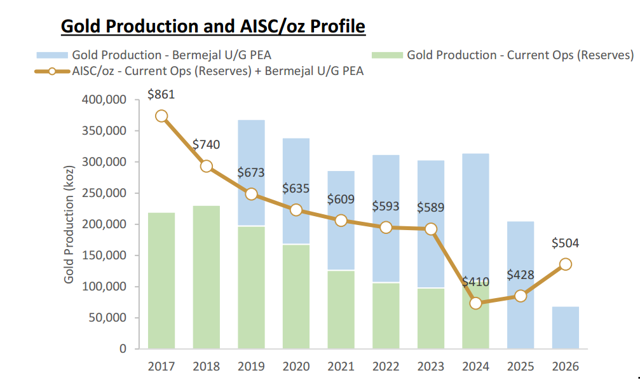 (Source: Company Presentation)
As we can see from the above chart, Bermejal Underground could be a game-changer for the company. If it comes online they can increase production by more than 50% from current levels, while reducing all-in sustaining cash costs by more than 30%. This would lead to massive margin expansion, in addition to a significant re-rating for LeaGold.
Let's move to the valuation....
LeaGold currently has 151 million shares outstanding and a share price of $1.96 US giving it a market capitalization of $296 million. Adding in the company's $150 M in debt and subtracting the current cash position of $76 million, we're left with an enterprise value of $369 million. This is an absolutely ridiculous valuation for a company that is a 200,000 plus ounce producer and is cash-flow positive. Based on the company's 2017 production and my conservative estimate for $48 million in after-tax earnings, the company is currently trading for 7.7x current earnings. This is using a gold price of $1,250/oz (below spot), and assuming there is no expansion case at Bermejal Underground. The table below shows my fair value for the company under different gold price scenarios.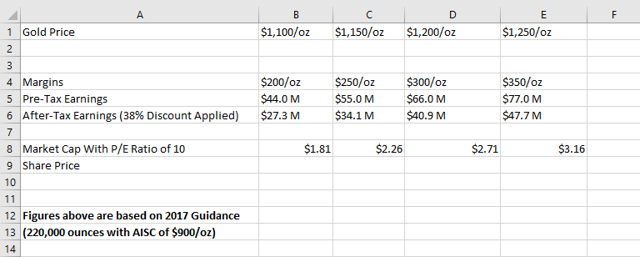 (Source: Author's Table)
Based on the company's current share price, we are trading at a valuation that I would expect if gold was trading at $1,130/oz. Given that we're trading 10% higher than that level, it makes little sense to see this type of discount on LeaGold's shares. This table also gives absolutely zero credit to Bermejal Underground which I expect to see go into production by late 2019. The capex at Bermejal Underground is a modest $47 M which could easily be funded by LeaGold's current cash position. Below I have included a table of what LeaGold could look like in 2019 if their expansion case goes as planned: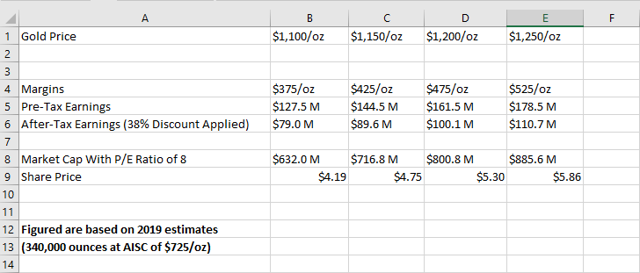 (Source: Author's Table)
For the above table, I have used conservative estimates as the PEA is preliminary in nature, and we are still 2 years away from the potential of this expansion case. I have used 340,000 ounces vs. the 355,000 ounces shown in the presentation, a 4% discount. I have used all-in sustaining cash costs of $725/oz vs. projected all-in sustaining cash costs of $673/oz, an increase of 8%. Finally I've used a P/E ratio of 8 to value the company vs. the 10 used from the above valuation chart as we are 2 years away from this potentially becoming a reality.
Regardless of these conservative estimates, there is significant upside potential if this expansion plan comes to fruition. Using a gold price of $1,200/oz, my fair value for the stock is $5.86 if Bermejal Underground delivers by the above metrics. This assumption is speculative in nature as we still need to bring this mine online. Having said that I believe there's a decent chance this does occur, therefore it's worth pointing out this expansion case.

In summary assuming the worst and there is no expansion case, LeaGold Mining is trading for 7.7x current earnings using a gold price of $1,250/oz. What this means is that even if we completely abandon the possibility of an expansion at Los Filos, the company is significantly undervalued. The bonus to this investment thesis is that the company should undergo a significant re-rating if they are able to bring Bermejal Underground online. Using a gold price of $1,250/oz the company would be bringing in after-tax earnings of over $110 million a year.
I don't know about you, but it's not every day I find companies worth $350 million that have the potential to deliver $110 million in after-tax earnings 2 years from now. I would expect we could see a re-rating between $4.75 - $6.00 if this occurs, assuming the gold price stays between $1,150/oz and $1,250/oz. This re-rating is not going to happen overnight, and I would expect it to occur in 2018 if the company delivers on the plans of their expansion case. For this reason starting a position at these levels is enticing as I have the bonus of the expansion case with an already depressed valuation using the current production case.
I believe LeaGold Mining to be quite undervalued at current levels, and significantly undervalued if their expansion case is realized. For this reason I've taken a starter position of 2.5% portfolio size in all of my investment accounts, and will see how this story plays out before adding more. Ideally I would like to see more impressive drill results come out of Bermejal where the company is currently exploring, and how the company's first year of production looks as new operators at Los Filos. Based on these two factors I would consider adding to my position.
For full disclosure I have bought my shares on the Canadian exchange where this is much better liquidity at an average cost of $2.75 CAD. The company's ticker on the Canadian exchange is LMC.V.
Disclosure: I am/we are long GLD, HTXFF.
I wrote this article myself, and it expresses my own opinions. I am not receiving compensation for it (other than from Seeking Alpha). I have no business relationship with any company whose stock is mentioned in this article.
Additional disclosure: If you liked this article and found it useful, please feel free to follow me by clicking on my name next to my avatar at the top of this article. I also invite you to follow me at www.twitter.com/TaylorDart01 where I routinely share my entries, exits, and stops on new positions, as well as updating followers on sentiment data on markets I am following.