Home Depot (NYSE:HD) is a home improvement giant that does not scare very easily. The retail store has experienced massive growth since 2012, with stock prices nearly quadrupling in size. Its opposition seems limited, and they show little sign of slowing down. Though Home Depot is not without any shortcomings and disadvantages, they should continue to give investors a satisfactory return in the future.
The most recent issue that has arisen was an incident where Home Depot unintentionally left personal data of 8,000 customers online that anyone could access. This data included names, phone numbers, home addresses, and email addresses. Home Depot left the information in unencrypted Excel sheets for an unknown period of time, until removing them after being notified of the mistake. Although the data did not include any financial information or social security numbers, it can still be used to scam customers into handing over the more valuable information. The ramifications of this incident are still unclear, but they could potentially be very harmful to many of Home Depot's customers.
This event is especially concerning for customers who are familiar with Home Depot's past experience with data breach in 2014. Data from 56 million credit and debit cards that were used at Home Depot were stolen. However, even with such a large-scale data breach, Home Depot's stock price did not take a significant hit. In fact, the stock began to rise at a faster pace. So why did such a calamity have little to no effect on the company? In short, it is due to the good health of the company.
Home Depot has relatively few competitors, and even fewer that pose any kind of threat. While its largest competitor in the home improvement retail industry, Lowe's (NYSE:LOW), is also growing steadily, it has not had any major effects on Home Depot. Even among areas in which they are losing to competitors, Home Depot remains unfazed.
Take physical location expansion, for example. Lowe's has plans to open over 40 new facilities in the near future, while Home Depot has made it through its 4th consecutive year without opening a single location. However, Home Depot has proven that physical expansion is not required to increase profits. They have been able to focus more time and money on improving the quality and service of its existing store locations. Through this conservative strategy, Home Depot has managed to maintain a profit margin of 8% for the past three years, while Lowe's had a profit margin of only 5% in 2016.
Developing technology is changing the way people shop, for everything. Consequently, Home Depot must adapt to the online purchasing demands and compete with an additional sector of retail. Home Depot is understandably losing to the top companies in the digital trading world including Amazon (NASDAQ:AMZN) and eBay (NASDAQ:EBAY), but they are ahead of retail companies who are also attempting to enter the online sector. Although companies like Amazon have potential to become a much larger competitor down the road, Home Depot is taking care of the immediate threat by investing heavily in its e-commerce sector.
The industry has also been expanding due to an increasing demand for home improvement supplies. Since the real estate market crashed before the recession, people have been less likely to buy a new house and more likely to fix up or remodel their current house. Even after the economy stabilized, the cost of buying a home increased, holding in place the demand for home improvements.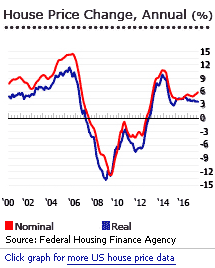 Source: Federal Housing Finance Agency
With a rising demand for home improvement supplies, and few competitors, Home Depot seems to be in the ideal industry for inevitable growth.
Not only do the external factors have a positive effect on Home Depot, but the retailer's financial statements and ratios also reflect a very healthy and investment worthy company. In 2016, sales increased by 7% and net income increased by 13.5% from the previous year. Assets are increasing on the balance sheet, but there is a notable decrease in stockholder's equity. The culprit can be found in the treasury stock account. The contra equity account increased by 21% during 2016. The treasury stock account increases when the company buys back supposedly undervalued shares from shareholders to sell later at a profitable price, or to acquire other companies. In most cases, an increase in treasury stock is a positive sign for the company, as it assumes that the stock is undervalued. Additional treasury stock also increases the company's earnings per share. In February of this year, Home Depot initiated an additional share repurchase program of $15 billion. The decrease in equity and increase in net income are also indicative of a higher ROE.
Significantly driven by the growth in revenue and the share repurchase program, Home Depot expects EPS to continue to rise. The graph below shows the estimated EPS alongside the actual EPS.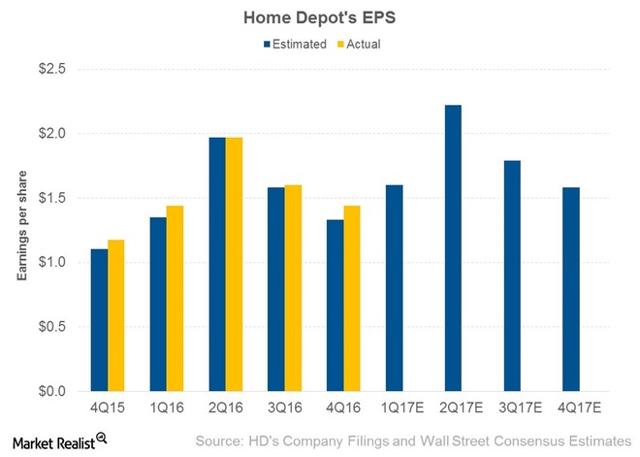 Source: Market Realist
The accuracy of the predicted values over the past five quarters should give investors confidence for future growth. On top of the rising EPS, analysts expect Home Depot's dividends to increase by 18.6% to $3.51 in 2017.
Home Depot is at the top of its game right now. They are doing everything they need to do to keep customers and shareholders happy by adapting to the market and increasing EPS. Although they experienced a few hiccups along the way, like irresponsibly failing to protect customer information, a favorable macro environment will help them continue to thrive. Investors should not yet lose confidence while having Home Depot as part of their portfolio.
Disclosure: I/we have no positions in any stocks mentioned, and no plans to initiate any positions within the next 72 hours.
I wrote this article myself, and it expresses my own opinions. I am not receiving compensation for it (other than from Seeking Alpha). I have no business relationship with any company whose stock is mentioned in this article.