Overview:
Construction Spending, a data series published by the Census Bureau, measures "the [dollar] value of construction put in place and is a measure of the value of construction installed or erected at the site during a given period.
Construction Spending includes: (From Census Bureau)
1. Cost of materials installed or erected.
2. Cost of labor (both by contractors and force account) and a proportionate share of the cost of construction equipment rental.
3. Contractor's profit.
4. Cost of architectural and engineering work.
5. Miscellaneous overhead and office costs chargeable to the project on the owner's books.
6. Interest and taxes paid during construction (except for state and locally owned projects).
Spending is broken down mainly into "Total", "Private" and "Public" (Government owned) and within those, "Residential" and "Nonresidential"
Nonresidential is broken down into 11 components:
Lodging
Office
Commerical
Health Care
Education
Religious
Amusement Park
Transportation
Communication
Power
Manufacturing
For this analysis, the focus will be on total construction spending, residential spending and manufacturing spending.
Total spending clearly provides the entire picture but as it pertains to real estate, residential spending is the most important. Manufacturing is not related to real estate but it is the value of construction at manufacturing plants which gives foresight to capex by companies and can be a leading indicator for future demand as it shows companies willingness to spend on new factories. Residential spending will be the main focus.
Construction Spending:
Total Construction spending fell 0.2% for the month of April, far lower than the Bloomberg expectation for a 0.5% increase. On a year over year (Y/Y) basis, construction spending decelerated to 3.6% from 5.4% a month prior.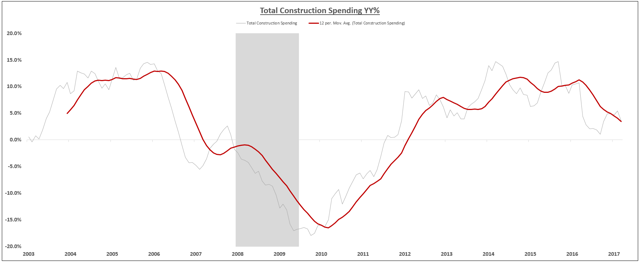 Source: Census Bureau (All data from Census Bureau)
Anyway you cut it, the picture above of total construction spending growth does not look robust; in fact, quite the opposite.
Residential construction spending, the focus here, decelerated from 8.9% Y/Y a month ago to 7.3%.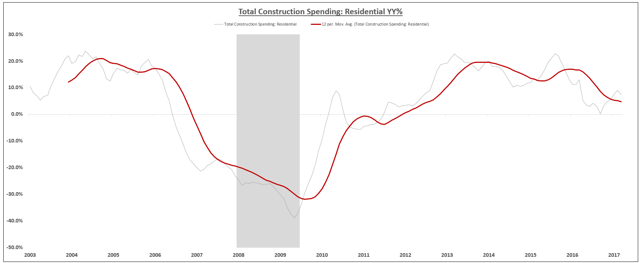 Both charts above show that the peak growth in construction spending occurs years before recessions and typically continues to decelerate until the ultimate recession is over.
Similarly to the last cycle, Construction Spending peaked in 2015 (2006 last cycle) and has been trending down towards the zero mark.
Many critics don't agree with this type of analysis but I always say that focusing on the trending direction of growth allows you to see the cyclical downturns long before the are mainstream. Why wait until Construction Spending is negative if that is current trending direction? It is not a sell the house type of call but a very clear warning for the trending direction of many key components to the developmental real estate market.
Before relating Construction Spending to real estate prices, a quick glance at manufacturing investment is noteworthy.
I have long been outlining the cyclically weak growth in the economy and the spending on manufacturing further supports that point and is a tough argument for those who are long stocks for a "good economy" vs long stocks simply because central banks will continue to prop them up.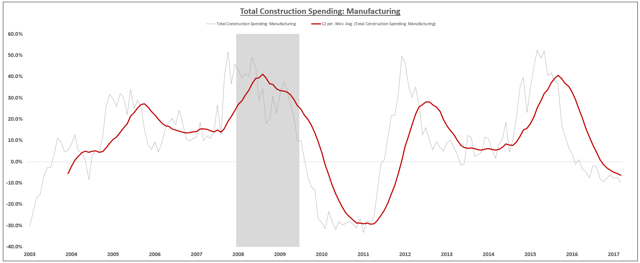 Construction Spending on manufacturing plants is unbelieably weak which should clearly show companies desire to spend to faciliate future demand.
Construction Spending and Real Estate:
It is not only logical but empirically true that residential construction spending is correlated and leading indicator for home prices.
The following chart is the year over year growth rate in construction spending and the case-shiller 20 city home price index:

Construction spending growth clearly leads home prices.

The 12 month moving average of construction spending growth was in free fall and negative for months before home prices even peaked. We seem to find ourselves in a similar situation today in which the 12MMA of residential construction spending growth has been declining for over a year while home prices have not yet reacted.
If the current trend in residential construction spending continues, home prices will, as they did in 2007, follow suit over the next year.
Conclusion:
My focus is finding long term cyclical trends in macro economic data points. In 2006 you would have been criticized ruthlessly for expressing caution on the real estate market but as shown above the evidence was overwhelming obvious. I am not saying it is exactly the same but confusion often comes in the differentiation between spotting longer term (1-2 year) trends vs. making short term calls. This should be read as a cautious piece on real estate over the next 1-2 years and the use of residential construction spending as a tool to predict the lagging moves in home prices.
I have been expressing my long term bearish view on real estate through ITB.
I am very well prepared to hold this position for a long time period as I believe over the long term, prices will converge to the direction of residential spending growth.
Disclosure: I/we have no positions in any stocks mentioned, and no plans to initiate any positions within the next 72 hours.
I wrote this article myself, and it expresses my own opinions. I am not receiving compensation for it (other than from Seeking Alpha). I have no business relationship with any company whose stock is mentioned in this article.