Summary
Having had a hard time for several years, China's fine chemical industry has finally shown a rebound over the past few months. We believe that market tends to underestimate upside potential of micro-cap stocks in fine chemicals industry. Delta Technology Holding Limited (NASDAQ:DELT) is such a Chinese chemical stock listed in the U.S. market with a superior risk-reward profile.
The company has recently streamlined its production process to focus on a high-margin product line, which the firm has high share of production capacity in (about 18% of production by our calculations, detailed later). Therefore, we expect the firm to substantially improve its profit margin to a new normalized level that is on par with US-listed peers. As such, we assign the stock with a target price around $7-17 due to industry rebound and improved margin profile. Compared with latest close price of $2.9 (5/1/2017), we believe the material upside potential (140%) greatly outweighs the 30% potential downside implied with a bear case price target of $2.
Company Profile
Founded in 2007, Jiangsu Yangtze River Delta Fine Chemical Limited Company is a wholly owned subsidiary of Delta Technology Holdings Limited (hereinafter referred to as DELT). As one of the leading Chinese fine chemicals companies, it produces and sells organic chemical compounds that have a variety of end-market applications. The company receives favorable policies from Jiangsu Province, and its factory is located in the provincial industrial park named as Dantu Economic Development Zone Fine Chemical Industry Park, covering over 100,000 square meters (over 1 million sq. ft).

The company sells to more than 350 end customers around the world. Its main products include p-chlorotoluene ("PCT"), o-chlorotoluene ("OCT"), various PCT/OCT downstream products, unsaturated polyester resin ("UPR"), maleic acid ("MA"), and other by-products chemicals. These products have a variety of end-market applications, such as medicine, chemical products, clean energy, dyes and pigments, automobiles, aerospace, ceramics, and paint. Below is a list of customers and partners displayed on the firm's website.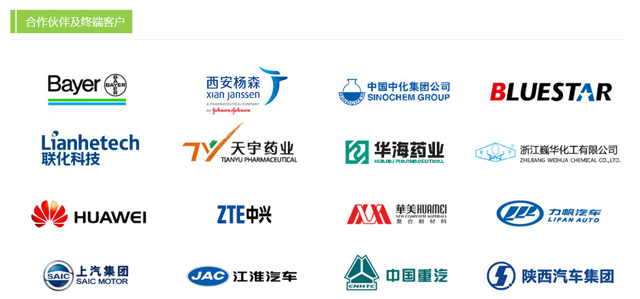 Thesis 1: China's chemical industry is rebounding from a cyclical low with ongoing secular transformation
Chemical industry has rebounded from the cycle low, and fine chemicals benefit from it
As shown in Exhibit 1, sales growth rate (blue line) of China's chemical industry had declined rapidly since 2011 until it bottomed out in 2015 and recently rose up to about 5% by October 2016. Meanwhile, the growth rate of industry's gross margin was barely exceeding the inflation in China, indicating that the supply and demand in the chemical industry is largely saturated over the past five years, especially in basic chemical products in large production capacity surplus. However, we believe that the industry's toughest moment may have passed.
Exhibit 1. Current Situation of China's Chemical Industry in 2010-2016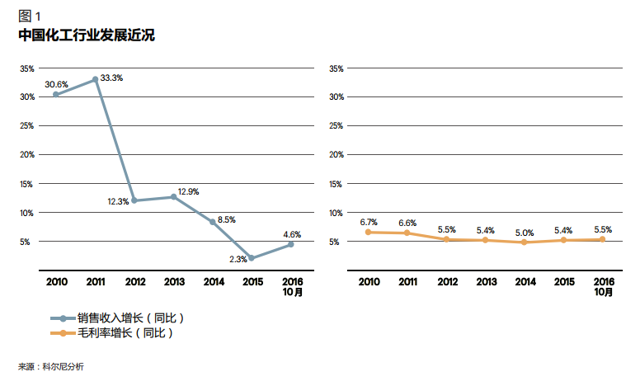 Source: AT Kearney's Research Paper (only the Chinese version is available)
Fine chemicals will lead the industry recovery due to secular shift
In the three sub-areas of the chemical industry, the basic chemicals, led by the state-owned enterprises (SOE), will continue to face production surplus and cost overruns. However, fine chemicals (DELT's industry where products are more complex) and specialty chemicals (products are classified according to end-market applications, such as oil and gas exploration, etc.) should benefit from economic restructuring over the coming decade. This is because the type of industrial development in China has moved from mass production of basic chemicals, such as methanol, to production of more refined chemical compounds that are further along the value chain. In fine chemicals, manufacturing techniques play an important role in producing such compounds in an efficient and cost-effective way. Each group of compounds forms its own niche market, where private enterprises that are smaller and more nimble can operate at an optical scale to meet the demand.
As shown in Exhibit 2, the fine chemical segment, where DELT operates in, is marked as "Polymer". The key strategy to succeed in the fine chemical space is to maintain a diversified product base and production specialization, as opposed to mass production, driven by large fixed asset investments, a model that SOEs have applied for years.
Exhibit 2. China's chemical industry segmentation and corresponding business strategy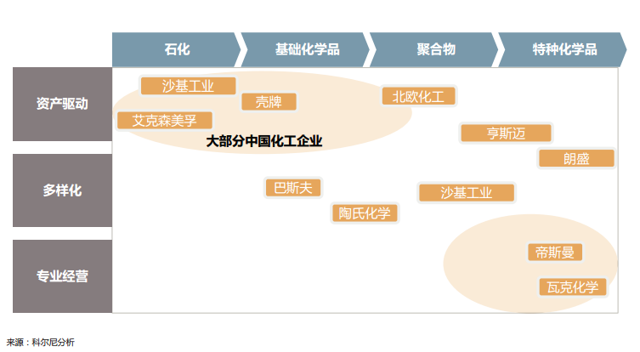 Source: AT Kearney's Research Paper (only the Chinese version is available)
Thesis 2. DELT is on the winning side of the industry transition due to its production specialization in OCT/PCT and large share of production capacity
The fine chemicals industry consists of a great variety of product groups and small output quantity for each, as annual production capacity of each product by each producer is usually around 10,000-50,000 tons per company. Besides, most chemicals are by-products of certain main production processes, which highlights the need of designing the chemical reaction process to improve efficiency and reduce wastes. Therefore, there is a high requirement for chemical research and development capabilities. At the same time, since the demand for each product group is limited, fine chemical producers not only need to be flexible enough with their production plan but also should have a strong sales force and a wide distribution network.
We believe DELT's team demonstrates these successful traits. Per Exhibit 3, with less than 300 employees, over the past three years, the firm generated an average revenue over $500,000 per person. In addition, 30% of the team members are R&D staff focusing on refining the techniques of chemical reactions. In addition, DELT has established a joint laboratory to focus on research and development of new technology and new chemical products with Nanjing University of Traditional Chinese Medicine, Shanghai Normal University, and other universities. In addition, as a wholly foreign-owned enterprise, DELT's culture is principally different with state-owned enterprises, with a great focus on market competition and profitability.
Exhibit 3. DELT Revenue and Employee Stats

DELT has a large share of the PCT/OCT market in China, by our estimates
The main products of DELT are p-chlorotoluene, o-chlorotoluene, and its downstream chemical products. Para-chlorotoluene (PCT) and o-chlorotoluene (OCT) are important chemical intermediates in organic synthesis. It can synthesize herbicides, pharmaceutical melperone hydrochloride, furosemide, fungicides, cosmetics, and so on. DELT also produces unsaturated polyester resin ("UPR") and maleic acid ("MA"), but according to recent sales mix disclosed in the annual report, the company is exiting these two lines of business.
According to our industry research and DELT's annual report, about one-third of the PCT/OCT products are sold directly to end customers, while two-thirds of them are used to produce downstream products. Many of these by-products are also for export. Famous global chemical giant Bayer (OTCPK:BAYZF), Xian Janssen, and several major pharmaceutical companies all have high demand for PCT/OCT.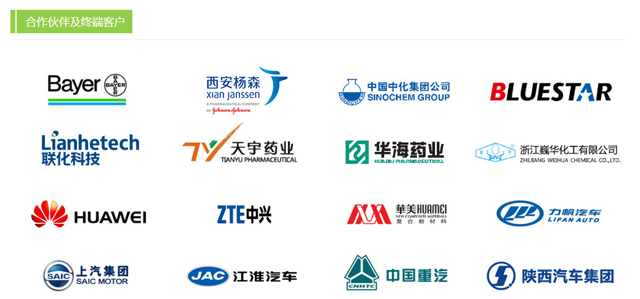 According to China's chemical sourcing website ChemNet (China.Chemnet.com), there are a total of 24 listed suppliers of PCT and 23 suppliers of OCT in China. DELT has annual capacity of 30,000 tons and has been one of the top large producers in domestic industry. We estimate that it accounts for about 18% of the country's total capacity (calculation details listed in Exhibit 6). Among the manufacturers that have been disclosed in Exhibit 4, the highest capacity is 50,000 tons per year, with a minimum of 10,000 tons per year. Besides, many companies are brokers or pharmaceutical reagent suppliers that carry a great number of chemicals but small inventory on each. Therefore, we believe these brokers and pharmaceutical suppliers' bargaining power is limited in the market, compared to the few main producers.
Exhibit 4. Comparison of PCT/OCT Production Capacity Among Suppliers in China Chemical Industry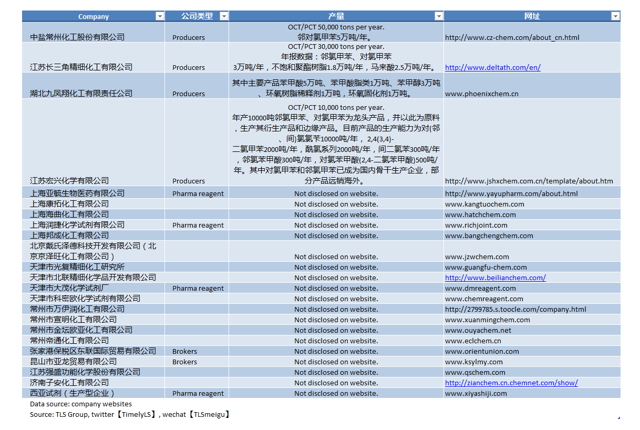 We believe the following statistics in Exhibit 5 about production capacity (top row) and production quantity (bottom row) of PCT/OCT during 2005 to 2011 are by far the most detailed and credible among reports that can be found in the public domain. We note that 2011 marked a short-lived economic recovery for China after 2008, but its economy has since weakened then, resulting in rapid declining in sales growth rate of China's chemical industry. Therefore, it is hard to imagine there will be explosive growth in capacity after 2011. In Exhibit 6, we estimate the current capacity of national OCT/PCT should still be around 170,000 tons, assuming very modest industry growth since 2011. DELT itself accounts for nearly 18% of the production capacity. While we believe our estimates are in the right ballpark, we would like to advise the audience that these are our projections.
Exhibit 5. PCT/OCT Historical Capacity Data in 2005-2011

Source: website, no English version available
Exhibit 6. Estimation of PCT/OCT Capacity in 2012-2017

Thesis 3. The strategic refocusing on high-margin products and enhanced bargaining power due to production scale should lead to sustainable profit margin improvements
As mentioned earlier, DELT produces not only PCT/OCT products but also UPR and MA products. However, the revenue of UPR and MA fell sharply last year and cannot be explained by the product price movements. We believe that the company is strategically focusing on its PCT/OCT product line in the transition period. As shown Exhibit 8, it is also obvious to see that all of the company's revenue comes from the PCT/OCT series.
Exhibit 7. Revenue and Sales for the Past Three Years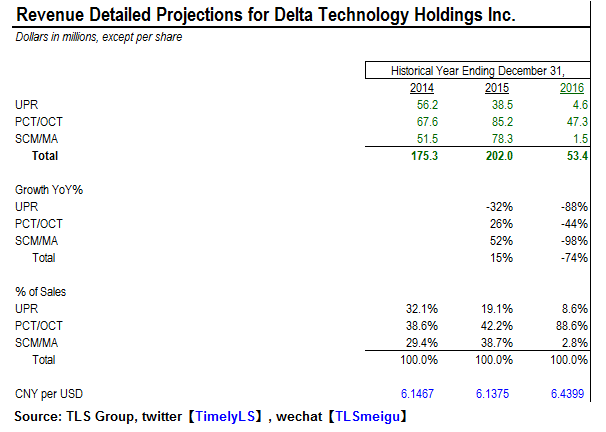 Exhibit 8. Comparison of Revenue and Products Sold in 4Q 2016

There is still room for DELT's gross margin to at least double
By digging deeper into the PCT/OCT product line and expanding downstream products, DELT can also improve its product profit margin. As shown in Exhibit 9, in contrast to the industry, we think DELT has room to increase its profit margin. Its gross margin in 2016 is only about 9%, while other US stocks companies, who has similar revenue, generally maintain gross margin at about 30%.
Among them, Codexis Inc. (NASDAQ:CDXS) is such a company which has similar business model with DELT. CDXS also produces fine chemical products and sells to pharmaceutical companies to do medical reagents and has around 100 employees. Even if selling to pharmaceutical companies is higher than industrial customers, we believe that it is very possible for DELT to increase its gross margins to 20% over several years, as it reduces its product line and benefits from its bargaining power, since it accounts for almost a fifth of the production capacity in the nation, by our estimates.
Exhibit 9. Peer Group Statistics and Operating Metrics

According to A.T. Kearney, a global consulting firm with strong expertise in chemical industry, China's chemical companies can save costs according to the following roadmap. The fundamental way is to remove unwanted business units and reduce operating expenses. Obviously, DELT has taken the first step.
Exhibit 10. Strategic Roadmap to Profitability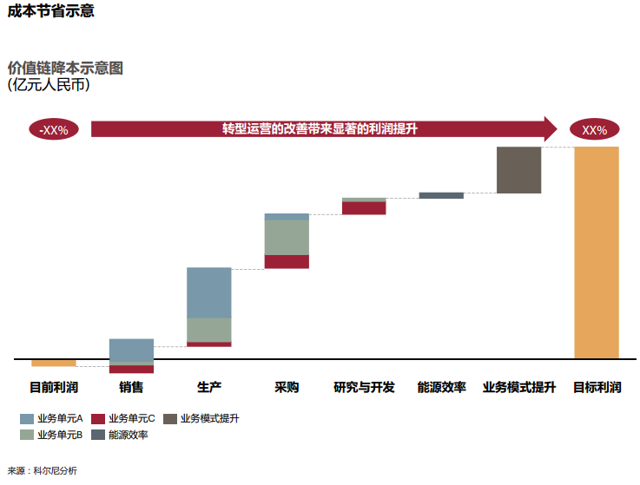 Source: AT Kearney's Research Paper (only the Chinese version is available)
Valuation Summary - Price Target of $7-17
We believe DELT is substantially undervalued even with conservative estimates. We believe that the market overlooks the recovery seen in the chemical industry since the fourth quarter of 2016 and the steps DELT has taken to improve its market strength in fine chemicals, a sub-sector that we think will drive the growth for the industry.
Our valuation model is as follows: firstly, we explicitly estimate free cash flows of DELT over the next five years and assign a perpetual growth rate to calculate terminal value. Our valuation model suggests base and bull price target of $7 and $17, respectively, and a bear case price target of $2 per share. Based on the current market price, we think the stock offers superior upside (140%+) compared to limited downside (-31%). We will explain the valuation process in details below.
Exhibit 11. DELT Valuation Overview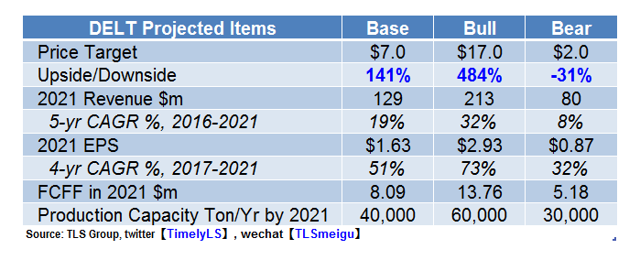 A. Sales Projections
We assumed that, during 2017 and 2019, the annual capacity for PCT/OCT would maintain production level at 30,000 tons in the base scenario and increase to 40,000 ton in 2020 and 2021 (with higher capex). In the bull case scenario, the production capacity will increase to 60,000 tons, while in the worst case, the production capacity stays at 30,000 tons through 2021.
The current PCT/OCT sales price is calculated to be about 19,000 CNY per ton in 2016, which may be different with listed retail price on PCT because the aggregate sales price accounts for a variety of derivative chemicals. We assume that the price per ton is increased by 5%, 7%, or 3% per year, in base, bull, and bear scenarios, respectively.
In addition, the sales volume is usually at 90% of capacity industry-wide. However, we are more optimistic about the sales prospects of PCT/OCT. We think DELT can gradually increase its annual sales volume to 95% of production capacity. Of course, this is also a very conservative estimate. When the industry faces a surge in demand, all the chemicals produced are sold immediately.
As shown in Exhibit 12, in the base case, we expect DELT's sales return to over half of the sales seen in 2015, and the best case scenario projects that sales can reach the level of 2015 in 2021. Even so, we believe that the above estimates are still relatively conservative. At the same time, as the company stays focused on its product line, we believe profitability and cash flow situation will be greatly improved.
Exhibit 12. DELT Revenue Comparison Under Three Cases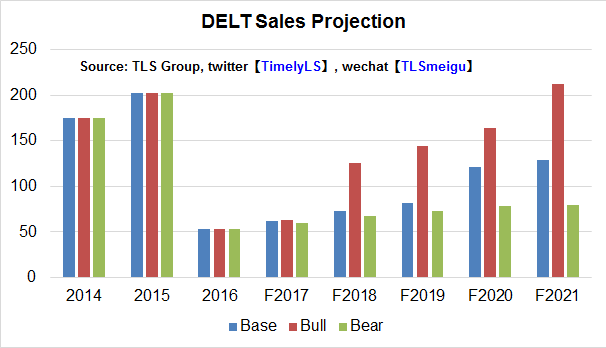 Exhibit 13. DELT's Revenue Projection Details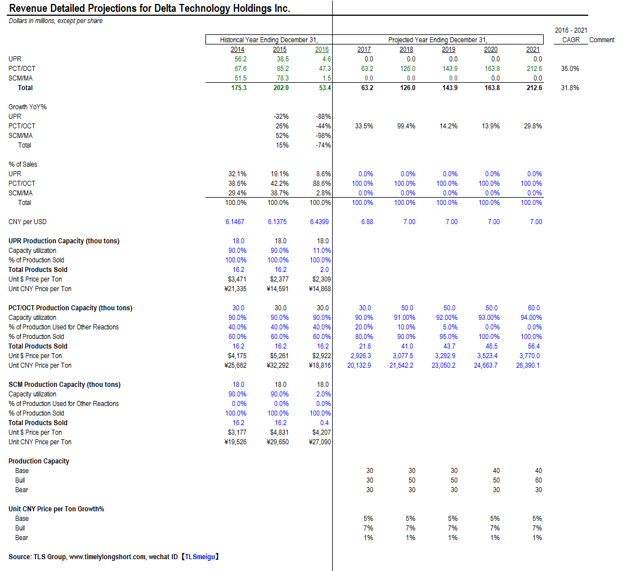 B. Net Income Projections
Our profit forecast for DELT mainly focuses on gross profits and operating costs. As mentioned earlier, we believe that the company should be able to steadily improve its gross margin to the range between 15% and 20% by streamlining and strengthening the production process. Meanwhile, we expect the firm to keep its operating costs at 3% of the annual sales, a level seen in 2015. As shown in the figure below, in the base case, we expect EPS of DELT in 2021 to reach $1.5 per share, similar to the EPS in 2014 and 2015. In the same way, such EPS valuation is also conservative.
Exhibit 14. DELT Net Income Comparison Under Three Cases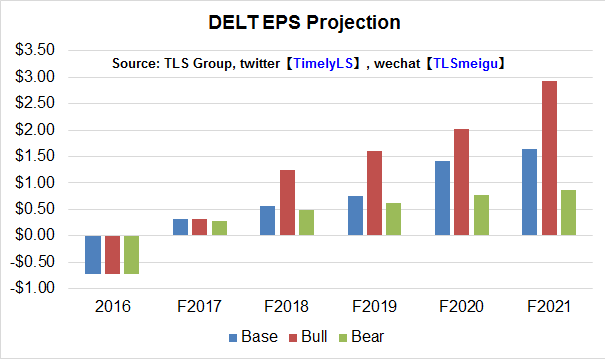 Exhibit 15. DELT's Net Income Projection Details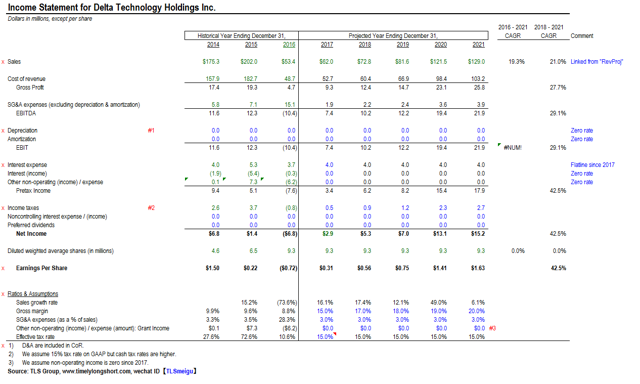 C. Free cash flow expectation
The projection of free cash flow is relatively simple. The depreciation of fixed assets and amortization of intangible assets are already included in the cost of goods sold and, therefore, not modeled separately. We set cash tax rate at 25%, as certain operating loss from the past two years can be tax deductible. Recurring capital expenditure is estimated to be $5 million per year, while additional capital spending is due to increase in production capacity. We estimate an increase of 10,000 tons of capacity corresponds to an additional $5 million in one-time capital expenditure. In the bull case scenario, the model will increase capital spending projections as production capacity increases.
Exhibit 16. Free Cash Flow Comparison Under Three Cases of DELT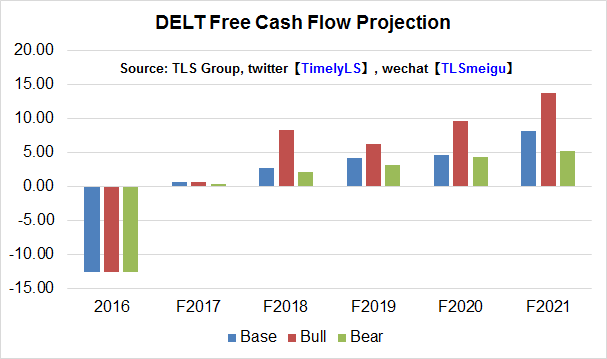 Exhibit 17. DCF Valuation Model Details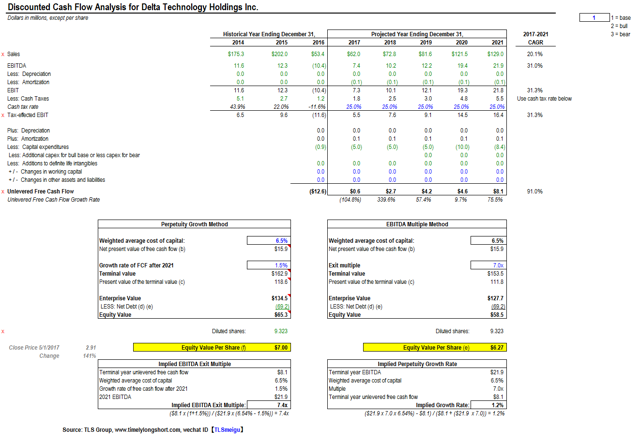 To conclude, we believe that DELT will benefit from both a cyclical rebound and ongoing secular transition in the chemical industry. The company's transformational strategy may lead to improvement in near-term operating results and regain investors' recognition of the firm's solid fundamentals. At the same time, DELT's ownership is concentrated in a few long-term institutional investors and management, according to proxy and website statements. We believe potential downside is relatively small at current price. Therefore, we believe DELT is a micro-cap name that is worth investing for its asymmetric risk-return profile with right position sizing.
Investment risks
DELT investment risks are as follows:
Macro risk: China's economy continues to slow down and even to the point of depression.
Environmental policy risk: Local government's chemical and sewage policy may change, which may limit DELT's production or require DELT to shut down its production facility.
Safety production risk: production accidents may take place.
The rebound of fine chemical industry attracts a large number of new competitors, boosting supply and suppressing margin.
The company's ability to bargain with large customers may decrease, so it cannot increase profit margin as expected.
Disclosure: I/we have no positions in any stocks mentioned, but may initiate a long position in DELT over the next 72 hours.
I wrote this article myself, and it expresses my own opinions. I am not receiving compensation for it. I have no business relationship with any company whose stock is mentioned in this article.
Additional disclosure: This report is authored by Timely Long Short Group LLC, an emerging equity research firm.
Editor's Note: This article covers one or more stocks trading at less than $1 per share and/or with less than a $100 million market cap. Please be aware of the risks associated with these stocks.