By Parke Shall
The bearish case on CGI has just been pushed into overdrive as it was announced yesterday that the company's auditor was withdrawing its audits for the past few years and the company had to issue a statement that it's previously reported financials cannot be relied upon.
Celadon Group (NYSE:CGI) has been under fire for almost a month now, after Prescience Point alleged that the company was worth $0 in a recent critical report. You can read Prescience Point's April 5th article here.
The company has been under significant scrutiny since Prescience Point released a report a couple of weeks ago alleging numerous accounting improprieties, including the use of off-balance-sheet entities to hide the company's true financial position, which they argued was nearly worthless.
While the report was impactful when it was first issued, trading in shares of CGI held up around the $4 mark, before finally collapsing on yesterday afternoon's 8-K and press release, as you can see from the below chart.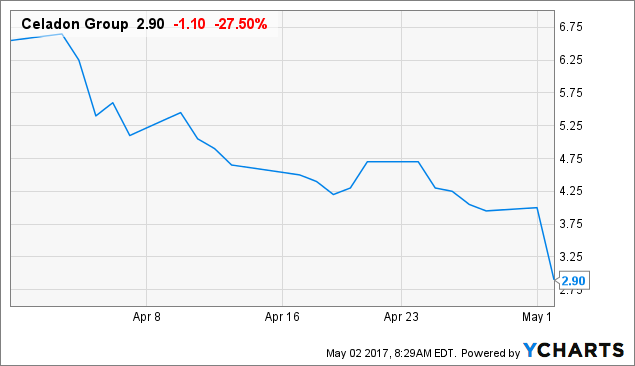 However, this is an instance where the company failed to individually address all of the claims made in the critical report at length. Rather, we saw a relatively blanket denial of the accusations lodged against the company from one analyst at Aegis Capital with little to no expounding on key points. This ostensibly left investors unsure of what to do and CGI shares remained around the four dollar level. The "buy the dip reccomendation" after the Prescience report by Jefferey Kaufmann at Aegis has already cost shareholders up to another 50% and could go down as a total disaster.
He claimed,
Kauffman questioned the "objectivity" of the short report. He explained that Prescience Point Research Group is "tied to" a hedge fund, Spruce Point Capital, which has an active short position; and investors should take a "skeptical read to the author's approach."
Regardless of his own unfounded claims regarding who Prescience may or may not be tied to, it doesn't give the facts presented any less credibility.
In that time, Benzinga issued an article claiming that the SEC confirmed the company was under investigation. We believe an SEC investigation is under way, based on the FOIA request letter language put forth by Prescience on their website. Despite this, we have not been able to officially confirm or deny an SEC investigation through our research, so we are left speculating based on FOIA responses.
Then, yesterday, the company announced in an 8-K that it's auditor had withdrew its opinions on the company's audits from the last few years. The 8-K read,
On April 25, 2017, BKD, LLP ("BKD"), the independent auditors for the Company, informed the chair of the Audit Committee of the Company's Board of Directors (the "Audit Committee") that it was withdrawing its reports on the June 30, 2016, September 30, 2016, and December 31, 2016 financial statements of the Company, and that those reports should no longer be relied upon. BKD advised the Company that additional information relating to transactions involving revenue equipment held for sale had come to BKD's attention subsequent to BKD's issuance of its audit report on the Company's June 30, 2016 financial statements and after the issuance of BKD's review reports on the Company's September 30, 2016 and December 31, 2016 interim financial statements. BKD further advised the Company that, in accordance with PCAOB Auditing Standard 2905, BKD had performed procedures to evaluate this information, including requesting explanations and supporting documentation from the Company's management. Based on the results of BKD's procedures, BKD advised the Company that BKD has been unable to obtain sufficient appropriate audit evidence to provide a reasonable basis to support its previously issued reports for the periods indicated above. As a result, as of May 1, 2017, the Audit Committee has concluded that the Company's financial statements for the fiscal year ended June 30, 2016 and quarters ended September 30 and December 31, 2016, and related reports of BKD, should not be relied upon.
Looking for a list of items that the auditors could have been concerned with? The executive summary to the Prescience report details numerous items that would be cause for concern from an auditor's perspective,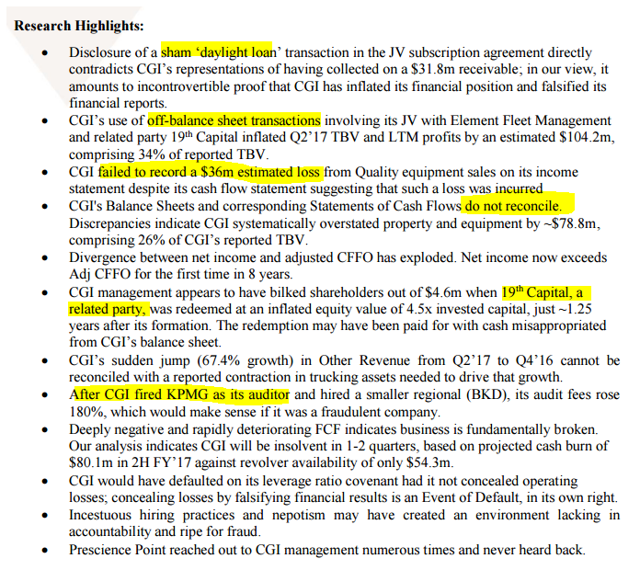 Certainly this audit withdrawal would be one of the first major pieces of confirmation that Prescience is floating an argument that holds water. Seeing as how the crux of their argument revolved around a couple of related party transactions and accounting treatments, the auditor and the company's audit committee would likely be the first to notice any problems or discrepancies. The fact that the company's auditor has withdrawn its opinions on previous audits should be extraordinarily alarming. It doesn't mean that all of what Prescience says is 100% on point, but it obviously means that there was enough brought up over the last month to cause them to reevaluate their audit.
This is even more alarming when you consider the fact that the company was previously audited by KPMG, before they were relieved of their duties. Prescience makes note of the fact that KPMG had been relieved of its duties in favor for a smaller auditor whose fees were actually much higher. If you were paying more in audit fees, why wouldn't you seek out a more prestigious brand-name like KPMG? Skeptics of the company and skeptics of companies in the past seem to believe that these companies are simply paying more to ensure that their audit is put through the way that they want.
To the company's credit, they stated in their corporate update press release that this does not necessarily mean that their auditor is resigning.
Based on the letter and subsequent discussion with BKD, the Company has confirmed that ((i)) BKD has not resigned as the Company's auditor, (ii) BKD has determined that it has not obtained sufficient appropriate audit evidence with respect to the values and methods used to account for revenue equipment held for sale transactions to determine that those transactions were properly recorded in accordance with GAAP, and ((iii)) BKD is prepared to review additional information, if any, and adjustments to the Company's financial statements, if any, to then consider whether to re-issue the withdrawn reports.
The company intends on holding a conference call on Wednesday of this week in which they look to be taking questions in advance for and will be reciting prepared statements not only about this audit mess, but decisive changes in the executive suite that have also occurred at the same time, and are likely not a coincidence.
The Company plans to hold a conference call to provide additional information concerning its operations on Wednesday May 3, 2017, from 9:00 AM until 9:45 AM Eastern Time. Investors may email questions in advance to the Company c/o Joe Weigel at jweigel@celadongroup.com. Management will cover prepared remarks and questions concerning appropriate topics during the call. A dial-in number will be published on May 2, 2017, on Celadon's Investor Relations website, http://investors.celadontrucking.com, under the report center menu option.
We will be listening closely to the call on Wednesday, but given the severity of the allegations against the company and now the company's reaction, we are left with little to no choice but to believe that there may be some legitimacy to critical claims against this company. If one of the major issues at hand could be off-balance-sheet entities, the stock theoretically then becomes somewhat impossible to value and should therefore be avoided at all costs at this stage of the game.
Disclosure: I am/we are short CGI.
I wrote this article myself, and it expresses my own opinions. I am not receiving compensation for it (other than from Seeking Alpha). I have no business relationship with any company whose stock is mentioned in this article.