Last week, Sanofi (NYSE:SNY) reported better-than-expected Q1 2017 results, fueled by solid performance from key growth drivers in the Pharmaceutical division and a good momentum in the Vaccines business.
The stock closed up less than 1% because the market wasn't impressed by management's tone during the conference call.
Q1 2017 results
Sanofi reported Q1 2017 sales of €8.65B, 3% ahead of consensus expectation, thanks to a 2% beat in Pharma sales, while Vaccines sales were 9% ahead of consensus. Core EPS of €1.42 were 13% higher than consensus. FY 17 guidance has been reiterated, as expected, and the company has also confirmed the expectations for a forex tailwind in 2017 of 3% to 4%.
As a reminder, Sanofi guided to Business EPS growth of "0% to -3%" at constant currency rates. Taking into account a likely 4% forex tailwind and assuming -1% EPS growth, I estimate Business EPS of about € 5.85, 1% above Bloomberg consensus.
Thus, it's likely that consensus numbers will be revised up by 1/2% after these results.
Main takeaways from the quarter
The corporate signals from the Q1 2017 results have been mixed. Despite the performance of the key growth drivers of Sanofi has been really solid, especially related to the Vaccines and the Multiple Sclerosis franchises, the management's tone during the conference call wasn't very bullish related to the outlook for the diabetes division for the next quarters.
On the positive side, Vaccines sales were €784M, 9% higher than street expectations, driven by the favorable comparison with Q1 2016 related to Pentacel and by a positive order phasing. Despite this strong performance, I don't think the market should consider this level of growth as sustainable because the performance in Q1 2017 was inflated by the termination of the MSD JV, announced in late 2016. Thus, a double digit sales growth assumption at constant exchange rates seems a more reasonable assumption for 2017.
Multiple Sclerosis franchise sales were €496M, approximately in line with consensus, driven by a strong volume dynamics and a positive pricing environment. This division showed more than 30% growth at constant exchange rates in Q1 2017, and the company seems very optimistic, during the conference call, for the outlook of this franchise over the coming quarters. In details, Sanofi doesn't expect a material impact from the launch of Roche's (OTCQX:RHHBY) Ocrevus, because Aubagio is already the lowest oral therapy in the space, and Lemtrada has a unique mechanism of action.
On the negative side, Praulent sales were only €34M, 29% lower than consensus, given a challenging payor environment. The drug has still a poor coverage, especially in Medicare D segment, and Sanofi will have to wait until early 2018 for the readout of their CV Outcome trial on Praulent. Thus, it's likely that consensus expectations for this drug will be revised down for 2017 and 2018.
In terms of the Diabetes franchise, Lantus sales were €1.2B, in line with consensus, while Toujeo sales were €192M, 10% lower than consensus. Overall the Diabetes Division showed -6% growth in Q1 2017 at constant exchange rates, which isn't a bad performance for a franchise which are facing multiple pressures (e.g. formulary adverse decision, biosimilar, pricing decline. Unfortunately, management's tone during the conference call was a bit pessimistic related to the outlook for this franchise over the coming quarters, pointing to a progressive deterioration of the growth dynamics in the U.S.:
I don't think there is anything new that we are trying to convey today. We just wanted to highlight that the Q1 results, the equation of that good result is it was a minus 6% result and it's minus 15% in the U.S., offset by a plus 12% or 13% in China. So we have that momentum in China. Are we going to see that for the rest of the year? We're not entirely sure. And then in the U.S., the indication is what we're trying to convey. We have these formulary decisions which we learned in last August regarding United Healthcare which has not had any impact during Q1. And we see that during the rest of the year, in addition again of CVS which had only a partial impact in Q1. So it's normal in your net sales that you get an acceleration of the decrease. And perhaps the last piece we can provide is that we stick with our long-term guidance of minus 4% to minus 8% as 2015-2018 CAGR. But we also remind you, like we reminded you in the last quarter, that for the year 2017 we will be probably below the lower end of that long-range guidance. [Source: Sanofi's Q1 2017 Conference Call.]
Conclusion
The key investor takeaway is that the corporate signals have been mixed, with some positive messages related to Vaccines and Multiple Sclerosis, but some weakness expected for the Diabetes division and for Praulent. With the stock trading at premium to its historical valuation vs. peers, I don't believe there is any rush to jump in the name after these results.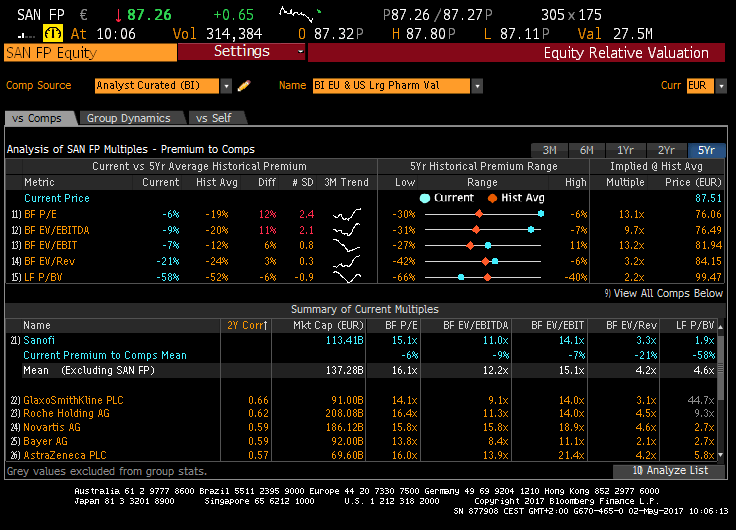 Source: Bloomberg.
Disclosure: I/we have no positions in any stocks mentioned, and no plans to initiate any positions within the next 72 hours.
I wrote this article myself, and it expresses my own opinions. I am not receiving compensation for it (other than from Seeking Alpha). I have no business relationship with any company whose stock is mentioned in this article.
Additional disclosure: Not investment advice