Alphabet (NASDAQ: GOOG) (NASDAQ: GOOGL) recently reported earnings for the first quarter. As a shareholder, the numbers looked solid to me. I continue to see Alphabet shares as a great investment.
According to this Seeking Alpha news item, earnings per share came in at $7.73, which was $0.35 ahead of expectations. The top line, at $24.75 billion, was ahead by over half-a-billion dollars. Excellent performance beating the analyst community of Wall Street.
Cash flow is important. According to the press release for investors, net cash from operations was $9.5 billion this quarter versus almost $7.7 billion in the year-ago quarter. Free cash flow was slightly over $7 billion.
Advertising is important to Alphabet. The Google search engine is dependent on it. Over time, I'm hoping advertising, which can be volatile, gives way to strength in other businesses. The one I focus on most, and for which I have the most hope, is YouTube.
YouTube is evolving. The company started a subscription service that provides (hopefully) premium-quality content for a monthly price. YouTube needs to do this, primarily because the Netflix (NASDAQ: NFLX) market is too attractive to turn up. I see YouTube and Alphabet eventually attempting to grab subscribers from Netflix. Sounds impossible now, granted, but now is now, and if anyone has learned anything about the new digital landscape, it's that later can be very different from now.
Netflix is arguably like YouTube was (and still is, I'd proffer) in the beginning in terms of brand equity - no other service like it came close as it concerned consumer appeal. This isn't to say that people have abandoned YouTube; not in the least. But in terms of investor appeal, if YouTube were issued as a tracking stock, I don't believe it would gain the same institutional support that Netflix currently enjoys.
If Alphabet someday does want to issue a YouTube tracking stock, then the service will have to increase its value propositions. This goes beyond such initiatives as a TV offering (although such a strategy is nevertheless both valid and vital). I've said before that the company will have to think of acquiring a studio or perhaps starting one. I had argued that DreamWorks Animation would have been a good fit for what was known as Google at the time, but that company was bought out by Comcast (NASDAQ:CMCSA).
Since there aren't any obvious candidates at the moment for a content-related acquisition, I'm hoping Alphabet will try to start a Disney (NYSE:DIS)-like brand... the company should attempt to make its own Lucasfilm, its own Marvel, its own Pixar; it should attempt to make its version of at least one of them. Many would argue that cloud services and advertising are more important, but to me, since Alphabet is into making speculative other bets (I won't go into the Other Bets section of the business since there is a very good article on that subject already), it should look at a studio startup of its own device as another other bet.
I'd even argue quite strongly that an investment in a screenplay that would hopefully lead to the company's own superhero franchise would be considered another other bet; why not? As a thought experiment, imagine if Alphabet had combined forces with James Cameron to create the Avatar world - could that have happened in some alternate universe? Yes, it could have, and I believe something like that in this universe would make perfect business sense.
This is what I'm counting on from Alphabet - I want it to surprise me with new initiatives that combine pop culture with pop technology in an effort to create economic value and a higher share price. I strongly urge Alphabet to create the next Pixar or the next Illumination Entertainment. I would support creating content by AI algorithm, or any other fanciful notion that will someday be science as opposed to science fiction - the intellectual capital is there, and it's ready.
Before I briefly discuss valuation, let me pull up a stock chart.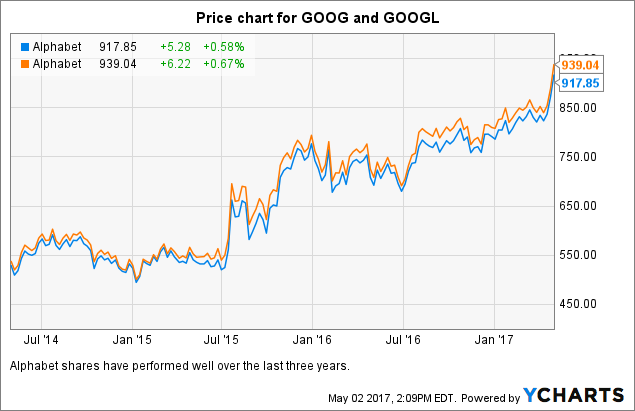 If one is a value investor, then one might not want to buy Alphabet. If one owns a value portfolio and a growth portfolio, then one would not want to put Alphabet in the value portfolio.
Alphabet is the kind of stock, as many have mentioned, that is valued mostly on its business model and the possibility of future achievements. But it's a great kind of speculative stock (if you want to use that adjective) - it generates cash that can be invested in other speculative areas, areas where that adjective can be used. A value investor could argue that the stock is not a buy, that it is expensive in a very strict sense. It probably isn't a value share; it's more risky than that. It is instead a quality tech company that has become a big brand that will branch out into other areas with which it can grow its cash flow; the stock should follow.
Disclosure: I am/we are long CMCSA, DIS, GOOG, NFLX.
I wrote this article myself, and it expresses my own opinions. I am not receiving compensation for it (other than from Seeking Alpha). I have no business relationship with any company whose stock is mentioned in this article.