Shares of Gap Inc (NYSE:GPS) rallied 7.23% following a stronger than expected sales report. GPS shares spiked after the company reported a surprise 6% increase in sales from last year. While these numbers are impressive, short term traders should be using the lift as a selling opportunity. However, long-term investors should continue to hold GPS.
5-year chart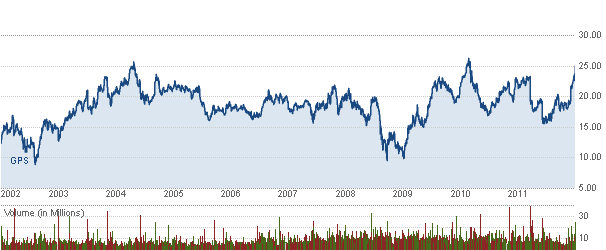 Source: CNBC
Short-term sell
GPS is approaching major resistance at the $25 level. As you can see in the chart above, GPS has had major difficulty getting through the level in the past.
GPS traded over 23 million shares, this is over twice the 10 day volume average of 10.5 million shares. The huge volume suggest possible capitulation for the buyers.
GPS will most likely spend time consolidating recent gains.
Long-term hold
The better than expected sales number may signal that the company has turned a corner and will continue to beat expectations going forward.
Growth in Latin America. GPS announced the opening of two new stores in Panama. These stores will join GPS first Latin America store located in Chile which opened last year. GPS plans to continue opening new stores in the fast growing Lain America region.
12.4 times forward earnings.
$1 billion share buyback
2% dividend yield.
Solid earnings history. (see chart below)
GPS is a short-term sell for technical reasons as the stock is back to major resistance levels. However, the long-term story remains in tact. Investors should consider buying shares of GPS on a dip back in the low $20's or a solid breakout above $26.
Disclosure: I have no positions in any stocks mentioned, and no plans to initiate any positions within the next 72 hours.