Xilinx (NASDAQ:XLNX), the leading semiconductor company specializing in FPGAs (field programmable gate arrays), had a solid calendar Q1 2017. Hidden within that performance are the seeds of potentially much faster growth in the next decade. The stock price remains reasonable, but appears to be based only on past performance. In other words, it could go up significantly if this relatively overlooked company's profits do start to accelerate.
I'll provide a brief summary of calendar Q1 (fiscal Q4 2017) results below. But since that information is readily available, first I will cover the chief future upward inflection points.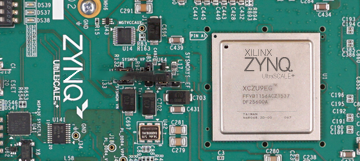 Xilinx Zynq processor board. Source: Xilinx
Mid future: 5G telecommunications rollout
The current high-end cellphone communication standard is often referred to as 4G. The next standard will be 5G (fifth generation). Within the standard are a host of protocols that need to work. FPGAs are typically used to enable high-end devices, and that is what will happen with 5G.
4G is still being rolled out (in Pakistan, for instance), and that provides a substantial amount of revenue for Xilinx. For that matter, in some countries most 4G is still in the future, despite its first commercial deployment having been in December 2009. Rollouts can take years, from the first test station deployments, on through the peak rollout (usually set by China), and then on to the tail.
5G rollout is likely to start in earnest in 2020, if there are no technical delays. Peak deployment revenue might be reached a year to three later. But companies will be making equipment for 5G before then. Aside from the astonishing speed at which FPGAs can process communications data in devices like cellular base stations (cell towers), they can be reprogrammed as necessary. So the same device can be used early in development, then in actual deployment, and then upgraded in the field.
It is not possible to predict the exact timing of revenue from the 5G rollout.
Xilinx announced it already has a new product for the 5G rollout: the All Programmable RF SoC product family, "a disruptive integration and architectural breakthrough for 5G wireless with RF class analog technology. This family provides a 50-75% power and footprint reduction for 5G, cable and wireless backhaul applications." It is being produced on the 16 nm process, which is currently the cutting-edge.
At the Intel (NASDAQ:INTC) conference on May 27 a statement was also made about 5G technology, in an answer to a question from an analyst. Intel said its modem continues to gain momentum with one large customer, plus others showing interest. "We are optimistic about competing in 5G where the modem, base station and backhaul are so important."
Intel bought Xilinx's traditional rival Altera in 2016. While both would benefit from the 5G rollout, as both benefited from the 4G rollout, there is always the question of how much market share each will win.
Mid future: cloud acceleration
Using semiconductor chips other than Intel's CPUs to accelerate cloud computing workflow has become a big issue in the last two years, with Nvidia (NASDAQ:NVDA) showing particularly impressive revenue results from this trend. Probably the main reason Intel bought Altera was to better compete in this space, though in Intel's case it is more about not losing server market share to Nvidia and others.
Xilinx does not break out how much of its revenue comes from chips used for server acceleration, but it would be included in the Communications and Data Center segment, with was 41% of total revenue, or about $250 million, in Q1. It is likely a small component of the segment at this point. However, the company has been hard at work overcoming a traditional problem: relatively few people know how to program an FPGA, compared to those who can program a CPU or GPU.
The results of this effort were seen in the announcement that Amazon (NASDAQ:AMZN) Web Services (AWS) cloud now has Xilinx chips (Virtex UltraScale+) available for acceleration. This corresponds with the introduction of software allowing for relatively easy programming. While this does not mean a large sales volume in the next few quarters, it does create a lot of potential. As more programmers learn to use these FPGAs in the cloud, Amazon will deploy more to meet the demand.
There is no automatic or easy win here. There is competition from GPUs by Nvidia and AMD (NASDAQ:AMD). For the solutions best provided by FPGAs, there is still competition from Intel and smaller makers. In the Q1 conference call Xilinx indicated that the Microsoft Cloud solution is currently using Intel/Altera FPGAs, for instance.
Far future: autonomous vehicles
Just about every semiconductor company I follow believes it can be a leader in providing the silicon intelligence necessary for autonomous vehicles. The prelude is driver assistance with breaking, parking, and staying in a lane. I believe that given the diversity of software and sensors needed to achieve mass-market autonomous driving, CPUs, FPGAs, and GPUs will all be incorporated into the final solution systems.
Currently Xilinx does sell into the automobile market, but the products are for infotainment systems. Sales are lumped into its broadcast, consumer, and automotive segment, which generated 16% of total Q1 revenue or $97 million. Most projects for autonomous driving are in the prototyping stage, so the matter will be in flux for a few years. I would not be surprised to see Xilinx gain some share of this market, but I would think the main data crunching will be done by CPUs and GPUs. Again, for FPGAs, the rival in Intel.
Intel Rivalry
I have mentioned above that in each of three major growth areas Intel, having bought Altera, is now the main rival of Xilinx. The two companies, Xilinx and Altera, had competed in the field for decades, with varying success. Xilinx had gained a clear lead by the time Intel acquired Altera.
I would not jump to the conclusion that Altera plus Intel is set to outcompete Xilinx. It might be easy to jump to the opposing conclusion. Intel has tried to branch out from its dominance of the CPU universe to other semiconductor types many times, and so far has always failed, with the possible exception of memory chips. Intel was most recently unable to compete with CPUs for cell phones and tablets, despite an enormous capital investment. It also failed in its plans to develop discrete GPUs that could compete with AMD and Nvidia.
In theory Intel should have several advantages over Xilinx. It dominates the server chip market, so it could pair accelerator FPGAs with its CPUs and offer customers a nice package. The counter to that is that Xilinx Is arguably ahead in the technology curve for FPGAs and has just proven its abilities with its Amazon win. It looks like the main battle will be between Intel's marketing muscle and Xilinx's brains. Since the field is in its infancy, it is too early to predict a winner.
Intel can take its profits from high-margin server CPUs and plow them into FPGAs just like it tried with smartphone CPUs and GPUs. But the old Altera was profitable, with a high R&D budget, and was not quite able to keep up with Xilinx. Aside from undercutting Xilinx on pricing, it is not clear what a winning strategy for Intel could be.
That said, at least for the next couple of years, each company is likely to maintain most of its market share. That is because most FPGA applications have long development cycles. In many segments once a device is chosen it may hold that socket for years. That is why a slight majority of Xilinx's Q1 revenue was for pre-28 nm products. 49% was from products at the newer 28 nm, 20 nm, and 16 nm processes.
Q1 results
The March quarter, calendar Q1, was Xilinx's fiscal Q4 2017.
Q1 2017 revenue was $609 million, up 4% sequentially from $586 million and up 7% from $571 million in the year-earlier quarter. That was within the midrange of prior guidance, which was for revenue between $590 and $620 million
GAAP net income was $153 million, up 8% sequentially from $142 million, but up 6% from $145 million year-earlier.
GAAP diluted EPS (earnings per share) were $0.57, up 10% sequentially from $0.52, and up 6% from $0.54 year-earlier.
Operating cash flow was $306 million. Cash and equivalents balance ended at $3.4 billion, up sequentially from $3.25 billion. There was $1.0 billion in long term debt.
The dividend was increased $0.02 per share to $0.35, for shareholders of record on May 16, 2017, and payable on June 1, 2017.
Q2 guidance
June quarter, Q1 fiscal 2018, revenue is expected between $600 and $630 million. Gross margin 68% to 70%. Operating expense $242 million. Other income $1 million. Tax rate 12% to 15%.
In other words, short-term guidance is not exciting, though I would be impressed if it came in at the high end of its range.
Stock price and conclusion
As you can see from this five-day price chart, Xilinx's price spiked nicely after its results were released on April 26.

That spike is against a background of a 52-week low of $42.37 back in May of 2016 and resulted in a 52-week high of $64.90 on April 27, 2017.
Short run, I consider Xilinx to be in a fair price range. That means it is good for accumulation by long-term investors, but I don't see anything coming up before Q2 results that would significantly boost its stock price.
Long term I see tremendous potential that is hard to put a number on. The main growth drivers are likely to be 5G, automotive, and cloud acceleration. I could only guess at how big those numbers could get by 2022. I see Xilinx out-competing Intel, but nothing is assured. Even if Intel gets the edge in one or more of these fields, I expect Xilinx to pick up significant market share.
Disclosure: I am/we are long AMD, XLNX.
I wrote this article myself, and it expresses my own opinions. I am not receiving compensation for it (other than from Seeking Alpha). I have no business relationship with any company whose stock is mentioned in this article.