What Happened?
All six major automakers announced declines in U.S. new vehicle sales for April. Ford (NYSE: F) reported a 7.2% decline. Car demand tumbling 21% was the primary culprit for the decline. What's more, the April sales decline followed weak sales in March as well. This has led many to speculate the auto sales boom may be coming to an end. In the following article, we take a deeper dive into the situation to determine if Ford represents a value trade or trap.
The bad news
The boom in auto sales has gotten long in the tooth. Auto sales have been on a tear since 2010 just after the Great Recession. 2016's record auto sales most likely marked the top. J.D. Power's Deirdre Borrego stated:
"With flat retail demand and inventory at record levels, manufacturers will continue to face a difficult choice between maintaining elevated incentives or making production cuts."
The auto industry has had four straight months of inventory of over 4 million units for the first time since 2004. Nevertheless, this was to be expected. Analysts predicted April sales to be weak and the yearly sales to come in at 17.1 million vehicles sold. This would mark the first annual drop since 2009. Nevertheless, sales aren't falling off a cliff.
The good news
The good news is sales aren't about to fall off a cliff. In fact, Vice President of Sales and Marketing Mark LaNeve told analysts and reporters that April's decline is nothing to panic about. LaNeve stated:
"Ford is still getting healthy prices for its vehicles as people load on more options. We have to let the year play out. In a plateauing industry you're going to have some months that are up and some that are down. Economic fundamentals still point to strong sales, including rising consumer confidence, low gas prices, an aging fleet of cars and trucks on the road and relatively low interest rates."
So even though sales are peaking, it is not the end of the world. What's more, the time to sell was two years ago, not now. My last post regarding Ford was over two years ago titled, "Ford: About To Take A Turn For The Worse?" Well, it certainly looks like it did. The stock is down 32% since that call.
Ford three-year chart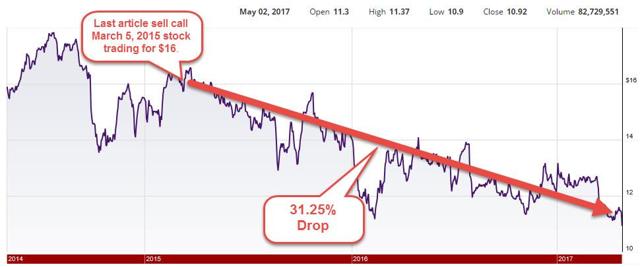 Source: scottrade.com
In the article, I state:
"Ford's stock looks like it getting ready to roll over. The company's sales in February came up short. Other macro issues have come into focus which may dampen future sales."
The primary reasoning for my position was the jump in subprime and seven-year loans. I saw this as a major sell signal due to the fact auto financiers were stretching the limits to keep the rally going.
Nonetheless, this situation could not go on forever. The seven-year loan term pulled forward future sales. According to data released in 2015, the only growth in car loans came from loans with seven-year terms. This has led to current owners holding on to their cars longer due to being upside down. So what about now?
Ford has entered the buy zone
Anyone suggesting now is the time to sell is pulling your leg. I see this as a classic case of first-level thinking. A first level thinker says sell the stock after bad news comes out and buy the stock when things are going well. The fact of the matter is in order to be successful, you have to do the exact opposite in order to make money in investing. Think of first-level thinking as checkers, second-level thinking as chess. Warren Buffett's classic quote, "Be fearful when others are greedy and greedy when others are fearful," is a classic example of second level thinking.
Times of turmoil in a solid stock like Ford often present the best buying opportunities for savvy dividend growth and income investors. This is basically the only time you can buy a stock at a discounted price. Contrarians find their best investment opportunities during times of bad news or panic. Nonetheless, there are always downside risks to any investment.
Potential Downside Risks
A decline in Ford's market share.
Lower-than-anticipated market acceptance of Ford's new or existing products.
An increase in or continued volatility of fuel prices, or reduced availability of fuel.
Fluctuations in foreign currency exchange rates, commodity prices, and interest rates.
The Bottom Line
Our innate instincts encourage us to depart a sinking ship. This survival tactic impacts the way we invest. The herd running for the door is what creates the opportunity to buy a solid company like Ford with sound prospects at a discount. Hopefully, you have some dry powder and a long-term time horizon to take advantage. Ford now sports a 5.85% dividend yield. Moreover, after years of diligent work, the company has obtained a fortress balance sheet and solid cash flow. I see little risk to the dividend being cut. Furthermore, Ford's forward P/E ratio of 6.6 is among the lowest of any stock in the Auto and Truck Manufacturers industry.

Source: scottrade.com
Couple this fact with the stock trading for less than 5 times free cash flow and you can make a solid case the stock is highly undervalued at present.
Ford's yield is attractive at current levels with an adequate level of reliability built in. Ford is a globally diversified multinational company which provides stable and growing free cash flow in support of increased dividend payments. I bought a ¼ position in the stock recently and I'm looking to add on any further weakness. I feel we are closer to the bottom than the top at this point. The way to catch a falling knife is to have extreme patience. I have waited two years to start a position in the stock. What's more, always layer in to a full position over time to reduce risk. Those are my thoughts on the matter. I look forward to reading yours.
Your input is required!
The true value of my articles is provided by the prescient remarks from Seeking Alpha members in the comments section below. Thank you in advance for your participation.
Final note: If you enjoyed this article, please click the "Follow" button. I would greatly appreciate it.
Disclosure: I am/we are long F.
I wrote this article myself, and it expresses my own opinions. I am not receiving compensation for it (other than from Seeking Alpha). I have no business relationship with any company whose stock is mentioned in this article.