On Monday May 1, 2017, the Bureau of the Public Debt announced the new earnings rate of 1.96% for Series I (for Inflation) savings bonds issued from May 1, 2017 through October 31, 2017.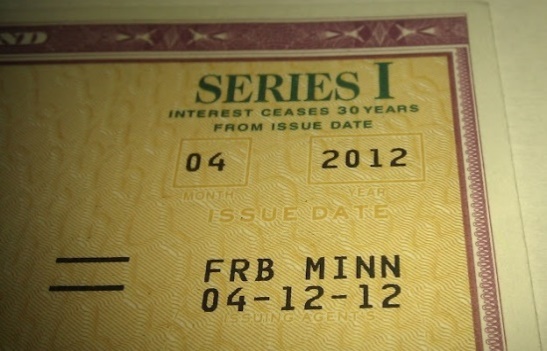 Series I Bonds, or i-bonds, are a low-risk, liquid savings product. While you own them they earn interest and protect you from inflation. You may purchase I Bonds at TreasuryDirect.gov.
Earnings rates for i-bonds are set each May 1 and November 1. Interest accrues monthly and compounds semiannually. I-bonds held less than five years are subject to a three-month interest penalty. I-bonds have an interest-bearing life of 30 years. When the inflation rate is less than zero, a bond's earnings rate is less than its fixed rate, but the earnings rate is never less than zero. That means I-bonds NEVER GO DOWN IN VALUE, which is a big advantage over BND or any regular bond funds.
The composite earnings rate for Series I Savings Bonds is a combination of a fixed rate, which applies for the life of the bond, and the semiannual inflation rate.
"The composite rate for Series I Savings Bonds is a combination of a fixed rate, which applies for the 30-year life of the bond, and the semiannual inflation rate. The 1.96% composite rate for I bonds bought from May 2017 through October 2017 applies for the first six months after the issue date. The composite rate combines a 0.00% fixed rate of return with the 1.96% annualized rate of inflation as measured by the Consumer Price Index for all Urban Consumers (CPI-U). The CPI-U increased from 241.428 in September 2016 to 243.801 in March 2017, a six-month change of 0.98%."
When the inflation rate is less than zero, the earnings rate will be less than the fixed rate but never less than zero.
Fixed rate =0.00%
6-month Inflation rate =+0.98%
Composite rate =[fixed rate + (2 x inflation rate) + (fixed rate x inflation rate)]
[0.0000 + (2 x 0.0098) + (0.0000 x 0.0098)]
[0.0000 + 0.0196 + 0.0000000]
0.0196 x 100% = +1.96%
Inflation Bond Facts
You pay taxes on the income when you cash them in so they grow and compound tax deferred.
I Bonds earn interest from the first day of their issue month.
You can redeem them at any time after a twelve-month minimum holding period.
They are an accrual-type security.
They increase in value monthly and the interest is paid when you redeem the bond.
I Bonds are sold at face value; i.e., you pay $50 for a $50 I Bond.
I Bonds grow in value with inflation-indexed earnings for up to 30 years.
If you redeem I Bonds before they're five years old, you'll forfeit the three most recent months' interest; at or after 5-years old, you won't be penalized.
Annual rates compounded semiannually
Maximum purchase (per calendar year): $10,000
I bond fixed rates are determined each May 1 and November 1. Each fixed rate applies to all I-bonds issued in the six months following the rate determination.
TIPS Alternative
Series I Bonds can be a better alternative to individual TIPS (Treasury Inflation Protected Securities) or the exchange traded TIP: funds ( TIP and TIPZ) because they never go down in value if there is negative inflation, aka deflation. If you can hold to maturity or handle fluctuation in capital, then TIPS and TIP funds can be a great alternative.
As of 5/1/17, TIPS with maturities of 5, 7, 10, 20 & 30 years have positive base (real yield) rates. These are all better base rates than the 0.00% for the current I Bond, but you must buy them as new issues and hold them to maturity to not lose money if interest rates surge. If interest rates surge without matching inflation, they could suffer while I Bonds will continue to grow every month.
From Daily Treasury Real Yield Curve Rates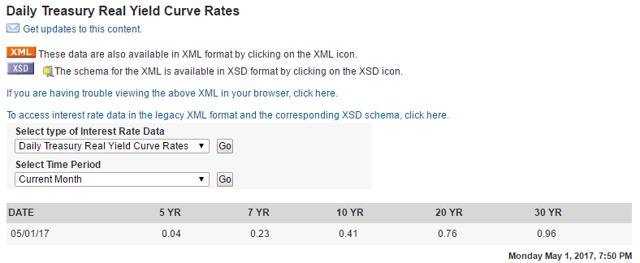 Older I-Bonds:
From New Earning Rates for Older I-Bonds:
The highest rate for older I-Bonds is 5.60% for those issued between May and October 2000 which have base rates of 3.60%.
The lowest rate for any older I-Bonds is 1.96% for any issued with base rates of 0.00%.
More information:
Best Time to Buy I Bonds: Near the end of the month since you get credit for the full month you hold them. Make sure you leave enough time for funds to clear.
Best Time to Sell I Bonds: At the start of the month since interest for the prior month is computed on the first of each month. You don't earn interest for fractional months so sell only after the new interest shows up in your account, usually the first of the month.
Tips Real (base) Rates =Daily Treasury Real Yield Curve Rates
Disclosure: I own individual TIPS and Series I Bonds in my personal accounts with base rates between 0.00% and 3.00%. That means I get as much as 3.00% if inflation falls to zero percent! I have no plans to sell the I-bonds with 3.00% base rates until they stop paying interest in 2031. I also own individual TIPS in my IRAs. I have also recommended individual TIPS and I-Bonds in my newsletter and still hold some as of this writing with no current plans to sell or recommending selling.
Disclosure: I am/we are long IBONDS AND INDIVIDUAL TIPS.
I wrote this article myself, and it expresses my own opinions. I am not receiving compensation for it (other than from Seeking Alpha). I have no business relationship with any company whose stock is mentioned in this article.