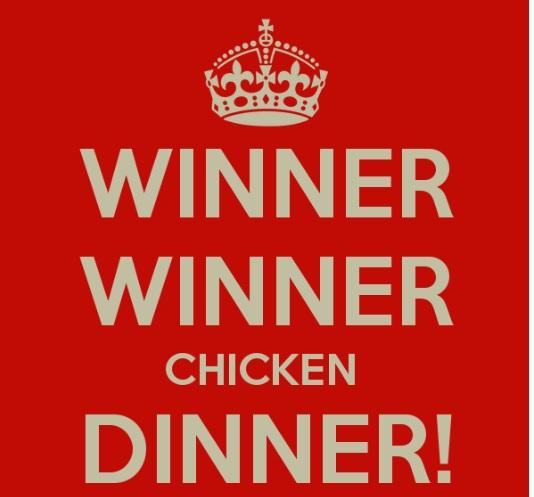 Realty Income (NYSE:O) has become a legend in the world of high-yield, dividend growth investing and for good reason.
Despite its large size, the world class management team continues to generate industry leading growth rates in all manner of economic and interest rate environments.
Let's take a look at the latest results from "The Monthly Dividend Company" and see why this blue chip dividend growth stock is not just worthy of your diversified income portfolio but is actually trading at a slight discount to fair value.
Growth Engine Continues Firing On All Cylinders
Source: Earnings Release
| | | | |
| --- | --- | --- | --- |
| Metric | Q1 2016 | Q1 2017 | YoY Change |
| Revenue | $267.1 million | $298.0 million | 11.6% |
| FFO | $170.6 million | $187.2 million | 9.7% |
| AFFO | $179.9 million | $201.3 million | 11.9% |
| Shares Outstanding | 250.4 million | 264.0 million | 5.4% |
| AFFO/Share | $0.70 | $0.76 | 8.6% |
| Dividend | $0.588 | $0.624 | 6.1% |
| AFFO Payout Ratio | 84.0% | 82.1% | -2.3% |
What's so impressive about Realty Income's latest results is that management is not just able to maintain its industry leading growth rates, but actually accelerate them.

Source: Realty Income earnings presentation
That's thanks to this latest quarter's $370.7 million in acquisitions, which added 60 new properties, with an average weighted remaining lease of 16.4 years and a cash yield of 6.1%.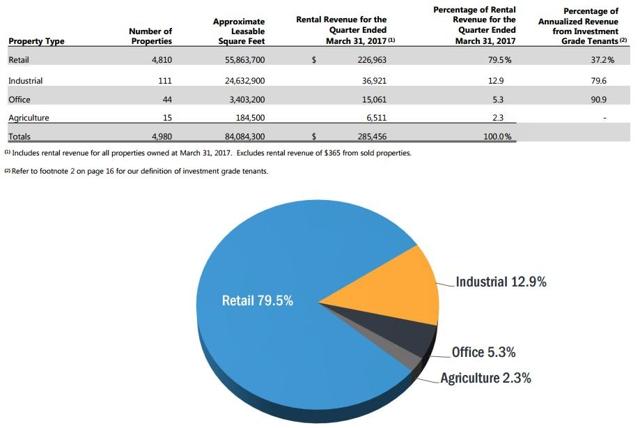 That brings Realty Income's total property portfolio to 4,980 across 49 states, Puerto Rico, and leased to 250 tenants in 47 industries.
Even more impressive? Despite it being so late in the economic and credit cycle, meaning that real estate prices have rallied strongly over the past eight years, that 6.1% cash yield on new investments is still far below the REIT's cost of capital.
Sources: Earnings Releases, Gurufocus, Earnings Presentation
| | |
| --- | --- |
| Metric | Figure |
| Cost Of Equity | 4.95% |
| Cost Of Debt | 4.27% |
| Weighted Average Cost Of Capital | 4.68% |
That means that Realty Income is still able to generate significantly accretive growth, whether it's funding new property purchases through debt, equity, or a combination of the two.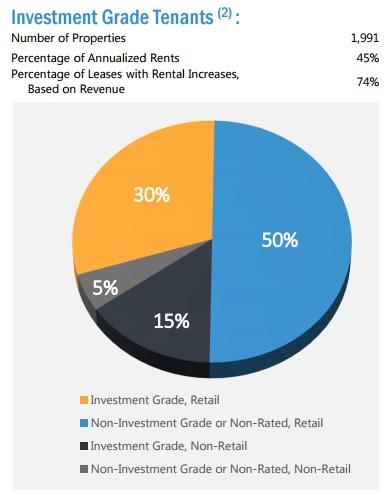 That's thanks to the increasing focus on diversifying away from retail and towards relatively virgin growth opportunities, such as industrial (warehouses) and office properties. These property types generally have much higher quality tenants, with 80% and 90%, respectively, having investment grade credit ratings.
Better yet? Notice in Q1 68% of Realty Income's new retail properties were leased to tenants with investment grade credit ratings. That's above the 45% company average and shows that management is able to grow the property portfolio while improving its tenant quality profile.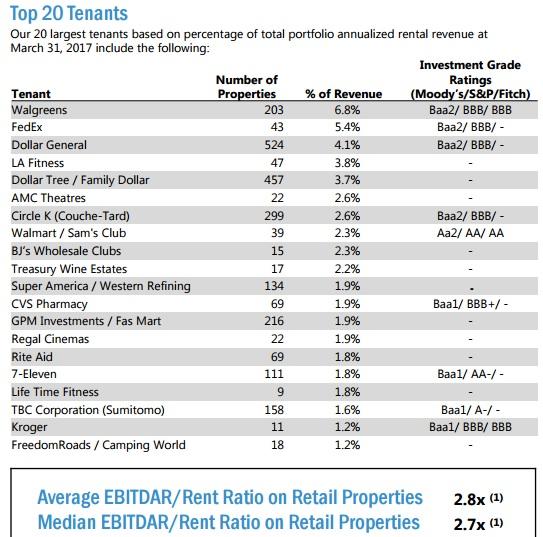 And while America is currently experiencing a sharp retail recession, with a record number of retail bankruptcies and store closings, very few of the REIT's top tenants are among the most distressed and at risk names currently being disrupted by Amazon (NASDAQ:AMZN).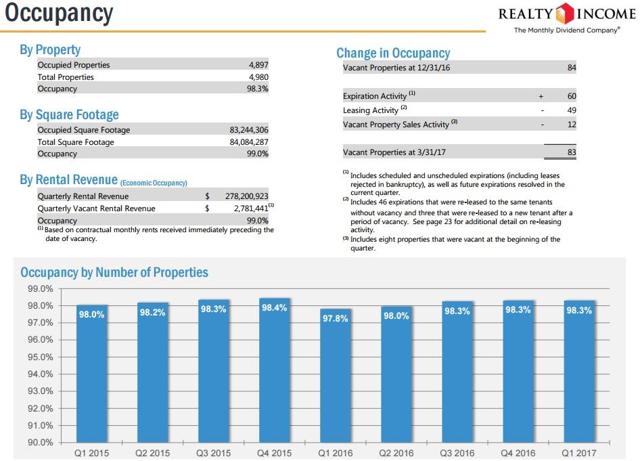 This can be seen by Realty Income's sky-high occupancy rates (99% by rental revenue), which remain near all-time highs, and has remained very stable over the last few years.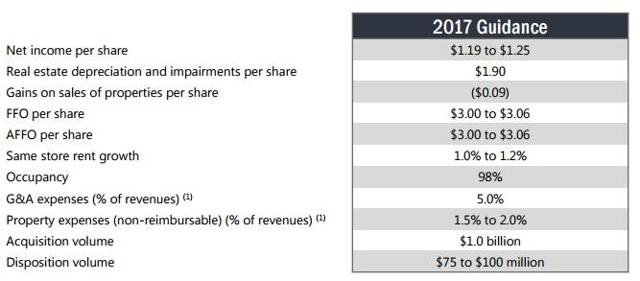 Meanwhile, management's 2017 guidance calls for another solid growth year. The most important metric to focus on is adjusted funds from operations or AFFO, the REIT equivalent to free cash flow and what funds the dividend.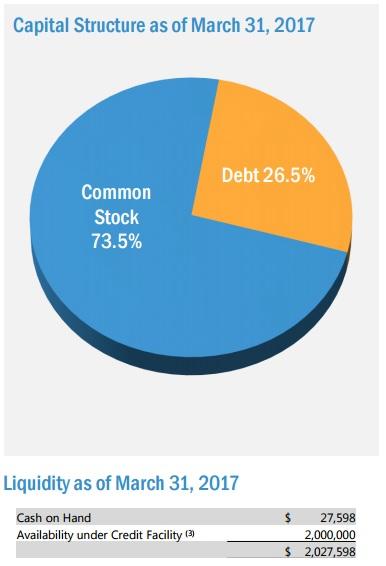 Thanks to $1 billion in expected acquisitions, Realty Income expects its AFFO/share to grow by 4.2% to 6.3% this year. And given that the company has just over $2 billion in current liquidity and ample access to cheap equity growth capital, I tend to think that this year's results will come in towards the higher end of that range.
Combined with a very safe (and falling) AFFO payout ratio, that should allow Realty Income to generate very strong 5% to 6% dividend growth in 2017.
Rock Solid Balance Sheet Means Steady Growth Despite Rising Rates
Sources: Morningstar, Fastgraphs, Earnings Presentation
| | | | | | |
| --- | --- | --- | --- | --- | --- |
| REIT | Debt/EBITDA | EBITDA/Interest | Debt/Capital | Current Ratio | S&P Credit Rating |
| Realty Income | 5.50 | 4.48 | 40% | 0.91 | BBB+ |
| Industry Average | 6.31 | NA | 62% | 0.88 | NA |
In a capital intensive industry such as REITs, having a strong balance sheet is paramount, both to allow for continued growth and to maintain a safe dividend.
That's because REITs are legally required to pay out 90% of net income as dividends to avoid paying taxes at the corporate level. This means they can retain only a token amount of cash flow with which to grow and are constantly having to tap debt and equity markets.
However, as you can see, Realty Income has a very solid balance sheet, with conservative debt levels. That's thanks to management's wise, long-term strategy of taking advantage of high share prices over the last few years to raise low cost equity capital with which to grow.
That has resulted in a de-leveraged balance sheet, the strongest in almost a decade, and means that Realty Income will still be able to grow even if a stock market crash or recession causes its share price to fall significantly.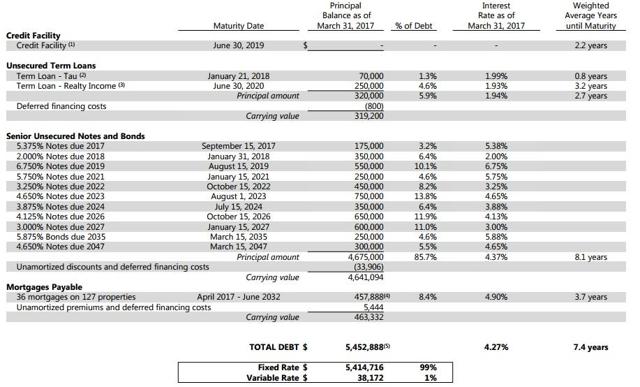 In the meantime, Realty Income's debt profile is among the best in the industry. Specifically, that means well staggered, with long duration and fixed rate loans.
Better yet? In the next three years, the debt it will be refinancing has high enough interest that even in a rising rate environment the company should still be able to lower its overall interest costs.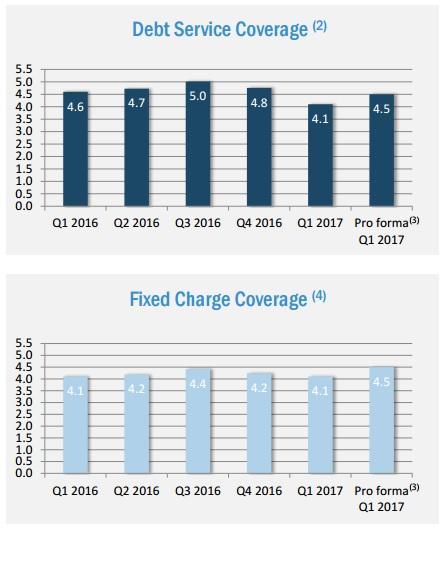 Meanwhile, Realty Income remains well within its debt covenants. That's important because debt covenants determine how much of its revolving credit line (the vast majority of its liquidity) a REIT can tap.
If a company violates a covenant, then the lender can immediately call in the entire loan, creating a liquidity crisis that can result in a share dividend cut, or outright suspension.
However, as you can see, Realty Income is nowhere near its covenant limits. In fact, it can afford to take on a lot more debt. Of course, with the share price still high enough to allow it to grow accretively (AFFO/share grows despite a rising share count) through equity issuances, the company isn't likely to do that.
This is a wise move because when the next, inevitable, but unpredictable recession hits and property prices fall significantly, that will be the ideal time to load up on debt. Because buying new properties at fire sale prices while minimizing share dilution is the best way to send AFFO/share and the dividend soaring.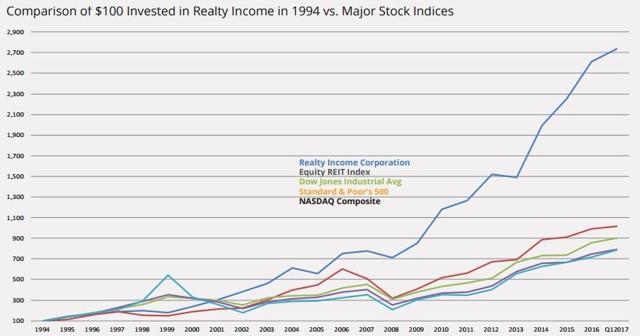 This is the strategy that has allowed Realty Income to generate such impressive dividend growth over the decades and become one of the best performing income stocks in America.
Dividend Profile Shows One Of The Best Risk Adjusted Total Return Potentials In America
Sources: Earnings Releases, Gurufocus, Morningstar, Fastgraphs, FactSet Research, Multpl.com, Moneychimp.com
| | | | | | |
| --- | --- | --- | --- | --- | --- |
| Company | Yield | TTM AFFO Payout Ratio | 10 Projected Year Dividend Growth | 10 Year Potential Annual Total Return | 10 Year Potential Risk Adjusted Total Return |
| Realty Income | 4.3% | 83.1% | 4.5% to 5.5% | 8.8% to 9.8% | 23.8% to 26.5% |
| S&P 500 | 1.9% | 39.5% | 5.9% | 9.1% | 9.1% |
Historically, Realty Income has grown its dividend at 4.7% CAGR since its 1994 IPO. That was while growing its portfolio from 630 properties to 4,980.
And given that impressive size, you might think that Realty Income's best growth is behind it. However, you have to keep in mind that the triple net lease industry remains highly fragmented, which means that Realty Income still has a very long growth runway.
Not just does its premier valuation mean that it could potentially grow through major acquisitions of rivals such as National Retail Properties (NYSE:NNN), or W.P. Carey (NYSE:WPC), but it also just started getting into new industries such as: industrial, office, and agriculture.
And while the triple net lease industry doesn't offer moats, that doesn't mean that Realty Income doesn't have a competitive advantage. Specifically, the fact that the stock remains a Wall Street darling means that it can raise capital cheaper than almost any other REIT in the industries it operates in.
Which means that, no matter what part of the economic or interest rate cycle we may be in, Realty Income is well poised to continue aggressively growing its high-quality property portfolio. And that in turn likely means many more decades of strong dividend growth potential.
Combined with a rock low beta of 0.37, indicating that Realty Income is 63% less volatile than the market as a whole, this creates one of the best risk adjusted total return potentials you can find from any stock today.
Valuation Remains Reasonable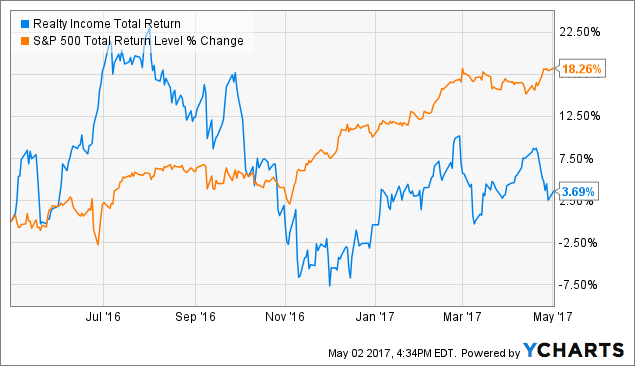 O Total Return Price data by YCharts
As you can see, Realty Income has badly underperformed the market in the past year. Yet many investors are still worried that it may be overvalued.
Sources: Earnings Releases, Fastgraphs, Gurufocus
| | | | |
| --- | --- | --- | --- |
| P/AFFO | Historical P/AFFO | Yield | Historical Yield |
| 20.2 | 18.5 | 4.3% | 5.1% |
And that is understandable, given that Realty Income still trades at a premium to its historical P/AFFO. And compared to its historical yield, today's 4.3% is certainly on the low side.
However, personally, I'm less interested in the past and more focused on the future since that's where all investing profits are made.
Sources: Earnings Releases, Fastgraphs, Gurufocus
| | | | | |
| --- | --- | --- | --- | --- |
| TTM AFFO/Share | 10 Year Projected Growth | Fair Value Estimate | Growth Priced Into Current Share Price | Margin Of Safety |
| $2.94 | 4.5% (worst case) | $60.10 | 3.8% | 2% |
| | 5.0% (likely) | $61.32 | | 4% |
| | 5.5% (best case) | $63.50 | | 7% |
Using a long-term, 20-year discounted cash flow or DCF model, I estimate that whether you use a conservative, likely, or bullish outlook, Realty Income is still trading at a slight discount to its fair value.
So, where does that leave investors looking to invest new money? Well, for high-quality dividend growth stocks such as this, I generally recommending opening an initial position at fair value or less. That makes the current price an attractive opening move.
As for adding to an existing position, normally I like to see a stock trading at a 15% or larger discount in order to create a nice margin of safety. That would mean waiting for an 8% to 11% pullback to add more; $52.81 to $54.59. That corresponds to a yield of 4.6% to 4.8%.
Risks To Consider
The largest short-term risk to Realty Income is the threat of rising interest rates creating short-term headwinds for the share price.


Source: Hoya Capital Real Estate
Because of the long-term nature of its leases, Realty Income often trades as a long-term bond alternative. This means that each 1% increase in 10-Year Treasury yields can equate to a 15.6% decline in the share price.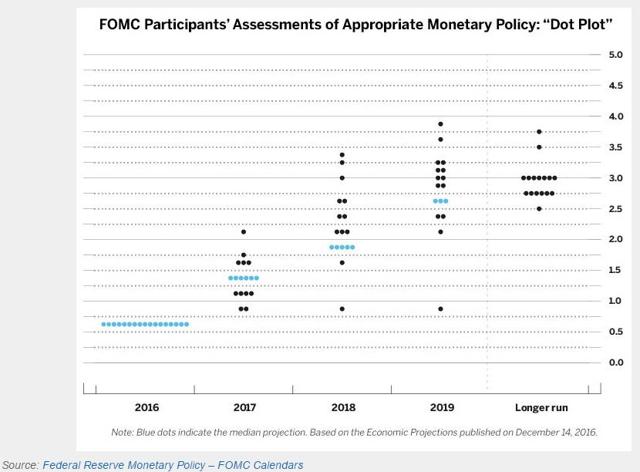 And with the Fed still forecasting a 2.25% increase in interest rates by 2020, that means that Realty Income could face some major headwinds when it comes to share price appreciation.
Of course, for long-term investors with a time horizon of 10+ years, that isn't a problem at all, but rather represents potentially greater buying opportunities.
That's especially true given that management has spent the last eight years de-leveraging the balance sheet so that it can continue growing (via increased debt) in case the share price does end up declining to a point where the cost of equity rises above the cap rate it can obtain for new properties.
But for investors with a short-term frame, such as retirees whose accounts aren't large enough to live off dividends alone (4% rule), you might want to keep in mind that you may be forced to sell shares of Realty Income at a loss over the next one to two years.
That's because we're now long overdue for a 10% market correction, and at some point, we'll also experience a recession and a corresponding 20+% bear market.
Bottom Line: Realty Income Once Again Proves Why It's One Of The Best Dividend Growth Stocks You Can Own
I won't lie to you and say that Realty Income is significantly undervalued. However, given its unbeatable track record of steady growth over the decades, this "best in breed" REIT deserves a premium and explains why it's almost never "cheap".
Which is why I have no qualms about recommending that dividend investors who don't yet own Realty Income consider opening a position at the current share price.
Disclosure: I am/we are long O, WPC, AMZN.
I wrote this article myself, and it expresses my own opinions. I am not receiving compensation for it (other than from Seeking Alpha). I have no business relationship with any company whose stock is mentioned in this article.