The price action in silver since April 17 has been downright ugly. Silver reached its highest price on that day when the July futures contract traded to $18.725 per ounce. Since then, silver declined for eleven straight sessions reaching a low of $16.81 per ounce on May 1. The decrease of 10.2% has been a one-way affair.
Silver has been a leader in precious metals over recent weeks, but it has underperformed gold. Gold reached its high for the year on the same day as silver and has dropped from $1297.50 to lows of $1254.90 on the first day of May, a decline of 3.3%. Platinum traded to $1050.40 per ounce way back on February 27, but it has not been able to move above the $1000 level since early March. On May 1, platinum traded to a low of $930.20 per ounce, a decline of 11.44%. On April 17, platinum managed to rally to $993 but has fallen by 6.3% during the period when silver posted a 10.2% decline.
Silver has been the leader of the pack for a little over two weeks now, and it has been a falling knife. Something is wrong in the silver market, and it is starting to look like longs are heading for the exits and buyers are backing off.
A nose dive since April 17
The price action in silver has been nothing short of ugly and yesterday it put in its twelfth straight losing session.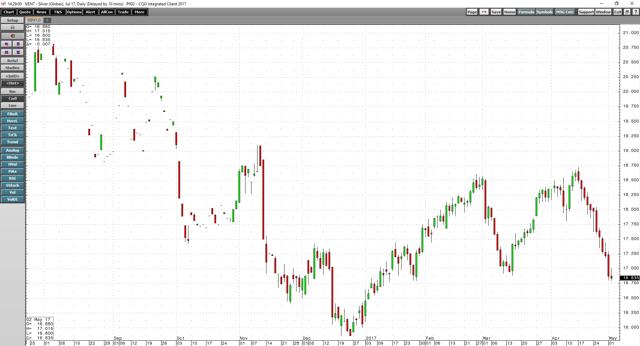 Source: CQG
As the daily chart of July COMEX silver futures shows, the precious metal has dropped like a dagger falling off a cliff from the highs of 2017 at $18.725 on April 17 to lows of $16.80 per ounce on May 2. Over the course of just 15 days, silver shed 10.3% of its value. The nose dive since April 17 has led gold and platinum lower, and now silver is on the cusp of critical support, which it touched on May 2.
Critical support
As the daily chart highlights, July silver futures declined to the lowest level since January 27 on the second trading day of May. Those lows were at $16.80, the same level that silver touched yesterday. Now, there is a potential for a double bottom, but silver would have to do something it has not be able to in twelve sessions, move higher on May 3.
Below $16.80 the situation for silver could become very dicey.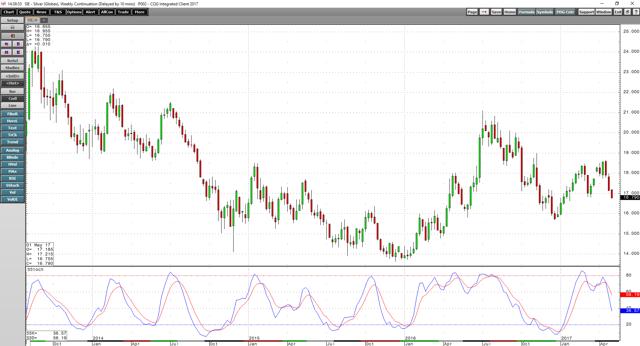 Source: CQG
While silver stopped at the right level on May 2 on the daily chart, the weekly chart looks a lot worse. The slow stochastic indicates a downtrend for the precious metal that developed when it broke from the April 17 highs. Moreover, silver violated the March low at $16.82 per ounce, and the next level of technical support is down at the $15.70 level, the lows from last December. Silver closed on May 2 not far off the lows at $16.84 per ounce. It has already dropped $1.925 in twelve trading sessions, and a move down to the critical support at $15.70 stands only $1.14 away. Silver tends to be a volatile metal with good two-way price action, but the recent move has been one way, lower.
Open interest is falling fast from record highs
Silver has been retracing its move higher over the course of 2017, and historical volatility has declined to a level that is low for the volatile commodity that tends to attract lots of speculative interest.
Source: CQG
The daily chart highlights that historical volatility is around 11% which is far too low for the metal that has a habit of trading at 25%, 35%, or above 40% historical variance levels.
While silver could not look much worse than it does right now, the action in open interest could be a sign that silver will find a low very soon. Open interest is the total number of open long and short positions in the COMEX silver futures market. The metric has dropped from 234,787 contracts on April 20 to 194,123 as of May 1, a drop of 17.32%. While the price has declined by 10.3%, open interest has crashed by an even bigger percentage. Meanwhile, falling open interest that occurs alongside falling price tends not to be a bearish technical validation of a downtrend. Therefore, we could be on the verge of a dramatic turn in the silver market.
Open interest has fallen from a lofty level as many frustrated speculators holding long positions have run for the exit as the precious metal has shed almost $2 of value over the past dozen trading sessions.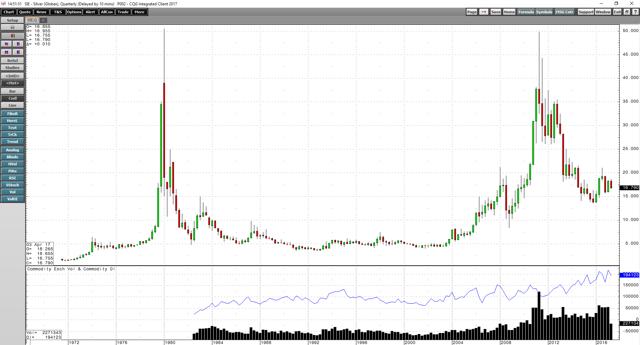 Source: CQG
As the quarterly chart illustrates, the highs on open interest on April 20 were an all-time peak for the metric. Declining open interest tells us that lots of speculators and traders who loaded up on the long side have abandoned positions over the past two weeks with the negative price action. Silver is now at a critical level, and it closed ugly once again on May 2.
Close to a low?
May 3 may turn out to be the most important day of 2017 for silver. If silver declines for the thirteenth straight session the baker's dozen string of losses may break the technical back of the silver market and send it down to the $15.70 level, the most critical support. However, if the gold's little brother can manage to break the string of losses, it will begin to look like there is a double bottom on the daily chart and we could see a vicious and volatile bounce that comes out of the blue. Silver loves to put in those types of out of the blue moves, and at this point, it may be overdue.
Silver's move has been slow and steady, but the metal could be ready to ramp up the price action and volatility. Therefore, the next move in the silver market is likely to take it either $1 higher to create a bottom or $1 lower to test critical support. Silver could be close to a low, or it could be close to breaking the back of the precious metals sector and cause lots of misery for the gold bulls who are continuing to hang on by a thread these days.
The silver/gold ratio spells trouble
Silver has been the leader of the pack since April 17, and it has led gold and platinum lower. On May 2, platinum broke below its nearby technical support at $938.40 on the July contract and traded to a low of $928.40, the lowest price since January 3, the very first day of this trading year. Gold has also been weak lately, trading to a new short-term low of $1252.60 and threatening support at $1241.50, the March 31 lows, but silver has been the leader of the bearish pack. The action in the silver-gold ratio has been uber-bearish for the precious metals sector over recent weeks, and a continuation could spell real problems for silver and gold bulls.
The long-term, over four decades, average for silver-gold ratio has been around 55:1. Over the long haul, it has taken an average of 55 ounces of silver to purchase an ounce of gold. When the ratio moves higher, it tends to be bearish for gold and silver prices, and when it moves to the downside, it tends to be a bullish signal for the precious metals. The ratio reached a high of 83:1, the highest level in 21 years, last March before falling to lows of 66.2:1 in July 2016.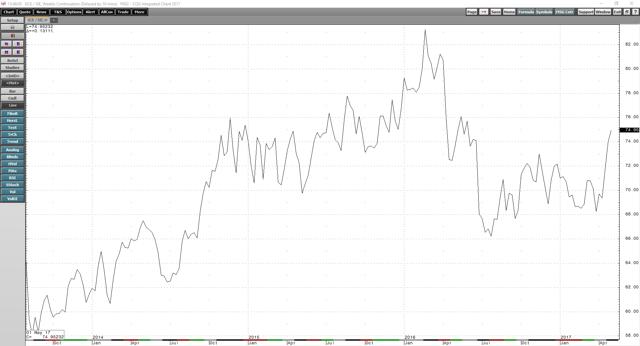 Source: CQG
The weekly chart of the silver-gold ratio illustrates the ratio has moved from 68.26:1 in late March of this year to 74.65:1 as of yesterday. The move in the ratio has spelled trouble for precious metals bulls, and a continuation of the trend higher could mean lower lows for both gold and silver over coming sessions.
While many signs point lower for silver (and gold) right now, it is always darkest before the dawn. I believe that silver is ripe for a $1 move, perhaps as soon as Wednesday, May 3. A $1 move lower will take silver to critical support near the $15.70 per ounce level and a $1 move higher would appear as a double bottom on the daily chart at the $16.80 level.
Historical volatility in silver is too low at 11%, and that is likely to change very soon. I have been scratching my bald head and wondering what is wrong in the silver market these days. The dollar is trading at its lows of the year and bonds are close to the highs creating a divergence with a capital D when it comes to silver and other precious metals that have been trending to the downside. Meanwhile, silver continues to look very bearish these days, but that could be the reason that the commodity that loves to shock market participants will once again reassert itself on the upside. I am a very nervous bull in silver these days, and while I expect a move higher, I am more confident of a big $1 move, but the direction at this point is in the hands of the trading gods.
Each Wednesday I provide subscribers with a detailed report on the major commodity sectors covering over 30 individual commodity markets, most of which trade on U.S. futures markets. The report will give an up, down or neutral call on these markets for the coming week and will outline the technical and fundamental state of each market. At times, I will make recommendations for risk positions in the ETF and ETN markets as well as in commodity equities and related options. You can sign up for The Hecht Commodity Report on the Seeking Alpha Marketplace page.
Disclosure: I/we have no positions in any stocks mentioned, and no plans to initiate any positions within the next 72 hours.
I wrote this article myself, and it expresses my own opinions. I am not receiving compensation for it (other than from Seeking Alpha). I have no business relationship with any company whose stock is mentioned in this article.