The fourth quarter of 2016 was not so great for refining and chemicals heavyweight Phillips 66 (NYSE:PSX). Maintenance turnarounds limited operational time and lower refining margins cut even further into earnings.
In a previous article on the matter I recommended investors keep the faith and wait for better times, because Phillips 66's fourth quarter performance was due largely to factors well outside the company's control. Many of these factors have tended to be temporary in nature.
Thankfully, Phillips 66 posted a much better first quarter of 2017. Refining margins were significantly higher and both chemicals and midstreams were up quite a bit as well. This article takes a look at Phillips 66's latest quarter, what investors can expect going forward, and whether this stock remains a buy.
Improvements across the board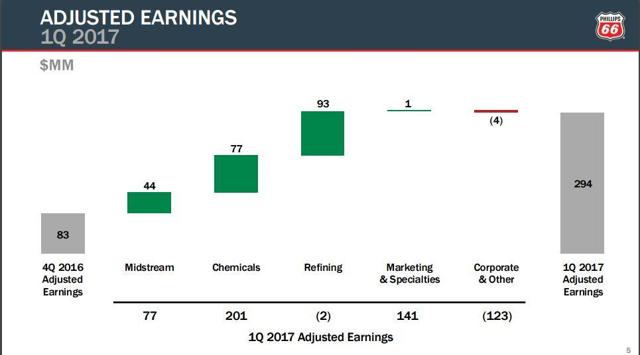 Courtesy of Phillips 66 investor relations.
Earnings went from a mere $83 million in 4Q to $294 million in the first quarter of this year. About half of that improvement came from refining, and the rest came from chemicals and midstream. Despite gains in refining, refining was still unable to turn an earnings profit because during the quarter there were still major turnarounds at the Ferndale, Bayway, Lake Charles and Wood River refineries. The Atlantic Basin dragged down earnings and caused a slight loss in refining in Q1. Overall refining margins came in at $8.55 per barrel.
Chemicals saw strong polyethylene demand. The Gulf Coast petrochemicals project is well underway, and polyethylene units are on track to complete in the middle of the year, and the ethane cracker will be one by 4Q of this year. In midstream we saw the first full quarter of the Freeport LPG export terminal, and lower maintenance costs helped out as well (maintenance costs were pretty high the quarter before).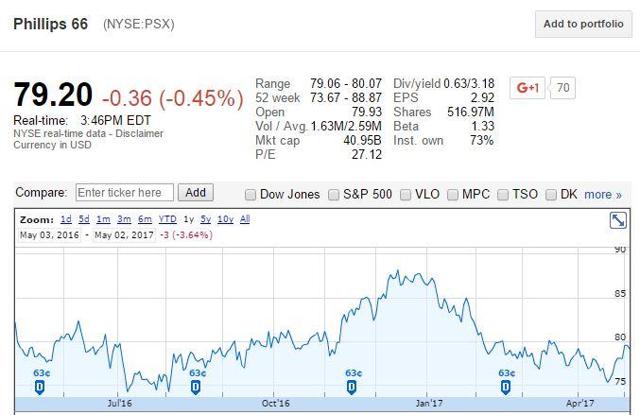 Courtesy of Google Finance.
As you can see from the chart below, shares of Phillips 66 have done pretty well as of the latter part of April. I suspect this might be because of anticipation of good earnings and the subsequent delivery on those expectations.
As I mentioned in my last article, Phillips 66 has a broad array of projects in the works. This will require about $2.3 billion in capex, $1.3 billion of which will go to 'growth.' These projects include the Bayou Bridge crude pipeline project, and a Gulf Coast chemicals project including a polyethylene plant in Old Ocean, TX and an ethylene plant at Cedar Bayou, TX. It also includes a big expansion at the Beaumont Terminal crude facility, a facility which Phillips 66 acquired in 2014 and is improving.
Valuation and conclusion
Despite its iconic brand name, Phillips 66 has only been an independent company for five years, so it is difficult to get a hand on average valuation, especially with refining margins fluctuating as they are. With a dividend yield still at 3.2%, however, it's pretty easy to recommend Phillips 66. Refining margins can be tricky to predict, but growth projects in petrochemicals and midstream will drive cash flow higher for the next couple years at least, all other things being equal.
I expect caution from management regarding the dividend, despite management's express commitment to dividend growth. I think there will be some dividend growth, but it will be much lower in 2017 and maybe 2018. In 2016 that dividend accounted for 87% of earnings per share, up from a mere 28% in 2015. That gives you an idea of how much earnings can fluctuate depending upon refining margins and maintenance turnarounds.
From a cash flow perspective, Phillips 66 continues to well outspend its operating cash flow, with capex accounting for nearly all operating cash flow last year, plus a $1.2 billion dividend to boot. Much of this situation is due to an ambitious set of chemical plant, pipeline and crude terminal projects, all of which are slowly and methodically coming to fruition. After this year Phillips 66 will have much more financial flexibility. In the meantime, however, I expect management to be on the safe side and go for a token dividend raise only.
Still, I think Phillips 66 is a buy, and I believe it is for a couple reasons: I like the company's diversified midstream-downstream-chemicals business model. I think it is both unique and compelling. I also think these midstream projects have a distinct advantage over many others because they ultimately all connect up to other Phillips 66 infrastructure, and management is seasoned and seems to have a penchant for getting these big projects done with little to no drama.
If you're interested in Phillips 66, feel free to follow me here on Seeking Alpha. I am personally long this stock, and will continue writing update articles when doing so is both material and relevant. Also, I've started a Marketplace service for long-term, dividend minded investors which includes many insightful pieces I would not otherwise be able to write. I encourage you to have a look.
Disclosure: I am/we are long PSX.
I wrote this article myself, and it expresses my own opinions. I am not receiving compensation for it (other than from Seeking Alpha). I have no business relationship with any company whose stock is mentioned in this article.