Summary
Biohaven Pharmaceuticals (NYSE:BHVN) expects to raise $112.6 million in its upcoming IPO ($130.1 million if the underwriters exercise their option to purchase additional shares). If the underwriters price the IPO at the midpoint of the price range, BHVN will have a market capitalization of $508.7 million.
We previewed this deal on our IPO Insights platform.
BHVN filed for the IPO on April 7, 2017.
Lead Underwriters: Barclays Capital, Morgan Stanley, and Piper Jaffray.
Underwriters: Needham & Co., and William Blair & Co.
Business Summary: Clinical-Stage Biopharmaceutical Developing Treatments For Neurological Disorders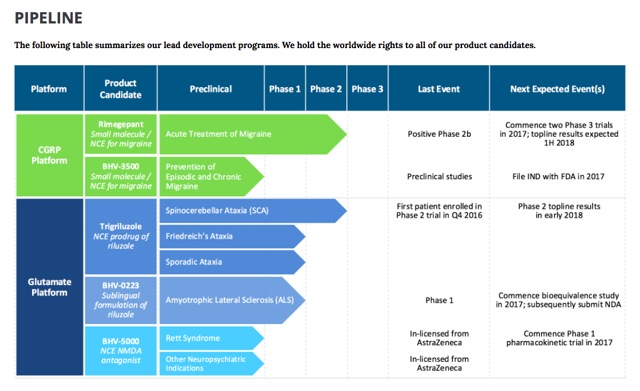 (Source: Company Website)
Biohaven Pharmaceuticals is a clinical-stage biopharmaceutical company that is developing product candidates for the treatment of neurological disorders (including rare disorders). Its product candidates include rimegapant, which Biohaven expects to have in two Phase III trials for treating migraines, and trigriluzole, which is currently in Phase II/III trials for treating ataxias, with a focus on spinocerebellar ataxia.
Biohaven is also developing BHV-5000 for treating symptoms of Rett syndrome, BHV-0223 for the treatment of amyotrophic lateral sclerosis, and BHV-3500 for the prevention of chronic and episodic migraines.
The company believes that many of its product candidates have the potential to be best-in-class or first-in-class treatments. In addition, based upon outcomes from the Phase IIb clinical trial for rimegepant, the company believes it will be a best-in-class option that significantly improves the symptoms of migraines, such as pain, nausea, photophobia, and phonophopia.
Financial Overview
Currently, Biohaven has no products approved for sale, nor has the company generated any revenue from product sales. Biohaven has funded its operations primarily through the sale of preferred shares, common shares, and bank loans. Since its inception, Biohaven has incurred net losses each fiscal year, and its accumulated deficit was $75.5 million as of December 31, 2016.
The company intends to use the net proceeds of this IPO to fund further clinical trials, repay $5.6 million in debt to Wells Fargo (NYSE:WFC), and finalize an obligation to purchase Kleo Pharmaceutical stock.
Competition: Allergan, CoLucid Pharmaceuticals, And Eli Lilly
Biohaven faces competition from a variety of pharmaceutical companies including Eli Lilly (NYSE:LLY), CoLucid Pharmaceuticals (NASDAQ:CLCD), Allergan (NYSE:AGN), Alder Biopharmaceuticals (NASDAQ:ALDR), Amgen (NASDAQ:AMGN), Shinogi, Shire Ltd. (NASDAQ:SHPG), Erydel, and Mitsubishi Tanabe.
An anticipated market cap of $508M would place BHVN in the smaller end of this group. Many of these competitors are significantly larger and more established.
Executive Management Highlights
CEO and Director Vladimir Coric, M.D. has served in his position since October 2015. He previously served at Bristol-Myers Squibb (NYSE:BMY), Yale Clinical Neuroscience Research Unit, and Yale Obsessive-Compulsive Disorder Research Clinic. Dr. Coric received his M.D. from Wake Forest University School of Medicine. He completed his internship at Yale-New Haven Hospital and residency training at the Yale Psychiatry Residency Training Program.
Chief Medical Officer Robert Berman, M.D. has served in his position since November 2015. His previous experience includes positions at Bristol-Myers Squibb, Pfizer (NYSE:PFE), and Biohaven Medical Services. Dr. Berman received his B.A. in molecular biophysics and biochemistry from Yale University and his M.D. from Mount Sinai School of Medicine of New York University.
Conclusion: Consider Buying In
We are encouraged that BHVN's products are so far along in clinical trials, as well as by license agreements with BMS and AstraZeneca (NYSE:AZN).
We suggest investors consider buying in.
Risk factors of any early stage biopharma do include a lack of revenues, significant losses, and significant obligations relating to licensing agreements.
Don Dion's IPO Insights provides up-to-date information and analysis on the major IPOs each week, along with additional opportunities to invest and short these stocks at their quiet period and lockup period expirations, respectively. Consider following us at the link above. We will continue our PRO offerings on Seeking Alpha alongside our more exclusive research.
Disclosure: I/we have no positions in any stocks mentioned, but may initiate a long position in BHVN over the next 72 hours.
I wrote this article myself, and it expresses my own opinions. I am not receiving compensation for it (other than from Seeking Alpha). I have no business relationship with any company whose stock is mentioned in this article.