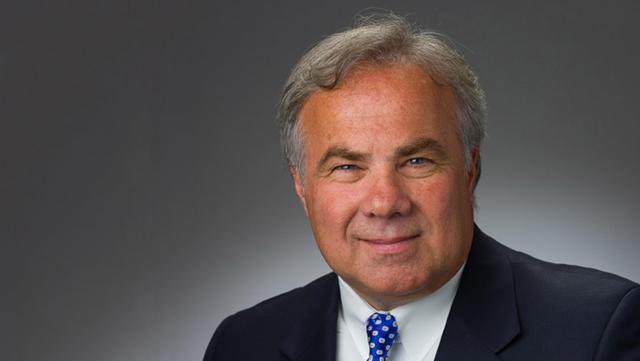 The market is getting irrationally exuberant about Valeant's (NYSE:VRX) so-called turnaround story, and people are forgetting about the core erosion in the company's portfolio. Sure, debt paydown is great, but what if EBITDA falls so fast that debt pay down doesn't matter? Valeant is convincingly addressing the debt issue, but the company is very far away from turning around.
Lack of Growth Drivers
Valeant has traditionally neglected its R&D budget, and it shows. Many of Valeant's core assets are eroding, and this is not necessarily because of fallout from the loss of Philidor or loss of pricing power because of increased regulatory scrutiny.
No, the problem with Valeant is a lack of growth drivers. For most pharma companies, loss of exclusivities (LOE) and generic erosion aren't a big deal because old drugs are constantly being replaced by new ones. But in Valeant's case, the growth drivers simply are too weak to make up for the losses in older drugs, so the portfolio declines. The following chart highlights the impact of patent LOEs on Valeant's portfolio this year.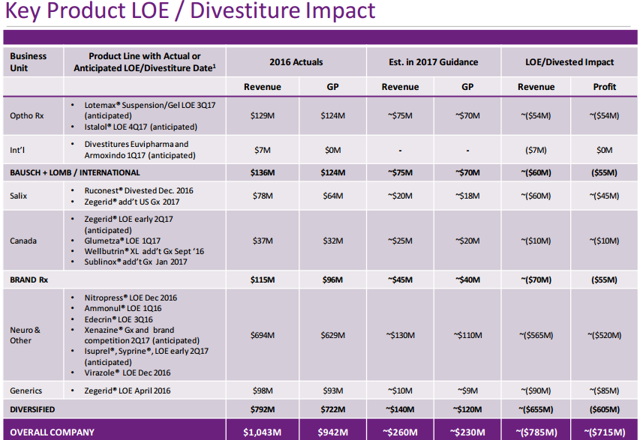 Valeant bragged about its 50 new product launches for 2017 including Siliq, Vyzulta, Stellaris and Vitesse. However, while 50 sounds like a great number, these products are only expected to generate $100 million in revenue, and this is abysmal.
$100 million in revenue is less than the milestone payment Valeant was obligated to pay AstraZeneca (NYSE:AZN) upon approval Siliq alone! Clearly, Valeant ROI on R&D are not very impressive, and this may have something to do with the company's relatively weak advertising budget compared to its competitors - especially in dermatology.
According to Ycharts, Valeant's EBITDA margin in only 23%. And if we assume 23% of the company's extra $100 million in revenue ends up as EBITDA, this is only an extra $23 million - a negligible impact on a company that is expecting to generate up to $3.7 billion in EBITDA for the full year of 2017. The purpose of growth drivers is to generate growth, but in Valeant case, the growth drivers will probably not even be able to stop the bleeding. This is a problem that will only get worse if the company decides to use divestitures to raise cash and further pay down its debt.
Conclusion
Valeant is making good progress toward paying down its debt. But this comes at the cost of investing money into future growth. The company's growth drivers are extremely weak and are unlikely to put a dent in declines the portfolio will face due to loss of exclusivities in its older drugs. The $100 million in revenue expected from new launches in 2017 is a poor reflection on the worth of Valeant's R&D investments. The stock should be avoided.
Disclosure: I/we have no positions in any stocks mentioned, and no plans to initiate any positions within the next 72 hours.
I wrote this article myself, and it expresses my own opinions. I am not receiving compensation for it (other than from Seeking Alpha). I have no business relationship with any company whose stock is mentioned in this article.