Overview
WTI crude dropped nearly 3% in midday trade after a wave of bearish news surfaced regarding OPEC and Libya. Crude oil has been a laggard (3.30%) over the month and nearly (10%) in the last 3. Primary drivers of the declines in crude are expected shale ramps (increasing rig count), uncertainty around OPEC, and a reversal of fortunes for Libya.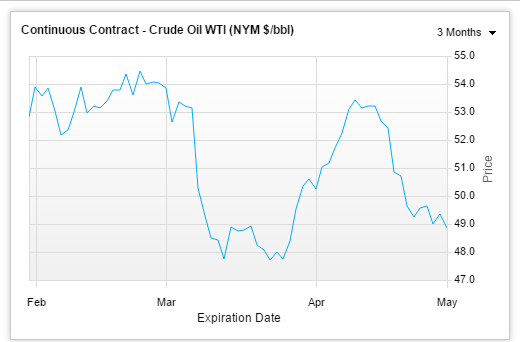 Source: FactSet
In the energy markets, there will be no gain without pain.
OPEC & Libya In Focus
A Bloomberg article surfaced today citing the recent agreement between the Libyan prime minister, Fayez Al-Sarraj, and the Eastern Commander Khalifa Haftar that will presumably lead to a cease fire. Political upheaval and violence impacted Libyan oil production severely.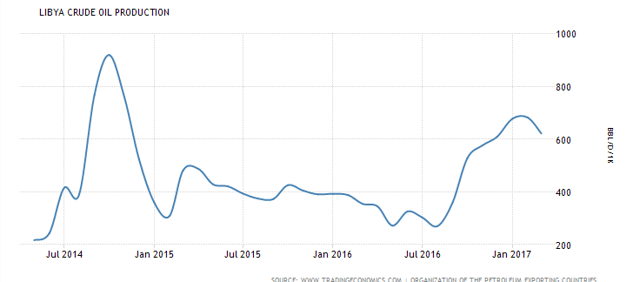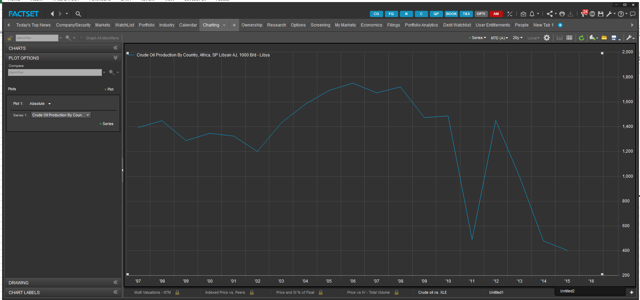 Source(s): TradingEconomics, FactSet
Rampant fighting began in 2011, closely followed by volatile swings in production. Libyan oil production that was eclipsing 1.8 mmb/d cratered below 400 tb/d. Production levels had trouble reaching 1 mmb/d during the fighting, but have steadily crept up in 2017. Libyan production has since reached 700 tb/d, falling within our bear case forecast that has Libyan production pegged between 680 tb/d-710 tb/d. It would appear that the Libyans are desperately looking to boost oil production that will provide a steady stream of revenue to the country, which was cut off during the war. The recent peace deal between the militants and the prime minister should allow for such production ramp.
Our models suggest that Libyan production ramping to ~700 tb/d through Q2 and Q3 could push crude to ~$45 given supply figures of ~100.08 and demand at ~99.21

Source: BlackVault Investments Research
Meanwhile, the fate of the OPEC deal has recently come into question as the Saudis have expressed delight over the financial stability of the Kingdom in 2017. We believe the Saudis will cut to quicken the pace of rebalancing ahead of the planned Aramco IPO. Furthermore, a ramp up of OPEC production may create further downward pressure on prices at a time when governments have achieved relative stability.
Gasoline and Crude Oil Inventories Must Align
Ahead of the EIA inventory figures, we are cautious given the swells in gasoline inventories. We believe that crude oil inventories may in fact rise despite today's API estimates as refiners cut back on production to tame the rise in gasoline inventories. Demand throughout the inventory supply chain must rebalance ahead of summer to stabilize crude oil prices as bloated gasoline inventories will force cuts to refiner utilization rates impacting crude oil demand. We believe that gasoline inventories will eventually rebalance into the summer driving season as current demand estimates seem low given the fact that gasoline demand has rose in the last two years and economic growth is anticipated to be stronger (3.4% in 2017 vs. 3.1% in 2016).
Conclusion
Crude oil has been unable to catch a bid, and may fall to $45 in the short-term given higher inventories and Libyan production ramp. Nevertheless, the rebalancing of gasoline inventories will be critical to maintaining a synchronous draw across the oil supply chain in the summer. We continue to be bullish on the oil market in the long-term, and remind market participants that there is no gain without pain.
Disclosure
This article contains the opinions of BlackVault Investments and in no way is acting as an offering and/or solicitation of securities or investment advice.
If you have any questions, feel free to leave them in the comment section or message me directly. Thank you for reading and good luck to all.
Disclosure: I/we have no positions in any stocks mentioned, and no plans to initiate any positions within the next 72 hours.
I wrote this article myself, and it expresses my own opinions. I am not receiving compensation for it (other than from Seeking Alpha). I have no business relationship with any company whose stock is mentioned in this article.