IPO Overview
Ovid Therapeutics (Pending:OVID) filed for its IPO on April 11, and is expected to make its debut this Friday (5.5).
The company plans to list on the NYSE under the symbol OVID. Ovid Therapeutics plans to offer 5 million shares at an expected price range of $15 to $17 per share. It has 750,000 additional shares available as an overallotment option for underwriters. The company estimates net proceeds of $71.6 million (or $82.8 million if underwriters exercise their option to purchase additional shares).
Insiders intend to purchase 25%, or $20 million worth, of shares in the IPO. Although this is non-binding, it is a positive signal.
Underwriters include: JMP Securities, William Blair and Citi, Cowen & Company are the joint bookrunners on the deal.
Assuming the company prices at the mid-point of its price range, it would have a fully diluted market value of $405 million. We first covered the deals on our IPO Insights Platform.
Company Overview
Founded in 2014, New York, NY-based Ovid Therapeutics is a biopharmaceutical company that focuses exclusively on developing impactful medicines for patients suffering from rare neurological disorders. The company recognizes that, since the understanding of the underlying biology has grown in recent years, these disorders are an attractive area for drug development.
Ovid Therapeutics started out with the goal of integrating the symptomology and biology of rare neurological conditions and to use innovative clinical strategies and research in order to develop drug candidates. The company continues to develop a robust pipeline of clinical assets with a primary focus on rare epileptic encephalopathies and neurodevelopmental disorders. It collaborates with leading biopharm companies and academics to develop its product pipeline.
Its lead product candidate, OV101, has begun Phase 2 trial in adults and Phase 1 trial in adolescents. Its second lead product candidate, OV935, is expected to begin a Phase 1b/2a trial in rare epileptic encephalopathies in 2017.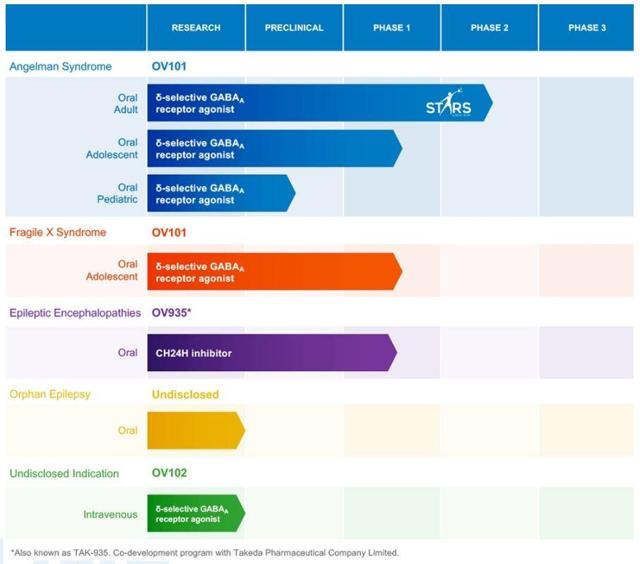 Executive Management
Dr. Jeremy Levin was appointed as Chief Executive Officer in April 2015. He was previously chairman (since 2014), and continues to serve in this role. Dr. Levin previously served as CEO and president of Teva Pharmaceutical Industries and was a member of the executive committee of Bristol-Myers Squibb. He earned a bachelor's degree in zoology and holds both a Master of Arts and Doctorate degree from the University of Oxford. Dr. Levin attended the University of Cambridge, where he received Bachelor of Surgery and Bachelor of Medicine degrees. He has practiced internal medicine at university hospitals in South Africa, Switzerland and England and has been recognized and awarded for his commitment to improving global healthcare.
Dr. Matthew During founded Ovid Therapeutics and now serves as Chief Scientific Officer, President, and board member. Prior to founding Ovid Therapeutics, Dr. During founded NightstaRx Limited, a pharmaceutical company. He also founded Neurologix, Inc. (in October 1999), and co-founded Merlin Pharmaceuticals (Private) Limited (in February 1993). He earned his BS, MD and DSc from the University of Auckland as well as completed fellowships at Massachusetts Institute of Technology and Harvard Medical School.
Competition
There are currently no approved therapies for the treatment of Fragile X syndrome or Angelman syndrome. However, there are symptomatic treatments available to reduce pain and lessen the burdens of these disorders. Additionally, several companies are working on new therapies. Ovid Therapeutics' direct competitors include Zynerba Pharmaceuticals (NASDAQ:ZYNE), Marinus Pharmaceuticals, Inc. (NASDAQ:MRNS) and SAGE Therapeutics, Inc. (NASDAQ:SAGE).
Because drug development is a competitive industry and subject to significant and rapid technological advancements, Ovid Therapeutics' ability to compete with its competitors will largely depend on the company's ability to complete necessary regulatory approval processes and clinical trials while also effectively marketing any drug the company may successfully develop.
Financials
Ovid Therapeutics currently has no products available for commercial sale, and it does not anticipate generating revenue for several years. The company generated total operating expenses of: $22.4M and $13.1M in 2016 and 2015, respectively. As of December 31, 2016, the company had total cash and cash equivalents of $51.9M and accumulated deficit of $35.9M.

(S-1/A)
Conclusion: Consider Holding Off On Investing
The deal is expected to gain much traction given the track record of success from the management team. However, with product candidates years away from commercial sale and significant net losses we are cautious on making a large investment.
The company appears to be on a positive path and its clear company insiders have faith in its prospects (i.e. insiders planning to purchase nearly 25% of the common shares).
We recommend holding off on the IPO and waiting until product candidates are further along in trials.
Don Dion's IPO Insights provides up-to-date information and analysis on the major IPOs each week, along with additional opportunities to invest and short these stocks at their quiet period and lockup period expirations, respectively. Consider following us at the link above. We will continue our PRO offerings on Seeking Alpha alongside our more exclusive research.
Disclosure: I/we have no positions in any stocks mentioned, but may initiate a long position in OVID over the next 72 hours.
I wrote this article myself, and it expresses my own opinions. I am not receiving compensation for it (other than from Seeking Alpha). I have no business relationship with any company whose stock is mentioned in this article.