United States Steel (NYSE:X) traded down almost 26% last week after an earnings miss of $1.17 per share. X had been on an uptrend in the last 52 weeks as steel industry and the Trump effect worked it magic with the stock up over 125%(before today's collapse) - see chart below for reference.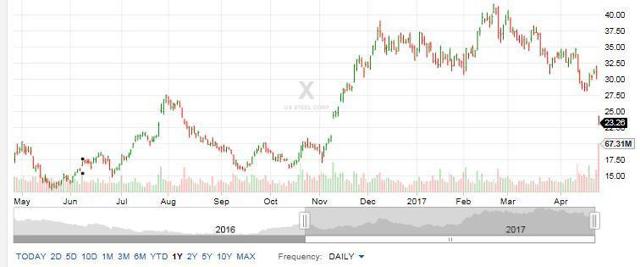 Source: X chart by Fidelity.
So, what happened? Generally, market analysts who follow a stock have a very good idea of what earnings will be for the current quarter. However, when you get such a big surprise as we saw today, institutional investors will punish the stock - and punish they did.
The news from X which generally accounted for the miss was related to their flat rolled business which had a EBIT of $65MM in the 4Q2016 to a loss of $90MM at the 1Q17. X had this to say via their press release:
First quarter results for our Flat-Rolled segment declined significantly compared with the fourth quarter, as we expected, primarily due to higher raw material costs, increased planned outage costs, seasonally lower results from our mining operations, and restart costs associated with the Granite City hot strip mill and our Keetac iron ore mine.
While X states (as referenced above) that they expected earnings to come in lower than estimated, there appears to be no reference that the Street knew of this earnings miss expectation. In my opinion, this is a total embarrassment for the company and for the analysts who have their clients in this stock.
Is steel a good long play? Probably. Should one buy X? It depends - a non-disclosure of such as large miss is problematic and could point to deeper management issues.
JPMorgan analyst Michael Gambardella continues to maintain the X is a buy with a $46 price target. They explain:
The market was clearly shocked by X's results and guidance since its last release on January 31st. We think the question investors should be asking themselves is, why is X accelerating the spending for its asset revitalization program all of a sudden? What has changed between January 31st when X reported 4Q16 results and today when it reported 1Q17 earnings? Back on January 31st, Trump had just recently taken office. Since then President Trump has been spending more time with industry executives especially X's CEO Mario Longhi to understand the import pressures facing the steel industry. We think that through these discussions, Mr. Longhi has gained confidence that the steel industry will receive significant support from the Trump Administration to limit illegal import supplies, which will create a more stable and more profitable marketplace for domestic steel. We believe this gives Mr. Longhi greater confidence in positive market conditions continuing for longer and thus creates an attractive investment environment now. X has strengthened its balance sheet and pushed out maturities, but the company would not accelerate this many spending programs if they did not have very strong confidence in the stability and longevity of positive market conditions, in our opinion. We believe the steel industry has not seen this type of support from Washington for many years and is encouraged from what they hear, especially on the import supply front.
Poor auto sales data from the major auto makers is hurting X as well. Shares of General Motors Company (NYSE: GM) lost nearly 3 percent and Ford Motor Company (NYSE: F) lost nearly 4 percent.
Gross margins widened from -9.57% to 0.99% compared to the same period last year, operating (EBITDA) margins are now 2.46% from -7.01%. Revenue Growth (%YOY) was 16.4%. Returns on assets and returns on equity continue to disappoint.
With that said, support is approximately 19.52. I would expect a bounce up to $27.66 in the short term and would look to buying June calls slightly OTM accordingly.
This is based, at least partially on, Fibonacci patterns. Fibonacci retracement patterns are a useful tool to identify reversals patterns and direction of a stock. Fibonacci numbers were developed by Leonardo Fibonacci; the idea is simply a series of numbers that when you add the previous two numbers together, you come up with the next number in the sequence. For example: 1, 2, 3, 5, 8, 13, 21, 34…. 1+2=3; 2+3=5, and so on. Traders will use the relationships between these numbers to show the Fibonacci retracements pattern.
Stocks will often retrace a percentage of the previous move before moving up (or down). Fibonacci retracements often occur at three main levels: 38.2%, 50%, and 61.8%. Once the stock pulls back, you can start to chart and watch for a sign of reversal. Of course, nothing is that mechanical, but it does provide one more data point in your trading decision. Generally one will look for a reversal to the 38.2% level. If no support is seen there, one would expect to see support at 50%, if not, then at 61.8%.
We will hit a 100% retracement at 21.70; I believe we will see a reactionary rally at this point. A 38.2% retrace from 21.70 would put the stock at 31.34. However, I would look to see how strong the resistance is at the 23.6% level of 27.66 before looking too far ahead.
Disclosure: I/we have no positions in any stocks mentioned, but may initiate a long position in X over the next 72 hours.
I wrote this article myself, and it expresses my own opinions. I am not receiving compensation for it (other than from Seeking Alpha). I have no business relationship with any company whose stock is mentioned in this article.