A-Team: Background
The A-Team was introduced in early April 2016 with "base prices" determined by the closing prices as of March 31, 2016.
There are ten 10 names that make up the A-Team:
The A-Team as a whole supposes to perform over both the short term (12 months, with a minimum 10% total return target) and the long term (60 months, with a minimum 50% total return target).
The A-Team During April 2017
Earlier this week, we published the first anniversary review of the A-Team. The average total return for the team during the 12-month period (from March 31, 2016, to March 31, 2017) was 37.79%. One month later and the A-Team total return is changing its "area code" from 3 to 4. During April the A-Team crossed, for the first time, the 40% total return mark.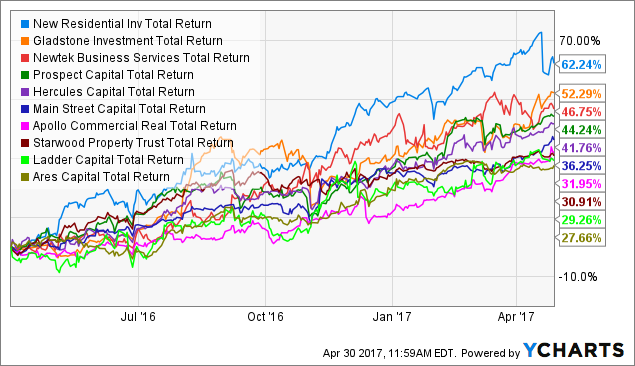 Average total return for the A-Team: 40.33%.
Taking into consideration that at the end of March the total return was 37.79%, it's easy to calculate -- though hard to believe -- that the total return of the A-Team during the month of April alone was ~2.54%. In annual terms that comes to 35.12%, only slightly below the 37.79% performance during the first year. It's hard to believe, but even after one full year of amazing performance the A-Team hasn't lost steam. The performance during its 13th month is almost identical to its average performance during the first 12 months.
Nonetheless, as we wrote in the annual review, we made significant changes during the month of April, reflecting our current views. Some of the changes were strategic, while other tactical.
mREITs: A Strategic Change
As we already outlined in our previous piece, the main change was in regard to mortgage REITs (mREITs). Since Q1 2016, we were very bullish on this segment. At the end of 2016 we declared that we remain bullish, but were not adding to any of the positions. During April we turned even more cautious and we're now neutral, perhaps even slightly bearish, on the segment.
There are six main reasons for our less favorable view regarding mREITs:
Rich Valuation: Using the data from CWMF's "Quick And Dirty mREIT Discounts For April 27th, 2017," the average P/BV among mREITs is now ~102%. At the end of 2015 this ratio stood at ~78%.
Tightening Spreads: As already discussed (and presented) in our previous article, spreads are tightening and, consequently, this is a non-welcome outcome for mREITs. Just as the widening spreads during the second half of 2016 gave a major boost to mREITs' valuations, if this tightening mode isn't a temporary one, mREITs would start reacting (negatively) to it.
New Offerings: Since many mREITs trade these days above their BV -- something that they haven't experienced for a long time -- there's no better time/opportunity to issue new shares than the current pricing/environment. Indeed, AGNC already announced and executed such an offering this week.
HY At Risk: We believe that the entire high-yield space is at risk. The longer the duration, the higher the risk. The correlation between HY prices to oil should also be noted, and oil recently broke below the $50 important level. mREITs are part of the HY space and, while things might vary (greatly) from one name to another, we view mREITs (as a whole) as being under greater pressure than before.
Profitability/Dividend coverage: Increasing (short-term) rates and higher (long-term) yields usually lead to widening spreads that assist mREITs (especially the ones with assets linked to floating rate) to record higher income. The current landscape might imply that mREITs have peaked in terms of profitability and dividend coverage (at least for now). We'd simply rather step aside if the results turn out to be less positive than they have been. It would be hard for mREITs to meet the already-high expectations, and the odds of missing estimates increase. While this might be true mostly for next-quarter earnings, we'd like to position ourselves in advance rather later when it might be (a bit) too late.
Rates/Yields: Although we still see the longer-term trend (of higher rates/yields) as playing out for now, there's no doubt that we are witnessing a pause/consolidation in long-term yields. Add to that recent talk by the Fed of perhaps hiking less than anticipated (not only in 2017 but further down the road) and we get a less encouraging picture for financials.
More than anything, we remain cautious about the market. We believe that for as long as the S&P 500 (NYSEARCA:SPY) keeps trading within the 2320-2405 range, it's wiser not to take additional risks (at the very minimum). Furthermore, knowing that credits are better whistleblowers than equities, we can't ignore the recent major shift in traders' positions when it comes to U.S. debts: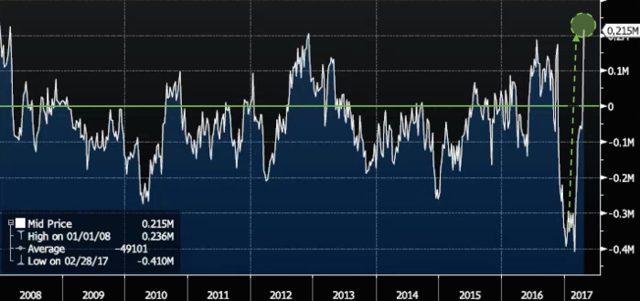 Source: CFTC
The move from a net short position of over 400K contracts to a net long of over 200K contracts isn't only unprecedented, but, as you can see from the above chart, also represents the highest level of net long position since 2008.
Spreads speak fear, Treasuries speak fear, oil speaks fear -- only the VIX speaks euphoria: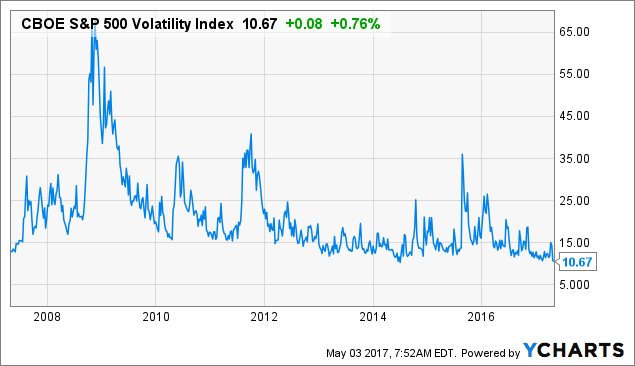 During April, the VIX traded (though only for a short while) below 10. The last time the VIX traded sub-10 was 2007 -- and we all know how that "no fear" period ended.
Specific mREITs Within the A-Team
When it comes to the A-Team, there are four mREITs included in it. Three commercial mREITs (STWD, ARI and LADR) and one hybrid mREIT, NRZ. For each of these mREITs, we identify another three specific reasons on top of the few general reasons that warrant cautiousness when it comes to mREITs.
STWD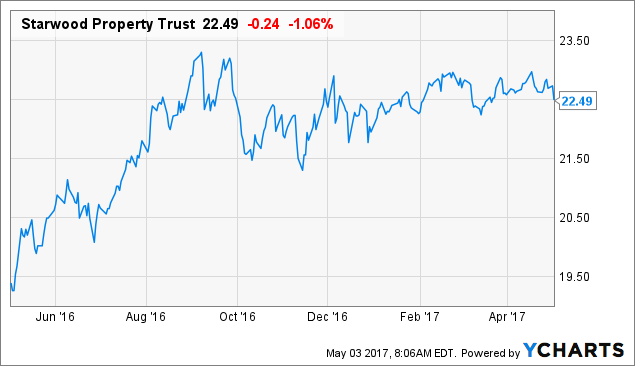 The stock price can't break resistance for a long time.
At the time we sold the position, P/BV reflected an excessive premium of over 25%.
The "underinvested" status doesn't seem to have changed much since the beginning of 2017, putting more pressure on the profitability and the company's coverage of the dividend.
ARI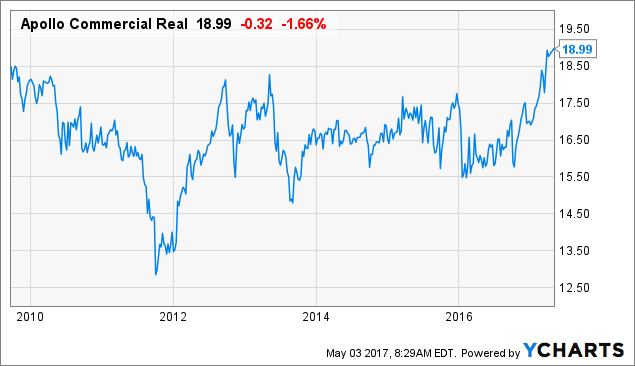 The stock price never traded that high before. Never!
The stock price hit our sell price rating.
At the time we sold the position, P/BV reflected an excessive premium of over 20%.
LADR
At that point, we decided that LADR was creating too much noise -- and not necessarily positive noise. More noise = more risk, and more risk requires a wider margin of safety. At the ~$15 price LADR reached, we simply saw very limited upside and much more downside, if the noise did indeed turn out to be negative. We like the stock and we haven't changed our basic view here. It's simply a matter of risk/reward; the ratio that was skewed toward reward is now (in our opinion) skewed toward risk.
Most analysts have a PT of 15-16. Let's take 15.5 as an average. We see little justification for holding a stock with ~3% upside potential (from 15 to 15.5), while the downside is far greater should things not work out almost perfectly for this name.
NRZ
Unlike the three other mREITs, NRZ is a different story. We still like it and we still see upside potential to it. Nonetheless, the ongoing saga with Ocwen (NYSE:OCN) (which is expected to last even longer; more details have been shared with our premium service subscribers) as well as the recent purchase of a stake in OCN are, once again, a bit too much noise. Some might say it's the same noise that comes from LADR, but we disagree. While LADR's risk/reward profile has changed, NRZ's profile remains strong. Therefore, while the decision to cash out of LADR is strategic, with NRZ it's only a tactical move.
We temporarily changed our approach to NRZ from a long-term holding into a short-term trading vehicle. Over the past month we traded in and out of NRZ a couple of times, and, consequently, we no longer include NRZ among our positions because this might vary from day to day and we don't want to mislead anyone.
We have made several changes to our BDCs holdings, too, but this is not as fundamental/radical as the change we made when it comes to mREITs. We hope to write another article that will touch on BDCs (in general) with an emphasis on the ones within the A-Team.
Generally speaking, the A-Team has been nothing but joy, a great source for both returns and power. Nonetheless, just like Benjamin Parker (Uncle Ben) tells Peter Parker (Spider-Man): "With great power comes great responsibility." At this point in time, we feel that it would be irresponsible from our side to raise the warning flag -- even if this time around the warning aims at our beloved A-Team.
Disclosure: I am/we are long GAIN, PSEC, NEWT.
I wrote this article myself, and it expresses my own opinions. I am not receiving compensation for it (other than from Seeking Alpha). I have no business relationship with any company whose stock is mentioned in this article.