Despite the economic and political turmoil engulfing the EU, Germany is currently living a period of strong relative economic performance. GDP expanded at the fastest pace in five years in 2016, clocking in at 1.9% and above expectations of 1.8%. GDP grew 0.4% MOM in Q4 2016 and the momentum is projected to carry on into Q1 2017, with GDP expected to expand 0.7% QOQ.
The strong economic showing has not failed to strengthen the labor market. The unemployment rate now sits at a 26-year low of 5.8% in March 2017, below the 5.9% registered in February. Since 2006 the number of registered unemployed people shrunk by almost 50%, from 5 MLN to less than 2.7 MLN today: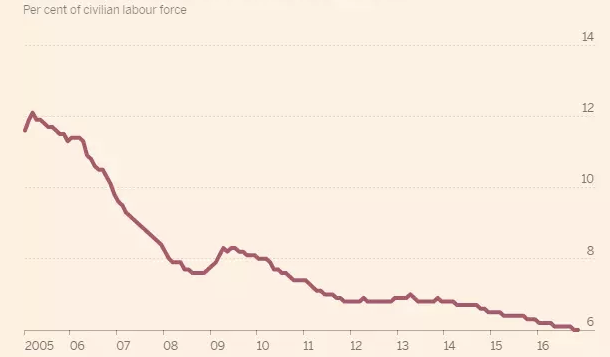 More and more Germans are part of the labor force, which has expanded to 43.5 MLN individuals, higher than at any time since the country' s reunification in 1990: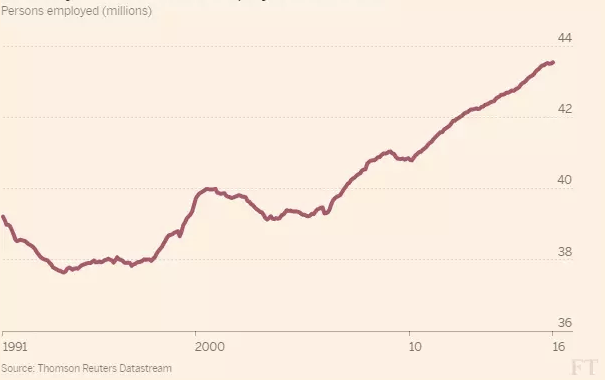 The fiscal situation remains likewise strong, as 2016 was the third successive year the German government did not borrow money. In Q1 2017 federal tax revenues increased by 6.8% annualized, more than double expectations of 2.9%, on the back of strong business activity in the corporate sector. The government budget registered a surplus of€23.7 BLN in 2016, close to 1% of GDP: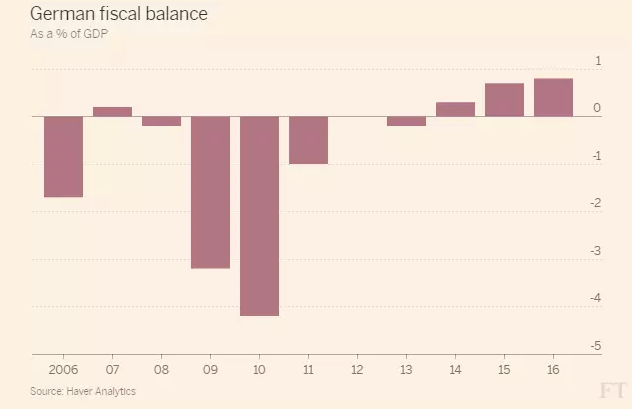 Despite the overall picture of strength, there are indications that growing inflationary pressures and the ongoing weakness of the Eurozone may derail this trajectory of Germany' s performance. The purpose of this paper is to see how sustainable this generally positive economic situation is going forward for the remainder of 2017. Particular attention is given to Germany' s large export market, inflation trends, the diverging performance of the German economy vis-à-vis the rest of the Eurozone and current real estate price trends.
The German Export Sector
Germany continues to be the EU' s export powerhouse, with€1.34 TLN in exports in 2016, or more than 76% of the Eurozone' s total of€1.746 TLN. The figure was up 0.8% YOY. Exports are fundamental to the economy, representing 47% of GDP in 2015, an all-time high: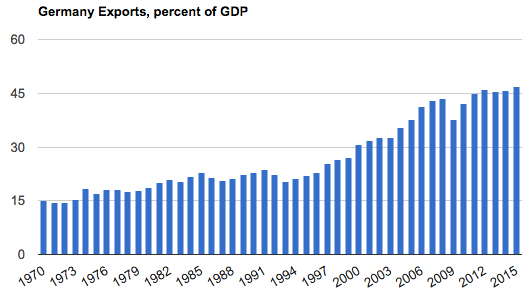 The balance of trade surplus reached an all-time high of€252.9 BLN in 2016, eclipsing China' s and becoming the largest in the world: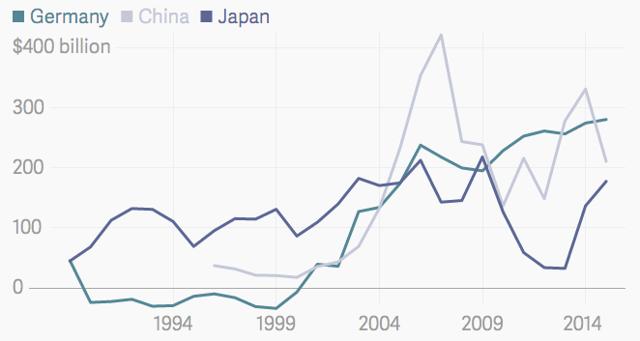 The trailing 12-month trade balance was€250.4 BLN in February 2017, up from€249 BLN in January. German exports increased 3.1% YOY to €102.3 BLN in February 2017 while imports rose 3.7% to€82.4 BLN. Germany' s current-account surplus (the sum of the balance of trade, net income from abroad and net current transfers) touched a record €270 BLN in 2016, about 8.7% of GDP. The Eurozone (ex-Germany) had a current account surplus of 3.4% of GDP the same year. About 65.6% of German exports by value are sent to other European countries, primarily in the engineering, machinery and chemical sectors.
Despite the weakness of the Eurozone economies, which would seem to be a hamper to German export growth, emerging markets and other non-Eurozone countries are increasingly picking up the slack. Germany exports to China have risen from approximately $40 BLN in 2007 to over $100 BLN in 2015. China overtook the USA as Germany' s largest trading partner (in terms of total value of exports and imports) in 2015. Moreover, 44% of Germany' s trade surplus is attributable to exports to the USA and Great Britain. Stronger business confidence in emerging markets promises well for German exports: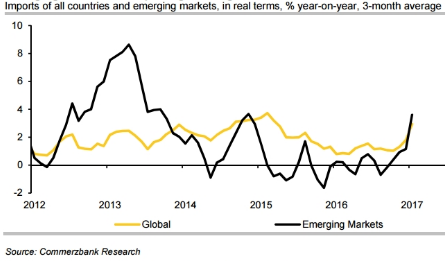 German businesses remain upbeat about both domestic and international conditions. The German IFO business climate index in March 2017 touched 112.3 points, the highest level since July 2011. Data beat analysts' expectations for a slight rise to 111.1 for the month.
The German Real Estate Market
German real estate has performed strongly in the past 5 years after almost 20 of permanent stagnation. Following the country' s reunification in 1990, new real estate taxation laws led to a surge in housing construction and an eventual glut in supply, especially in Berlin. The result was a prolonged period of low real estate prices, with the highs of 1994 eventually surpassed only in 2011: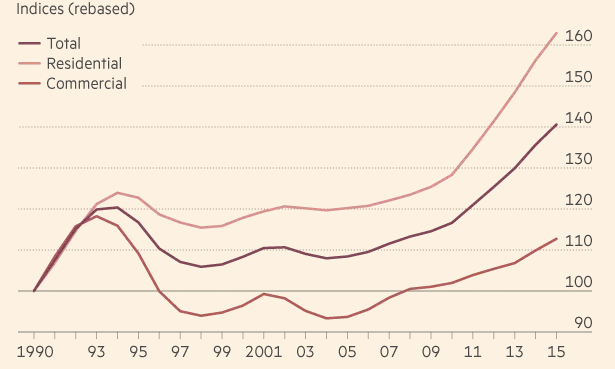 As a result of lower interest rates, bringing down mortgage costs, and economic dynamism, real estate prices have began to rise significantly in 2007. The greatest increases have been in cities such as Munich, with prices almost doubling between Q3 2016 and Q3 2016, with other strong showings from Berlin: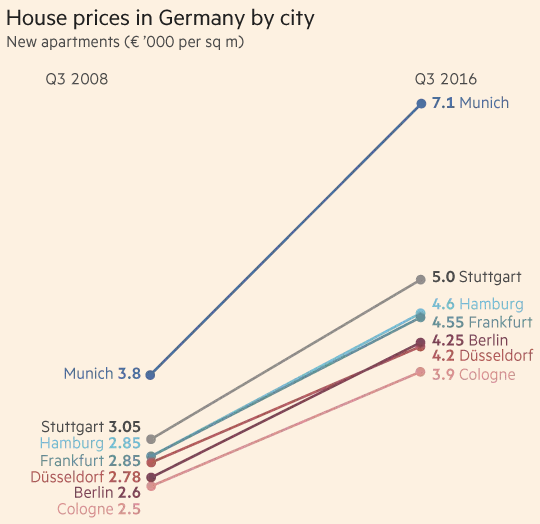 The trend remains in place. Nationwide, property prices rose 5% YOY in H1 2016, with Berlin taking the lead with a 13% YOY gain in 2016. Residential housing vacancy rates in Munich remain at all-time lows of 0.2% for 2016.
The mortgage market is increasingly driving prices upward. German rates are now the 4th lowest in the world, with 15-year fixed rates down to 1.9%. At the same time, home ownership rates are among the lowest in the developed world at 52% (compared to 65% in France, 73% in Italy and 64% in the USA). With rents increasing 4.8% YOY, the highest figure in 20 years, renters are increasingly turning into home buyers as payments are increasingly affordable.
Furthermore, the real estate market could be partially immune to higher interest rates due to the frequency of long-period fixed-rate mortgages. Date from the Bundesbank shows that 45% of new mortgage borrowers in 2016 will not experience any rise in payments until 2026. This could give stamina to the real estate boom and avoid scenarios like those of the USA in Ireland in 2008.
The German Inflation Issue
German consumer price inflation has been steadily on the rise since a brief parenthesis of deflation in April 2016: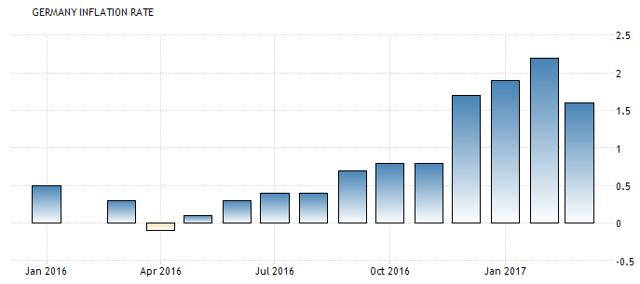 Figures for March 2017 showed an increase of 1.6% YOY, down from 2.2% YOY in February and down 0.3% MOM. Unlike consumer inflation, producer price inflation remains on the rise. The German manufacturing sector is experiencing the effects of increasing energy costs. Prices were 3.1% higher in March 2017 over March 2016, driven up primarily by the higher cost of oil which was up 4.5% MOM. The inflation rate is the highest since December 2011 and above the 2.3% of February 2017: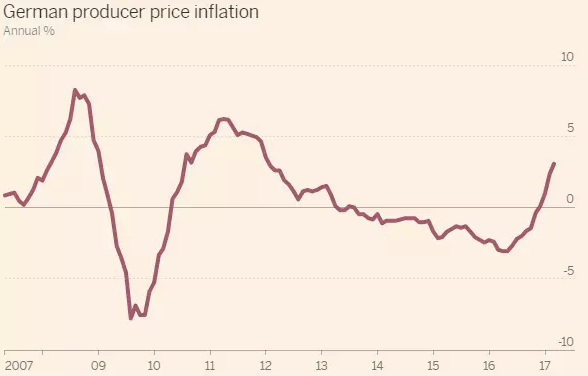 Inflation is also beginning to diverge from Eurozone figures, with the core rate falling to 0.7% YOY in March 2017 compared to 1.12% for Germany in the same period.
Part of the cause of this inflationary spike is the good conditions of the labor market. German wage growth remains the strongest in the Eurozone, at 2.9% YOY in Q4 2016 or almost twice the Eurozone rate. Wage growth remains stronger than the average of 2006-2016, when Germany was deliberately following a policy of wage suppression, counterbalanced by strong corporate profits. Wage Growth in Germany averaged 0.81% from 2006 until 2016 compared to 1.76% for the Eurozone in 2009-2016. The continuation of wage growth could increasingly bring German to curb its continuous surpluses and gradually consume more of its giant productive output. The evidence of this occurring is however yet to be seen in full.
Germany & The Eurozone Economies
German economic performance continues to diverge from that of the rest of the Eurozone. The result is increasing tensions regarding the management of the ECB' s interest and monetary policy. The Eurozone' s 0.4% YOY GDP growth for Q4 2016 compares unfavorably with Germany' s 1.2%. The latest unemployment numbers for Italy and France, at 11.9% and 10% in Q4 2016 are almost double the sub-6% level achieved by Germany in Q1 2017.
The ECB monitors closely wage growth in the Eurozone as, in the words of ECB President Draghi, it constitutes the basis of" a self-sustained increase in inflation". The weak wage growth of the Eurozone, Italy and France foremost, however continues to put a lid on inflationary pressures. While overall Eurozone wage growth was 1.6% YOY in Q4 2016, the performance of the 2nd and 3rd largest Eurozone economies continued to languish, with figures of only 0.2% and 0.3% YOY respectively in Q4 2016. With Germany reporting 2.9% YOY in Q4, the divergence remains significant.
Conclusion
The German economy remains strong on most fronts, although its strength is starting to be at odds with ECB policy and continues to diverge from the rest of the Eurozone. The most likely scenarios for the rest of 2017 are:
1) The real estate market remains robust and there are positive political tailwinds. With parliamentary elections coming up in, more and more political forces are willing to promise social measures to help electors, especially younger ones, get on the property ladder. Advisors to Angela Merkel within the ruling CDU party are already promising to give subsidies of up to€20,000 to families struggling to purchase real estate.
2) Inflation continues to be problematic at a political level. With the highest showing in the Eurozone, German politicians will put pressure on the ECB to adopt a more restrictive stance. In December 2016, the ECB however promised to continue its expansionary monetary policy at least to the end of 2017. With stagnation in Italy, Spain and France continuing, the ECB is likely to keep its promise. Inflationary pressures are likely to persist in Germany.
3) Exports remain robust but the trade surplus ceases to grow. With strong wage growth and falling savings rates, Germans will be more willing to purchase imported goods. At the same time, emerging market conditions are improving with an increased appetite for German goods. Exports are therefore likely to remain strong with imports picking up, reducing the German trade surplus. Although this will temper German GDP growth, it is unlikely to reduce the differential with the remainder of the Eurozone. In the longer term, if German wage growth remains strong, more and more of the surplus will turn into consumption, which will temper surplus accumulation. This, in turn, will also temper differences with the deficit-producing countries of Europe and lead to more political cohesiveness within the EU and economically with regards to ECB policy.
Disclosure: I/we have no positions in any stocks mentioned, and no plans to initiate any positions within the next 72 hours.
I wrote this article myself, and it expresses my own opinions. I am not receiving compensation for it (other than from Seeking Alpha). I have no business relationship with any company whose stock is mentioned in this article.
Additional disclosure: None of the model portfolios at www.HedgedEquity.com have a position in German ETF. The use of this article is for educational and informational purposes only. NOT investment advice. None of the material presented in this article should be construed as investment advice (neither direct, explicit, or implied). It is strongly suggested and recommend that you do your own due diligence and/or consult a qualified financial advisor for any investment advice based on your situation.