Thesis: Transglobe Energy (NASDAQ:TGA) is a small cap exploration/development company with assets and exposure in Egypt. The shares had been quite undervalued for investors seeking to participate in the oil price recovery. However, a review of the company shows a different risk profile, including losses, no dividend, and less margin of safety.
Oil:
Transglobe is going to trade with a significant correlation to the price of oil, so investors need to believe in a recovery in the price of oil or have a large enough margin of safety in the shares to be willing to wait for a recovery in the price of oil.
I don't believe in trying to predict commodity prices, and unfortunately, at the current time, there is not enough margin of safety in Transglobe shares.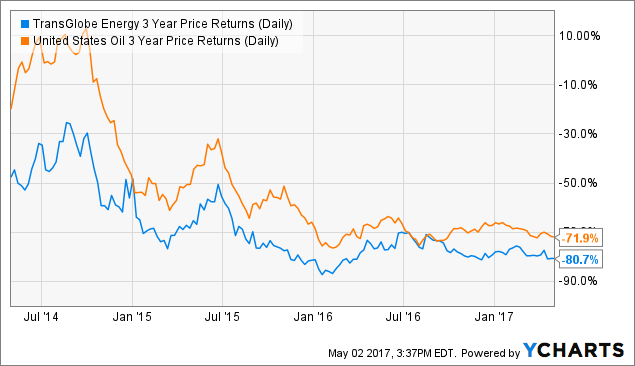 TGA 3 Year Price Returns (Daily) data by YCharts
Valuation:
Unfortunately, as the price of oil has come down and stayed down, Transglobe has been unprofitable.
Losses in 2015 ($1.44)
2016 ($1.21)
2017 Estimates of (.01) (MarketSmith)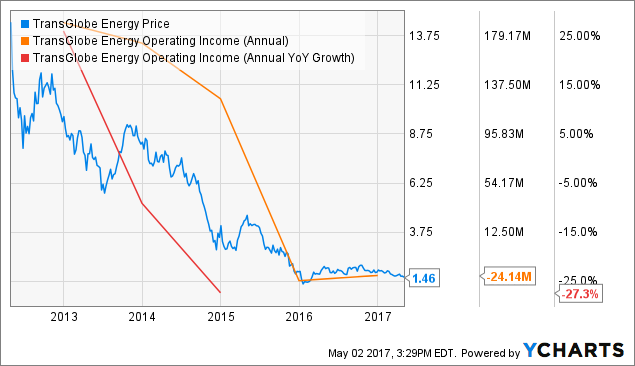 Liquidity:
As we see, the drop in oil has taken a toll on the company's ability to generate cash flow. And, even though the shares have come down substantially, the debt levels are quite high for a smaller company (~$105M market cap).
Dividend:
As the cash flow has dropped, the company has cancelled the dividend.
Cash/Current Ratio:
Transglobe shares' .84 current ratio (cash and liquidity) is insufficient to make them attractive as a value investor. I would want to see a current ratio of at least 2x with positive earnings. And, unfortunately, we no longer have that in the valuation of the shares. In addition, the negative cash flow is unattractive as well.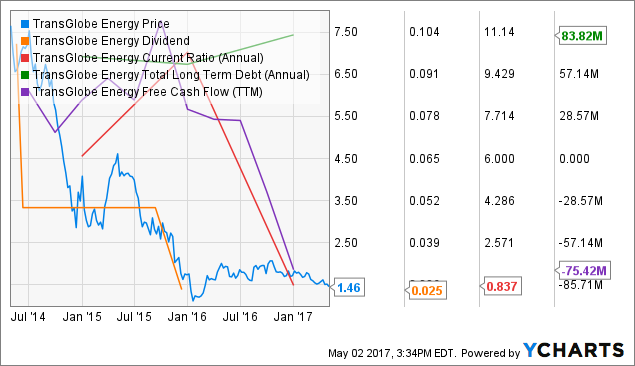 Margin of safety:
As we see, TGA had a much stronger balance sheet and liquidity in the past few years. Additionally, the company offered its investors a healthy dividend and yield. Unfortunately, these positive attributes are not offered by today's valuation. And therefore, the risk profile is higher, and the margin of safety is lower.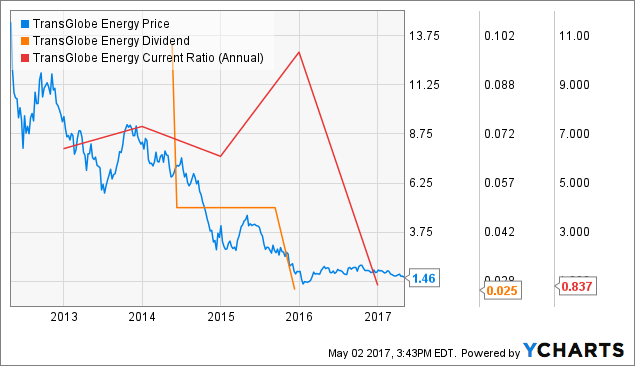 Technical Overview:
As we see, Transglobe has had a deep slide corresponding to the price of oil and earnings losses over the past few years. Additionally, we see that institutions have been net sellers of the shares and been reducing exposure.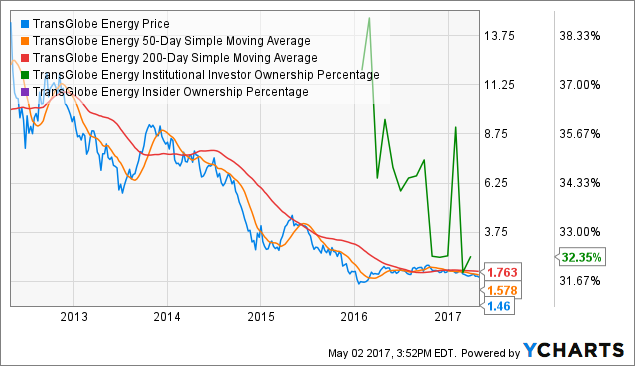 Oversold: The potential positive for the company would be if the company could deliver positive news. The shares are very oversold on a technical basis, and a move above either $1.578 and later, $1.763 would be very positive, especially on high volume.
That would be the result of either positive news, a jump in the price of oil, or earnings.
Risk: Geographic
As a company that generates a significant portion of revenues in "dangerous" locales, the shares need a large margin of safety not only for the risk associated with the price of oil but also due to the company's asset concentration in less stable countries like Egypt.
Risk/Small Cap:
The shares have a low market cap ~$100M. This raises volatility and makes it harder for the company to attract institutional buyers and Wall Street research coverage.
Conclusion:
Without stable earnings, greater liquidity, and a dividend, the shares of Transglobe are not attractive enough for conservative investors at this time. A margin of safety is needed in the shares due to the risk associated with the price of oil and the risk associated with having assets in less secure locations. On the positive side, the shares are deeply oversold and would respond well to positive news like higher earnings or an increase in the price of oil. For now, investors should wait until TGA has the requisite margin of safety again.
Subscribe for more analysis and ideas.
Disclosure: I/we have no positions in any stocks mentioned, and no plans to initiate any positions within the next 72 hours.
I wrote this article myself, and it expresses my own opinions. I am not receiving compensation for it (other than from Seeking Alpha). I have no business relationship with any company whose stock is mentioned in this article.