In today's piece, I am writing to share my attendance at Famous Dave's (DAVE) annual shareholders meeting, held at its corporate HQ at 3 pm CST yesterday in Minnetonka, Minn. This event, and attendance to it, was open to any public shareholder on record as of late March 2017. In today's piece, I will in excruciating detail walk the reader through my trip and the play by play of events. I have been investing since high school and this is my first shareholders event that I have ever attended in person. It was a great experience, and despite only being on the ground in Minnesota for eight hours, it was well worth the time in the air and associated joys of traveling to attend. I highly encourage readers and contributors to partake in these type of events, as it adds a new dimension to your research and thought process.
Specifically, this piece will cover a lot of terrain, including my visit to two Famous Dave's restaurants, including its flagship store in Calhoun Square. It will discuss the formal and written commentary by Famous Dave's Non-Executive Chairman, Chuck Mooty, and CEO, Mike Lister. And finally, I will discuss the Q&A and my conversation with management.
As I put down on paper my thoughts, it is now 5:18 am and I got back from Boston's Logan International Airport only 3.5 hours ago. I am writing to share some most excellent news from my trip to Famous Dave's annual shareholder meeting that took place at its corporate offices yesterday at 3 pm CST in Minnetonka, Minnesota. For context and perspective, my Dad and I collectively own 12,500 shares of Famous Dave's, with a cost basis of roughly $6.30 (on a blended basis). Also, if you haven't done so already, please read my fairly detailed article: Famous Dave's Adventures in Capitalism, published March 27, 2017.
Despite our family's very busy schedules, with two young children, my wife's job working for a Tier 1 investment bank and my full time job, given the sizable position my dad and I have in shares of Famous Dave's, I made it a point to make it out to this meeting. I wasn't sure what to expect or how I would be received, given some of my prior articles that had a bit of a challenging tone and demanded action from management. Let me share my trip with my readers.
I was up at 1:30 am yesterday as I was driving my parents to the airport to catch their 5 am flight. My flight departed Boston's Logan International Airport at 7:30 am.
As I was dropping my parents off at the terminal, this SUV was parked in front of the curb that had this license plate "ADV LIFE". As I snapped this photo, with the owner's permission, it was 3:30 am in the morning, but this was a god omen that the travel gods were with me on this adventure.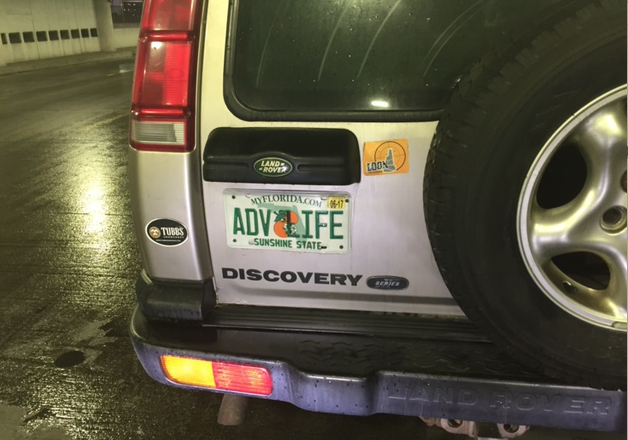 After parking at Central Parking and moving through airport security (actually a pretty long line at 4 am), I arrived at the Southwest terminal at 4:44 am. After a three-hour flight, we landed in St. Louis, and yes, I saw the Golden Arches during the flight's descent. During the second leg from St. Louis to Minnesota, I met a very nice Sales Executive from a publicly traded company Catalent Inc. (CTLT) who happened to sit next to me, as this flight was 100% full. We got talking and she described her company. I was fairly intrigued by her description of Catalent, so it is on my list of companies to research. I will share my research findings in a future piece, as there are no accidents in life, and the Peter Lynch in me couldn't help but ask her a bunch of questions about her company. Anyway, I landed in Minneapolis/St. Paul airport at 11:40 am CST. By the time I got my rental car and drove out to Calhoun Square to meet what turned out to be a very nice young hedgie, it was nearly 12:45 pm.
Enclosed below are some pictures from the Famous Dave's at Calhoun Square. It was sunny but only 50 degrees at that point in the day, so too cold to eat at the outdoor tables.
The Calhoun Square location is over 10,000 square feet and has a big stage, where there is live music played six nights a week. Our waitress was very nice and said that a Prince cover band had played there on two occasions since his premature passing. She said it gets busy at night, especially with the live music and more popular bands/ musicians.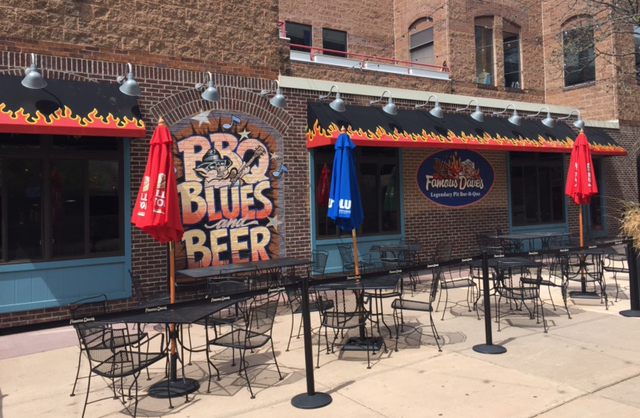 Here is another picture of a different side of the building.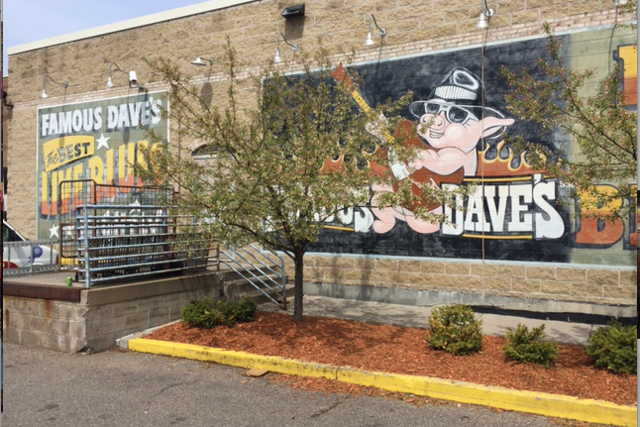 I wasn't worrying about calories on this visit. As I am not sure of the next time I will be back in Minnesota, I went all out. The food was just as tasty as I remembered it being during my meal at the Famous Dave's in Scarborough, Maine, many years ago. My new hedgie friend also commented that his food was excellent and that he and his wife enjoy eating at Famous Dave's.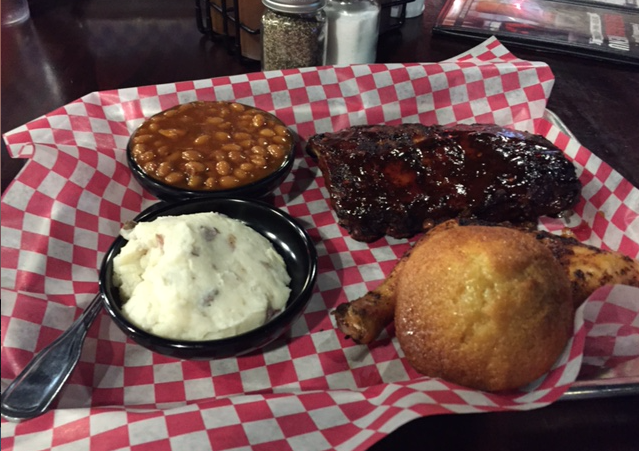 Here is a picture inside the Calhoun Square location. I would have gotten a picture of the stage, but there was a large flat screen TV blocking the view, so the picture wouldn't have come out well.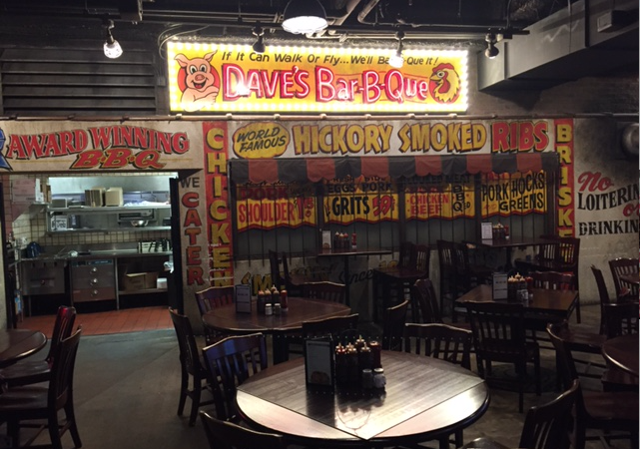 After a delicious meal at Calhoun Square, I spent about twenty minutes walking around the area to get a sense of what kind of foot traffic this Famous Dave's might get during peak hours. And by the way, my new friend said that at night, especially on Thursday, Friday, or Saturday, Calhoun Square is a hip place for millennials.
It is hard to describe Calhoun Square, but I would say, it is the kind of place for urban hipsters with a combination of a college town and artists city vibe (almost like a Northampton, MA, but less hilly, larger, and more commercial). The stores in the area indicated folks there have some disposable income, yet I did notice some vacancy signs sprinkled in, perhaps a sign of the times for the retail industry.
Here are two more pictures of Calhoun Square: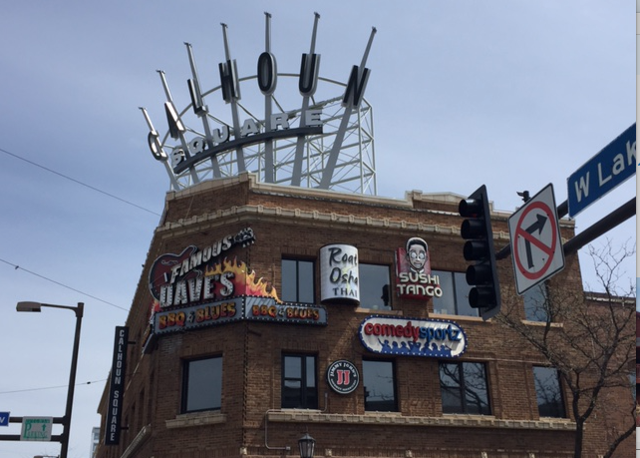 There is an Apple (AAPL) Store very nearby, so clearly this is a good spot, as Apple is excellent when it comes to finding prime real estate.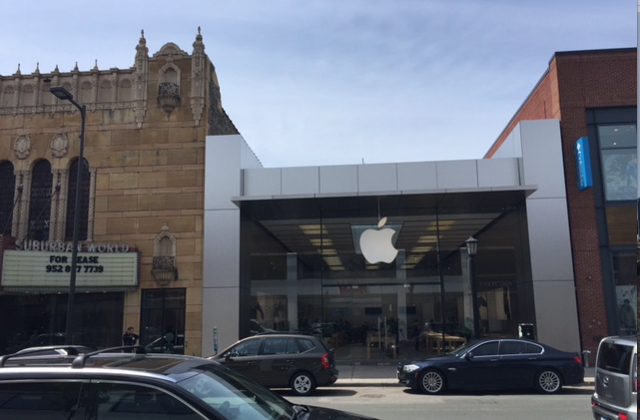 I disembarked from Calhoun Square and arrived at Famous Dave's headquarters in Minnetonka, Minnesota. The building is in a big office park where half a dozen major Fortune 500 companies have offices. When I arrived, Famous Dave's C-Suite - including its newly appointed Non-Executive Chairman, Charles Mooty, the current CEO of Jostens Inc. and former CEO of Dairy Queen (now owned by Berkshire Hathaway (BRK.A) (BRK.B)) (please see his biography), Mike Lister, the CEO, and Dexter Newman, CFO, were there to formally shake hands and thank shareholders for attending. A few Famous Dave's Board Member were also physically in attendance, and the other board members were listening in via phone. I was one of maybe ten shareholders in attendance.
Here is where the magic happened. During Mr. Mooty's prepared remarks, he said the following about Famous Dave's key priorities:
A) Improve top line sales and same-store sales.
B) Create a new sense of urgency to refranchise Famous Dave's - the number of company-owned stores now stands at 33. There is/will be a diligent effort over the next 12-24 months whereby Famous Dave's best franchisees and management will actively try to structure deals similar to the one done in Chicago, IL, when Elliot Baum took over the 7 then company-owned stores in the Chicago region. As they identified during their Q3 2016 conference call, DAVE's management targeted 11 out of the then 37 company-owned stores for possible closure, as these have been consistent underperformers and unresponsive to new initiatives rolled out during 2016. True to management's action plan, as of yesterday's May 2nd press release (which I learned about after the formal meeting was over), they have already closed four company-owned stores.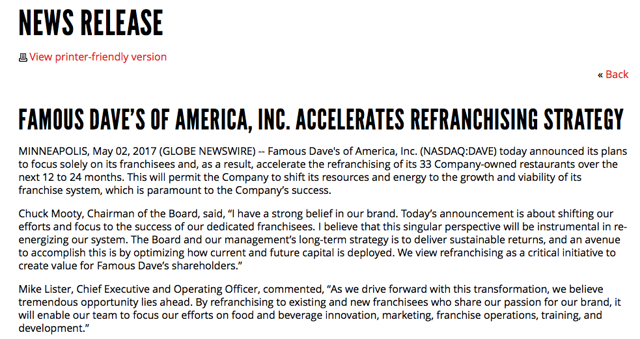 Source: Famous Dave's.com
C) The C-Suite and the Board have formally agreed that in order to reignite brand interest and entice new franchisees to open new locations, the following elements are required: A new model with an emphasis on the best unit economics including: a smaller square footage footprint and design, simplified menu, and an openness to more of a fast casual concept/design.
D) Lastly, Mr. Mooty was candid about Famous Dave's recent ups and downs, but he is a long-term believer in the strength of the brand and quality of the food, and that is what motivated him to accept the Chairman role.
Next, the mic was passed to Mike Lister, Famous Dave's CEO, and longtime executive member. Mr. Lister and his business partner (along with families) have successfully run five Famous Dave's franchises in Tennessee (here is website to the Tennessee locations) since 2001.
A) Mr. Lister gave some background context on his lengthy time with the company since 1997, holding various leadership roles until he become a franchisee. He said he and the board are in agreement that they need to eventually just operate a franchiser model and spent their time, resources, and effort supporting the franchisees to be more successful and help compete and thrive in a challenging current casual dining landscape. He used the specific words "Value, Taste, and Pace" as their new mantra.
B) In terms of specific action items, he said testing online ordering was well under way given how popular Famous Dave's "To-go" and Catering businesses continue to be. Hopefully, he said, this can be rolled out by Q4 2017 across the system.
C) Next, he discussed ongoing consumer research to gain guest insights, food innovation to drive traffic and brand excitement, and specialty cocktails testing (that have been successful). He was candid and said that beverages are an area of low hanging fruit as Famous Dave's needs to improve its beverage offering to enhance the guest experience.
D) Next, he said for the first time ever, they will have a national roll out called "Smokin' Deals" where Sunday-Thursday they will offer consistent value pricing options to drive customer traffic.
E) He also talked about more pedestrian blocking and tackling items like labor model scheduling efficiencies, SKU reductions, and kitchen processes streamlining.
F) Finally, and this is super important, he acknowledged that Famous Dave's SG&A expenses were too high and that they are thoughtfully and actively reducing these expenses to match the level of current sales.
Q&A
In terms of the Q&A, I asked if the refranchising will be structured like the Illinois deal. My follow up was: Will you ensure that the new franchisees take over the operating leases as a condition to the deals?
Management's response was that it will vary deal by deal, location by location, and situation by situation, but that they are inclined to strike win-win deals with existing high performing franchisees, prospective franchisees that are well qualified, and/or open to existing managers teaming up with investors to do a deal for one or a few restaurants. They noted that these long time managers and operators are experts on the inner workings of those respective locations, and that they have formed strong relationships with the local patrons.
One shareholder asked about Adam Wright's departure. Mr. Moody said that the board felt they needed someone with more hands-on restaurant experience to lead the charge, especially given Mike Lister's experience as a long time and successful franchisee for sixteen years.
Another shareholder asked about the U.A.E. franchisees. Management said a strong operator has now opened two units and that everyone is pleased with the partnership. However, the Middle East isn't their core strategy for growth.
Another shareholder asked about Buffalo Wild Wings (BWLD) and improving the bar and beverage offering. Management acknowledged and articulated that improving Famous Dave's beverage offerings is a key initiative - and pointed to the cocktail testing as a case in point.
Finally, another long time shareholder explained how his church had an event catered by Famous Dave's and said the feedback on the food quality was outstanding. He also raved about the key lime pie and wanted the recipe. (The vast majority of Famous Dave's offerings are made in-house from scratch and are fresh.) Management was pleased with the feedback and said they are focused more on local marketing and spreading the word about Famous Dave's again to new groups of prospective customers in order to broaden its addressable market.
After the Q&A was completed, they made themselves available to anyone who had any follow-up questions. This was great, as I was able to speak directly with Dexter and Mike, as well as a senior member of the Famous Dave's staff (he had previously worked for the largest shareholder, Wexford Capital). Besides being able to look these executives in the eye and size them up, I learned, from the subtext, that in the past they may have over expanded during the bigger growth periods in days past. My sense is that they dropped the ball on real estate site selection. However, they have done the root-cause analysis and are now well aware of this oversight and have corrected this blind spot. The rest of the conversation was good, more small talk in nature, and lasted upwards of ten to fifteen minutes.
Then I had to dash to visit the Minnetonka Famous Dave's and order some "to-go" food before I caught my 7:30 pm CST flight back to Boston (with an 80 minute stopover in Chicago's Midway - and by the way, as an aside, Midway was bustling with people at 9 pm CST - I am not sure people are right that the U.S. economy is slowing down).
Here are two pictures from my visit to the Minnetonka store.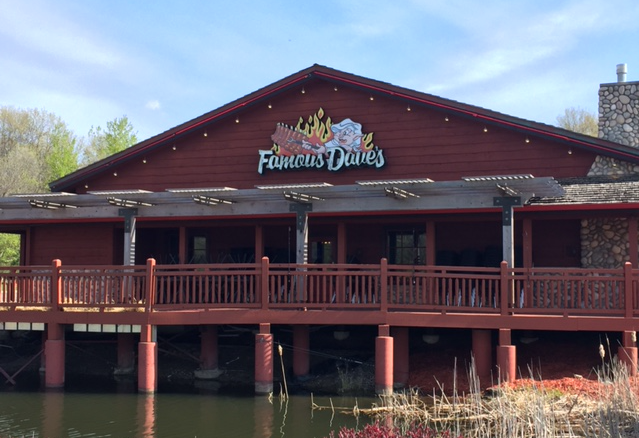 Below is a picture of the interior. This store has a log cabin and Americana feel. There is a trophy collection from BBQ contests that founder Dave Anderson and key smoke master won in years past. The bartender that took my "To-go" order was super friendly and we talked about Minnesota sports and I asked about his perception of the New England Patriots. The food was ready in a reasonable amount of time (less than ten minutes) and for a nice "To-go" meal, with a choice of two meat, one side, a corn muffin and a water, it was only $11.55 with tax. The food was again excellent and the box it came in was well constructed and designed to keep it warm - and I hit a fair amount of rush hour traffic (nothing like Boston, but heavier than I expected). I arrived back home, safely, at 1:42 am EST, today, March 3rd.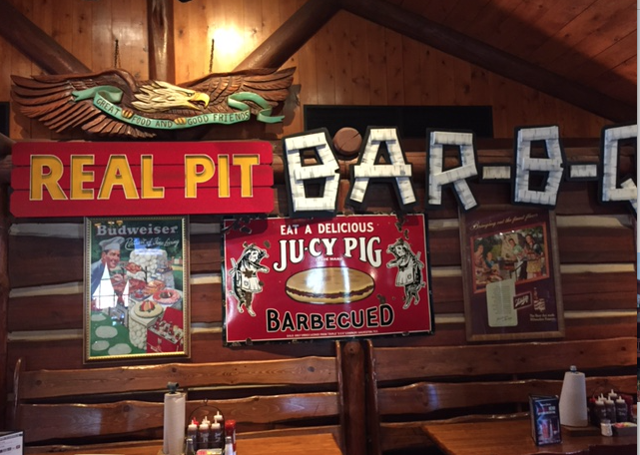 Takeaway
My faith in my thesis and the Famous Dave's brand is at a new high. It was surreal as Mr. Mooty and Lister read and articulated their new action plans. At that time, I didn't know about the 3 pm CST press release, as I was navigating traffic and trying to make it to the meeting on time. It was as if management had actually read my action plan items from the March 27th "Adventures In Capitalism" piece. Incidentally, whether or not they read my piece, it is quite clear that the company now has a credible turnaround strategy.
This was literally music to my ears, and my Dad and I are contemplating buying more shares over the next few days, as at $4.10 this stock is stupidly undervalued. Mr. Market is current in a pessimistic model and offering a low price for DAVE shares that doesn't factor in the inherent new upside optionality into its current $35 million enterprise valuation. Anyway, as I promised, as I have been very early when it comes to recommending this stock, and buying it ourselves, as we eat our own cookin' when it comes to investing - so I wanted to get out my analysts notes out to my readers straight away. Moreover, I am happy to answer any questions within the comments.