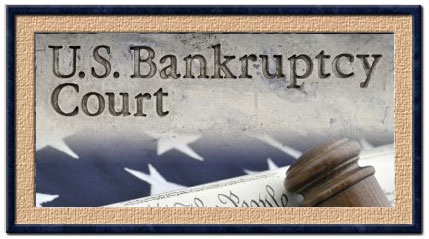 Investment Thesis - Ocean Rig (NASDAQ: ORIG)
Since my sell rating on April 03, 2017, the stock has dropped down from $0.35 to $0.25, a 29% drop. On May 01, 2017, ORIG stock shot up as much as 40%. The company has about 83 million outstanding shares. On March 28, 2017, the company filed for bankruptcy to pursue a debt-for-equity swap with lenders. Since then, the stock has dropped from about $0.75 to $0.25, a 66.6% drop. I expect the company's plan of reorganization will cancel the existing equity shares. Based on the company's latest balance sheet, the common shares are worth almost nothing. It is most likely that the common shareholders will get nothing from this restructuring.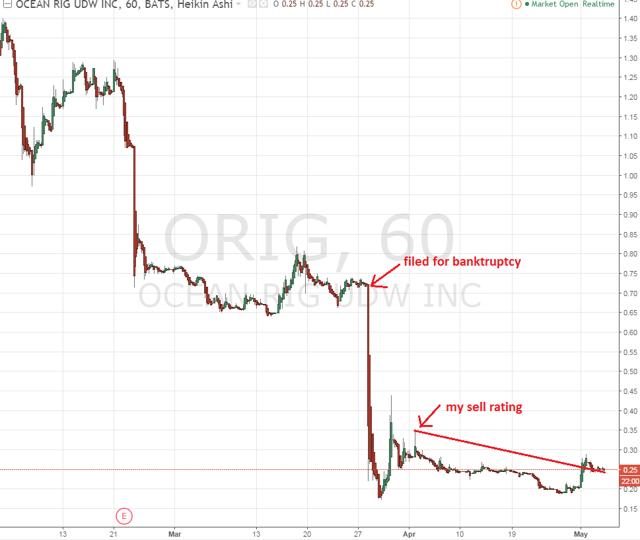 Source: Tradingview (notation was added by author)
What was the reason for the spike?
I don't see any positive news related to this spike. In fact, we shouldn't expect any positive news, seeing as this company is restructuring. As we can see from the chart below, the volume is almost double. There is a possibility this could be just a "pump and dump."

Source: Yahoo Finance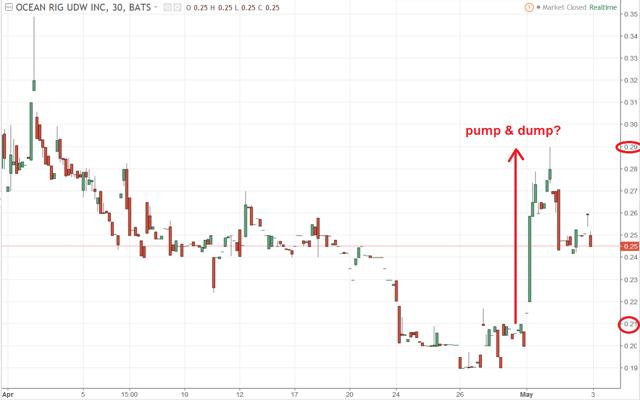 Source: Tradingview
Management
The management has a negative reputation in the industry. The CEO often sign deals with his private companies and then charges various fees (or issue shares), i.e., consulting fees. Of course, he discloses it in an SEC document and says that this may create conflicts of interest. Below are a few private companies that are controlled by the CEO:
Cardiff Drilling Inc
Vivid Finance Ltd
TMS Offshore Services Ltd
Azara Services S.A.
TMS Tankers Ltd.
The CEO's other company, DryShips (NASDAQ: DRYS), raises money through death spiral financing. The company issued close to $1 billion worth of new shares and performed six reverse splits within a short period of time and eliminated thousands of small investors. The CEO accords no respect to common shareholders.
De-listing Notice
The company received a de-listing notice from NASDAQ because the closing bid price of the company's common stock for 30 consecutive business days, from February 23, 2017 to April 5, 2017, was below the minimum $1.00 per share. The company reacted to the notice and said the following:
The company intends to monitor the closing bid price of its common stock between now and October 3, 2017 and is considering its options, including a reverse stock split, in order to regain compliance with the Nasdaq minimum bid price requirement. The company can cure this deficiency if the closing bid price of its common stock is $1.00 per share or higher for at least ten consecutive business days during the grace period.
The Stock is Worthless
As I mentioned in my previous article, if the total liabilities exceed total assets, the stock may be worthless. According to Ocean Rig's latest annual report, ORIG had 82,586,851 shares outstanding as of December 31, 2016. The company had positive shareholders' equity of $10,750,000, which tells us that the stock is worth about $0.12 ($10M/82M). If the company issues additional shares during the restructuring, the book value per share will decrease further.
Conclusion
The company recently increased its authorized share count to 1 billion. It is clear that they are going to issue millions of new shares. The dilution will make the existing shares worthless. According to the report, under the restructuring plan, the company is to slash $3.7 billion in debt from its books by issuing new shares. The existing shares will most likely be cancelled. I am really surprised that the stock is still trading on NASDAQ even though they filed for bankruptcy. Don't be fooled in the share spike.
If there is an opportunity (a big spike in share price), my recommendation is that to short ORIG.
Author's note: Get my articles as soon as they are published by clicking the big orange " Follow" button at the top of this page.
Disclosure: I/we have no positions in any stocks mentioned, and no plans to initiate any positions within the next 72 hours. I wrote this article myself, and it expresses my own opinions. I am not receiving compensation for it (other than from Seeking Alpha). I have no business relationship with any company whose stock is mentioned in this article.
Editor's Note: This article covers one or more microcap stocks. Please be aware of the risks associated with these stocks.