There are some negative opinions about ETF investing circulating which have already been debunked, and warrant clarification of the potential issues involved.
Obviously ETF investing is eating the lunch of mutual funds, but that doesn't mean companies and their equities are losing out. Those ETFs backed by assets (e.g SPDR) do involve investment in the underlying equities or commodities; investment which supports individual companies, but relieves investors of some of the risk and work involved in a managing a diversified portfolio.
ETF vs Mutual Fund Investing
Mutual funds regularly need to sell their shares on the open market to pay investors who are redeeming their shares, but ETF investors are likely to be trading with each other, as opposed to buying and selling from and to the fund. Most of the time trading has no impact on ETF assets. Liquidity in an ETF can be a lot greater than a mutual fund, and existing mutual fund investors proportionately bear the cost of investors entering or exiting the fund. An ETF is fairer, as service costs are owned by active trading individuals, rather than the group. Although the service cost can be high for regular ETF traders, the cost of trading regularly in equities is high anyway, a lot depends on the size of fees and timing, (it's all about profit).
ETF shares however, are only created or redeemed, and the underlying assets bought or sold, when it's necessary to align the value of the ETF with that of the underlying holdings. Transactions are between the funds and authorized participants, or APs. AP's can serve as specialists (or market makers)in securities generally.
ETF Liquidity
ETFs can actually be a lot more liquid than might be apparent superficially. In an ETF information circular provided by JP Morgan, there are two illustrations which emphasize this point:
There are some very liquid ETFs like 'SPY', but below is an illustration which shows a thinly traded ETFs with colored price points, along with blocks of volume trading and the influence on those price points, (immediately afterwards, i.e minimal).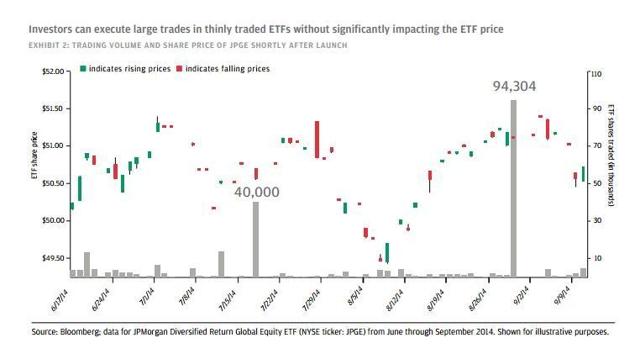 The second illustrates the 'arbitration' process, of when a buyer enters into a transaction with their broker, which then arrives as an order with an authorized participant or AP (for example specialist or market maker):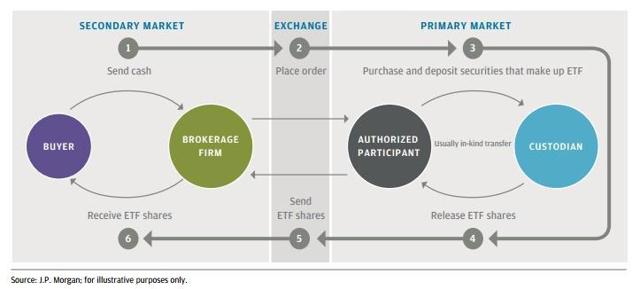 How ETFs Are Redeemed
When ETFs are redeemed or traded between the AP and custodian of the ETF, the AP is in the position of being able to profit from the arbitrage of the assets becoming either undervalued or overvalued compared to the ETF.
If an ETF's price rises above the value of its securities, the AP might buy more blocks of company shares (which form the ETF), and then sell those shares as ETF shares into the market. Selling helps drive the price toward fair value, as an AP earns an arbitrage profit.
If the ETF is trading as a discount to securities, an AP can buy ETF shares in the market and redeem them for the actual equities which are then resold. A profitable arbitrage for the AP, which again drives the ETF towards fair value. Market competition ensures most ETFs trade as close to each other as they can.
Riskier Times to Trade ETF
There are occasions when it's 'more risky' to trade ETFs, as the AP resets the balance between the ETF and underlying assets. Early morning and late evening is when can be a greater spread between the bid and ask, and is often the time when institutions enter or exit their positions.
There's also the issue of what happens when the market makes an unexpected bearish reversal or 'flash crash'.
Flash Crash Redemption Issues
Blackrock produced a study of the crash of Aug 24th 2015, (caused by the overnight reaction to trading in China).
Before opening, specialists will set where they think securities will trade, based on futures markets, news and other potential influences to sustain stable early trading.
On 24 Aug 2015, the New York Stock Exchange invoked Rule 48 suspending the requirement for prices to be released on market opening. This meant that early traders were setting bids too low and ask prices too high, creating a potentially steep discount of the ETF compared to it's underlying assets, (which were valued higher than the ETF themselves, although these prices were really unknown as trading in them was halted).
Without the liquidity of underlying assets APs can't arbitrate the price difference between the ETF and its underlying assets, even if they're allowed to, (if the assets are not trading they can't estimate anything anyway).
According to the BlackRock report, almost half of NYSE equities failed to open that morning, even after the stock market had been open for 10 minutes.
ETFs typically represent one-third of the total trading halts. On Aug. 24, ETF halts made up 78% of total halts.
Excerpt from Agora Financial:
"In today's markets," David explains, "'trading halts' occur when a stock moves up or down too quickly relative to the trading range contained in market circuit breakers. Ordinarily, about 40 such trading halts occur each day, but during the Aug. 24 plunge, there were almost 1,300 such occurrences. And 78% involved ETFs, not individual stocks.

"This is crucial because ordinarily, only one-third of trading halts involve ETF shares. Stated in round numbers, there are ordinarily about 15 ETF trading halts per day, but on Aug. 24, that number soared to 1,000."

And that's how ETFs like the Vanguard Consumer Staples ETF (NYSEARCA:VDC) plunged 32% that morning… while its underlying index fell only 9%.
However rather than it being a situation caused by ETFs, it was really a situation in which ETFs were victims of equities and rule 48.
Bond ETF Risks
The SEC is more concerned about thinly traded Mutual Fund and Bond ETFs, which have arbitration risks including lack of transparency, and electronic trading. As described in the WSJ:
The SEC's concern is that some mutual funds and ETFs might hold too many securities that aren't easy to sell quickly. As a result, the funds might not always be able to adjust their holdings without "materially affecting" the funds' net asset value per share.

Ultimately, according to many traders and market participants, concerns around ETFs and fixed-income holdings will only be mitigated when there is more transparency in the market, as more securities are quoted and traded electronically. Currently, only about 10% to 25% of the secondary trading in corporate bonds-depending on the amount of each bond in the market and the issuer's credit quality-is electronic. The rest is done via online messaging and phone calls.
Dodging ETF Liquidity Bomb Shells
So, to avoid liquidity crunches and potential 'ETF bomb shells', there are a couple of points to bear in mind.
1) The underlying assets of ETFs have to be liquid for the ETF AP to be able to get a good price for them. To avoid a crunch, it helps a lot if the ETF is liquid, and it's tracking a very liquid market too. Some of the most frequently traded ETFs include:
2) Avoid selling as others are selling. This means selling 'into' strength or highs, as opposed to selling 'after highs', along with everyone else. Also, try to avoid those times when ETF arbitrage is likely to be taking place, and the bid ask spread is likely to be widest.
As the market opens there will be a build up of orders waiting on execution depending on news over night. U.S. equity markets tend to be less liquid during the first 30 minutes of market opening, as that news is disseminated, and the final 30 minutes before closing.
Passive investors who just ignore short term 'bad news', often find trading recovers lost ground in coming days or weeks anyway, while those who jumped out at the wrong time are left behind holding losses.
Disclosure: I/we have no positions in any stocks mentioned, and no plans to initiate any positions within the next 72 hours.
I wrote this article myself, and it expresses my own opinions. I am not receiving compensation for it (other than from Seeking Alpha). I have no business relationship with any company whose stock is mentioned in this article.