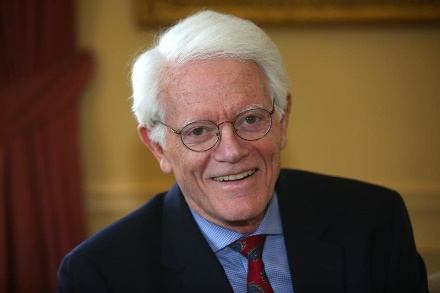 (From: Boston Globe)
"But my system for over 30 years has been this: When stocks are attractive, you buy them." ~Peter Lynch
Background
Two years ago, I reviewed the algorithm that Peter Lynch outlined in his book, "One Up on Wall Street." From his work, he thoroughly outlined how to find "Fast Grower" stocks to boost returns for one's portfolio. You can find that piece here.
I wrote then that the screen developed from Lynch's philosophy outperformed the S&P 500 (13.44% v. 5.26%) and performed better than the small cap index (8.99%). To review, here are the criteria for the screen:
Exclude all financial companies--Lynch had a different approach for financial companies, so this screen will not include that sector.
Easy to trade--This is a standard screening criteria I enter for all screens to ensure that there is trading liquidity. It also avoids OTC stocks and the like.
Five-year earnings growth rate between 20% and 25%--For Lynch, this was the sweet spot. Lynch believed that it was possible to have too much growth, consequently, he put a cap on this measure. He did allow one to go as high as 50% for growth rates, but for the purposes of this screen, it was limited to 25%.
Price/Earnings Ratio <= Earnings Growth Rate + Dividend Yield--Lynch preferred looking for a P/E ratio that was half of the growth rate, but there are several extended periods where no stocks will pass muster if one chooses to be that narrow with the criteria. For that reason, the more liberal PEG < 1 is used here.
Inventory Change<Sales % Change-- For Lynch, it was critical that inventory not outgrow sales. For him, that was a big red flag that the company's future margins were at risk.
Debt to equity <= 33 1/3%
Market cap between $400 million and $2 billion--This is where I differ from John Reese's interpretation. Lynch is pretty clear that he is talking about small companies. Given that, this is the acceptable standard for finding those companies. Investopedia defines small cap stocks as, "…a company with a market capitalization of between $300 million and $2 billion." The $400 million minimum is what S&P uses for their small cap index.
Free Cash Flow > 0--Lynch believed that successful companies should be able to operate their business without depleting their working capital.
Performance
Since my original posting, portfolios held for one year have averaged 13.08% where the S&P 500 averaged 9.18%. I will confess that it has underperformed the S&P 600 at 15.26%. All of this data is based on 12-month rolling averages. Regardless, the methods here have shown they usually outperform the S&P 500 around 75% of the time. Having said that, if you are looking for some ideas for small cap stocks, this screen will provide a good start.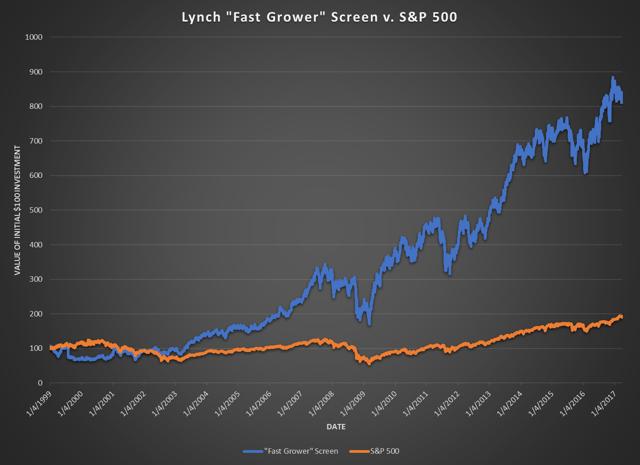 Figure 1
I wanted to review how the portfolio did from 2015 to see how it would have performed if one had bought the stocks at the open, and held on to them since then. Here are the original picks, and how they have done since my original posting:
| | | | | |
| --- | --- | --- | --- | --- |
| Ticker | Name | Adjusted Open (05/14/2015) | Last Price (05/03/2017) | Return (w/ Dividends) |
| | Ethan Allen Interiors Inc. | 25.27 | 31.95 | 26.4% |
| | Fabrinet | 18.46 | 34.97 | 89.4% |
| | Hibbett Sports Inc | 47.42 | 25.70 | -45.8% |
| | Kulicke and Soffa Industries Inc | 12.85 | 22.28 | 73.4% |
| | Quaker Chemical Corp | 84.14 | 143.91 | 71.0% |
| | MKS Instruments Inc | 36.33 | 80.00 | 120.2% |
| | MTS Systems Corp | 65.89 | 46.00 | -30.2% |
| | Insight Enterprises Inc | 28.68 | 41.87 | 46.0% |
| | Sanderson Farms Inc | 82.50 | 115.46 | 40.0% |
| | USANA Health Sciences Inc | 115.15 | 56.40 | -51.0% |
| | Vitamin Shoppe Inc | 39.21 | 19.15 | -51.2% |
| | Winnebago Industries Inc. | 21.68 | 27.60 | 27.3% |
| | | | Portfolio Average | 26.3% |
| | S&P 500 ETF | 211.24 | 238.78 | 13.0% |
Table 1
This is an impressive return, and merely reinforces the case that this screen is a good way to find the kind of "10- to 40-baggers," as Lynch wrote about in 1989.
What Does a Lynch Acolyte Buy Now?
Normally, this screen returns about 10 candidates for consideration. With regard to this writing, it only provides us with two possible holdings for your review.
BioTelemetry Inc (NASDAQ: BEAT) provides cardiac monitoring services, cardiac monitoring device manufacturing, and centralized cardiac core laboratory services. Its segments are healthcare, technology and research. (From: Morningstar)
Ruth's Hospitality Group Inc (NASDAQ: RUTH) operates fine dining restaurants under the trade name Ruth's Chris Steak House. The Company owns the Ruth's Chris Steak House, Mitchells Fish Market, Columbus Fish Market, Mitchells Steakhouse and Cameron's Steakhouse concepts. (From: Morningstar)
As always, do your own research and due diligence. Investing is risky, and requires a lot of research.
Happy Investing!
Disclosures
Investments are subject to market risks including the potential loss of principal invested.
Foreign investments may involve greater risk than U.S. investments, including political and economic upheaval and the risk of currency fluctuations.
All investments involve risk, including risk of loss, and are made at your risk exclusively.
The views and opinions presented in this article are mine and mine alone.
Disclosure: I am/we are long WGO.
I wrote this article myself, and it expresses my own opinions. I am not receiving compensation for it (other than from Seeking Alpha). I have no business relationship with any company whose stock is mentioned in this article.