Conclusion: El Pollo Loco Holdings, Inc. (LOCO) has been stuck in a trading range, between $11 and $14 for almost two years, after the exuberant runup following their 2014 IPO. The promise of substantial growth remains but this potential has been stymied by disappointing returns in new markets, Houston in particular. While there has not been a specific catalyst to indicate an upside breakout (or downside for that matter), management is doing what they can and we will try to closely monitor this situation for positive signs. The reduced franchise fee structure could accelerate franchised unit growth, so that development should be closely monitored. If you generally like their food and operational skills, it seems like a low risk strategy to own it now, running the risk of ongoing "dead money", because the stock will move substantially with any positive signs, and you will likely be late in your chase. A partial position might be the answer, prepared to "average up" with good news, or take a small loss if the lackluster results continue longer than you prefer.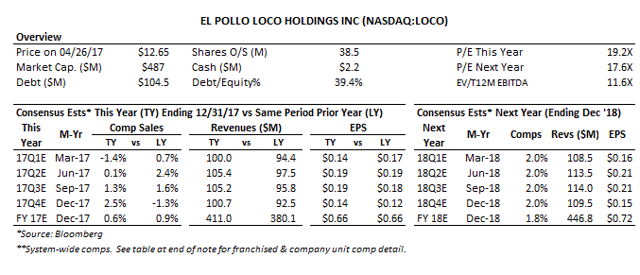 EL POLLO LOCO HOLDINGS, INC.: Company Overview (2016 10-K) (ICR Slides Jan'17) (Devt Incentives)
Source of Revenues El Pollo Loco Holdings, Inc. whose Mexican-themed brand is rooted in its first restaurant, opened in 1980 on Alverez Street, in the heart of Latino Los Angeles. The company, now headquartered in Costa Mesa, CA, came public in November 2014, operates and franchises a chain of 460 restaurants (201 company, 259 franchised) with system-wide sales of $795.4M in 2016. Of consolidated 2016 revenues of $380.1M, 93.5% were generated by company stores, with the balance primarily from franchise royalties and fees and a small portion from rents for locations leased or subleased to franchisees.
Concept, Menu and Dayparts El Pollo Loco specializes in Mexican-inspired citrus-marinated chicken entrees which are freshly prepared and fire grilled in full view of its guests. It aims to provide the value and fast service of QSR and the quality, service and inviting atmosphere of fast casual. For example, it prices its core chicken entrees (Chicken Avocado Burrito, Chicken Tostada and Grande Avocado Bowl) are priced mid-way between similar offerings at Taco Bell and Chipotle. The menu includes family meals, value combos, vegetarian options, kids meals, 500 calorie offerings and a frequent rotation of new items and premium LTO's. Daily sales are split nearly evenly between the lunch and dinner dayparts, relatively unique among fast casual chains, offering two dayparts to build upon over the long term.
Unit Level Economics LOCO stores range in size from 2,200-to 3,000 square feet seating 50-70 guests. A majority of company restaurants are leased to some extent (only 15 properties are owned, with 3 leased to franchisees). We estimate AUVs in 2016 were $1.856M for company stores and $1.749M for franchised stores, respectively. The gap between company and franchised stores has narrowed in the last 3 years as franchised stores AUV's have increased (up from $1.69M in 2014) while company AUV's have declined (down from $1.91M). These contrary trends may be because the company stores are relatively immature. Of the company's fleet, 26% were opened in the last 3 years, while only 12% of franchised stores were opened in that period (including 6 purchased from the company). Also, the company store AUV's likely were hurt by several underperforming stores (more on that later). The company store-level EBITDA margin was 20.4% in 2016. This was down 150bps from 2014, again, likely due to immature and underperforming stores.
The cash investment for a new unit, including our estimate of pre-opening expense, is about $1.8M. At the 2016 store level EBITDA margins of 20.4%, the cash-on-cash returns (COC) for company units average 21.1%. For a franchised unit, we estimate a COC return would be only 15.1%, after royalties and fees. This assumes the franchise AUV of $1.749M, company store-level EBITDA margin of 20.4% (despite lower than company store AUV) less 4.8% royalties & fees (our estimate). The company has recently rolled out a new "Vision" prototype, which, with a elevated and inviting environment, is consistent with its aspiration of a fast casual positioning rather than "QSR", which is conveyed by the current prototype. The AUV's, cash margin and ROI targets for the Vision are similar to the current locations, though the company hopes to improve returns by value engineering the outlay for Vision units lower.
Company Strategy The company plans to grow to a national chain with about 1,900 units at an annual unit rate of 8-10% annually with comps of 2%-3%. If it achieves the sales growth implied as it fills out a national footprint, the company expects EBITDA and EPS to grow at a 10% to 15% annual rate. To execute its plan the company has outlined menu, marketing, technology, and operational initiatives. It seems that LOCO's most urgent and significant challenge is to demonstrate appeal beyond its current regional footprint. The stores are located in 5 southwest states (CA, NV, AZ, UT & TX). Its strategy has been to balance openings between existing and new markets and to grow its franchisee base with both existing and new franchisees. While company stores have achieved the lower end of the target growth pace only in the past year and a half (it was around 4% in 2014 and early 2015), the franchise stores have grown at 4.2%, during the same period, about half the target pace.
In its legacy markets the stores apparently do well. Management has said new units in Southern California and Las Vegas typically open well, often achieving year 3 target returns in their first year. However, outside these legacy markets, performance is weaker. Management says sales of stores in Northern California and Arizona are satisfactory but "need work on unit economics." At the end of 2009 it had 21 system-wide units (all originally franchised) east of the Rockies. All were closed by 2012. In 2014, it entered Houston where it has struggled. From 2014 to 2016 seven stores system-wide were closed, a little over 10% of the 66 opened in that period-not disastrous, but at least noteworthy for a presumed growth company. At the end of 2016 the company recorded $8.6M of impairments on 9 stores in Texas, Arizona and California. The magnitude of the impairments represents about 50% of the cash outlay to open a new store, on average. Subsequent to 2016 the company closed 2 of these stores, one in Texas and one in Arizona.
Further, the tepid growth of franchised stores obviously does not reflect a robust endorsement of the company's plans. However strong returns may have been in the legacy markets, franchisees probably will need to see more attractive returns (after royalties) before venturing into new markets in partnership with the company. The company's relaxation of its royalty structure announced in early April, further discussed below, may prove to be a useful stimulant for franchisee growth.
Management has acknowledged the challenge of invigorating unit growth and comp sales but has offered only limited insight into how it will be addressed. Importantly, it clearly is committed to proving the concept in Texas, where it has dedicated significant resources, perhaps none more telling than locating all 10 of its new Vision prototype stores in Dallas, which it entered in mid-2016.
Financials Until 16Q4 LOCO reported 21 straight quarters of positive comps (More in Current Developments). Store level EBITDA margins have declined about 90 bps since the IPO to the current 20.4% level achieved in 2016. The decline in operating margin (excluding impairments) has been more severe, down 190bps, on increased investment and other costs. LOCO has reduced its debt by about a third from the $166M level on its books when it came public. Its leverage ratios of debt to EBITDA and lease-adjusted debt to EBITDAR at year end were 1.7X and 3.5X, respectively, in line with 30%-60% franchised peers. Free cash flow in 2016 was $11.0M (CFO $49.3M, CapEx $38.4M), or a 2.9% FCF margin.
Shareholder Returns LOCO is down about 65% since the IPO and has traded in a range between about $10 and $15 since its low of $10.20 in September 2015. The company does not pay a dividend and has not been purchasing its stock. The company's largest shareholder is Trimaran Capital, LLC, a private equity company, which effectively has a 43.5% ownership interest at the end of 2016.
LOCO: Current Developments (16Q4 Release) (16Q4 Conf Call)
The fourth quarter of '16 proved modestly disappointing, at least partially due to heavy rains in Southern California and the possible effect of delayed tax refunds. Systemwide comps were down 1.3%, including a 60 bp decrease at company stores and 1.9% decrease at franchised restaurants. The average check was flat in Q4 at company locations, so transactions were also down 60 bp. Cost of goods was down 80 bp and labor was up 180 bp, typical of industry trends. Occupancy and other operating expenses was up 160 bp, G&A decreased 60 bp (including 40 bp from less securities litigation). As a result of the sluggish sales and higher store level expenses, store level EBITDA operating margin was down about 300 bp. Below the store level profit line, an impairment charge of $5.9 million was taken in Q4, relating to the full assets of three restaurants (2 in TX and 1 in CA) plus partial impairment in four others. Eight new company locations were opened in Q4 plus seven franchised. Subsequent to Q4 end, five company and three franchised locations opened, as part of the 15-20 co. and 8-12 fr. development program for '17. The Houston market continued to underperform, though marketing and operating initiatives began to generate sales improvement. During Q4 a mobile ordering system was rolled out, and 55,000 orders had been handled in the 94 days preceding the conference call on 3/9/17.
In terms of strategy going forward, LOCO is adding more stores in the Dallas market. A total of 4-6 new locations will be added to the Dallas/Ft.Worth market, on top of the current 7 co. and 3 fr. Units. All ten of the units in this market are the Vision prototype, and new units built will be the same. Four remodels have been done in California, with good feedback. Four more CA remodels will be done in H1 of '17, plus 7 in H2'17 including several in Las Vegas. All new company units not yet in permitting will incorporate the Vision design.
From a marketing standpoint, LOCO will continue to broaden the $20 family meal platform and focus increasingly on mobile order and pay, capitalizing on both the "value" and "convenience" aspects of fast casual dining. Third party delivery was tested in Q1 and expected to be rolled out in Q1. Though sales trends have firmed a bit as the weather has improved at the end of Q1, guidance was reduced both for Q1 and the full '17 year. Same store sales are expected to be negative by 1-1.5% in Q1 and flat to up 2% for the full year. Food cost deflation will be about 2%, with labor inflation largely offsetting that. Building in those parameters, management is guiding to store level margins, and EPS about flat to '16 results. Most recently, and possibly significant, as noted above, the franchise fee structure has been modified. Initial franchise fees have been reduced and ongoing royalties have been lowered in the early years of operation. It remains to be seen whether these incentives will provide a meaningful stimulant to franchised unit growth.
Lastly, the Company announced on 3/10 that Steve Sather, CEO since 2010, is retiring at the end of the current year. Prior to becoming CEO, he was Vice President of Operations for four years, so it is fair to say that he successfully led the rebound in the company's fortunes and prospects, before and after the IPO in 2014.. The opportunities for further success are still substantial at LOCO, so the Company can no doubt recruit (or promote) a highly qualified CEO to take Sather's place. All indications are that he is leaving only to "smell the roses", never a terrible idea, so his departure does not reflect negatively in any way relative to LOCO's prospects.

Disclosure: I/we have no positions in any stocks mentioned, and no plans to initiate any positions within the next 72 hours.
I wrote this article myself, and it expresses my own opinions. I am not receiving compensation for it. I have no business relationship with any company whose stock is mentioned in this article.