For those of you that follow me, you know I am a diehard AT&T (NYSE:T) shareholder. Nevertheless, that doesn't mean I don't pay attention when things seem to be going awry. My father always told me to never fall in love with a piece of real estate no matter how perfect it may seem. I like to apply that mantra to stocks in my portfolio. You have to be objective when analyzing a stock's value.
That being said, sometimes bad news is good news and good news is bad news. It is up to each individual to make that determination. There are always two sides to every trade. For every share you buy, there is someone on the other side selling. So, with AT&T selling off on the recent earnings miss, let's take a look at the situation and determine if it's time to be greedy or fearful.
Reasons to be fearful
#1: High Debt Load
In the company's 10-K, AT&T lists access to capital markets as a primary risk factor. The company states:
"Adverse economic and/or capital access changes in the markets served by us or in countries in which we have significant investments, including the impact on customer demand and our ability and our suppliers' ability to access financial markets at favorable rates and terms."
I consider this the biggest risk at present for the company based on the massive debt load. AT&T recently announced it is issuing six tranches of five-year, seven-year, 10-year, 20-year, 30-year and 40-year maturities. These are not directly related to financing the Time Warner (NYSE:TWX) deal (but likely earmarked for general purposes and rollovers).
Moody's has given a Baa1 rating to new notes from AT&T, yet stated it's keeping the company ratings on review for downgrade. What's more, Moody's recently lowered its outlook on the entire telecom sector to negative from stable. On top of this, Moody's had already put AT&T on downgrade review in October after the company announced its $85 billion deal for Time Warner. Moody's stated it will be monitoring to see if AT&T is willing and able to reduce leverage back toward a target of three times debt to equity. I submit AT&T will need to hit a home run regarding integrating DirecTV and Time Warner to do so. That leads me to my second reason to be fearful.
#2: DirecTV and Time Warner acquisition/integration failure
The company lists the successful integration of DirecTV and Time Warner as one of its primary risk factors in the 10-K, stating:
"Our ability to integrate our acquisition of DirecTV and to close our pending acquisition of Time Warner Inc. and successfully integrate its operations."
Basically AT&T has bet the farm by making these two massive acquisitions. If for some reason these deals do not pan out, AT&T will go from no growth to negative growth. Right now, based on the highly competitive environment, the company will need to create new profit centers to keep the ball rolling so to speak. It is going to be an uphill battle for sure. I expect things to get worse before they get better due to the fiercely competitive environment, which just happens to be my third highest risk factor.
#3 Cutthroat Competitive Environment
Regarding this risk AT&T states in the 10-K:
"Our ability to absorb revenue losses caused by increasing competition, including offerings that use alternative technologies or delivery methods (e.g., cable, wireless, VoIP and over-the-top video service) and our ability to maintain capital expenditures."
We just saw the first of what could be many top-line misses based on the fiercely competitive wireless market. This coupled with the fact AT&T will have to pay upfront for its vast fifth generation network expansion aspirations leaves little room for error.
What's more, it appears Verizon (NYSE:VZ) is not going so "quietly into the night" as it were. It seems Verizon has its designs on stealing away Straight Path (NYSEMKT:STRP) from AT&T. It was reported A "mystery bidder" has made a superior offer. According to people familiar with the situation, Straight Path is now considering this offer to be the "superior proposal" against its all-stock agreement with AT&T for $95.63 per share. AT&T has three days to revise.
So, even though I feel AT&T has a huge head start regarding its designs on become the premier Technology, Media, and Telecom (TMT) provider out there, it is going to be a bumpy ride getting there. Nevertheless, the quarter wasn't all bad, and AT&T's free cash flow was adequate.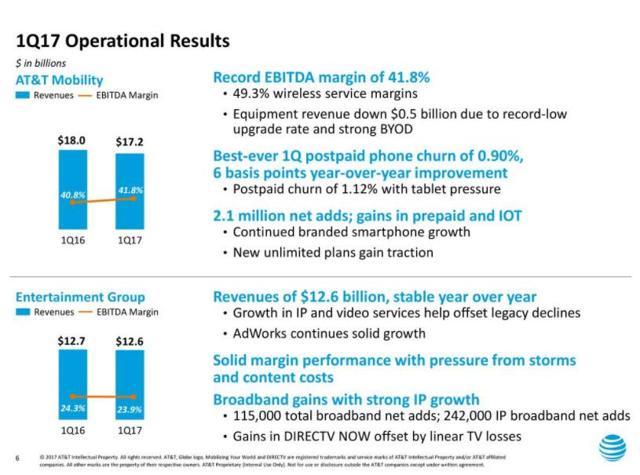 Source: Att.com
Now let's turn out attention to the reasons to be greedy.
Reasons to be greedy
#1: 5% dividend yield acts as a put
At present, AT&T's dividend yield stands at 5.03%. This has been traditionally acting as a line in the sand. Essentially, dividend growth and income investors see the five handle on the yield and snap up shares underpinning the stock.
AT&T Five-Year Yield Vs. Share price

Source: Dividend.com
Even so, the yield has gotten a bit juicier at certain points in the past. For this reason, I would not "back up the truck" so to speak right now simply because of the 5% yield. I would layer in over time to reduce risk. The stock is currently in no man's land.
Current Chart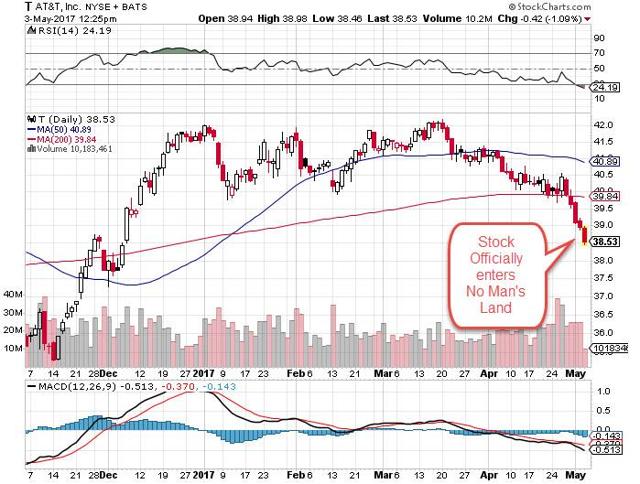 Source: StockCharts.com
If you have a low risk tolerance, I would wait for the stock to show a sign of strength by breaking back above the 200-day SMA prior to starting a position. The stock could fall further before this sell off is over. I don't see it getting past the $37 mark though.
#2: Extremely low beta
AT&T's stock has an extremely low beta of 0.39. What this means is its stock is three-fold less volatile than the markets in general. This makes for an excellent safe haven play. AT&T's stock is a great place to park your money during times of market turmoil or uncertainty. All stocks rise and fall with the macro market tide, yet AT&T is much harder to budge. With the current level of geopolitical and macroeconomic risk, I sleep very well at night.
#3: Solid predictable cash flows and dividend payouts
The three things I want to see from an income stock in my portfolio is a solid, long-term growth story, safe and predictable cash flows, and a long history of increasing dividend payouts. I would say AT&T has all the bases covered. The stock has achieved dividend aristocrat status.

Source: Dividend.com
Conclusion
I posit it's time to be greedy my friends with the stock sporting a 5% yield, a 13.08 forward P/E ratio, and an RSI of 26. This means the stock is oversold and undervalued at present with little chance of further downside. I can't make a blanket statement that you should buy the stock here because I have no idea regarding your specific circumstances and goals.
Nonetheless, the risk/reward equation currently favors long trades at this time in my book. You never get a chance to buy a stock at a discount when analyst are upping their targets and stating the company is "firing on all cylinders." Bad news and buying opportunities go hand in hand. It is definitely time to be greedy. What you do with that information is completely up to you. Those are my thoughts on the matter. I look forward to reading yours.
Your input is required!
The true value of my articles is provided by the prescient remarks from Seeking Alpha members in the comments section below. Is AT&T a buy right here? Why or why not? Thank you in advance for your participation.
Final note: If you enjoyed this article, please click the "Follow" button. I would greatly appreciate it.
Disclosure: I am/we are long T.
I wrote this article myself, and it expresses my own opinions. I am not receiving compensation for it (other than from Seeking Alpha). I have no business relationship with any company whose stock is mentioned in this article.