Welcome to the why edition of Oil Markets Daily!
EIA reported another relatively bullish crude storage report. But immediately following the report, oil prices sold off.
What's going on?
Consensus going into this storage report was expecting crude storage to drop by 1.5 to 3 million bbls. The reported drop was slightly less than 1 million bbls. There were several factors that influenced the figure, but the most meaningful one was the release of strategic petroleum reserve of 210k b/d. This added 1.47 million bbls to crude storage. This was not initially announced. Excluding SPR add, crude storage would have resulted declined 2.4 million bbls.
On a total oil stockpile basis, inventories climbed 1.311 million bbls. This puts total oil stockpile build for the month of April at 1.661 million bbls versus the last seven-year average of 15 million bbls.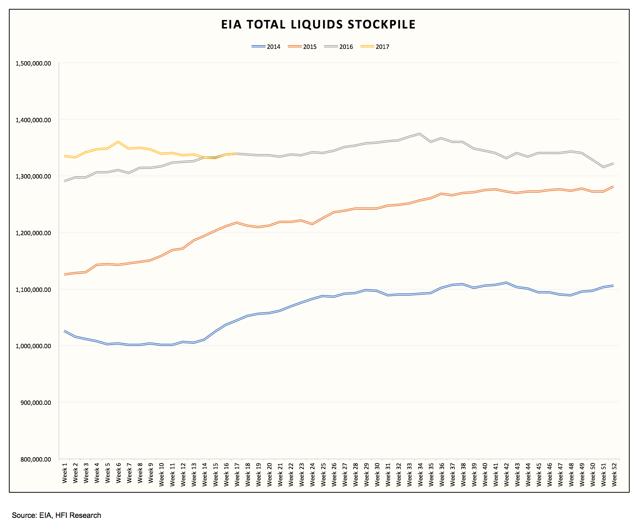 In another view, US total oil stockpile is now below the 2016 level by just a tad amount.

With storage counter-seasonally declining and the rebalancing clearly taking place, why are oil traders and investors not bidding oil prices higher?
Normally, crude draws from lower imports are perceived to be much more bullish than crude draws from higher refinery throughput. Why is that the case? Because high refinery throughput just means the crude storage glut will translate into a refined product glut (e.g. gasoline, distillate, and etc.). Traders are much more bullish when they see storage draws from lower imports, because this means that the global crude market is in much tighter supply.
There is, however, one kink to this as Gulf Coast refiners are now running at 9.2 million b/d. High refinery throughput in the Gulf usually results in elevated imports, and investors and traders hoping imports will fall massively over the next few weeks will be disappointed.
So, how are we looking at US oil stockpile?
Traders and investors should expect decent crude draws in May, but additional SPR release will dampen the draw. We currently expect about 10 million bbls of crude draw in May, or about 2 million bbls per EIA report. Saudi imports have already dropped below 1.1 million b/d versus the 1.3 million b/d we saw earlier this year, and we don't expect waterborne imports from Middle East to climb in May. If imports surprise to the downside, you should expect much higher crude draws than our estimate.
We maintain our bullish stance on the oil markets despite the consensus and energy investors throwing in the towel. We look to provide energy investors with more clarity as to what's really going on with the global oil markets, and if you find our write-ups useful, we think you will find the premium research service to be more valuable. You can sign up here.
Disclosure: I/we have no positions in any stocks mentioned, and no plans to initiate any positions within the next 72 hours.
I wrote this article myself, and it expresses my own opinions. I am not receiving compensation for it (other than from Seeking Alpha). I have no business relationship with any company whose stock is mentioned in this article.