Two weeks ago, I wrote an article entitled, "The More It Drops, The More I Buy," and explained how it is common for REIT investors to excessively fear interest rate increases and overreact leading to hikes. Despite having historically performed well during times of rising interest rates, investors today keep believing that REITs cannot prosper in such conditions.
Because of this perception, it is very usual for REITs (NYSEARCA:VNQ) to sell off at the first sign of a potential interest rate hike. Now, the interesting thing is that these selloffs never seem to last for long as the market tend to very quickly recover.
We saw this happen last time in March when REITs sharply sold off leading to the Fed's rate hike, and just as quickly recovered all the losses in April.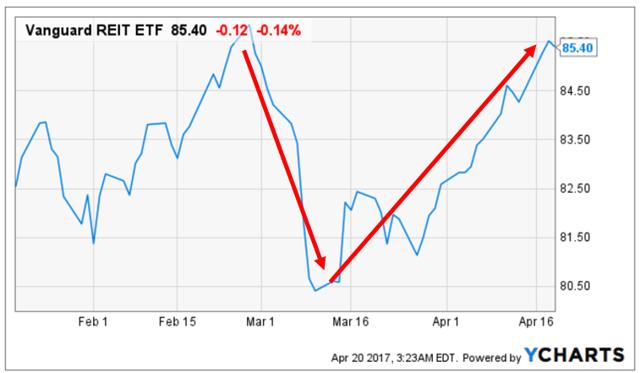 This same pattern has happened over and over again. I have seen it occur many times and always in a surprisingly consistent and repeatable manner. I have often profited from this market overreaction by going long when REITs were selling off due to interest rate fears and did once again in March when I urged investors to take advantage of the opportunity.
Yet, despite the provided evidence, many readers remained unconvinced. REITs are still today very commonly perceived as bond proxies, and as such, it seems unreasonable to expect them to perform well in times of interest rate increases. In my view, this is really nothing more than a myth. The argument that REITs should be avoided because interest rates may increase in the future is nonsense to me. There is no evidence that REITs greatly suffer from interest rate increases, yet there is clear evidence that REITs can prosper during varying market conditions.
If you are not convinced, perhaps the following example may help you:
From July 2004 until June 2006, the Federal Reserve hiked interest rates from 1.25% to 5.25%. Anyone would agree that this was a very material increase that we are unlikely to see today. According to the consensus belief, this should have been a horrible time for REIT investors, yet REITs significantly outperformed the broad equity market: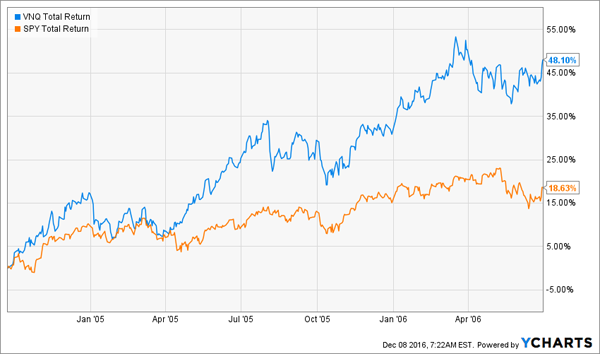 This is proof that REITs can not only "survive" interest rate increases but even prosper and outperform in these periods. While investors were "panicking," REITs returned more than 48% over that time period while the S&P 500 (NYSEARCA:SPY) only generated 18%. This is because REITs are NOT bonds. REITs are real estate, and as such, they are able to generate cash flow growth that may more than compensate for the increased interest expense.
In fact, REITs may actually benefit from interest rate hikes as they may often be the result of a stronger economy that could lead to higher occupancy, rent growth and generally superior business fundamentals for REITs.
Think of it this way: If you owned an office building and a very favorable job report came out suggesting that the economy is improving, would you think of this news as rather positive or negative? I would say that it is good news. If the economy improves, it will lead to more demand for office space, higher rents and lower vacancy. This is nonetheless not how REIT investors see this. REIT investors see this positive news and turn it into a negative because it may cause interest rates to increase and therefore sell REITs because of the improved economy. It does not make much sense to me, but it is exactly what is happening. Research shows that it is the wrong thing to do and yet it happens over and over again.
In fact, REITs have generated more cash flow growth than the S&P 500 in the recent years, so technically, the broad equity market should be at higher risk than REITs from hikes. This is especially true when you consider that the S&P 500 also trades at a much higher valuation and has a two times lower yield.
So it is clear to me that at least part of the fears over REITs is unjustified, but it does not mean that REITs will never suffer from interest rate increases, and this may strongly vary from one case to another. On one hand, increased interest rates result in less demand for real estate investments and higher cap rates, which can lower real estate values and NAVs for REITs. On the other hand, REITs may be able to increase cash flow as a result of the stronger economy, so the effect tends to often balance itself out. Therefore, a conservatively financed REIT with low levels of variable interest rates is likely to do just fine over time, regardless of small changes in interest rates.
When you sell off, I am buying, and most often this has resulted in strong outperformance in the past.
REITs are UNDERPRICED today
Currently, the broad REIT market trades at about 19 times its FFO while the S&P 500 trades today at over 26 times its current earnings, which is significantly higher than usual.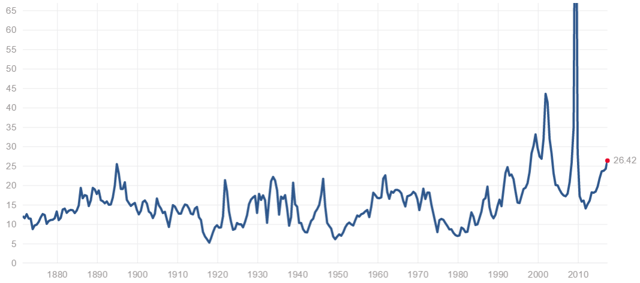 Source: multipl
The valuation of REITs is not materially out of line compared to its historical average, especially when you factor in the cap rate compression over the recent years. Note, however, that there has never been a time when the S&P 500 traded at over 25 times its earnings and did not eventually come crashing down. As such, the average valuation of REITs appears more sustainable to me at 19 times FFO.
Compared to the 10-year Treasury, REITs appear relatively undervalued as well.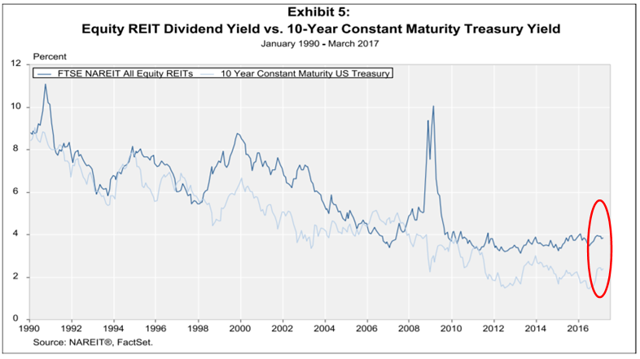 Source: NAREIT
The current yield differential between REITs and treasuries is abnormally high, indicating good value.
Compared to NAVs, REITs also look underpriced according to Green Street Advisors. While REITs have historically on average traded at a slight premium to NAV, they trade today at a discount to NAV.

Source: GSA
Moreover, the range of valuations is very large in the REIT market. There exist REITs such as Washington Prime Group (NYSE: WPG) or CBL (NYSE: CBL) that trade at mid-single-digit multiples while others including Realty Income (NYSE:O) and Agree Realty (NYSE:ADC) trade at over 20 times FFO. I recently outlined Gramercy (NYSE: GPT), which trades at 12 times FFO; Omega (NYSE: OHI), trading at 9 times FFO; and W.P. Carey (NYSE: WPC), selling for 12 times FFO. I consider all three REITs to be "high quality" and yet trade at very reasonable valuations.
To conclude, REITs may at first appear rather expensive on an absolute basis, but on a relative basis, they remain very reasonably priced today. The average FFO multiple is a little high based on historical standards simply because of the low interest rate and cap rate environment.
Final Thoughts
I have repeated this multiple times here on Seeking Alpha, but I will do it again: The largest misconception about REITs is the irrational fear of interest rate increases. Studies from NAREIT very clearly demonstrate that share prices of equity REITs have more often increased than decreased during periods of material interest rate increases. In the 16 periods since 1995, when interest rates rose significantly, equity REITs generated positive returns in 12 of them or 75% of the time.
There are today many quality REITs that trade between 8-14 times their FFO including Medical (NYSE: MPW), Kimco (NYSE:KIM), Chatham (NYSE: CLDT) and One Liberty Properties (NYSE:OLP) to name just a few. If you own one of these REITs and earn a mid- to high-single-digit dividend yield, you really do not need much growth to get to double-digit returns. Even if interest rate hikes cause the FFO multiple to contract a bit, your long-term returns would still look compelling in my opinion.
I look forward for more REIT market selloffs. I will keep buying and expect to earn above average dividend yields along with very respectable long-term growth.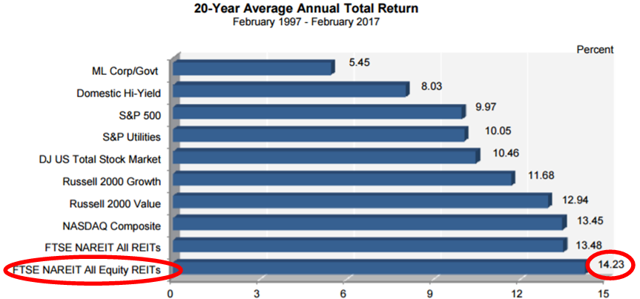 If you enjoyed this article, please scroll up and click on the "Follow" button next to my name to not miss my future articles on other undervalued REIT. I have experience working in Private Equity Real Estate and aim to identify the best risk/reward opportunities within my field of expertise. My articles are free here on Seeking Alpha, and following me will allow you to receive all my research at no cost.
Disclosure: This article is for informational purposes only. It is not a recommendation to buy or sell any security and is strictly the opinion of the writer. Readers are expected to conduct their own due diligence or seek advice from a qualified professional.
Disclosure: I am/we are long GPT, MPW, WPG, OHI, WPC.
I wrote this article myself, and it expresses my own opinions. I am not receiving compensation for it (other than from Seeking Alpha). I have no business relationship with any company whose stock is mentioned in this article.
Additional disclosure: I AM SHORT CBL PUTS