We're heading back out onto the high seas this week to cover a long-time holding of ours, Navios Maritime Midstream Partners LP (NYSE:NAP).
We've written several articles about NAP, and this one will update the news from NAP's Q1 '17 earnings report.
Profile: Monaco-based Navios Maritime Midstream Partners LP owns, operates and acquires crude oil tankers, refined petroleum product tankers, chemical tankers and liquefied petroleum gas tankers. The company charters its vessels under long-term employment contracts to international oil companies, refiners and large vessel operators. It IPO'd in November 2014.
In addition to having its base of contract fees, NAP also has a profit-sharing arrangement with its general partner, Navios Maritime Midstream Partners GP LLC, which, in turn, is owned by Navios Maritime Acquisition (NYSE:NNA).
Distributions: NAP, like many other shipping dividend stocks, is on a Feb-May-Aug-Nov payout schedule. The company's first two full quarterly distributions were for $.412, paid in May and August 2015. Management raised the payout to $.4225 for the November 2015 payout, and has kept it there ever since.
You can track NAP's current price and yield in the Services section of our High Dividend Stocks By Sector Tables.
(Although NAP is an MLP, unitholders receive 1099s, instead of K-1s, which can make things easier at tax time, and part of the income is sheltered as return of capital).
NAP is currently yielding over 15% and should go ex-dividend next in early August:

Distribution Coverage: NAP's management uses a metric called operating surplus which subtracts net cash interest paid and capex from EBITDA to determine its distribution coverage.
It also uses Cash Available for Distribution as an additional coverage metric (CAD usually equals around the amount of money that is distributed to all common, subordinated, and general partner unitholders each quarter).
The table below illustrates how NAP's two distribution coverage metrics fared over the most recent four quarters of metrics.
They had a trailing TTM 1.09x coverage factor for total distributions to all units in 2016, based upon operating surplus, and a trailing CAD distribution coverage factor of 2.18x for its common units: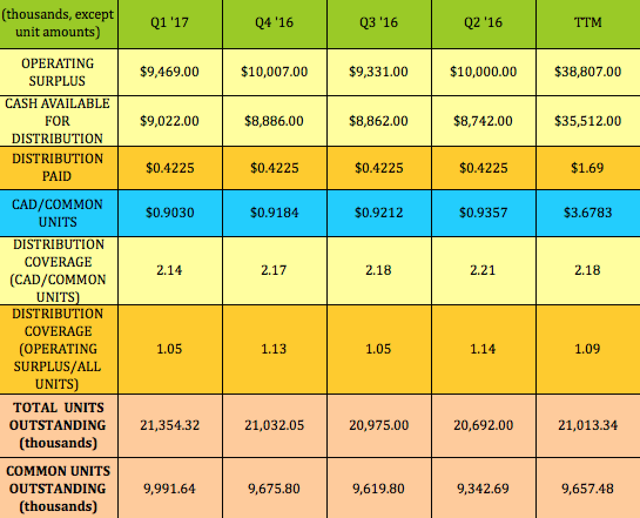 Options: NAP's short-term options yields aren't that attractive currently, but you can see details for over 20 other trades in our Covered Calls Table and a Cash Secured Puts Table, which are updated on a daily basis.
Earnings: NAP's Q1 '17 revenue, EBITDA and operating surplus were all down vs. Q1 '16, due mainly to lower Time Charter Equivalent rates ("TCE"), which were $38,547 for Q1 '17 vs. $43,476 for Q1 '16.
The decrease in the TCE was mainly attributable to the decrease in the market rates during Q1 '17 vs. Q1 '16.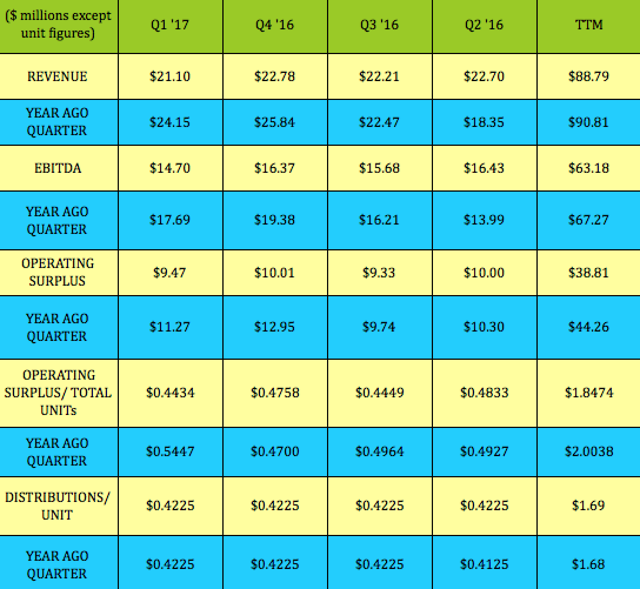 Its trailing figures are also down, except distributions, while unit count rose by 7%: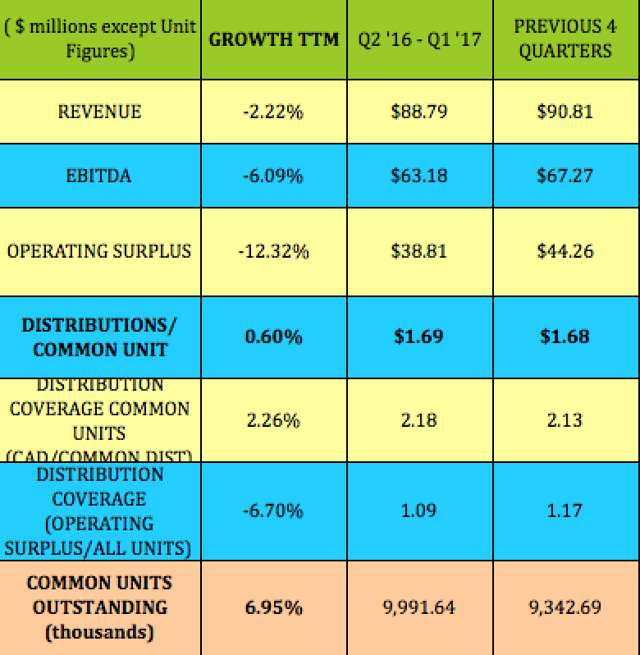 What happened? Even though its business model has a strong base of fixed contracts, which pay for its distributions, NAP's profit-sharing arrangement with its general partner also produced some heady additional income profit comps in 2016 and 2015, which haven't materialized yet in the past 2-3 quarters.
Daily shipping rates dove from over $50K and bottomed out in the mid teens before starting to recover which has curtailed NAP's profit-sharing income for the past three quarters. However, NAP's management feels that rates should keep improving for reasons we'll cover in the Tailwinds section of this article:

Better Long-Term Prospects: NAP has an average of 4.1 years left on its contracts. Its contracts are 100% fixed through 2018, including the daily backstop rates of $38K that its general partner has given it for two vessels, and a rate of $35K for one additional vessel. It has over $400 million in long-term contracted revenue with its customer base.
Here are the profit-sharing rates for NAP's fleet: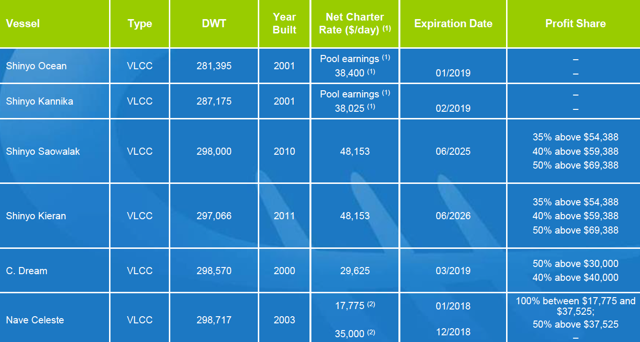 NAP is a low cost operator with an average breakeven cost that's nearly 50% lower than its projected fixed revenue for 2017.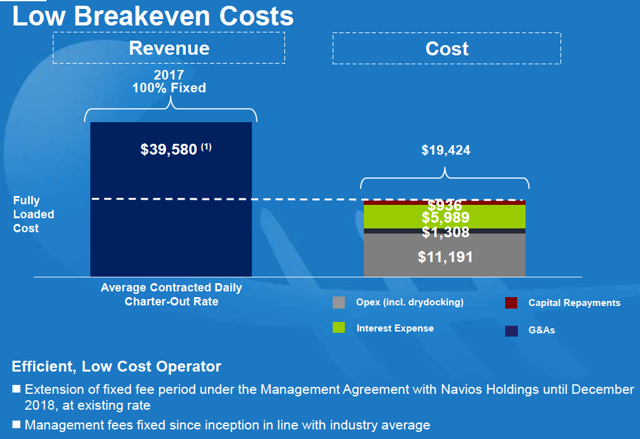 (Source: NAP Q1 '17 report)
Tailwinds: The global VLCC fleet is getting old, and the industry has cut back on ordering new builds, and has had a 35% average of non deliveries since 2010. The result of this is that given continued demand growth, VLCC rates should continue improving due to an eventual shortage of vessels.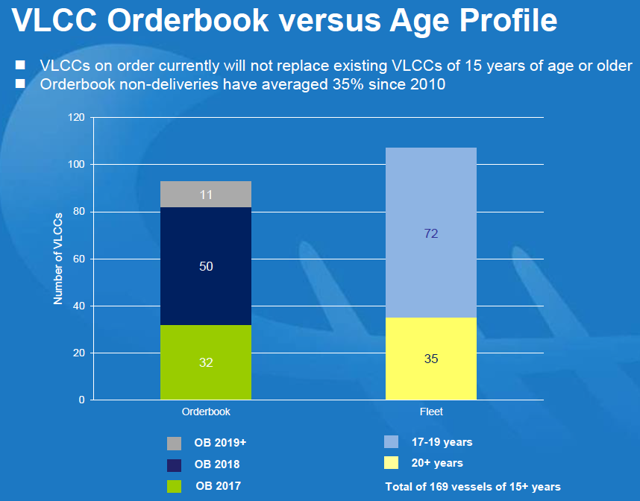 (Source: NAP Q1 '17 report)
The growth has come mainly from China at a 15% CAGR clip since 2009. China's nascent "teapot" refining industry is adding to that demand on a regional basis also.
In addition, you have the issue of ton miles, which are being pushed up by "demand coming out of the East, and more oil coming out of the Western Atlantic, so the ton mile issue will grow against that" (Source: NAP Q1 '17 earnings call).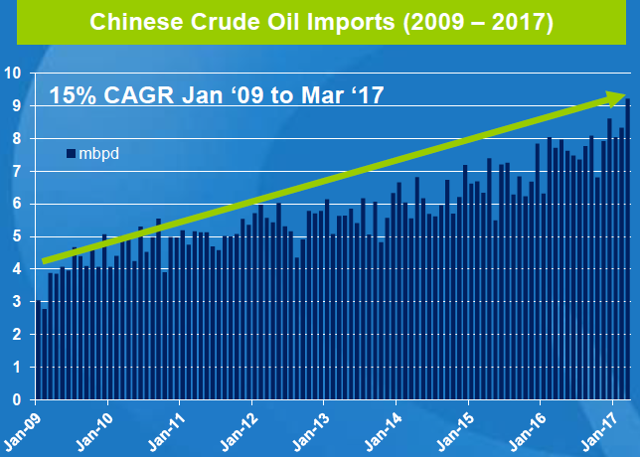 As NAP's management pointed out on its Q1 '17 earnings call:
"On a per capita basis U.S. oil usage is 6.9 times that of China, European usage is 3.1 times and world usage is 1.5 times. If China goes to world per capita consumption level, China would require an additional 271 VLCCs, assuming how crude is important by sea. This represents an expansion in the existing fleet by about 40%."

(Source: NAP Q1 '17 report)
Performance and Analysts' Price Targets: Clearly, NAP could use some more support from Mr. Market as it has underperformed over the past year, quarter, month, and year to date.

Analysts moved their low price target from $8.50 to $10.00 over the past quarter.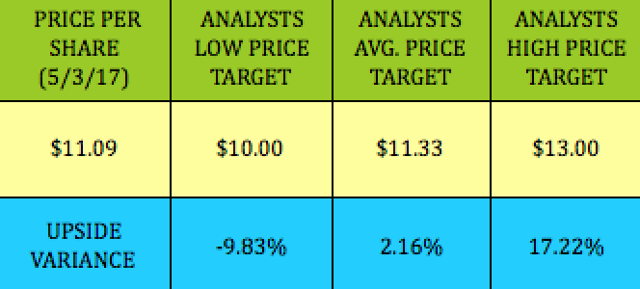 Valuations: NAP is selling below book value, like these shipping peers, DHT Holdings (NYSE:DHT), Euronav (NYSE:EURN), and Teekay (NYSE:TK). But the big difference is that NAP has had a steadily attractive distribution rate over the past two years, whereas all three of these other firms have had highly variable distribution rates.

Financials: NAP has the highest operating margin and current ratio, and its ROA and ROE are the second best in this group. Its debt/equity load is the second lowest.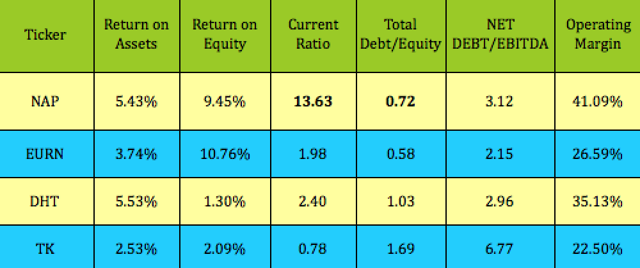 Debt and Liquidity: NAP's earliest debt maturity isn't until 2020, which gives it ample time to refinance.
NAP's management mentioned on the Q1 '17 earnings call that it's:
"Currently evaluating sale and lease back structures with Chinese leasing houses as the structures provide a reasonable source of capital with favorable pricing and can also have longer maturity. As an update to our $25 million continuous offering program and into the second quarter of 2016, we have raised $3.9 million of equity in 2017 year-to-date."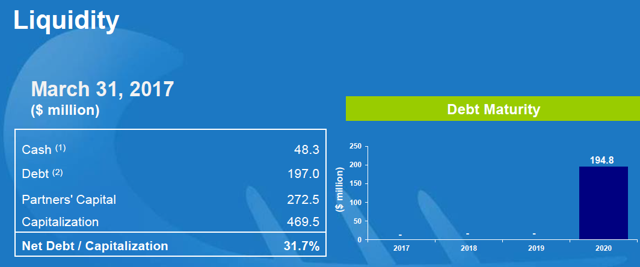 (Source: NAP Q1 '17 report)
All tables furnished by DoubleDividendStocks.com unless otherwise noted.
Disclaimer: This article was written for informational purposes only, and is not intended as personal investment advice. Please practice due diligence before investing in any investment vehicle mentioned in this article.
Disclosure: I am/we are long NAP.
I wrote this article myself, and it expresses my own opinions. I am not receiving compensation for it (other than from Seeking Alpha). I have no business relationship with any company whose stock is mentioned in this article.