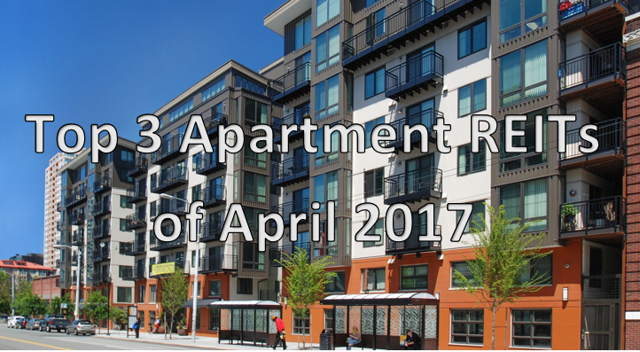 I continue my series of "Top 3 REIT" articles with the residential property sector. In case you are new to this series, I have already covered the net lease, healthcare, hotel, retail, office, industrial and self-storage sectors in previous articles. As a reminder, through this series, I aim to identify the top 3 REITs that have the best overall risk-to-reward ratios within each property sector. In this sense, I look for REITs that are undervalued relative to their peer set and that have good chances of outperforming their sector average going forward. Today, I cover my top 3 residential REIT picks, and next I plan on sharing my top 3 specialty REITs in the coming days. If you are interested in this series, please take 2 seconds to click the "Follow" button next to my name.
The main advantage of residential real estate as an investment is that as long as you invest in quality properties in decent locations, you are almost guaranteed to find tenants. Everybody has to live somewhere and the home ownership ratio has been steadily declining in the recent years due to changing needs and rising cost. The same cannot really be said about other commercial real estate property types. If you own an office property and your tenant vacates, it may take months or even years to find a new one. In the worst-case scenario, even after significant capex, you might not find a quality tenant.
As such, it is common for these properties to trade at below average cap rates in the private market and above average FFO multiples in the public REIT market.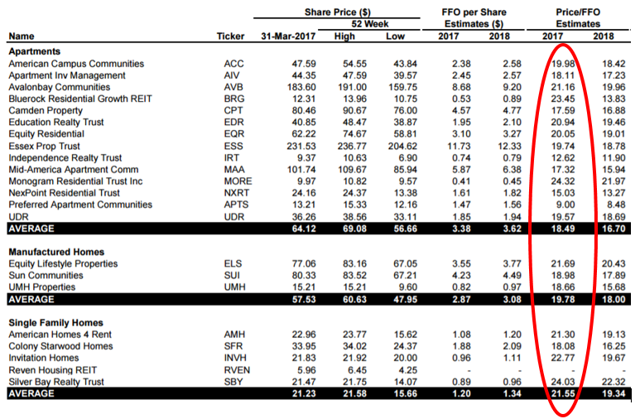 Source: NAREIT
The above table is provided by NAREIT and shows the average FFO multiples paid for residential REITs today (circled in red). Apartment REITs trade at 18.5 times expected 2017 FFO, manufactured homes at 19.8x and single family homes at 21.55 times. While these may be well-justified valuations, given the lower risk profile of residential investments, I feel uncomfortable investing at such lofty multiples.
I note, however, that there is a large range of valuations between large- and small-caps as well as between U.S. and foreign REITs. As a global investor, I always look at all my different alternatives before making an investment decision, and U.S. REITs are just one option. After looking at the valuations of Canadian residential REITs, I find a large valuation gap relative to US REITs which appears at least partly unjustified in my opinion.
As such, I overweight Canadian REITs in this property sector, with 2 out of my 3 picks coming from there.
Without further ado, here is a quick summary of the buy theses of my 3 favorite residential REIT picks as of April 2017:
(Special thanks to John Lawlor who helped me identify Northview Apartment REIT; and Dane Bowler for his article on Pure Multi-Family REIT)
Pure Multi-Family REIT (OTCQX:PMULF): Canadian REIT with US Portfolio / 14x FFO / 5.8% Yield
Pure Multi-Family is a very unique REIT in the sense that it is Canadian but owns a US-only real estate portfolio.
The reason why Pure sells at a discount to US peers is very simple: US REIT investors are not aware of this opportunity and the local Canadian investors have a lower demand for this type of REIT. As such, despite owning a US portfolio, Pure sells at a Canadian valuation. Currently, the REIT is selling at about 14 times FFO and is very materially undervalued relative to its US peer group that sells for close to 20 times FFO.
The portfolio is very concentrated with a large portion of its assets located in Texas. The market perceives this of course as a negative, but I have a more optimistic view on this portfolio structure. As an example, many of the properties are located in Dallas, a city that I know very well since I used to work there in the private equity real estate field. The city is today growing at a very fast pace as it keeps attracting plenty of corporate relocations, creating new jobs and strong demand for apartments. Moreover, the NOI growth has remained positive throughout the commodity market downturn, demonstrating the resilience of these properties. The Texan economy is today way more diversified than many imagine.
So, while the market views the Texas exposure as a negative, I see it as a positive and expect the state to keep growing at an above average rate because: there is no state corporate tax, living is very affordable, and land remains cheaper than average. This will lead to more and more corporate relocations from states such as California, creating substantial demand for apartments. The portfolio is Class A and located in high growth markets; what is not to like?
The capital structure has above average leverage at approx. 60% debt to assets. This suggests that the REIT may not deserve the same multiple as most other less-levered REITs.
Its 5.8% dividend yield appears to be safe with a conservative coverage ratio. Given the above average NOI growth of the REIT, I expect further growth in the coming years.
Conclusion: Pure Multi-Family is a very clear case of market pricing. There is a very evident reason as the REIT trades on a different stock exchange and attracts a different segment of the investment community. Canadian investors are not as interested in US real estate as local US investors. The discount appears unwarranted to a large extent, and I expect the valuation gap to reduce over time.
Northview Apartment REIT (OTC:NPRUF): Canadian Apartment Opportunity / 13x FFO / 7.2% Yield
Northview is an overlooked mid-cap REIT that specializes in the ownership of Canadian apartment communities. It is not a 100% pure-play apartment REIT, but 85% of the NOI is today derived from these assets, with the rest coming from diverse commercial properties.
Its portfolio is well diversified with a presence in most major regions of Canada and over 24,000 residences today. The REIT used to be more concentrated, but a large transaction that occurred in late 2015 increased the diversification materially.
One of the main reasons why the stock has traded down in the recent years is the decline in oil prices. In fact, the stock has had a strong correlation with oil ever since the decline in oil prices started in late 2014. This drop in share price and high positive correlation appears, however, to be overdone when considering that only 22% of the NOI is derived from commodity-driven regions.
The REIT has already experienced massive share price appreciation since its 2016 lows, but the value remains compelling. Trading at 13 times its FFO, the REIT is very underpriced relative to its peer group, which sells at closer to 20.
Given the current difficult market environment in resource-driven regions such as Alberta, it is not surprising that the growth in FFO has been bumpy in the last years. Rents have declined in resource-based markets, and combined with property disposals and new share issuances, this has caused the FFO per share to decline by about 10% in 2016. This clearly is not encouraging, but the stock overreacted to this news given that the REIT is expecting to return to positive growth.
The 7.2% yield appears sustainable at a reasonable 75% payout ratio. Moreover, the yield is paid monthly, a positive attribute for most individual investors.
Conclusion: If you are looking to diversify away from US real estate, Northview may be a great pick. It has run into some issues in the last years due to low oil prices and a large (seemingly) dilutive acquisition, but the long-term prospects appear very attractive given the low share price. Trading at about 13 times FFO, the REIT is materially undervalued relative to its peers and has good potential for future outperformance.
Independence Realty Trust (NYSEMKT:IRT): Class B Apartment Opportunity / 12x FFO / 7.6% Yield
IRT is a below average quality REIT trading at a very sizable discount relative to its peer group. It is overleveraged and has a very tight dividend payout, but given the low valuation, I consider IRT to be a better pick than most of its peers.
IRT owns today a total of 48 properties in 21 different markets and is well diversified geographically across the Midwest and Southeast. The strategic focus of the portfolio is put on B/B+ Grade properties which constitute today about half of the portfolio.
Grade B multifamily properties are particularly well suited to sustain recessions as they remain affordable and renters from Grade A often downgrade to Grade B and homeownership rates decline during recessions. As a result, the demand of these properties tends to be relatively inflexible.
Until last year, the REIT used to be externally managed, and it caused the shares to trade at a discount to its internally managed REITs. The REIT has, however, since then internalized, and this same discount is not justified anymore. The internalization has seemingly remained overlooked by the market but will improve the reputation of the firm going forward. Moreover, this is expected to lead to a $2.5 million annual cost saving.
One of the main risks and concerns of IRT has always been its balance sheet. Still not long ago, the REIT had a leverage ratio of over 70%. This is very different today as IRT has used excess liquidity to pay down debt. Currently, the debt-to-asset ratio is 54%, which is reasonable in my opinion given the resilient nature of the underlying properties.
The 7.5% dividend yield is significantly above average, but expected to grow at a smaller pace than its peers. The payout is very tight today and barely covered by FFO, but the management has indicated that it is not anticipating any dividend cut.
The high dividend yield combined with the relatively resilient asset base makes this REIT a buy.
Conclusion: IRT is not a "blue chip" REIT. It has historically used too much leverage and suffered from conflicts between the external management and shareholders. Today, the REIT has, however, changed for the better. It has aggressively deleveraged its balance sheet and internalized its management. This has already resulted in share price appreciation, but I expect more given that the valuation remains significantly below the average of the peer group.
Your Takeaway
When it becomes difficult to find value in the US, I often turn to foreign markets. The US REIT market has today a lot to offer, but it is also the most developed and demanded of all REIT markets in the world. It often causes US REITs to trade at significant premiums relative to foreign REITs, and this premium may not always be fully justified based on fundamentals. Pure Multi-family REIT is a perfect example of that since it owns a US portfolio and trades in Canada. The lower valuation is not justified based on fundamentals and suggests undervaluation. My portfolio remains underweight in residential REITs today because I find more value in the other sectors. IRT, NPRUF and PMULF are, however, on the top of my watchlist in terms of residential REITs.
If you enjoyed this article, please scroll up and click on the "Follow" button next to my name to not miss my future articles on other undervalued REIT. I have experience working in Private Equity Real Estate and aim to identify the best risk/reward opportunities within my field of expertise. My articles are free here on Seeking Alpha, and following me will allow you to receive all my research at no cost.
REITs mentioned: American Campus Communities (NYSE:ACC); Apartment Inv Management (NYSE:AIV); AvalonBay Communities (NYSE:AVB); Bluerock Residential Growth (NYSEMKT:BRG); Camden Property (NYSE:CPT); Education Realty Trust (NYSE:EDR); Equity Residential (NYSE:EQR); Essex Property Trust (NYSE:ESS); Independence Realty Trust (IRT); Mid-America Apartment (NYSE:MAA); Monogram Residential Trust (NYSE:MORE); NexPoint Residential Trust (NYSE:NXRT); Preferred Apartment Communities (NYSEMKT:APTS); UDR (NYSE:UDR); Equity Lifestyle Properties (NYSE:ELS); Sun Communities (NYSE:SUI); UMH Properties (NYSEMKT:UMH); American Homes 4 Rent (NYSE:AMH); Colony Starwood Homes (NYSE:SFR); Invitation Homes (NYSE:INVH); Reven Housing (OTCQB:RVEN); Silver Bay Realty (NYSE:SBY)
Disclosure: This article is for informational purposes only. It is not a recommendation to buy or sell any security and is strictly the opinion of the writer. Readers are expected to conduct their own due diligence or seek advice from a qualified professional.
Disclosure: I/we have no positions in any stocks mentioned, and no plans to initiate any positions within the next 72 hours.
I wrote this article myself, and it expresses my own opinions. I am not receiving compensation for it (other than from Seeking Alpha). I have no business relationship with any company whose stock is mentioned in this article.
Editor's Note: This article discusses one or more securities that do not trade on a major U.S. exchange. Please be aware of the risks associated with these stocks.