Amazon (NASDAQ:AMZN) was granted a patent for an integrated on-demand apparel manufacturing system that is designed to produce "textile product(s)" after orders are placed and aggregated. Since the inventory will be held in the form of raw materials like "paper, plastic, leather, rubber, and other materials" rather than higher value end-products, the implementation of such on-demand manufacturing would help lower the inventory value of Amazon which has been climbing at a steep pace. In the apparel space, Hennes & Mauritz / H&M (OTCPK:HNNMY), Abercrombie & Fitch / A&F (NYSE:ANF), and Gap (NYSE:GPS) hold significant inventory relative to their cash from operations. The ratio for the three ranges from 1.06 for Gap to 2.17 for A&F, compared with just 0.70 for Amazon. Amazon already has a competitive edge over its brick-and-mortar peers through its unparalleled e-commerce platform whereby it could save substantially on rental.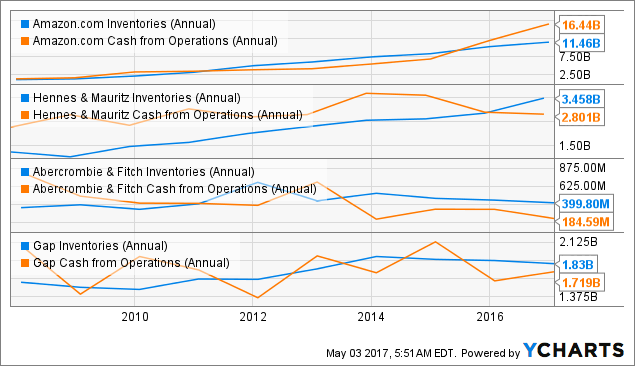 AMZN Inventories (Annual) data by YCharts
Another advantage from the manufacturing-upon-order sequence is the avoidance of obsolescence. Since each "textile product" would be made based on order, there would not be a case of obsolete inventory as a result of poor gauging of demand, erroneous judgment of fashion trend, and/or misallocation of quantities (goods unavailable in shops of high demand and excess in elsewhere of weak demand). This would also help in reducing the inventory value and lower the possibility of write-offs. Inventories would then be largely meant for actual future sales rather than a portion being deadweight which the company struggles to get rid off through margin-eroding promotions. Amazon's inventory outstanding stands at 44.88 days currently, a 38 percent jump from 2009's level. Nevertheless, that is still much lower than Abercrombie & Fitch's 117.60 days and Hennes & Mauritz's 113.35 days. With Amazon in town, it's an irony that A&F and H&M are regarded as fast fashion retail stores. Living in a time where social influencers and opinion leaders are aplenty and wield strong ability to change fashion trends at the speed of a blog post or an Instagram photo, the more than three months of inventory outstanding at both A&F and H&M seems excessive.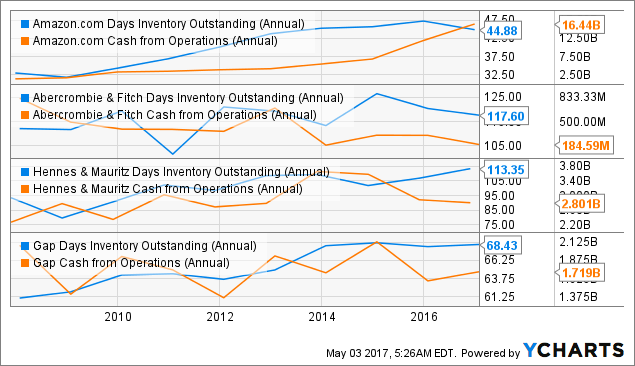 AMZN Days Inventory Outstanding (Annual) data by YCharts
Enter Amazon, with its on-demand apparel manufacturing system. While making clothing on-demand is not entirely a new concept (e.g. Adidas, Uniqlo, fashion label Eileen Fisher and Boston-based Ministry of Supply have their 3-D knitting machines), Amazon's patent still retains some aspects of the old-fashioned (pun intended) way of making clothes - cutting and sewing. I studied the entire 29 pages of the patent document and summarize the key points here.
Aggregating Orders
By waiting for orders to come in instead of predicting the demand, the system brings optimization to a whole new level. From the aggregation of orders, the organization can be "based on one or more productivity factors, such as size, shape, fabric type, or delivery location for the textile products, among other factors". For orders with different shapes of clothing, if the fabric to be used is the same, there is great potential for minimizing material wastage (see diagram below extracted from the patent document; I have included blue circles to indicate the tight fittings to maximize fabric usage). What is interesting about this is the low-tech, common sensical concept of maximizing material use through the tight arrangement of designs, which would be made possible through the aggregation of actual orders. A typical garment maker would find it difficult to replicate such wastage minimization process due to lack of scale and visibility with regards to fashion trends.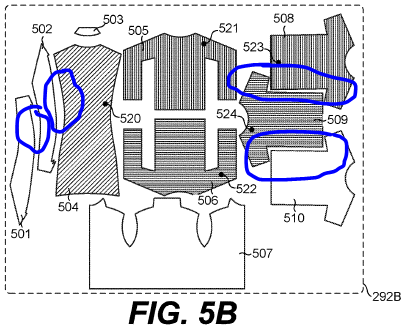 Cutting, Printing, and Arranging
The next step of the process is actually where much of the action happens. There isn't the oft-mentioned 3-D printing or knitting but traditional cutting and textile printing. The adoption of technology is in the form of cameras (see diagram below; blue circles showing the four cameras drawn to symbolize image capture) that feed images into analyzers for alignment and adjustment purposes during the cutting and printing process, followed by an arrangement of panels into totes for sewing.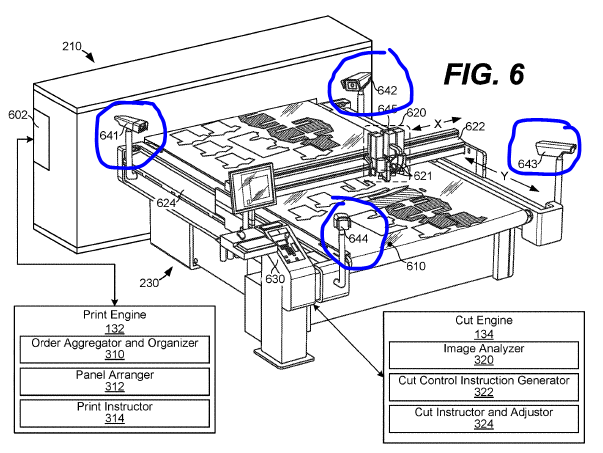 Again, the next step could be another low-tech act. The assembly engine would move the totes to the respective "attendant and/or automated sewing machine" whereby the attendant simply refers to someone who would be sewing the panels together to make the clothes in the final form. The sewing could be entirely done by an automated sewing machine though it is likely a human being would still be present to arrange the panels accordingly.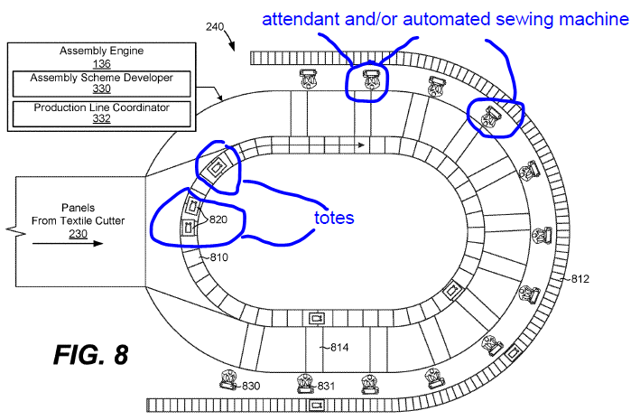 Finally, the end-product could be either packed and shipped directly to customers (step 4E as annotated in the diagram below) or undergo a round of quality inspection (step 4) first before being packed (step 5). The beauty of this concept is the productivity boost to traditional apparel making through the use of image analyzers and algorithm to minimize human intervention. More pertinently, the granting of the patent appears to be timely, given the recent introduction of Echo Look which was touted as "part camera, part Alexa, part fashionista". I wonder if there would be a conflict of interest, as your personal "fashion judge" could very well recommend Amazon's in-house products. Otherwise, the ordering would be seamless and painless, as you could just give your verbal agreement to Alexa and sit back for the recommended outfit to arrive at your door step the next day (with free shipping if you have signed up for Amazon Prime).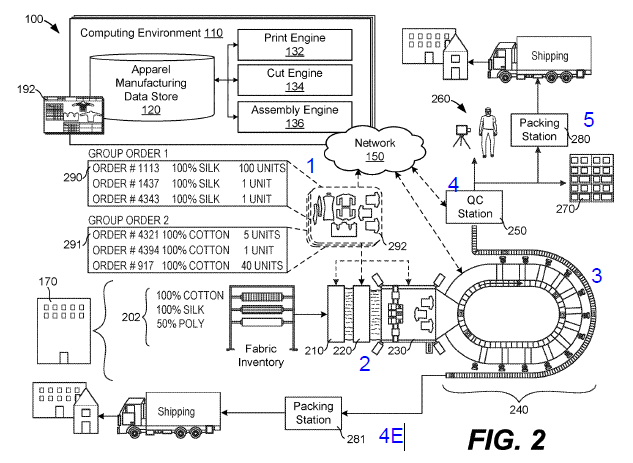 Conclusion
Will this sound the death knell for apparel manufacturers? I suppose if the system does come into fruition, the small-scale garment makers who cater for customized orders such as for office or school events might be forced out of the game. They would not be able to compete on cost and speed of delivery. Furthermore, the adoption of image analyzers likely equipped with the computational power of Amazon's servers would ensure no unacceptable set gets shipped out. If you are the organizer of an event, you would want to be sure there would be no flaws in the event t-shirts and so you would have to go with Amazon. As for the brand names like H&M, A&F, Uniqlo, Zara, etc, there should be some impact on their sales but it would be unlikely that they become entirely redundant, at least not in the short-term. They are specialized in fashion and apparel while Amazon is into a wide variety of goods and might take time to gain the trust of the masses. Nevertheless, the agility brought about by the described on-demand manufacturing, coupled with the productivity and waste minimization advantages, would certainly redefine fast fashion. The strong ecosystem of Amazon ties in the usage of Echo Look, dominance in e-commerce, order fulfillment capabilities, and prompt delivery to make the company the main beneficiary of the on-demand manufacturing system even if others were to replicate such concept.
Note from author: Thank you for reading. My articles revolve around a subject or angle that I feel might have been overlooked. If you would like more of such articles, please click on the "Follow" button below the title near the top of this page and check the "Get email alerts." If you have additional insights on the topic or contrasting views, please kindly share them in the comments section. Based on figures from Tipranks (May 3, 2017), my recommendations have a 100% success rate with an average return of 15.2%.
Disclosure: I/we have no positions in any stocks mentioned, and no plans to initiate any positions within the next 72 hours.
I wrote this article myself, and it expresses my own opinions. I am not receiving compensation for it (other than from Seeking Alpha). I have no business relationship with any company whose stock is mentioned in this article.
Editor's Note: This article discusses one or more securities that do not trade on a major U.S. exchange. Please be aware of the risks associated with these stocks.